---
Mount Opera Entry Fee
Entry Fee :
Rs.390/- per person for adults
Rs.330/- per person for children
Rs.150/- per person for senior citizen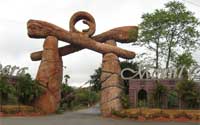 Rating:

|
3
stars, out of
5
stars
Based on total
20

reviews
Mount Opera
Address:

Batasingaram, Hyderabad-Vijaywada Highway, NH-9 Ranga Reddy District

,

Hyderabad

,

Telangana

,

501528

,

India
Mount Opera Timings
Day
Timing
Monday
11:00 am – 6:00 pm
10:00 am – 7:00 pm
Tuesday
11:00 am – 6:00 pm
10:00 am – 7:000 pm
Wedesday
11:00 am – 6:00 pm
10:00 am – 7:00 pm
Thursday
11:00 am – 6:00 pm
10:00 am – 7:000 pm
Friday
11:00 am – 6:00 pm
10:00 am – 7:00 pm
Saturday
11:00 am – 6:00 pm
10:00 am – 7:00 pm
Sunday
11:00 am – 6:00 pm
10:00 am – 7:00 pm
Links:
Website
|
Map
---
Mount Opera Theme Park Hyderabad: Located at a distance of approximately 38 kms from the main city, Mount Opera Theme park is one of the popular tourist places of Hyderabad offering loads of entertainment and fun to each and everyone. Situated on the Hyderabad-Vijayawada National Highway, the Mount Opera theme park is just 4 kms away from the popular Ramoji Film City.
Spread across an area of 55 acres, the Mount Opera is one of the special tourism unit which has been chosen by the Andhra Pradesh Department of Tourism. This further ensures the quality of services and facilities offered at this multi theme park or resort. In addition to this, the theme park has the backup of Sreemitra Estate Pvt. Ltd which ensure international standards of the services.
Situated on the hill top, Mount Opera presents its visitors with varying kinds of watersports as well as dry rides. Different kinds of water slides are available for both adults and children. Rain dance, boating, family pools along with many others make the experience all the more exciting. Along with all this, for those interested in making their nights also eventful, Mount Opera has discotheque as well making your night lively and enchanting.
---
Reviews & Rating
Reviews of Mount Opera Theme Park Hyderabad
"

Good amusement park for family

"

-

Sachin Patole

Rating:

5

stars
Went to Jalavihar Hyderabad with family. The best part of this waterpark is that is located in the middle of the city, it is next to the Hussain Sagar. There are many water slides, but my favourite is the body slide. To fall directly into water..Straight from the slide, its thrilling and very safe too. There are some dry rides too. The food court is also decent. We had a good experience. Good for a good outing for kids. Even the cost of jalavihar entry ticket is not much, we paid 200 for each person.
Map for >Mount Opera, Popular Tourist Place in Hyderabad