---
Nehru Zoo Park Entry Fee
Entry Fee:
Rs.20/- Adult
Rs.10/- Child
Rs.20/- Amateur Still Camera
Rs.100/- Amateur Video Camera
Rs.500/- Professional Video Camera
Rs.1,500/- for trucks for film shooting
Rs.1,000/- Car/Jeep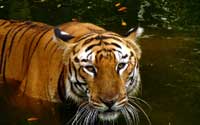 Rating:

|
4
stars, out of
5
stars
Based on total
12

reviews
Nehru Zoological Park
Address:

Zoo Park Main Rd, Kishan Bagh, Bahadurpura West,

,

Hyderabad

,

Telangana

,

500064

,

India
---
Located at a distance of 16 km from Hyderabad, Nehru Zoological Park was opened to the public in the year of 1963. Situated near Mir Alam Tank of Hyderabad, Nehru Zoological Park is the largest zoo of India and one of the top tourism places to visit in Hyderabad. Run by the Forest department, Government of Telangana, the zoo has been named after Jawaharlal Nehru, the first prime minister of the country.
Spread over an area of approximately 380 acres, the Nehru Zoo Park boasts of almost 1,500 species of birds, animals and reptiles. The zoo has rich fauna including the avian fauna as well such as Indian Rhino, Asiatic Lion, Tiger, Panther, Giraffe, Gaur, Deer, Antelopes, Orangutan, and many more. The place also has a rich population of reptiles such as Crocodile, Python, etc.
Popular picnic spot for the twin cities- Hyderabad and Secunderabad, the zoo has natural history museum presenting a glimpse into the past. The children park in the Zoo keeps kids entertained throughout the trip.
There is a toy train which offers a fun filled ride of the park to the visitors. It is popular especially among kids. There is also a multi cuisine food court at the Nehru zoo park. There is a canteen for snacks and hot beverages as well as a separate dairy parlour with milk products and also a bakery.
Along with these, safaris are the main attraction amongst visitors. You have Lion Safari, Tiger Safari, Bear Safari, and Butterfly Safari at the zoo to choose from.
There is the option of battery operated vehicle, which takes visitors for a ride around the park, offering a closer look of the flora and fauna of the park. For those who like to add a bit of adventure there is the option of bicycling as well. Visitors can hire bicycles at the rate of Rs.20 per hour.
Facility of boating, both speed boat as well passenger's boat, at the Mir Alam Lake is also offered here. Along with this, the authorities are also putting efforts in creating awareness about the wild life among masses. Weekly educational classes and awareness events are being conducted at regular intervals. Tiger talk, elephant talk, canine a class, snake awareness shows, etc., are a few examples.
Nehru Zoological park timings differ for two sets of months. During the month of April to June it is from 8 am to 5 pm, while during the months of July to March, it opens from 8.30 PM to 5.30 PM. It is open from Tuesdays to Sundays and is closed on Mondays. One can buy entry ticket to Nehru Zoo Park only till 4.30 pm as the counter closes by then.
The entry fee is minimal to the park. However, to carry your camera along with you a ticket price of Rs.20 for still camera and Rs.100 for basic video camera should be paid. However, if you are keen on making a video on Nehru Zoo Park then you need to pay Rs.500 for professional video recording. Trucks for film shooting are also allowed inside with an entry fee if Rs.1, 500 and Rs.1000 for cars or jeeps.
---
Reviews & Rating
Reviews of Nehru Zoological Park Hyderabad
"

Start early

"

-

Zubin

Rating:

5

stars
We went from Koti, there is direct bus from Koti to Bahadurpura, from there we went to Nehru zoological park. There is a toy train, although there was no kid with us we went and sat, it was fun! It covers most of the area where you see different kinds of birds and animals. It closes early in evening. Its timings are till 5 pm, they even stop selling the entry ticket to Nehru zoo park by 4.30 pm itself. So better to go early, see this place at leisure and then come home by night.
---
"

Unique weekend outing

"

-

Hiraman S

Rating:

5

stars
It is a good place for weekend. There are buses from Koti to bahadurpura too but we went in our car, four of us. We started very early in morning, had bf on the way and then reached there. Timings of Nehru zoological park is from 8.30 to 5.30 pm. As it closes also early better to reach there as early as you can. It was so big that we took entire day to see it, was only possible because we went early.
---
"

Awesome Park, bad food

"

-

Prakash Raju

Rating:

4

stars
Nehru zoo park of Hyderabad is one of the largest zoo, there are many varieties of animals, birds and even flora. There is safari inside, even toy train which takes you around the park. There was a cafeteria and restaurant for food too, but better to take your own food! The entry ticket for Nehru zoo park is very less, it was only Rs 20 per person for adults and for kids rs.10 per person. There are buses from koti to here so even travelling is not expensive.
---
"

Nehru Zoo Park- Not like earlier!

"

-

Vennela Siri

Rating:
3

stars
I have gone to Nehru zoological park of Hyderabad many times, it used to be awesome, one of the best zoos in the country. Recently I went again and was disappointed seeing it. It is no longer how it used to be. They haven't maintained it well. It is more dry now and dirty with plastic bottles lying just like that. Visitors should also keep it clean at least!
---
"

Best zoo I have ever seen!

"

-

Rizwan Shariff

Rating:

5

stars
I went to Nehru zoo park recently. I was surprised seeing it. It is not like other zoos in India. It is so much better. I loved it totally. It is nicely maintained, and I could see most of the animals in good state, they all looked healthy unlike other places. It is vast and green. I also made Nehru zoo park video, there is ticket price of rs 100 for normal video camera which is not much actually. If you are making professional videos then the charge is more.
---
"

Nehru zoological park – Must visit

"

-

Ramya

Rating:

4

stars
This park is very nice. Go there on weekday, on weekends it is too crowded. On weekdays you can see the park nicely. It is vast so they have safaris and toy train too. we saw many animals and even spotted rare birds they have ostrich, lions, rhinos, almost every animal and birds I guess. Not just for kids, even adults will like it.
---
Map for Nehru Zoological Park, Popular Tourist Place in Hyderabad