---
Nehru Zoological Park Entry Fee
Entry Fee:
Rs.20/- Adult
Rs.10/- Child
Rs.20/- Amateur Still Camera
Rs.100/- Amateur Video Camera
Rs.500/- Professional Video Camera
Rs.1,500/- for trucks for film shooting
Rs.1,000/- Car/Jeep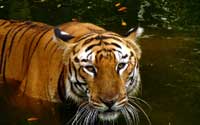 Rating:

|
4
stars, out of
5
stars
Based on total
37

reviews
Nehru Zoological Park
Address:

Zoo Park Main Rd, Kishan Bagh, Bahadurpura West,

,

Hyderabad

,

Telangana

,

500064

,

India
---
Nehru Zoological Park, Hyderabad: Located at a distance of 16 km from Hyderabad, Nehru Zoological Park was opened to the public in the year of 1963. Situated near Mir Alam Tank of Hyderabad, Nehru Zoological Park is the largest zoo of India. Run by the Forest department, Government of Andhra Pradesh, the zoo has been named after Jawaharlal Nehru, the first prime minister of the country.
Spread over an area of approximately 380 acres, the Nehru Zoological Park boasts of almost 1,500 species of birds, animals and reptiles. The zoo has rich fauna including the avian fauna as well such as Indian Rhino, Asiatic Lion, Tiger, Panther, Giraffe, Gaur, Deer, Antelopes, Orangutan, and many more. The place also has a rich population of reptiles such as Crocodile, Python, etc.
Popular picnic spot for the twin cities-Hyderabad and Secunderabad, the zoo has natural history museum presenting a glimpse into the past. The children park in the Zoo keeps kids entertained throughout the trip. Along with these, safaris are the main attraction amongst visitors. You have Lion Safari, Tiger Safari, Bear Safari, and Butterfly Safari at the zoo to choose from.
---
Reviews & Rating
Reviews of Nehru Zoological Park Hyderabad
"

Ocean park used to be great!

"

-

Durga Ramesh

Rating:
3

stars
Ocean park used to be an amazing place 10 years back. thats probably because ocean park was the only theme park in hyderabad that time and people didn't had many options to visit. since it was visited by many during that time, they used to maintain it properly. Now when I visited recently, I dont say bad, but it is not the same. But still worth to visit, if you haven't visited it already. Btw now ocean park is open from 11:00 am – 7:30 pm.
Map for Nehru Zoological Park, Popular Tourist Place in Hyderabad