---
NTR Gardens Entry Fee
Entry Fee:
Rs.15/- per person for adults
Rs.10/- per person for children
Rs.30/- per person Camera
Rs.65/- per person Camcorder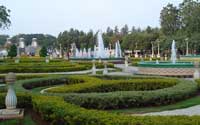 Rating:

|
4
stars, out of
5
stars
Based on total
34

reviews
NTR Gardens
Address:

NTR Marg, Central Secretariat, Khairatabad, Hussainsager Lake

,

Hyderabad

,

Telangana

,

500004

,

India
---
NTR Gardens Hyderabad: Built in the memory of late Shri N T Rama Rao, former and one of the most popular chief ministers of Andhra Pradesh, NTR Memorial Gardens are one of the famous sightseeing places of Hyderabad. Spread across an area of 36 acres, NTR Gardens present a soothing atmosphere and refreshing setting to spend some time. The garden has been built with an approximate cost of Rs. 40 crore. It was in 2002, when the NTR garden of Hyderabad was opened to the public.
The Garden offers various kinds of recreational options as well. Some of these are boat ride, Japanese garden, Roaring Cascade, a Fountain, etc. There is a Children's playing area that keeps kids entertained. The massive entrance plaza with Nandi Bulls is also quite captivating.
A mini train on a single track takes the visitors all around the garden making your visit all the more enjoyable. Along with toy train, there is a wide array of recreational facilities at the NTR Garden. One of the latest additions to the NTR garden is the Desert Garden, brian child of Mr. Nitish Roy, who has designed this project. It is consisted of about 150 plant varieties, mainly of those plans which are commonly referred as desert plants such as cacti, succulents, etc. The plants, which also boast of medicinal importance and are used for various herbal remedies, have been brought to Hyderabad from various parts of the country like Kolkata, Shirdi, etc.
The garden has been created in such a way that it offers a breathtaking natural surroundings along with ample of entertaining activities. Excellent facilities for food are also provided at the garden. Various eat out joints, car cafe and fruit restaurant which is a 2000-square-metre restaurant circumvented by three petal-shaped ponds offer not just mouth watering dishes but also beautiful setting to relish the same. The Car Cafes are primarily cafes with seating capacity of six and which are mobile. This offers visitors unique cafe experiences.
Another attraction is the 'Machan Restaurant' which is a multi storeyed restaurant that has been built on a tree shape. The trunk has been built by using massive concrete planks while the branches are created with fiberglass and painted with green colour, giving it the look of a real tree. Also try out local food items from the various stalls such as mirchi bajji while relaxing amid the beauty of this garden.
It is near to the popular Hussain Sagar Lake, which makes visit to the park even more enjoyable. One can visit the till 9 in night as the NTR Garden timings are from 12:30 am- 9:00 pm. The entry fee for NTR Garden is affordable to almost everyone. It is Rs. 15 per person for adults while Rs.10 per person for kids. If you are keen on clicking some photos then you have to pay a fee of rs.30 per camera. For video camera, the price is Rs. 65 per camera.
---
Reviews & Rating
Reviews of NTR Gardens
"

Go with children

"

-

Prashant Mendiratta

Rating:

4

stars
NTR Gardens is very nice place to go. I took my kids there. I really liked it. There are many interesting things to do, there are some rides too for kids.my kids just loved this place, ready to go again also! Even good arrangements for sitting and eating. Entry fee is just rs. 15 per person, for kids it was only rs.10 very cheap.
---
"

Good hangout for locals, Nothing Touristy

"

-

Sonal

Rating:
3

stars
NTR Gardens are indeed good but for me it was waste of time. As a tourist I wanted to see special places which are specific to Hyderabad. This place is not one of them! For a localite it is a good place to go and have fun it's a huge park, well maintained, there are many activities too. Although I came out quickly and went to hussain sagar. The Buddha statue in the middle is impressive.
---
"

NTR Gardens - Beautiful

"

-

Akbar S

Rating:

4

stars
NTR garden is beautiful with green lawns and spacious paths to walk, Hussain sagar lake is also nearby. It makes the visit even better. we went to hussain sagar in early evening and from there went here, as the opening timings for NTR gardens is till 9 pm, so we had enough time to sit there too. Nice outing overall.
---
"

Good collection of plants

"

-

Karan Jain

Rating:

4

stars
NTR Garden Hyderabad has good collection of desert plants. It is said that these plants are from other parts of India. Many varieties of cactus and other plants, each plant is used in herbal medicines too. Otherwise also it is beautiful, flowers are arranged in decorative way and lawn is also lush green and clean. A must visit place in Hyderabad.
---
"

Too crowded

"

-

Piyush Chadha

Rating:
3

stars
NTR garden is right in the middle of the city, and next to hussain sagar lake, may be that why it is always so crowded. If you are someone who doesn't mind crowd then go to this place and you will love it. I went there thinking of sitting in peace and greenery, but everywhere there were people, mostly families and couples. Better to go to eat street and sit by the lake side.
---
"

Well maintained Park

"

-

Eleen

Rating:

4

stars
I was surprised to see how well marinated this park is. I mean usually parks are good only when they are new, later all worn and dirty, but NTR garden has been kept very well. It was refreshing to see that. There is toy train inside; lots and lots of trees, amazing bonsai collection, even a fountain. It is beautiful to look at. There are places where you can just sit and enjoy.
---
Map for NTR Gardens, Popular Tourist Place in Hyderabad