The city of Hyderabad is a city that every tourist will love. Whether you want to explore historical monuments or rich museums, whether you want to have an ultra-luxurious stay and pamper yourself or looking for a time amid the refreshing waters of lake and greenery of parks, whether you want to experience fine dining or take a heritage walk amid the remnant of the bygone eras, there is something for everyone in Hyderabad, except for the beaches. However, there are a few beautiful beaches around Hyderabad which are worth exploring. So if you are wishing for a beach side holiday or a quick weekend break to the nearest beach, check the list below.
Beach Near Hyderabad (Within 500 km)
Vodarevu Beach (306 km)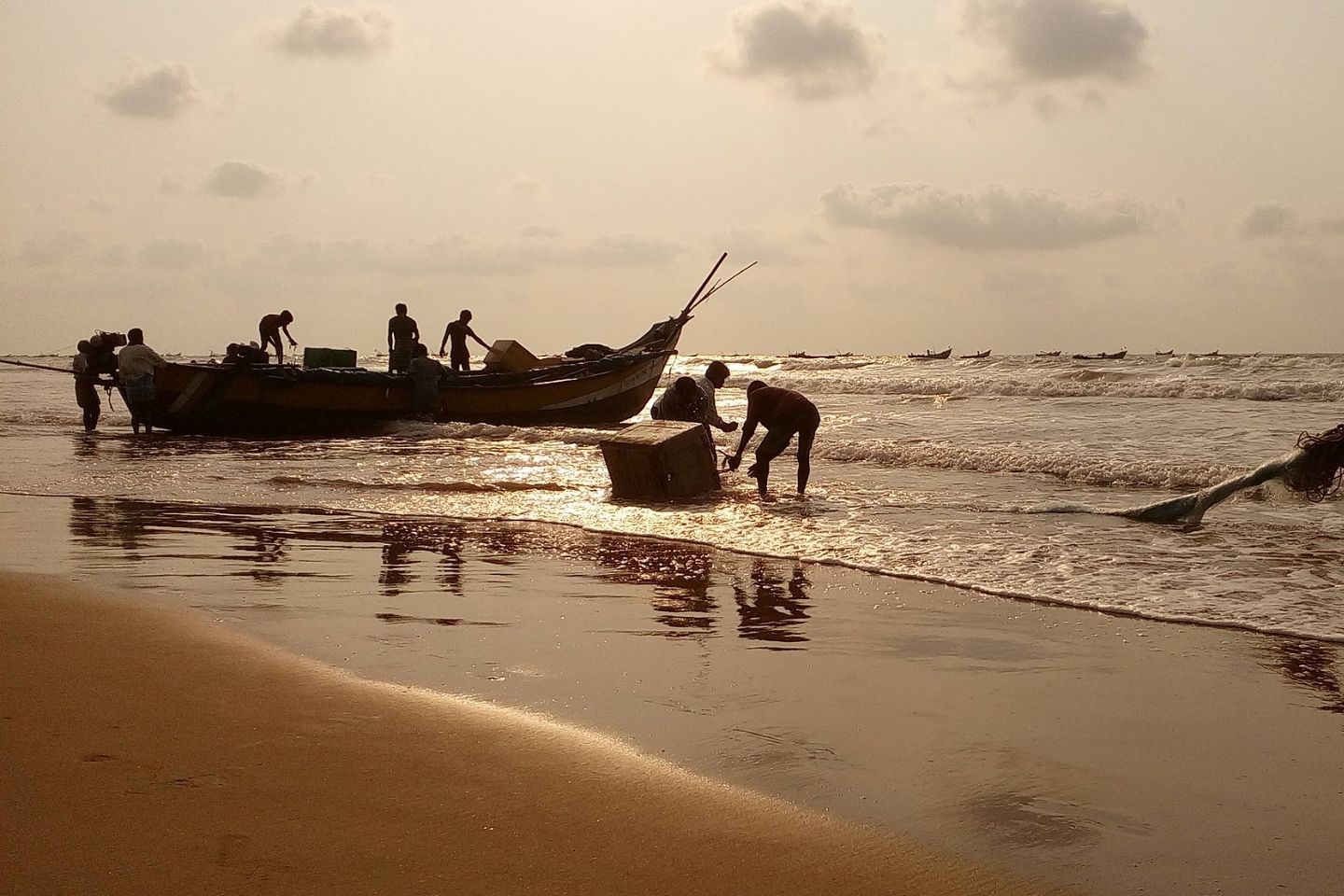 (courtesy: zatak)
Known for its shimmering golden sand and a line-up of lush coconut trees, Vodarevu Beach is the destination for all beach lovers residing in Hyderabad. An exciting Bay of Bengal coastline welcomes you at this beach in Andhra Pradesh. Ideal for swimming, boating and even fishing, this beach is also perfect for hikers.
The trail up to the lighthouse is sure to pump up your adrenalin. The view from the lighthouse is worth capturing. Easily accessible by road, you can also take a train to reach here. It takes about 6 hours to reach Vodarevu beach from Hyderabad. Once here, you will find ample accommodation choices as well such as Sip and Dip Cottages, Riviera Beach Resort, Buddha Beach Resorts & Spa, etc.
Chirala Beach (307 km)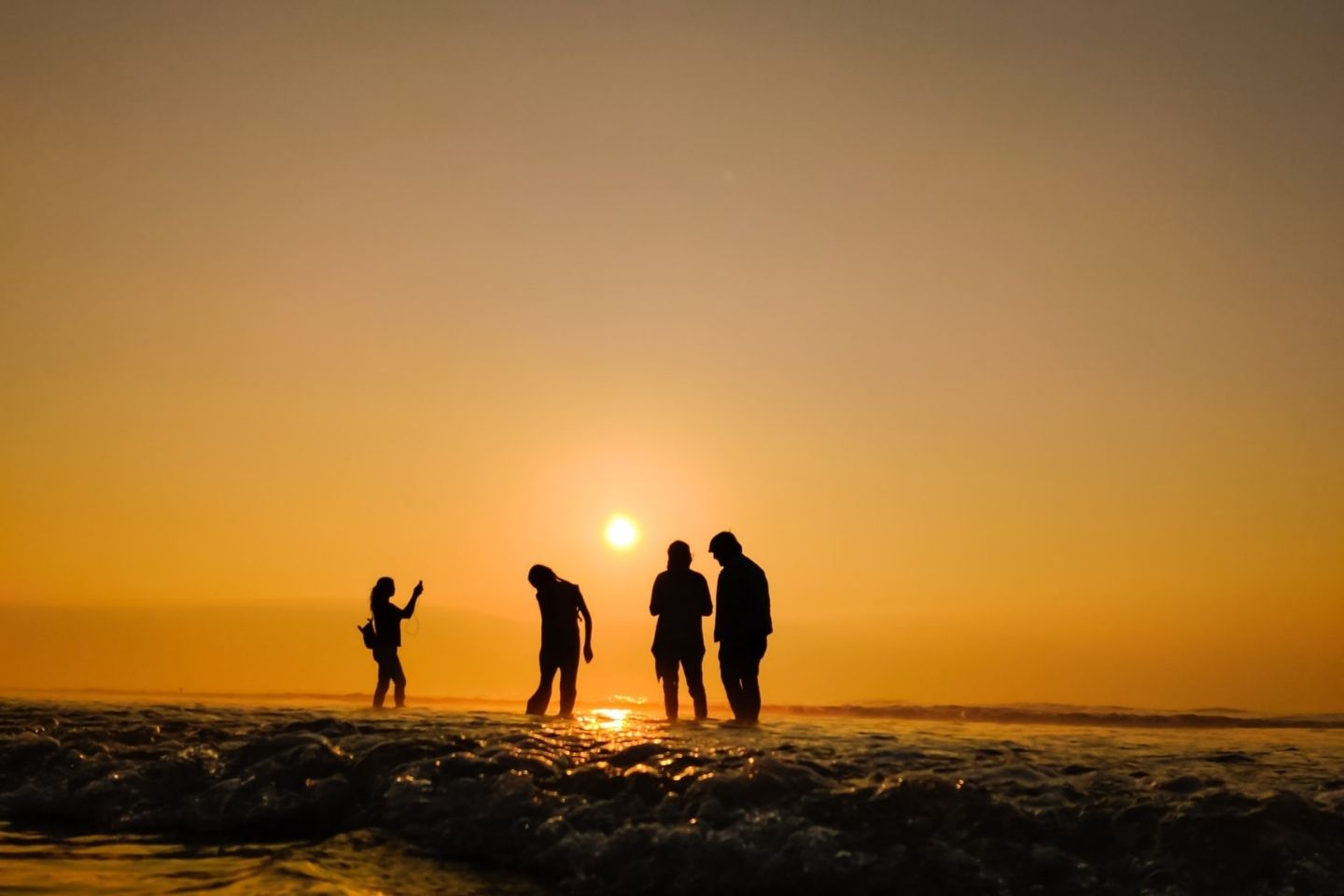 (courtesy: sateeshreddypatlolla)
One of the most popular and peaceful beaches near Hyderabad, Chirala Beach receives a lot of sea lovers throughout the year. Located quite close to the Vodarevu beach, it is a perfect destination if you are looking for some time to relax by the beach. Swim to heart's content or play games like beach volleyball with your friends and family at Chirala Beach.
As the name suggests, it is located in the town of Chirala, also known as Ksheerapuri in the Prakasam district, Andhra Pradesh. Along with spending a few memorable days at the beach, you can also indulge in handloom shopping at the town. Seabreeze Beach Resorts, Buddha Beach Resorts & Spa are some of the popular places to stay here. Ramapuram Beach is another quiet beach which is located nearby.
Suryalanka Beach / Bapatla Beach (320 km)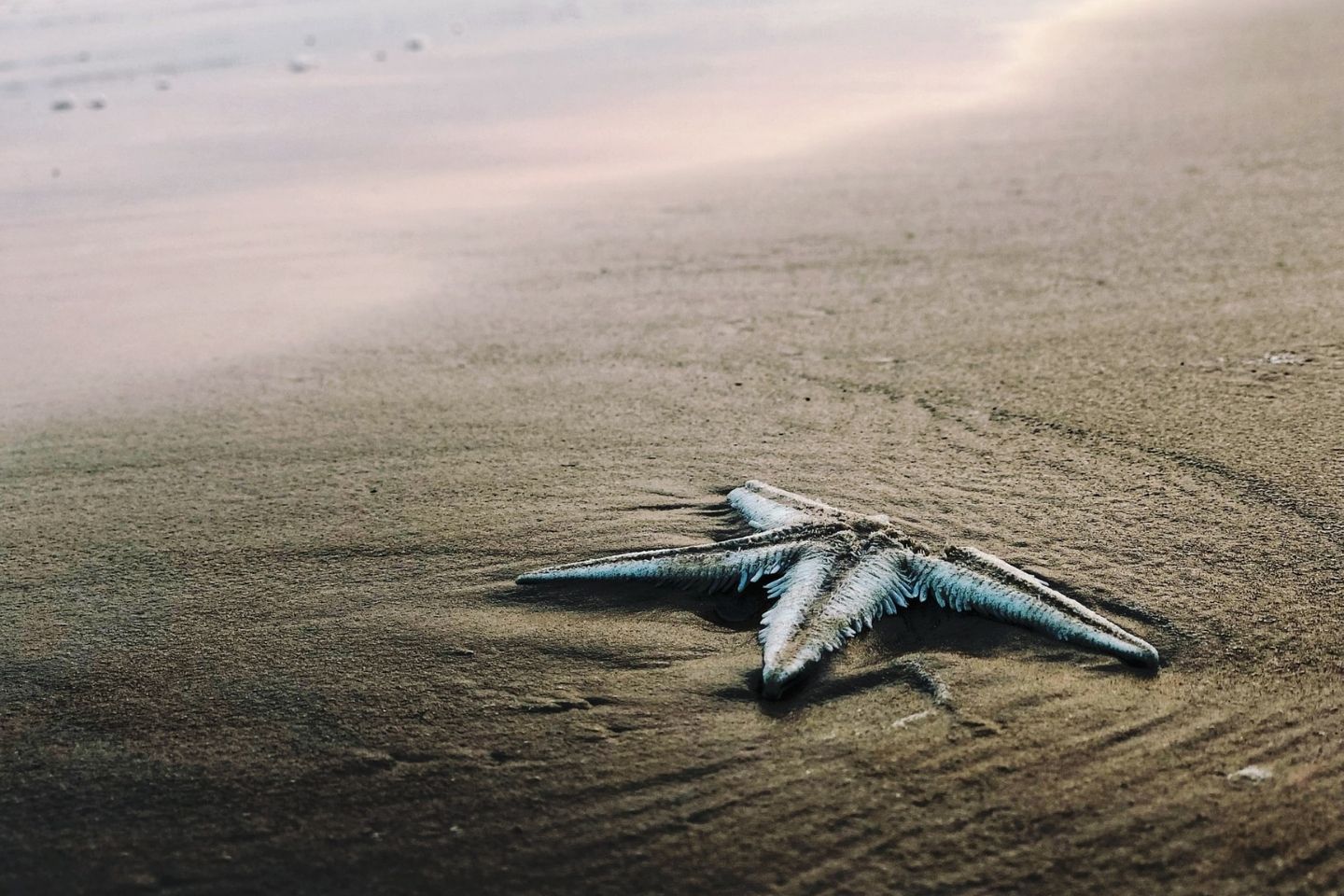 (courtesy: greatbrown)
One cannot miss Suryalanka Beach if they are thinking about the best beaches near Hyderabad. Breathtaking view of the sun over the captivating water of Bay of Bengal, vast spread of glistening sand and welcoming waves that are ideal for swimming, make a trip to Bapatla Beach perfect. Another major attraction of the beach is the dolphin spotting, especially in the months of November and December.
If interested, you can also visit the captivating Bhavanarayana Swamy temple located in Bapatla town. Situated in Guntur District, it can be reached within 6 hours of drive from Hyderabad. For accommodation in Bapatla, the popular choices are the Haritha Beach Resort which is maintained by AP Tourism and Riviera Beach Resort.
Manginapudi Beach / Machilipatnam Beach (355 km)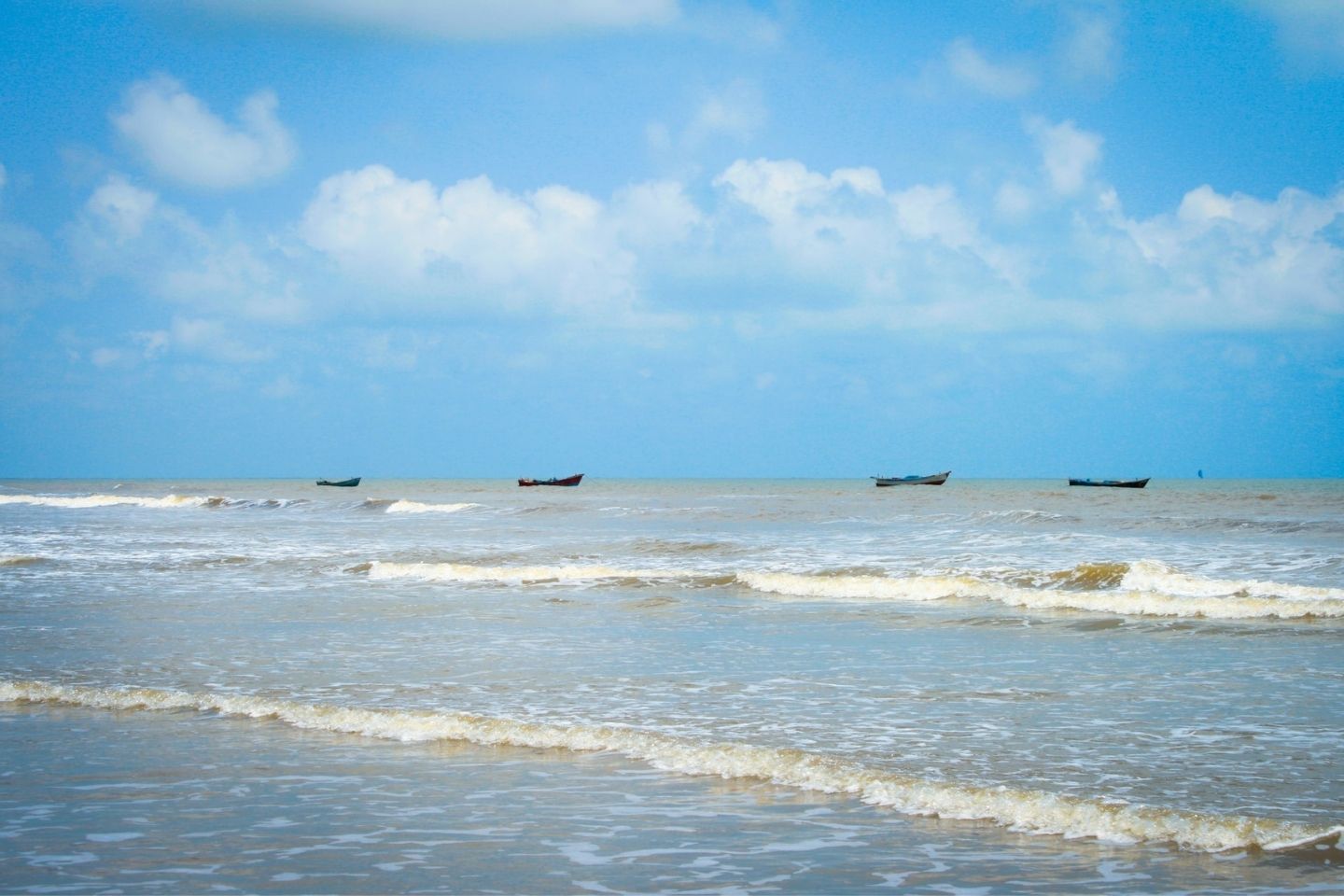 (courtesy: bharathreddy)
Machilipatnam is a popular tourist destination within 400 km from Hyderabad, especially for those looking to have some beach time. Manginapudi Beach is the most popular beach here, offering a serene surrounding and a wide spread of enthralling ocean. Its shallow water is a suitable setting for swimming and water sports too.
An ancient pilgrim site Dattashram is also located here, owing to which this place is also called Datta Rameswaram. Panduranga Swamy Temple at the Manginapudi Beach is visited by several devotees every day. The beach side festival, Krishan Utsav is a major attraction at the Manginapudi beach. It is organised in the months of February and March.
If travelling by road, it will take around 6 and half hours to reach Machilipatnam from Hyderabad. Although from Vijayawada (77 km) it takes only one and half hours to reach here. Maintained by AP Tourism, Manginapudi Beach is around 11 km away from Machilipatnam and can be accessed by road. Vijaya Raghava Residency, SS Grand Inn and RK Good Times are a few of the accommodation choices here.
Pedapatnam Beach (365 km)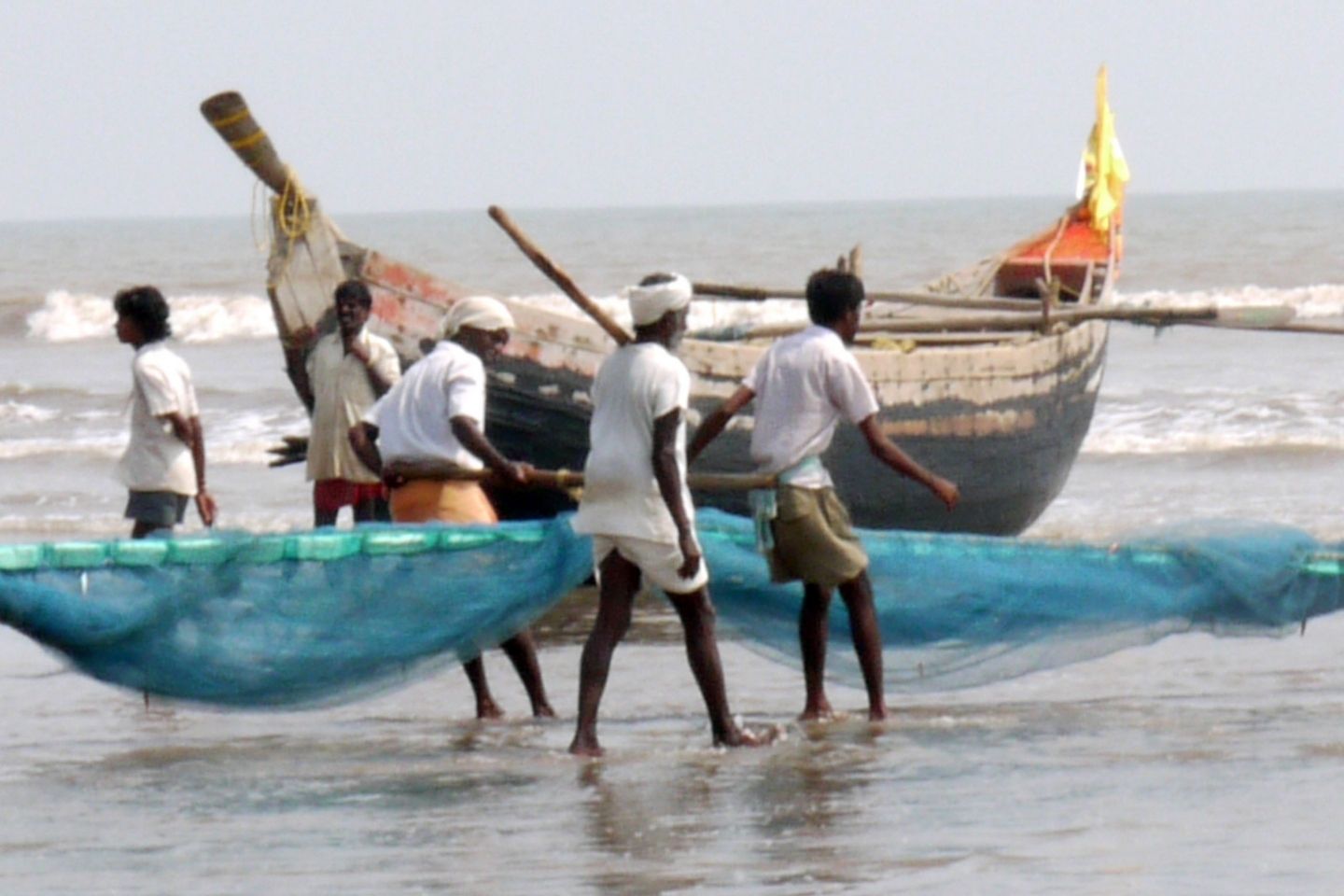 (courtesy: margavp)
Pedapatnam beach is the fairly recent addition to the list of popular beaches near Hyderabad. A calmer beach with shallow waters, it is ideal for a relaxing time with family or with your special one. The drive to the beach, with a view of mangrove forest is equally enchanting. Lush greenery by the side of the vast Bay of Bengal makes for a memorable view.
The beach gained popularity, especially among young tourists after the Telugu movie Colour Photo. Although, previously it used to be unoccupied, now you can find a few small food stalls and hawkers at the beach too. It is located near the village of Pedapatnam which is about 25 km away from Machilipatnam town in Krishna district, Andhra Pradesh. To reach Pedapatnam beach from Hyderabad it takes about 7 hours by road.
Yanam Beach (480 km)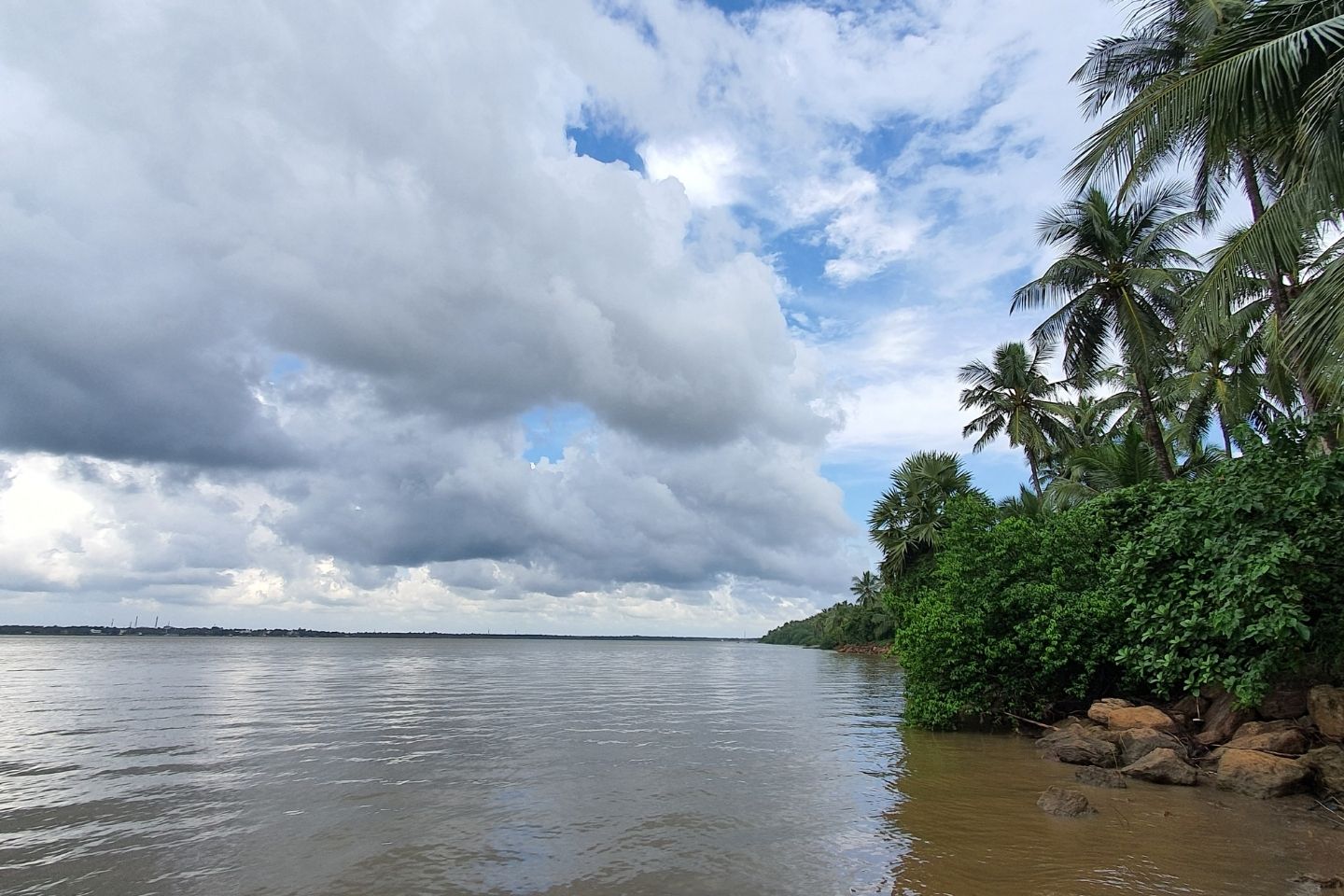 Yanam is a unique destination that deserves to be explored. It is impossible to ignore Yanam beach when discussing the beaches around Hyderabad. Situated at the meeting of Godavari and Coringa River, Yanam, a part of Pondicherry, used to be a Dutch colony which eventually went to French for around 200 years. This place presents not only a beautiful beach to spend some time but also a rich and varied cultural heritage. Along with a peaceful coastline, sprawling greenery of Mangrove forests, there is a replica of Eiffel tower with a circular restaurant on top of it, to attract visitors. Statues of Bharat Mata, Jesus Christ, Lord Shiva and two elephants at the beachfront add an interesting touch to the Yanam Beach.
If you are travelling by road then it will take around 9 hours and 20 mins to reach Yanam from Hyderabad. While from Rajahmundry (72 km), it is only an hour and half hours away. It is only 30 km away from Kakinada which can be covered within 1 hour of time by road.
Antarvedi Beach (433 km)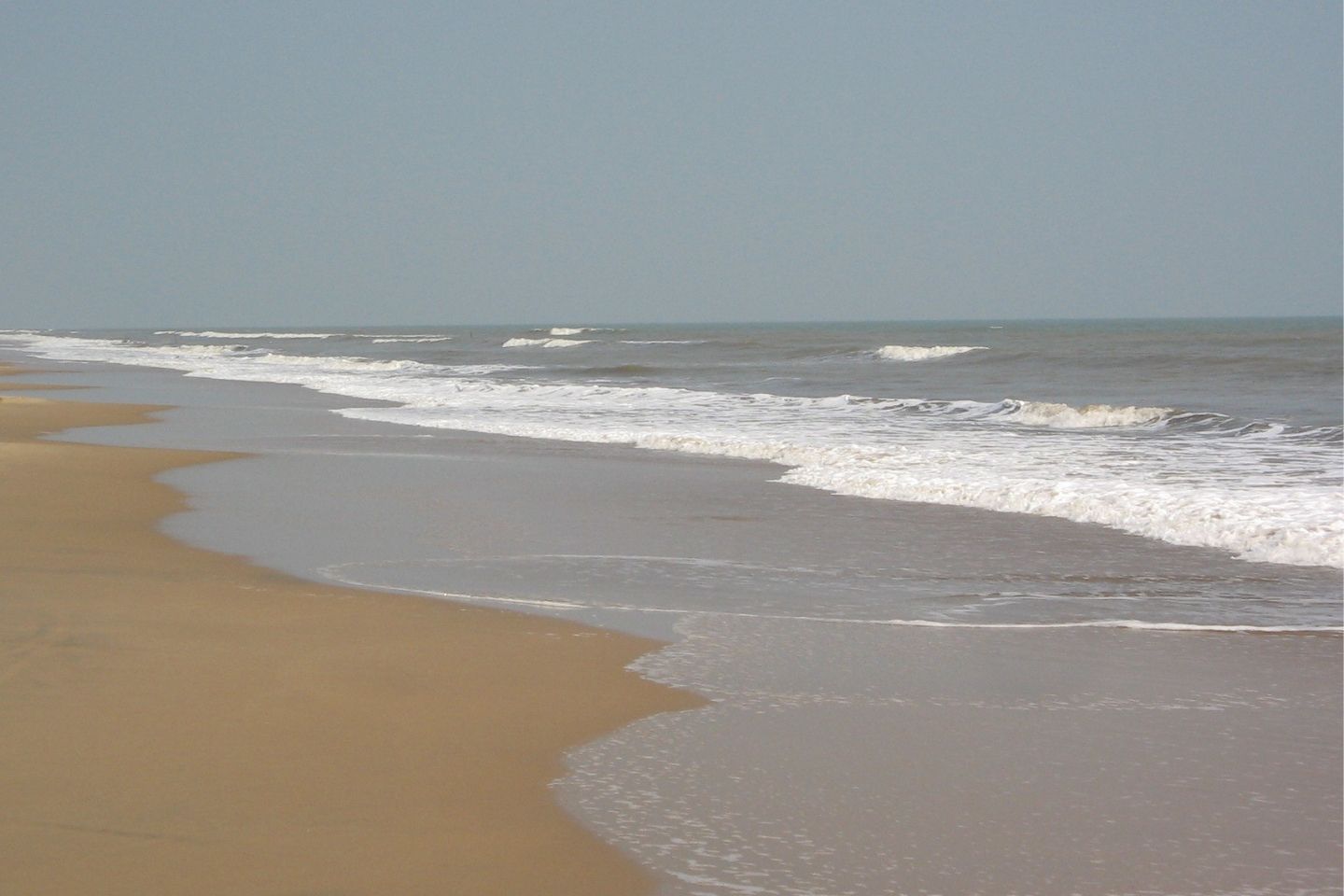 (courtesy: kirankumar)
Located in Antarvedi village in the East Godavari District of Andhra Pradesh, this beach greets you a mesmerising shoreline of bay of Bengal which is next to Vasishta Godavari, a tributary of the Godavari River. Calmer waves present a perfect swimming opportunity. The Lakshmi Narasimha Temple is another attraction here. For those looking for some adventure, you can explore the 26 km long trek from Antarvedi Beach to the nearby coastal areas. Sunrises are especially beautiful here, so is boating. From Hyderabad, it takes around 9 and half hours by road to reach Antarvedi.
Mypadu Beach, Nellore (469 km)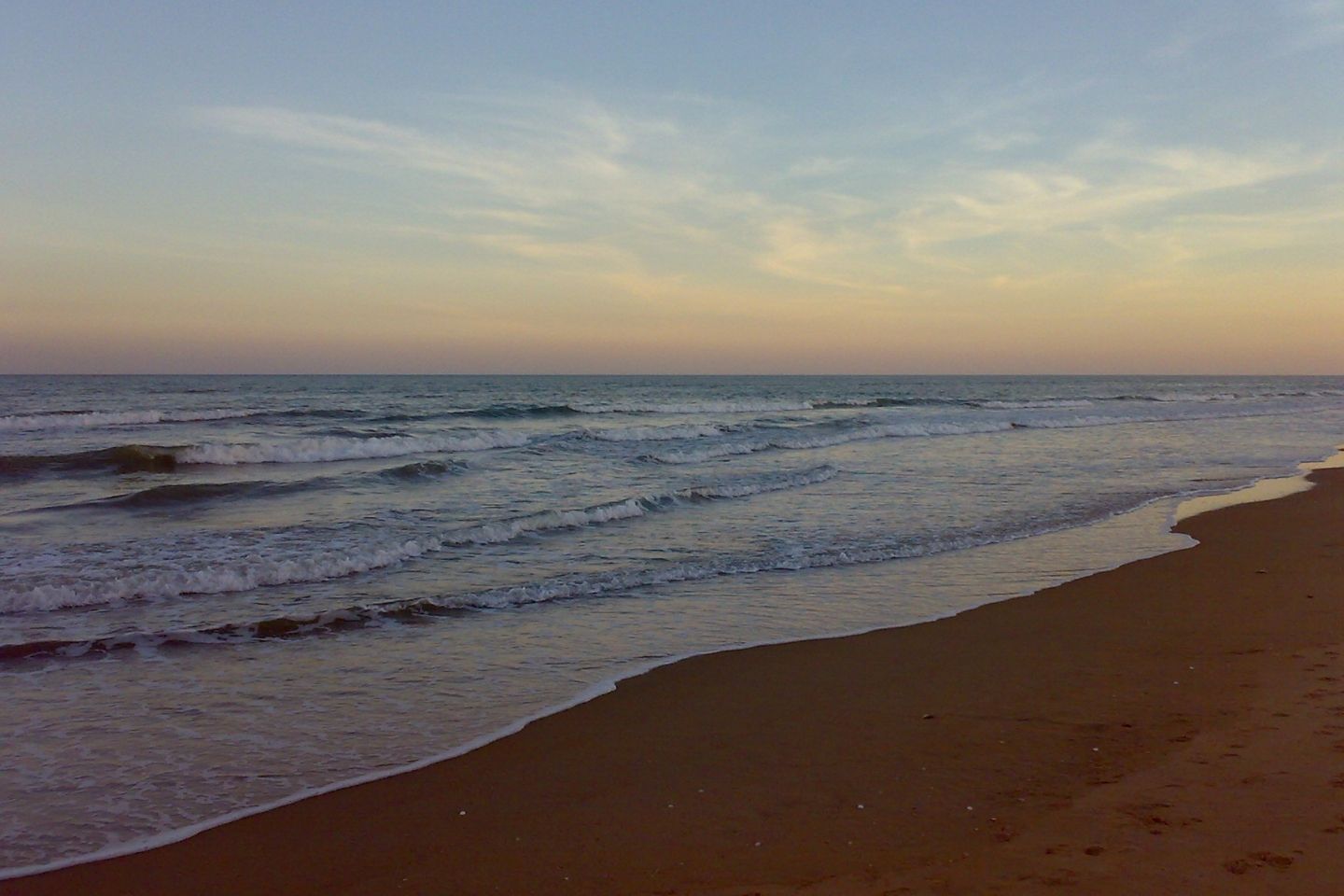 (courtesy: satyendrak)
Mypadu Beach is undeniably the most popular beach of Nellore. This beach is maintained by the AP Tourism Development Corporation. Its enthralling Bay of Bengal coastline welcomes every visitor with a breathtaking view. You can either go swimming at the beach or just sit and relax. Once here, you will come across a number of small stalls selling hot snacks as well as personals offering massages.
Other famous beaches to visit in Nellore are Katepalli Beach and Kodur Beach. Nellore, with its alluring beaches promises a wonderful weekend getaway from Hyderabad, which can be visited within 8 hours and 40 minutes of drive. It is around 148 km away from Tirupati.
Uppada Beach / Kakinada Beach (500 km)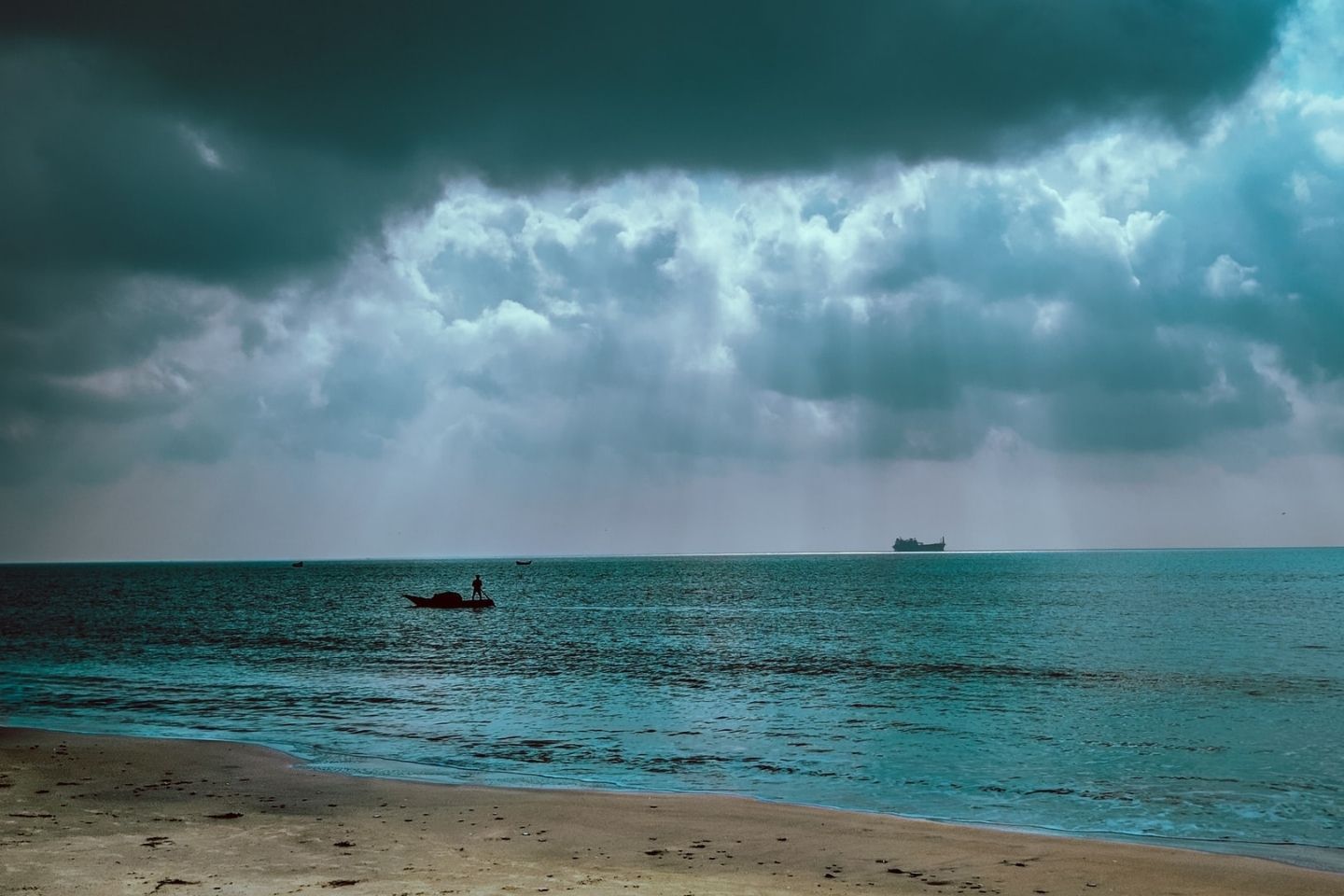 (courtesy: jaswanthkalaga)
Another Beach that is located closer to Hyderabad city is the Uppada Beach, which is also known as Kakinada Beach. Considered to be one of the safest beaches in India owing to its topography, Uppada Beach is ideal for swimmers. Another activity that you should try here is going for a fishing excursion with local fishermen. For those seeking peace, the view of its vast shores and sparkling waters will offer it.
Walking on the Uppada road, which is adjacent to the sea, is also quite relaxing. If time permits, explore the village as well, which is famous for its cottage industry and prawn harvest. It is located in Uppada village, at a distance of 5 km from Kakinada town. It can be reached in 10 hours and 30 minutes of time.
This beach is maintained by APTDC. Haritha Beach Resort and SVN Grand are a few of the accommodation choices available here. If you have some extra time at hand, then visit the nearby attractions as well such as Hope Island, Coringa Wildlife Sanctuary and Godavari Delta islands.
Beach Near Hyderabad (Above 500 km)
Gokarna Beach (657 km)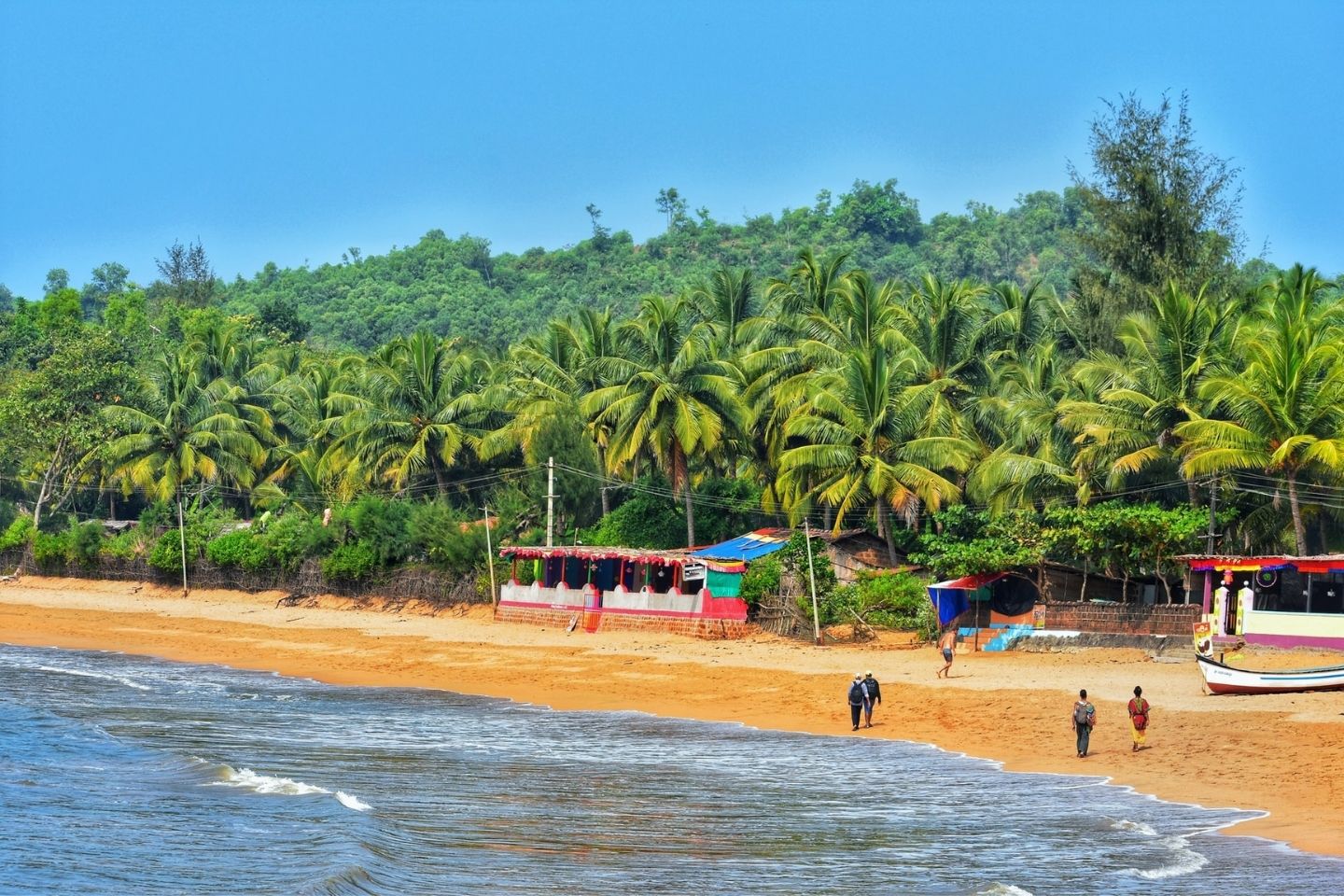 (courtesy: viveksharma)
For beach lovers staying in Hyderabad, Gokarna Beach is a must visit destination. Lush greenery, vast expanse of gleaming sand and water greets you at Gokarna. Once at the beach, you will find varieties of activities to do such as banana ride, snorkelling, boating, jet skiing, surfing and dolphin spotting. Hiking to Kumta from Gokarna is another ideal activity for adventure seekers. And those looking for a rejuvenating break can enjoy a drink or food at one of the beach shacks. A walk by the beach at night is another best possible way to end your day at Gokarna.
Gokarna boasts of many more beautiful beaches. OM Beach is one of the most popular beaches here. Other beaches that one can visit when in Gokarna are Half-moon Beach, Kudle Beach, Paradise Beach, Nirvana Beach, Small hell beach, Belekan Beach, Alvekodi beach and Baada Beach.
It takes around 14 hours from Hyderabad to Gokarna by road. The distance between Gokarna and Goa is 135 km which can be covered in around 3 hours and 15 minutes. Hence, one can take a flight to Goa from Hyderabad and travel by road to Gokarna from there.
Gangavaram Beach, Visakhapatnam (629 km)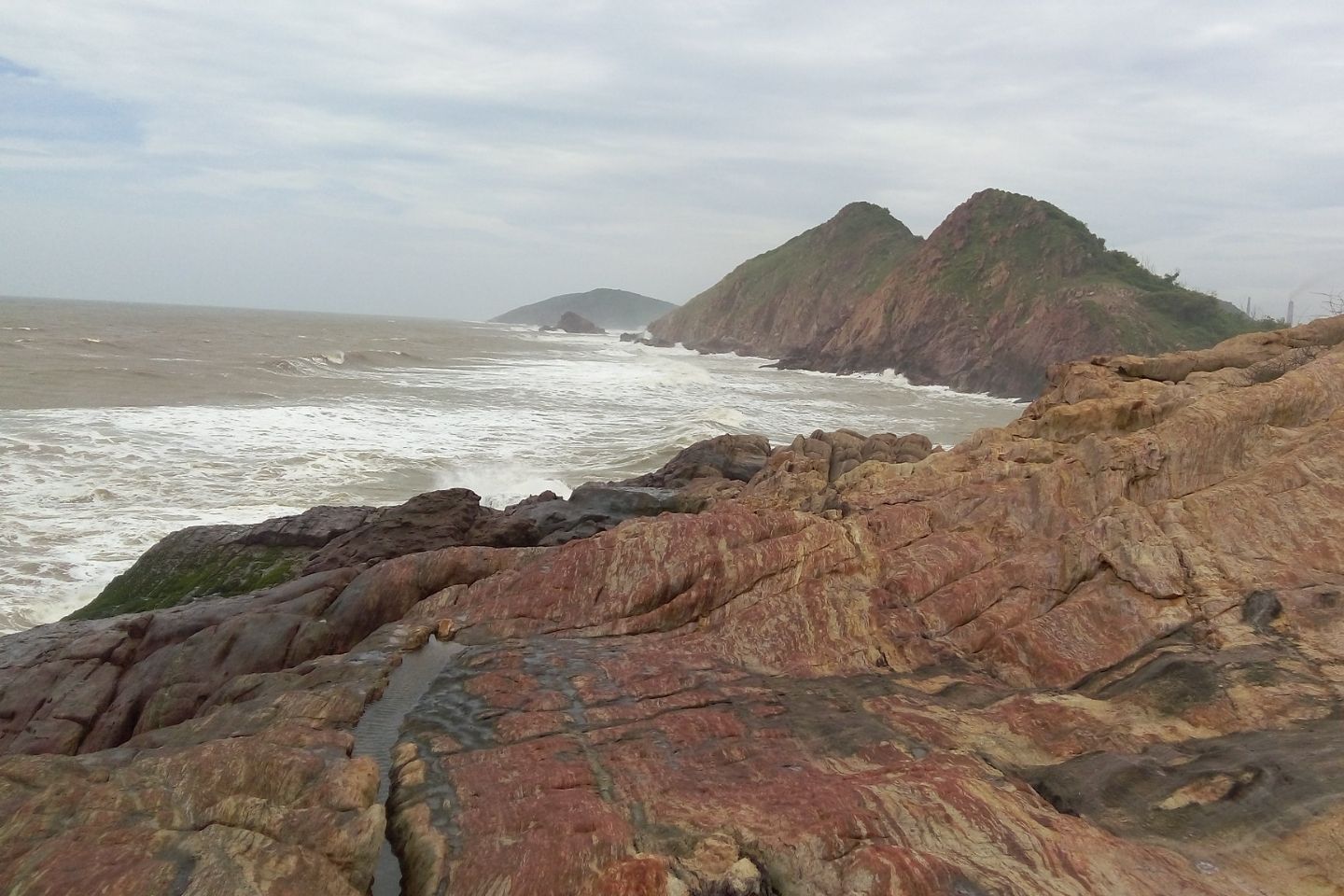 (courtesy: tarunkandavalli)
Any mention of beaches near Hyderabad is incomplete without Visakhapatnam beaches. To reach Visakhapatnam from Hyderabad, tourists have the options of all three modes of transportation, airways, road (12 hours) and even railways.
The charm of Gangavaram Beach is irrefutable, making it the most picturesque beach of Visakhapatnam. A popular location for shooting of films and TV series, this beach hypnotizes everyone with its scenic surroundings. From sunbathing to just playing games on the beach with friends and family, you can spend a blissful day here. The temple of Lord Krishna near the beach is the added attraction here.
Yarada Beach, Visakhapatnam (632 km)
(courtesy: nikhilveera)
One cannot miss Yarada Beach when planning to visit a beach near Hyderabad. The Dolphin Hills on one side and the ocean on another makes this beach a photographer's paradise. This beach is ideal for a relaxing weekend as it is less crowded compared to other beaches in the city. A walk under the moonlight sky and by the side of shimmering water will also make your trip memorable. If interested, try the local seafood and the fresh coconut water here.
Ramakrishna Beach, Visakhapatnam (636 km)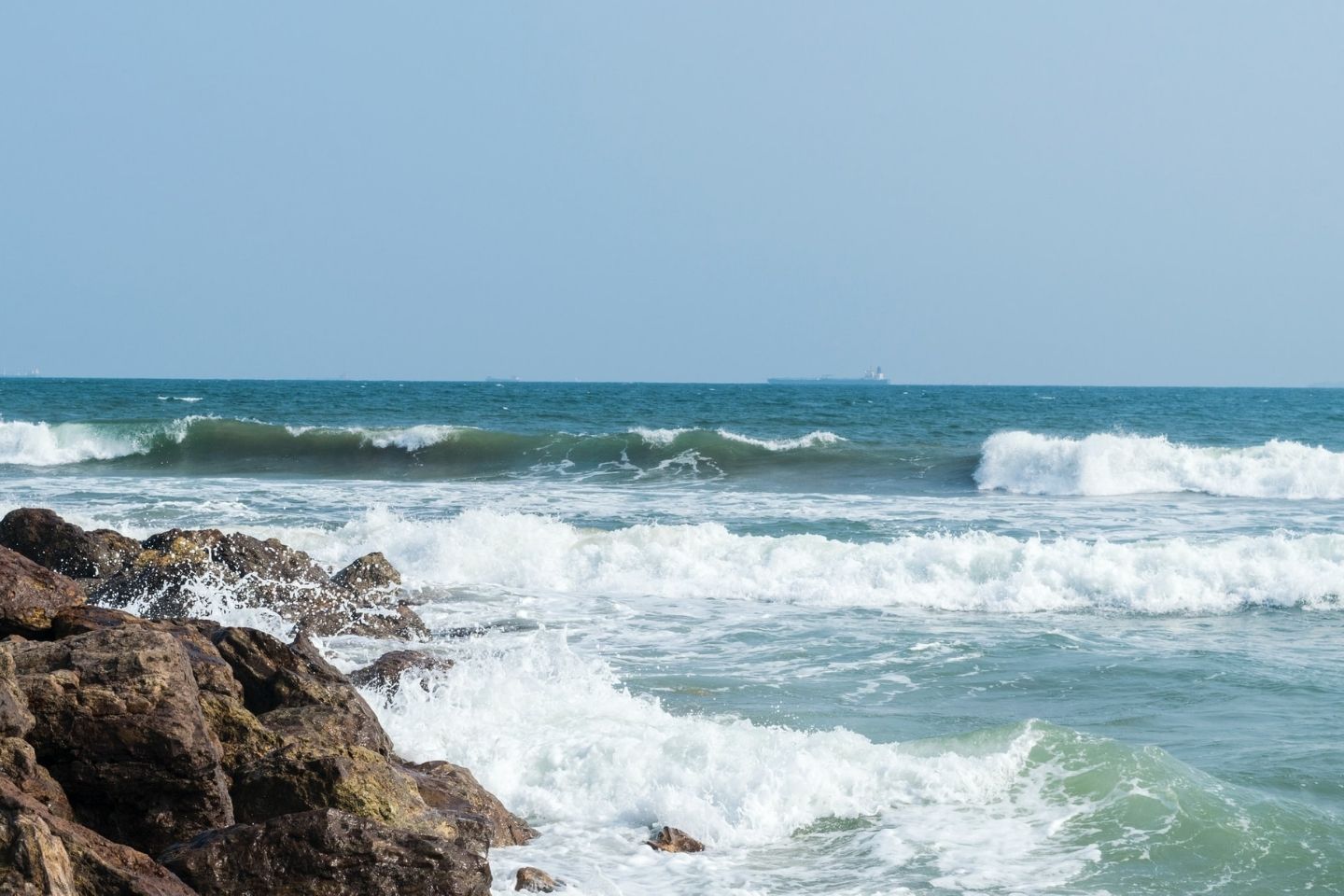 (courtesy: niharmodi)
Also known as RK beach, Ramakrishna Beach is a popular tourist attraction in Vizag. This beach is known for its scenic beauty, especially the sunset view. Many families come here for a relaxed picnic by the enticing sea. Enjoy a sunset or play beach volleyball or just take a nap under the open sky. There are many other sightseeing places which are located near to the beach. Some of the accommodations that are located near to the RK beach are Beach View Guest House and Hotel Rio Beach, etc.
Rushikonda Beach, Visakhapatnam (648 km)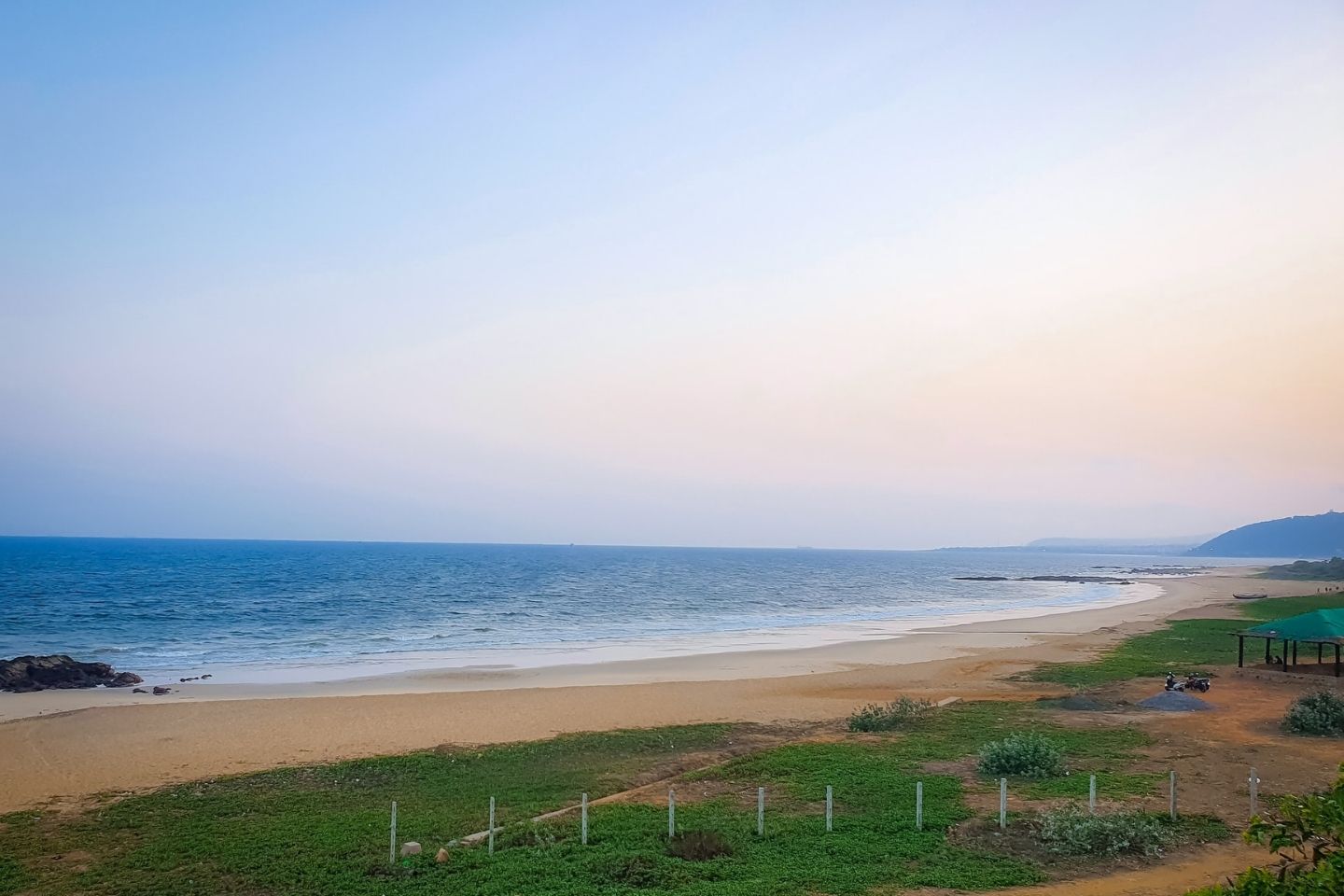 (courtesy: praneelmaddula)
The pristine charm of Rushikonda Beach in Vizag is worth experiencing. It is a rocky beach and is popular for water sports. Apart from relaxing at the beach, you can also try various activities such as surfing and skiing here. Beach Volleyball with your friends or family is another activity that is sure to make your time here special. Pema Wellness Resort and Haritha Beach Resorts are two of the many resorts located in its vicinity.
Bheemili Beach, Bheemunipatnam, Visakhapatnam (662 km)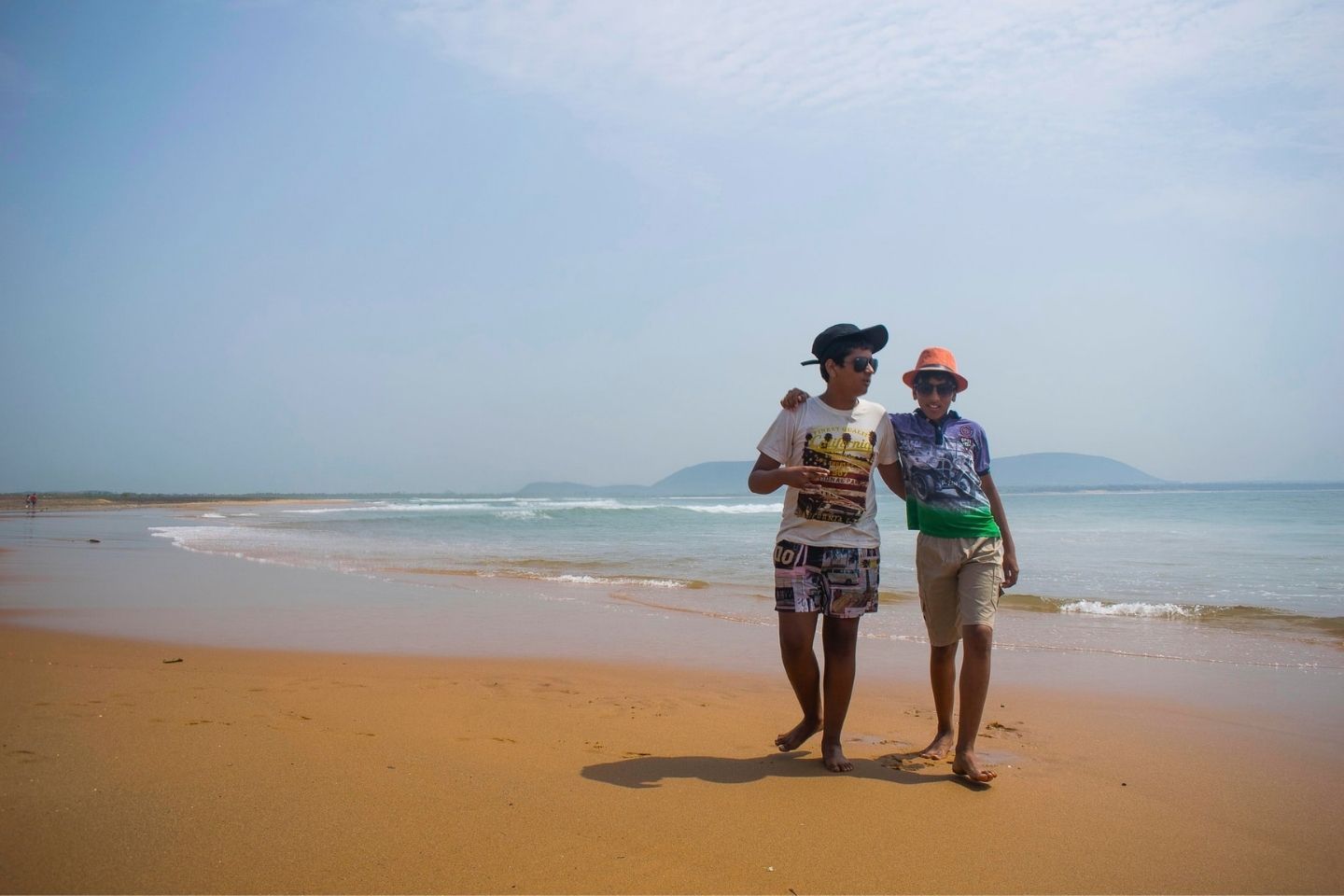 (courtesy: saurabhbahadursha)
Another famous beach that one can visit near Hyderabad is the Bheemili Beach. Known for its golden sand and enticing shores, this beach is also popular for various water sports such as swimming, snorkelling, skiing, etc. If interested you can go boating as well.
After a refreshing time at the beach, you can also go to explore the town of Bheemunipatnam. This historical town has ruins of forts dating back to the 17th century. Another attraction is Hollanders Green which is one of the oldest cemeteries and has tombs with embossing related to sea pirates. There are also remains associated with Buddhism on Pavuralakonda hillock. It takes around 13 hours to reach Bheemunipatnam from Hyderabad by road.