When you're in Hyderabad, you can never fall short of tourist places to explore as it is a kind of destination in South India that receives a huge influx of business as well as leisure travelers every year – all thanks to the booming IT industry, verdant mountains, landscapes, abundance of lush greenery, picturesque vistas, serenity, and the environment that remains pleasant almost all around the year.
Also referred to as the City of Pearls, Hyderabad blends its rich history with modern culture and diverse heritage to hypnotize travelers of all types. From a plethora of ancient sites to national parks, from lakes to waterfalls and gardens, from pilgrimage places to museums, mosques, and churches, and from fine-dining eateries to numerous shopping opportunities, there are several things to do in Hyderabad that entice people of all ages.
However, to have a great time in Hyderabad, you need to explore only the best of the city to know from the inside out. So, what is Hyderabad famous for? Below we have mentioned a few famous things that inspire people to plan a getaway to this location. These are as follows:

Take a tour of the Charminar area to dig deep into the Hyderabadi culture that will surely blow your mind. You can also hire a professional guide to experience the history and the old-world charm and to explore the various landmarks around this age-old monument.
Built by Muhammad Quli Qutab Shah in the year 1591, Charminar is a prominent structure in the heart of the city that stands as a testimony to the glorious bygone era. It is amongst the popular sightseeing places in Hyderabad that deserve to be on the top of your itinerary list when it comes to enjoying your visit to the fullest. Not only does it receive tourists in large numbers every year but is also bustled with the maddening crowd of locals throughout the day. Such is the aura and significance of this place.
Once done admiring its fascinating architecture supported by four graceful minarets, you can stroll around its Laad Bazaar to see an impressive collection of bangles. It's a km-long road that also welcomes people looking to buy clothes, cheap jewelry, and other items at reasonable prices. Make sure to have good bargaining skills before you enter this market as the local vendors there try to sell their items at overpriced rates.

Gift yourself a perfect weekend retreat by enjoying a relaxing evening at Hussain Sagar Lake in Hyderabad. Ideal for individuals, couples, and families, the Hussain Sagar Lake is a gorgeous artificial lake that offers a serene setting with a picture-perfect backdrop for people to attain peace of mind in utmost tranquility.
It is an ideal spot for locals to spend some time away from the annoying city lights, horns, and unwanted noise pollution and can also be frequented by those who want to have an intimate conversation with nature itself.
The huge statue of Gautam Buddha standing in the center is the most striking feature of this lake. You can also explore the surroundings of Lumbini Park, Sanjeevaiah Park, and Indira Park for a truly calming getaway on your Hyderabad tour. All these parks lie close to Hussain Sagar Lake and hence, can be easily accessed on foot.
Don't miss boating here, whether you're here for a short or long duration. You can choose from speed boats, mechanized boats, or ferries based on your choice of interest. The life jackets will be provided, so you need not to worry about your safety. It charges INR 50 per person for mechanized boats and INR 350 per trip for speed boats which can accommodate 4 people at once.
Ideal for tourists of all types, Ramoji Film City is the best theme park and amusement park in Hyderabad that presents the best of everything to its visitors. It is a perfect getaway for locals to enjoy a fun-filled day out loaded with boundless entertainment and fun with their near and dear ones.
From various film sets to sprawling landscape gardens, replicas of famous historical monuments, adrenaline-fueled outdoor sports, thrill-seeking rides and slides, toy trains, and world-class restaurants, the Ramoji Film City promises to deliver an experience that is beyond your expectations. If lucky, you might also come across your favorite actor shooting for his upcoming film.
Here you can also choose to enjoy a night at the hotel of your choice. For your convenience, there are many 5 and 7-star accommodations available near the film studio complex. Please note that the best time to visit the Ramoji Film City would be during the winter season as the weather during summer in Hyderabad tends to get hotter, making it uncomfortable for you to roam around the area.
The entry fee for a general guided tour (without food) is INR 800 for children between 3 to 12 years of age and INR 900 for adults. If you're up for a star experience (with food), you'll need to pay INR 1600 per person for children and INR 1900 per person for adults above 12 years of age.
4. Hyderabadi Biryani – The Best Meal to Hog On
Your visit to Hyderabad won't be complete without relishing the lip-smacking flavors of the Hyderabadi Biryani. An everyday meal for locals and a must-try dish for tourists coming from different parts of the nation, the Hyderabadi Biryani certainly needs no introduction as it is known for its signature taste that will surely inspire you to head to this city time and time again.
Some of the popular variants of Hyderabadi biryani are Lamb Biryani, Chicken Dum Biryani, and Hyderabad Zafrani Biryani. Don't worry if you're a pure vegetarian. Hyderabad has many eateries that serve veg biryanis with utmost love, care, and affection to its visitors.
Wondering where to go to have the best biryani in Hyderabad? Depending on your location, you can choose to visit Paradise Restaurant in Begumpet, Bawarchi Restaurant in Abids, Jewel of Nizam Restaurant at Masab Tank, Hotel Shadab at Ghansi Bazaar, Café Bahar at Basheer Bagh, Nayaab Hotel at Charminar, Four Seasons at Hafeezpet, and Dum Pukht Begum in Hi-Tec City. This list is never-ending. You can also ask the locals to shortlist the eateries around you.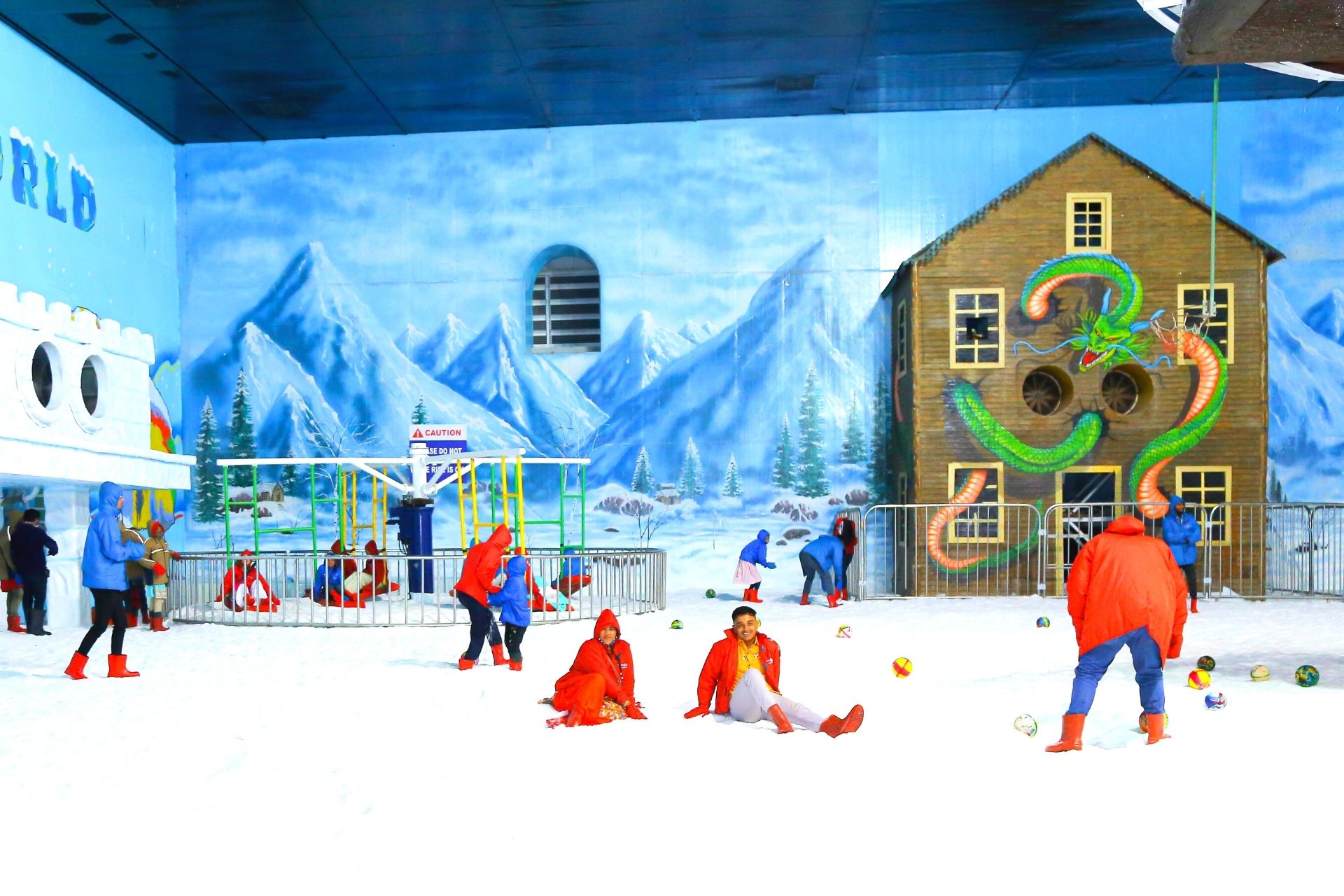 Kids will love this place. The Snow World is the first snow-themed park in the country that features a wide variety of rides to keep you entertained all day long. You can make snowmen or engage in a snowball fight with your loved ones to create some unforgettable memories for a lifetime.
In addition to all this, the Snow World also boasts ice-bumping cars that are quite a hit among children and adults alike. What's more? Recreational activities like Ice-Skating and Sledding are also available for all those who are looking to add an adventure to their Hyderabad tour.
You can experience the same feeling you get at a hill station with a visit to the Snow World as it's the only place in the city that maintains exactly the same environment. The best thing about this park is that the snow produced here is completely free from harmful and toxic products, making it safe for all age groups.
Entry fee to the Snow World is INR 250 per person for students below class 10, INR 300 per person for students above class 10, INR 250 for children with a height between 2 feet and 4 feet 6 inches, and INR 450 per person for adults.
6. Irani Tea – A Popular Beverage of the City
Don't miss sipping the Irani Tea whenever you're in Hyderabad, whether for a short or long duration. It is a type of chai or Indian-style milk tea that is traditionally brewed and served in the Irani cafes of the city. These cafes were first established by Persian immigrants in the late 19th and early 20th centuries, and they quickly became an integral part of Hyderabad's cultural and social fabric.
Irani tea has become an essential part of Hyderabad's daily routine and social gatherings. It is commonly served in the early morning, as well as during tea time in the evening. Many locals visit Irani cafes to enjoy a cup of tea with friends, catch up on news or gossip, or simply relax and unwind.
The ambiance of the Irani cafes also adds to the experience of drinking Irani tea. The cafes are often decorated with vintage furniture and old-world charm, giving visitors a glimpse into the city's rich history and cultural heritage. The friendly and hospitable staff also adds to the overall charm and warmth of the experience.
---
In addition to all these things, the city of Nizams has a lot more to offer to its visitors. If time permits, you can plan to explore the other things in Hyderabad which include the Falaknuma Palace, Salar Jung Museum, Golconda Fort, Qutub Shahi Tombs, Nizam's Museum, Birla Planetarium and Science Museum, NTR Gardens, Shilparamam, Nehru Zoological Park, Birla Mandir, Mecca Masjid, Sultan Bazaar, and many more.
Need any help with trip planning? Get in touch with our professionals! We at Hyderabad Tourism, a division of Holidays DNA, present different types of Hyderabad tour packages to cater to the diverse needs of our varied clientele. Our all-inclusive packages can also be altered as per your choice. We can add a personal touch to our travel packages to make them suitable for you. Please fill out the Contact Us form to know more about our offerings!