Owing a perfect amalgamation of rich history and diverse culture, Hyderabad, also referred to as the dynamic pearl city of India, hypnotizes everyone whosoever visits this city whether for a business or leisure trip. It's one of the most sought-after tourist destinations that is widely renowned for its historical attractions, old traditions, young crowd, racing lifestyle, and lip-smacking cuisines.
From pilgrimage sites to museums, theme parks, gardens, lakes, waterfalls, appealing shopping markets, and much-hyped BIRYANI scenes, there are many things to see in Hyderabad. While on one side, solo travelers and couples can spend a good amount of time amidst lush greenery, landscapes, and bountiful nature, families with children, on the other side, can plan to roam around many tourist locations to create some unforgettable memories for a lifetime.
The top 8 places to visit in Hyderabad with family are as follows:

The most iconic monument of the city, Charminar is a historical edifice that features a square-shaped structure with a small mosque on the top floor. Built by Muhammad Quli Qutub Shah in the year 1591, the epic signature, also referred to as the "Arc de Triomphe of the East", was named Charminar because its architecture is beautifully supported by four minarets.
Lying in the heart of Old Hyderabad, Charminar is a famous sightseeing place that draws the attention of thousands of tourists every year. Not only does it boast a rich history that reminds people of the bygone era but is also famous for its popular Laad or Chudi Bazaar which caters to the needs of women looking for colorful bangles and artificial jewelry. One can also shop for various other items like sarees, silk materials, traditional dupattas, pearls, etc., at reasonable prices.
The entry fee to visit the Charminar is INR 5 per person for Indians and INR 100 per person for foreigners. You can take a stroll around it at any time between 9:00 AM and 5:30 PM and the ideal exploration time would be 1-2 hours.
Perched 30 km away from Hyderabad is the Ramoji Film City which serves as an ideal destination for families seeking to spend a day full of fun, laughter, and joyous moments. It's a perfect weekend getaway destination that impresses everyone and offers many things to keep its visitors occupied all day long.
From strolling around the various shooting sets like the Japanese Garden, Askari Garden, Hospital, Airport, London Street, Mughal Garden, and Hollywood Signage to visiting the birds park to see a variety of exotic bird species, from engaging in adventure sports like basketball, football, and cricket to feeling the adrenaline-rush at the Movie Magic Park, from taking your kids to the Kid's Park to enjoying the live shows, there are umpteen activities for people of all age groups.
Please note that the cost of the ticket at Ramoji Film City varies as per the package you choose. For the General Tour Package (without food), it charges INR 900 per person for adults and INR 800 per person for children between 3 to 12 years of age, for Star Experience Tour Package (with food), you'll need to pay INR 1900 per person for adult and INR 1600 per person for children.

Dedicated to Lord Venkateshwara, Birla Mandir is another sightseeing place in Hyderabad that forms a serene atmosphere for all those who are looking to attain peace of mind in tranquility far away from city life. It's a holy site that is located on a hill that is as tall as 280 feet, thus allowing you to look over the entire Hyderabad, Secunderabad, and Hussain Sagar Lake.
The prime highlight of the Birla Mandir is its architecture which looks mesmerizing when viewed even from a certain distance. Made up of white marble, the structure is a mix of both the Nagara and South Indian styles. Another attraction is its main idol which is no less than a treat to watch. Once done with the prayer offering and worship, you can also pay heed to the Birla Science Museum and the planetarium to make the most of your visit as both are located nearby to the location.
Entry to Birla Mandir is free for everyone. Coming to its timings, the temple remains open for its devotees from 7:00 AM to 12:00 PM in the afternoon and then from 3:00 PM to 9:00 PM in the evening.

Ideal for solo travelers, couples, and families, JalaVihar Amusement Park is a popular amusement park that invites people of all ages to enjoy an action-packed affair. It's a kind of park that offers the largest waterpark in central Hyderabad along with innumerable wet and dry rides for your entertainment.
You can choose to relax by the wave pool. You can dance to the Bollywood chartbusters while the water is being splashed on you from all sides. You can try your hand at Bungee Trampoline, Air Hockey, Battery Bikes, Mini Rainbow Wheel, Basketball, etc., to have the time of your life. The JalaVihar Park also has a dedicated children's area for little guests. In the middle of all this, don't forget to pay a visit to the food court that serves various delicacies to serve all taste buds.
For people with 3 feet or above 3 feet of height, the entry fee is INR 350 per head and for people below 3 feet of height, the cost is INR 250 per head. The opening and closing timings of the JalaVihar Park are from 11:00 AM to 7:00 PM on all days i.e., from Monday to Sunday.

An urban park located close to Hussain Sagar Lake, Lumbini Park is a gorgeous park that welcomes locals to relax and unwind in the serenity of nature with lush green surroundings all around the area. It's a worth-visiting spot for kids looking to get away from the boredom of everyday life and wanting to spend some time at an open place.
Toddlers, adults, and young people visit Lumbini Park in Hyderabad almost every day to create some unforgettable memories for a lifetime. There is a majestic clock at its entrance, a garden with a variety of colorful flowers and plants, a musical fountain show, and a 3D laser show for your utmost enjoyment. You can also opt for a delightful boating ride to interact with the streams of water. During boating, you will get a complete tour of the lake. That means that one also gets a chance to observe the statue of Lord Buddha closely. What else?
The entry fee for Lumbini Park is INR 10 per person for children and INR 20 per person for adults. It remains open for its visitors from 9:00 AM to 9:00 PM every day.

The next destination that is worth visiting for you and your loved ones is the Nehru Zoological Park. It is considered as one of the largest zoos in India that gives you a chance to have a close interaction with the animals rather than just observing them from a certain distance.
Opened to the public in 1963, the Nehru Zoological Park provides shelter to nearly 1500 different species of wildlife creatures. Visit the Fish Aquarium to get a hands-on experience of the marine and freshwater fishes, head to the Butterfly Park to spot a variety of butterflies, or take some time out for Jurassic Park to see what the terrifying dinosaurs look like.
There is also a Museum and a Children's Park with many kinds of swings and activities for children of all ages. For a recreational experience, you can opt for bicycle rides, toy train rides, and safari rides. It is up to you how you want to make the most of your visit.
Entry fee to Nehru Zoological Park varies on weekdays and weekends. On weekdays, it is INR 50 per head for adults and INR 30 per head for children between 3 to 10 years of age. On weekends, the price of the ticket is INR 60 per head for adults and INR 40 per person for children. In case you're carrying a still camera, you'll need to pay INR 100 for it, and for a video camera, the charges are INR 500. Please note that the park remains closed every Monday, which means you can plan a getaway from Tuesday to Sunday at any time between 8:00 AM and 5:00 PM.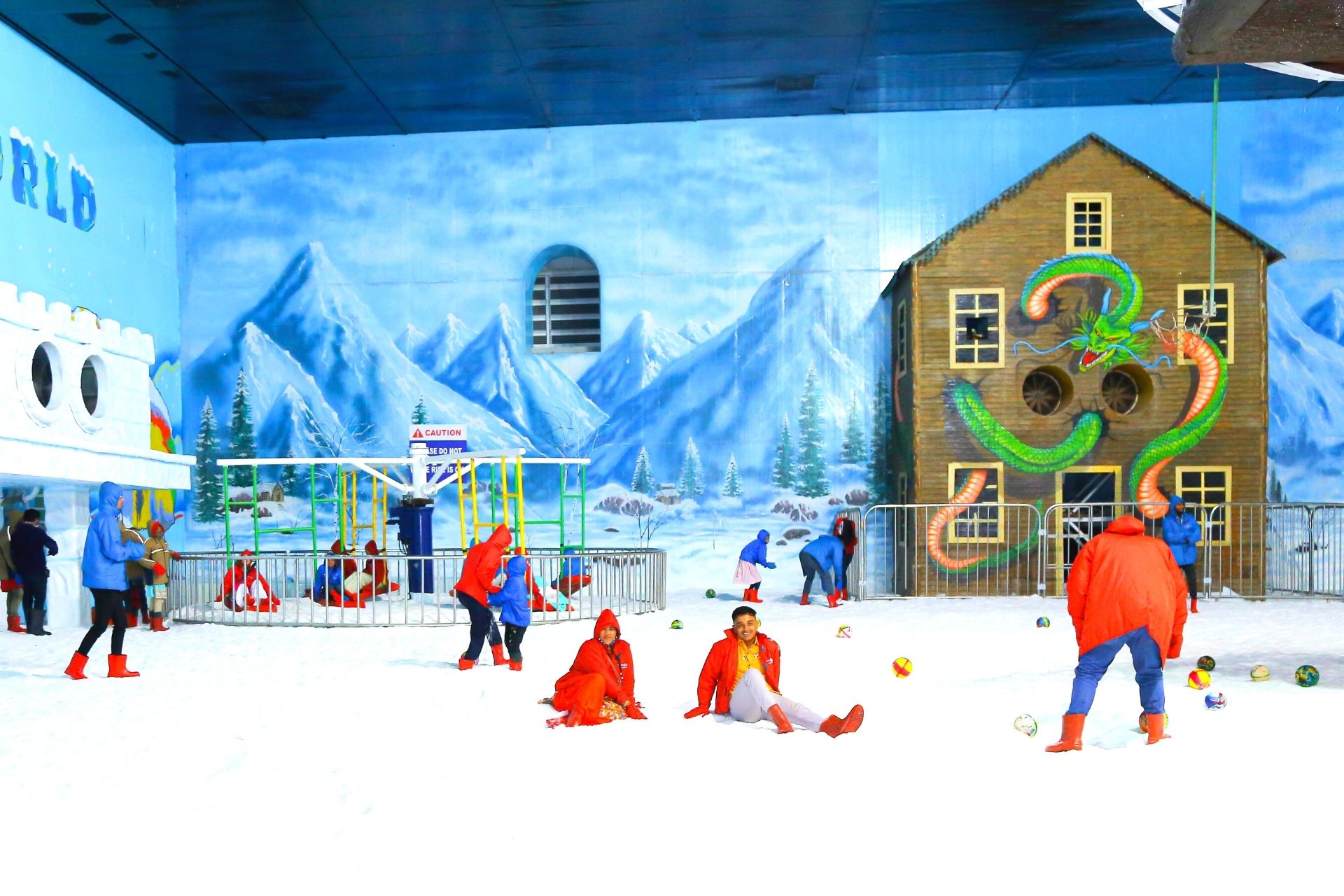 If you have never seen snow and would like to experience it for the first time on your Hyderabad tour, you should pay heed to the Snow World. The first snow-themed park in India, Snow World is an interesting place to explore for both locals and tourists alike.
Here you get a feeling like you're in a hill station surrounded by snow-clad mountains and wonderful landscapes, with snow happening all around the year regardless of the season you visit. What makes this place even more unique is – the snow produced here is free from all kinds of germs, pesticides, and pollutants.
Build snowmen to create some everlasting memories. Engage in a snowball fight for a fun-filled day out. You can also opt for ice skating, ice boarding, and toboggan rides. The Snow World also features many igloos and a horror house which gives you the chills throughout the time. Don't forget the indoor go-karting facility, which makes the overall experience more exciting for you.
Entry fee to the Snow World is INR 250 per head for students below class 10, INR 300 for students class above 10, INR 250 for kids between 2 feet and 4 feet 6-inch height, and INR 450 for adults above 4 feet 6-inch height. The ideal timings to visit it are from 11:00 AM to 8:00 PM and the recommended exploration time would be 3-4 hours.

Plan a getaway to Shilparamam to shop for various artifacts and traditionally-made handicrafts at competitive prices. It's a craft village that preserves and conserves the crafts done by renowned artisans from all over the nation.
Heaven for art lovers, Shilparamam is a must-visit sightseeing place in Hyderabad that offers numerous things to keep its visitors occupied throughout time. There, you can find a Crafts Museum, a Rock Museum, a Rural Museum, a Cultural Museum, a Multi-purpose Museum, a Research and Design Centre, a Recreational area, and an Accommodation area for artists.
Shoppers can spend a few bucks in buying items like jewelry, bed sheets, shawls, hand-woven sarees, dresses, etc., along with relishing mouth watering snacks. For your entertainment, Shilparamam also hosts various dance performances in an amphitheater free of cost.
The price of the ticket to enter the gate of Shilparamam is INR 60 per person for adults and INR 20 per person for children. It opens its door every day from 10:30 AM to 8:00 PM and the ideal time to explore its beauty would be 2-3 hours.
---
Other than these places, the City of Nizams has many interesting options to offer to its visitors. Depending on your holiday mood, budget, and style, you can plan your itinerary the way you want and explore the famous sightseeing spots. A few of the locations that deserve your attention in Hyderabad are KBR National Park, Sanghi Temple, Necklace Road, Mount Opera Theme Park, Taj Falaknuma Palace, Chilkur Balaji Temple, Hussain Sagar Lake, and Durgam Cheruvu Lake.
Book a Hyderabad tour package with us to have a blast on your trip. We at Hyderabad Tourism, a division of Holidays DNA, present our diverse clientele with a variety of travel packages that can be customized to suit their varied holiday needs. You can also opt for all-inclusive packages for a hassle-free experience. For your convenience, our team has also curated a list of top car rental companies in Hyderabad from where you can hire a private taxi to commute within the city in your comfort. Please fill out the Contact Us form to know more about our services.