Hyderabad Nampally Exhibition (Numaish) 2023 Start & End Date: to
Nampally Exhibition 2023 Entry Fee
Entry Fee:
Adult: Rs.40/-
Child: No Entry Fee (below 5 yrs)
Senior Citizens: No Entry Fee
Differently-abled Persons: No Entry Fee

Car Parking Fee inside exhibition grounds
Four Wheeler: Free
Two Wheeler: Free

Car Parking Fee at other places
Four Wheeler: Rs.50/-
Two Wheeler: Rs.20/-

Parking also available in premises of Government Junior College, Nampally (opposite Gandhi Bhavan)
Note: There are lot of incidents about duping people in name of car parking. These miscreants who have leased out the open grounds near the exhibition charge premium rates for car & bike parking.
Rating:

|
4
stars, out of
5
stars
Based on total
109

reviews
Hyderabad Nampally Exhibition (Numaish)
Address:

Nampally Exhibition Grounds, Mangalhat, Nampally

,

Hyderabad

,

Telangana

,

500001

,

India
2023 Hyderabad Nampally Exhibition (Numaish) Timings
| Day | Timing |
| --- | --- |
| Monday | 3:00 pm – 10:30 pm |
| Tuesday | 3:00 pm – 10:30 pm |
| Wedesday | 3:00 pm – 10:30 pm |
| Thursday | 3:00 pm – 10:30 pm |
| Friday | 3:00 pm – 10:30 pm |
| Saturday | 3:00 pm – 11:00 pm |
| Sunday | 3:00 pm – 11:00 pm |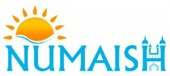 Links:
Map
|
Website
---
Hyderabad Numaish / Nampally Exhibition 2023 Dates and Timings
We are excited to announce that Nampally Exhibition 2023 will be opened from 1-January-2023 until 15-February-2023 and the timings would be from 3:00 pm to 10:30 pm on weekdays and 3:00 pm to 11:00 pm on weekends. So, Get ready for the upcoming 2023 Hyderabad's Numaish Exhibition.
Hyderabad Numaish is the largest Consumer Exhibition in Hyderabad. An annual event which usually starts with the beginning of the New Year is the only event in the world which is organised for a stretch of more than a month i.e. for 46 days. Howvever, last year due to Covid-19, the exhibition could not be continued after its start on 1st January 2022 and had to be shutdown immediately. Later, due to the number of cases declining, it was set to reopen on a different date i.e; 25th February 2022
Numaish is organised at Nampally every year at a ground that is spread over 23 acres of area. What makes this exhibition unique is the umpteen number of choices that it offers. Not only a place for shopping lovers, it has equally interesting choices of entertainment. From fun rides, toy train, a wide array of eateries, and cultural shows, Nampally exhibition has something to keep every visitor pleasantly engaged.
The history of Hyderabad's grand heritage can be seen not only in its majestic monuments and museums but even in its festivals, its traditions that are practised even today, a culture of happiness and togetherness that still the city of Hyderabad cherishes as well as enjoys. Example of one such Hyderabad festival is Numaish also called Nampally Exhibition, a name synonymous to enjoyment and fun.
Nampally exhibition 2023 is one of the biggest fairs of India with a wide variety of products alluring every visitor. Whether you are interested in electronic devices or want to buy some jewellery, whether you are keen on finding some local handicrafts from states like Uttar Pradesh, Kashmir, Bengal, etc., or want to buy textiles to take back home; whether you want to buy dry fruits or just try the local flavours at various eateries; Nampally exhibition is an ideal place for all.
However, while buying at Numaish, you do need to try your bargaining skills as much as you can. Apart from shopping, entertaining rides such as mini-train, ferris wheel, motorcycle stunts, giant wheel and more offer a refreshing break to recharge visitors for more shopping.
Hyderabad Nampally Exhibition 2023
With the end of February 2022, Hyderabad Nampally Exhibition starts again on 1st Jan 2023. This year, Numaish will complete 82 years, which is an achievement in itself.
Nampally Exhibition 2023, which is a 46 day long exhibition, is expected to have more than 2300 stalls, offering visitors with many more interesting choices. Traders from all over the country come here to have their stalls at the exhibition. Along with this, even state and central government departments will have their stalls. Numaish is also famous for the huge number of visitors that it attracts. This year Nampally exhibition is expected to receive more than 24-25 lakh of visitors.
Although you can visit Numaish at any day and enjoy the wide range of activities and shopping choices that it offers. However, on various special days you will be able to admire its vibrant charm even more. For instance you can visit on Ladies Day which is on January 6th 2023 or take your kids along for a special Children's Day on January 31st. Various competitions are also organised on various days, such as water colour painting, rangoli colours, flower arrangements and mehndi, Cookery Competition, etc. Special programs will be held on Sankranthi January 15, 2023) and Republic Day (January 26, 2023).
To make your experience of Numaish even more enjoyable, there will be the facility of free wi-fi at the exhibition. However, the facility of wi-fi will be offered only for 45 minutes after you enter the exhibition ground. Also, there is an 'Exhibition App' that allows visitors to get all important information about the exhibition right in their phones. Information varying from stalls, events, competitions, eateries, timings and entry fee, can be searched on this app along with booking e-tickets. Live streaming of video will also be done.Owing to the huge number of people who visit this exhibition, facilities for health care and other primary services are also provided at Numaish.
Nampally Exhibition History
The Nampally exhibition started during the rule of Hyderabad's last Nizam Mir Osman Ali Khan in the year of 1938. It was started by a group of Osmania University graduate students with the intention to display locally created products. The first exhibition event had 100 stalls, and was organised at the Public Gardens. However, later the venue was shifted to the present venue which is Exhibition Grounds of Nampally.
Originally named as All India Industrial Exhibition, it was in 2009, when it was renamed as Numaish. The word, Numaish, means exhibition in Urdu language, representing the open air exhibition of varied products brought by traders and artisans from various parts of the country. Numaish receives traders from not all over India but also from various countries like Iran, Turkey, Bangladesh, etc. Earlier even stalls from Pakistan used to be a part of the exhibition.
2023 Nampally Exhibition timings and Entrance Fee
The timings of Nampally exhibition are from 3:00 PM to 10:30 PM on weekdays and from 3:00 PM to 11:00 PM on weekends. It is organised at the Exhibition grounds at Mukarram Jahi Road. Entry fee for the exhibition is Rs.40 per person. Entry is free for children below 5 years of age. Free parking facility is also offered at the grounds. For visitors' safety and to curb any incidents of snatching or stealing, police personnel and watch teams are also deployed.
Reaching Numaish/Nampally Exhibition
Exhibition Grounds at Nampally is easily accessible because of its location, which is the centre of the city. Visitors can travel by mmts/ local trains to the Nampally railway station and from there either walk or take an auto-rickshaw to the exhibition. One can also travel by metro train or city buses to reach here. Once you are at the exhibition, you can enter through three gates. The main entrance is known as Ajanta gate, which is also the biggest. Other two are Gandhi Bhavan Gate and the Goshamahal Gate.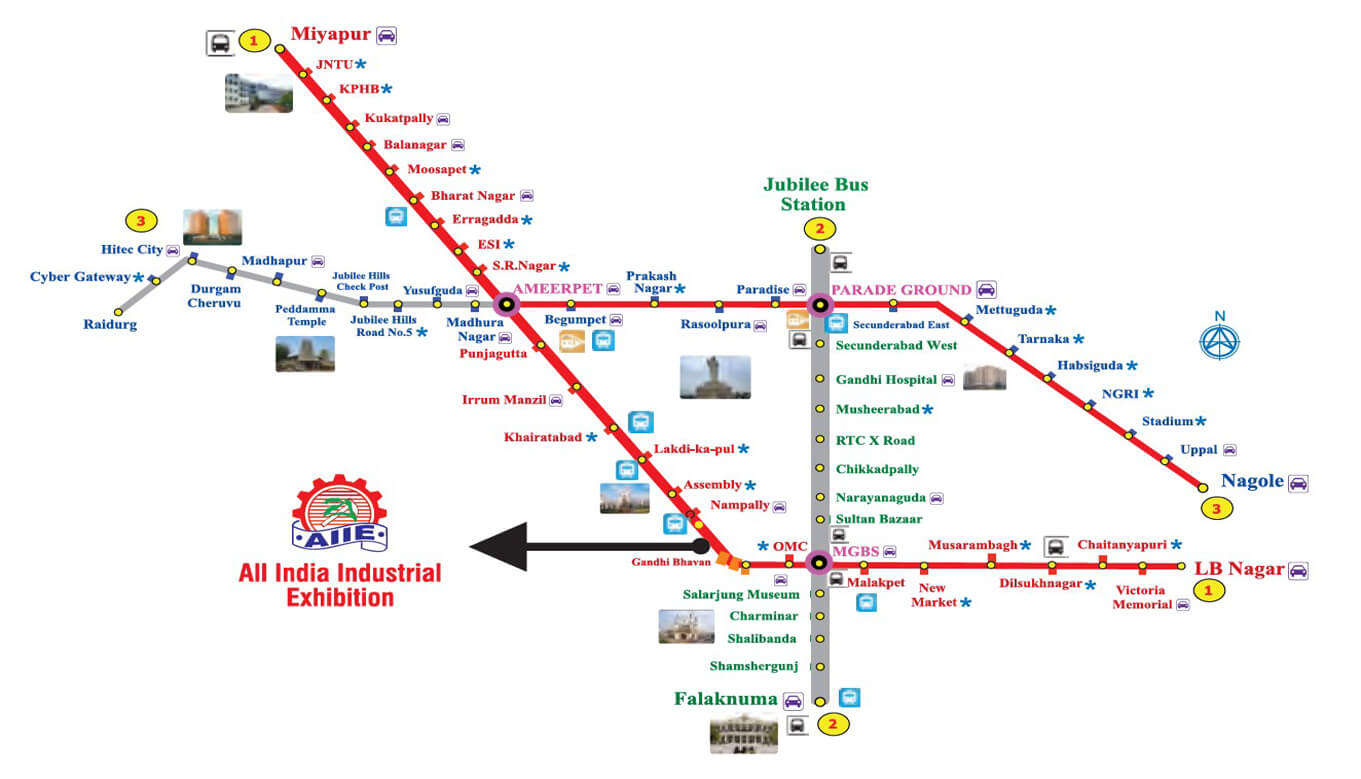 The Nampally Exhibition is not just limited to shopping. It combines commerce and business with recreation and relaxation. Many fun-filled & special events are held at the Exhibition grounds, which make it a much awaited event for a family outing. Master Chefs serve up delicious food at the food courts, satiating the taste buds of gourmets and connoisseurs. Musicians, Dances, Singers and Entertainers are there every day to keep the culturally inclined visitors happy. All the basic amenities and facilities such as on-site extension counters of nationalized banks and ATMs are a standard feature. A Radio Station plays old Hindi numbers to rekindle nostalgic memories. The Numaish has remained one of the most joyous shopping festivals that one must be part of. It delivers equal value to vendors as well as buyers. There is something here for everyone.