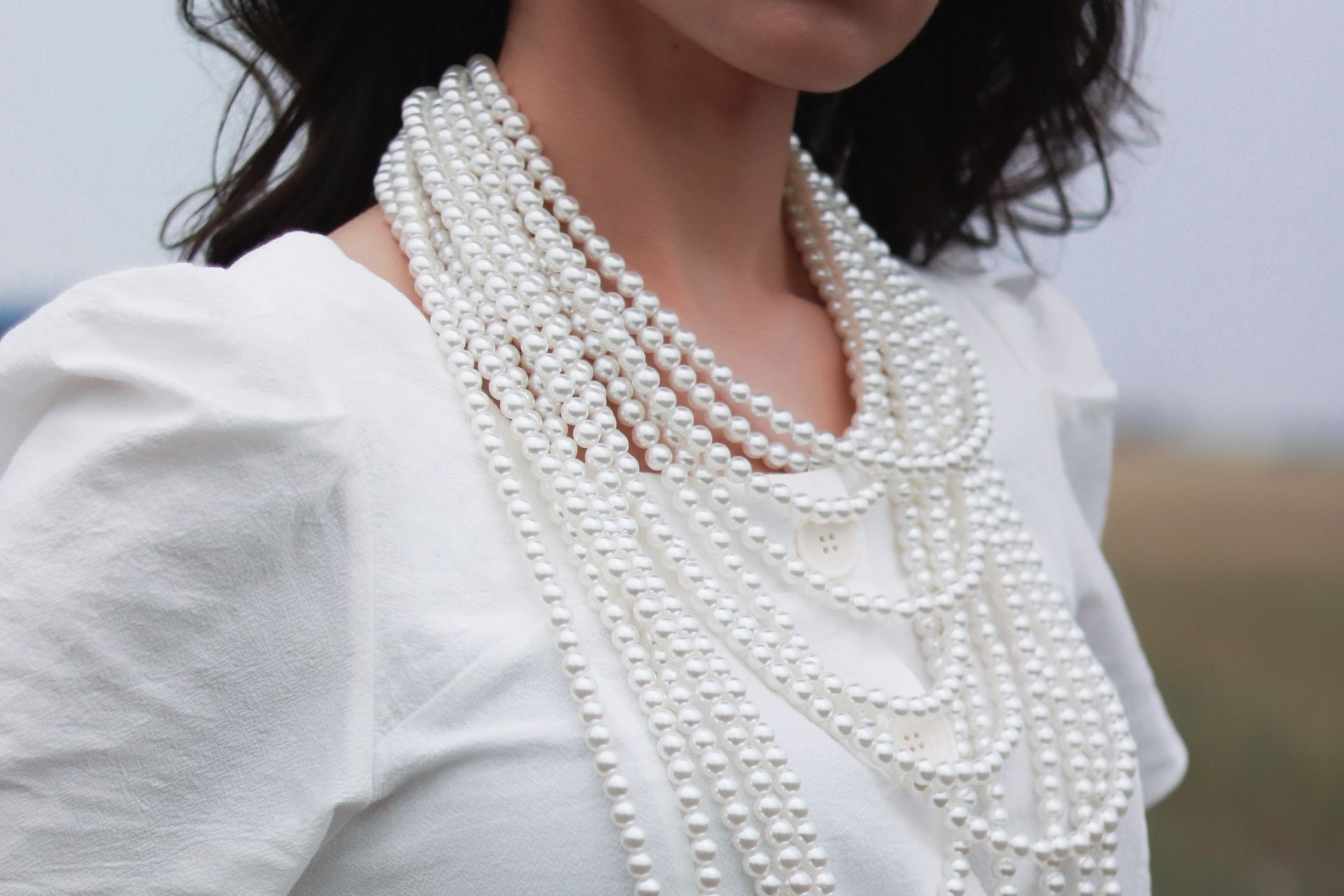 (courtesy: ilyasbolatov)
It will not be a waste if you decide to dedicate an entire day of your Hyderabad tour to pearl shopping. This city prides in producing some of the best pearls in the world. Hyderabad, the city of Nizams is also referred as the 'city of pearls'. Hyderabad is known for its wide variety and excellent quality of pearls. Any tour to the city is incomplete if you have not gone shopping for Hyderabadi Pearls.
Best Places for Pearl Shopping in Hyderabad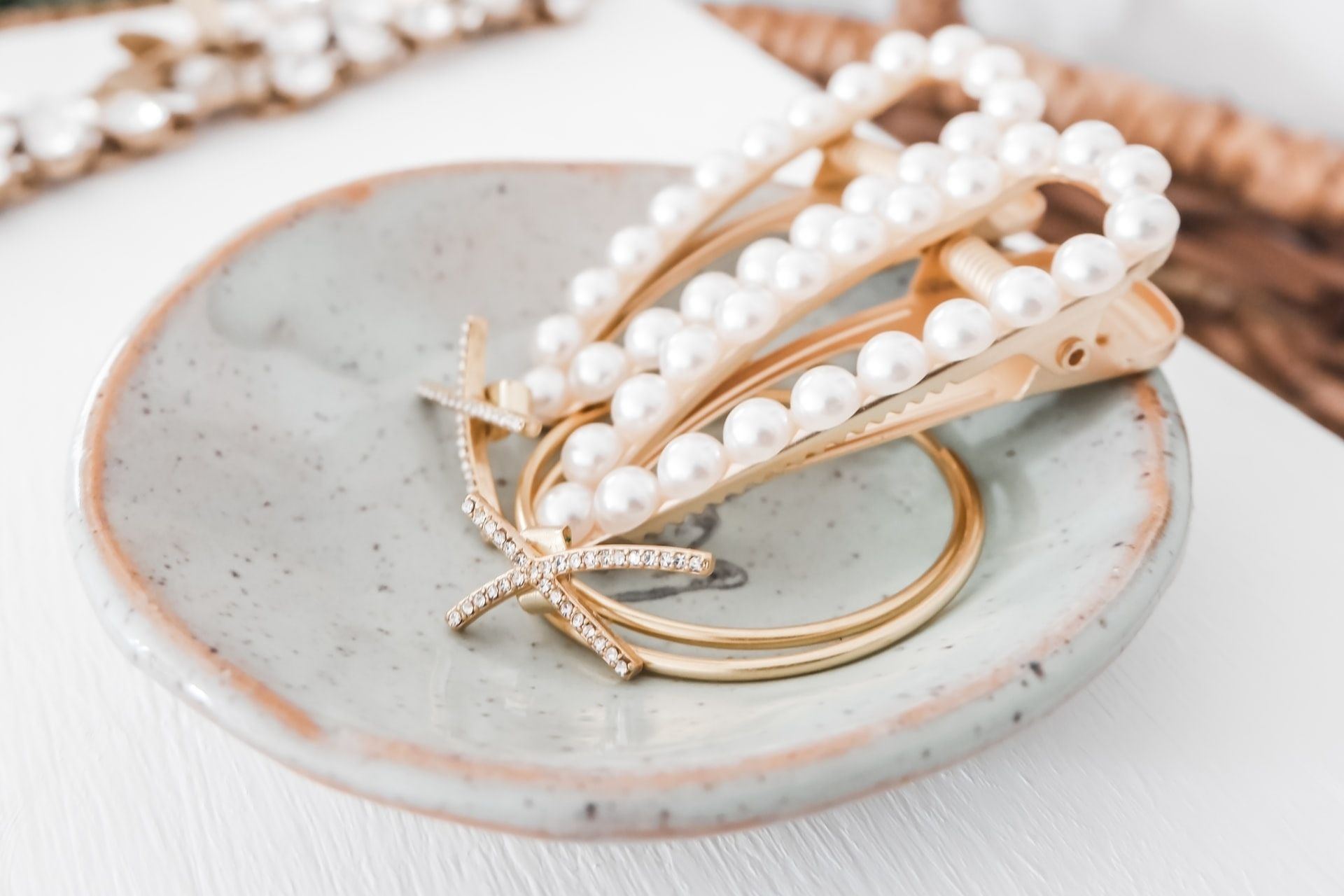 (courtesy: fionamurray)
Hyderabad has various pearls shops offering a wide variety of pearl jewellery as well as single pearls. Although Pathergatti and Laad Bazaar have been known for pearls since ancient times and have hundreds of shops selling all kinds of Hyderabad pearls and in various price ranges as well, there are a few more places to go for buying pearls.
Pathergatti
The most celebrated market in relation to pearl shopping is the Pathergatti road which is very close to Charminar, one of the best tourist places to visit in Hyderabad. Dazzling with umpteen number of pearl shops, this legendary street is located close to Madina Market. At Pattherghaati, you will find a vast variety of pearls. The cost also ranges from hundred rupees to thousands, depending upon the quality and authenticity of the pearl you are buying.
Seth Kedarnathji Motiwale Pearl in Pathergatti is nothing less than an icon. Opened in 1906, it is the first documented jewellery shop in Hyderabad and is well known for pearls. Krishna Pearls is another popular jewellery shop for genuine pearl jewelleries. Do remember to bargain for the best rates.
Pot Market
Another quintessential place for pearl shopping in Hyderabad is the Pot Market. Whether you are looking for single pearls or pearl jewellery, this place will offer ample choices, each promising natural and genuine cultured pearls. If you are looking for something different from the popular designs of pearl jewellery then this is the place to visit.
Pot Market is known for unique designs and authentic pearls, owing to which sometimes the prices tend to be slightly higher than the other markets. Some of the known pearl shops here are Manyang Jewellers, Sri Jagdamba Pearls, Arihant Pearls, etc.
Laad Bazaar
One of the ancient markets of Hyderabad, Laad Bazaar is famous not only for lacquer and glass bangles but for pearls as well. An intrinsic part of every Hyderabad city tour, this market offers extensive options for pearl shopping as well.
Many iconic jewellery and pearl shops are located near Charminar, making it an ideal place for authentic pearl shopping. If interested in buying imitation pearl jewellery, here you will find a few shops for those as well.
Jagdamba Pearls, Krishna Pearls, Andhra Pearls are a few of the prominent jewellery stores located here. Laad Bazaar opens from 11 AM to 11 PM.
Basheer Bagh
One more place that you cannot miss if you love Hyderabad pearls is the Basheer Bagh. One of the largest markets, it offers a perfect collection of showrooms and wholesalers for pearl shopping.
Meena Jewellers at the Babukhan Estate is a famous wholesale place for saltwater pearls. Mangatrai Pearls, Gems and Jewelers is also worth exploring for exquisite pearl jewellery designs. It is located near Abids and Nampally and is open from 10 AM to 10 PM.
Sai Pearls and Gems Shop in Taranagar, Sri Ram Jewelers, Kedarnathji Motiwale, are also quite popular for pearl jewelleries.
Begum Bazaar
Begum Bazaar is another place that you must visit if planning to go pearl shopping. Although known for brassware and perfumes, this market is an equally important destination for shopping pearls. Here, you will find great varieties for both authentic and fashion pearl jewellery, ranging from earrings to necklaces and bangles. It opens from 9 AM to 10 PM. When visiting Begum Bazaar, be ready to practice your bargaining skills.
Beware of Fake Pearls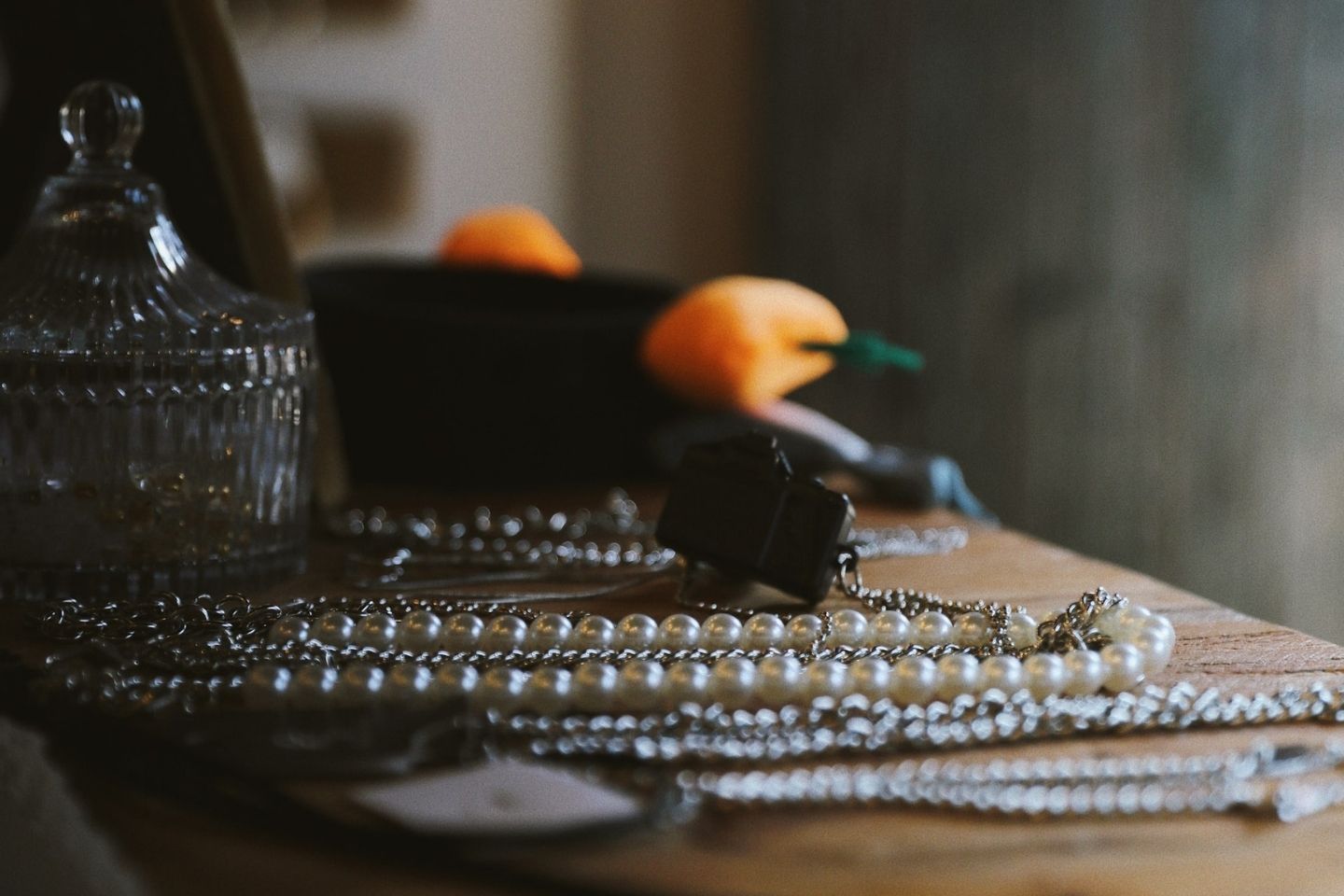 (courtesy: hanxiao)
One of the most crucial things while shopping for pearls is to know the difference between fake and real pearls. With imitation pearls on the rise, it has become essential to check the quality of pearls before buying. Usually there are few pointers which a buyer can keep in mind while buying pearls.
It is said that when you touch the real pearls you will find them slightly colder while they get warmer once worn. They are also heavier and more radiant. The surface of real pearls is also grainer when compared to fake ones. As per some, the teeth gritting test could be a way to find out the authenticity of a pearl jewellery.
Apart from these, the safest way is to shop from authorised showrooms and jewellery shops. A premium pearl store will have a variety of genuine pearls (cultured and natural). However, if you are concerned about the prices of the jewellery at these stores, then opt for shopping at the markets we have mentioned above.
History of Hyderabad Pearls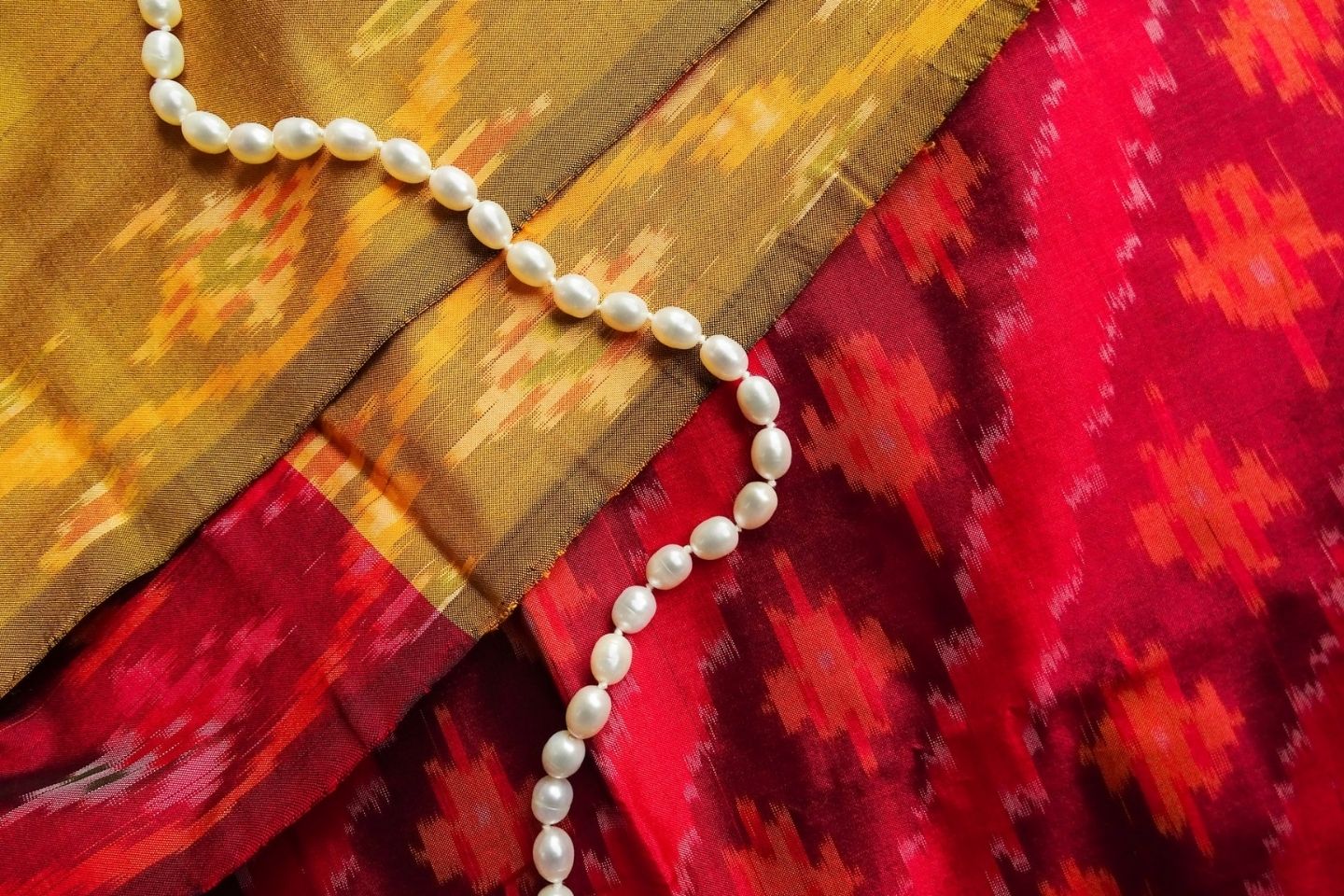 (courtesy: urvikotasthane)
The history of pearls in Hyderabad is almost as old as the city itself. During ancient times, the trade of pearls depended on the ones from the Persian Gulf. The pearls were originally brought from Basra in the Persian Gulf by the Nizams of Hyderabad. Eventually craftsmen were trained in Hyderabad for pearl drilling and processing, which led to making Hyderabad an integral part of Pearl trading.
Pearls were apparently brought by a royal merchant Ram Dutt Malji. In 1906, jeweller Ram Dutt Malji opened the first shop to sell pearls in Hyderabad. He and his son later were appointed as the Royal jewellers who would design customised pearl jewellery for the Nizams.
It was in the village of Chandampet where the majority of pearls are cultivated. Chandampet which is located quite close to Hyderabad is one of the main centres with skilled and efficient craftsmen working since ages, making it one of the most important drilling centres of India. In Chandampet, all people in the working age group are involved in pearl drilling, which itself is a unique skill.
After drilling, the pearls are boiled for at least for four days and later washed and separated based on their sizes and shapes. They are also separated based on their colours. White pearls are traditionally most popular although pink and black pearls are also increasingly gaining popularity amongst buyers. Some of the popular ornaments using Hyderabadi pearls are chand bali, Satlads, haath phool, bracelets, vaddanam, etc.
Know the types of Pearls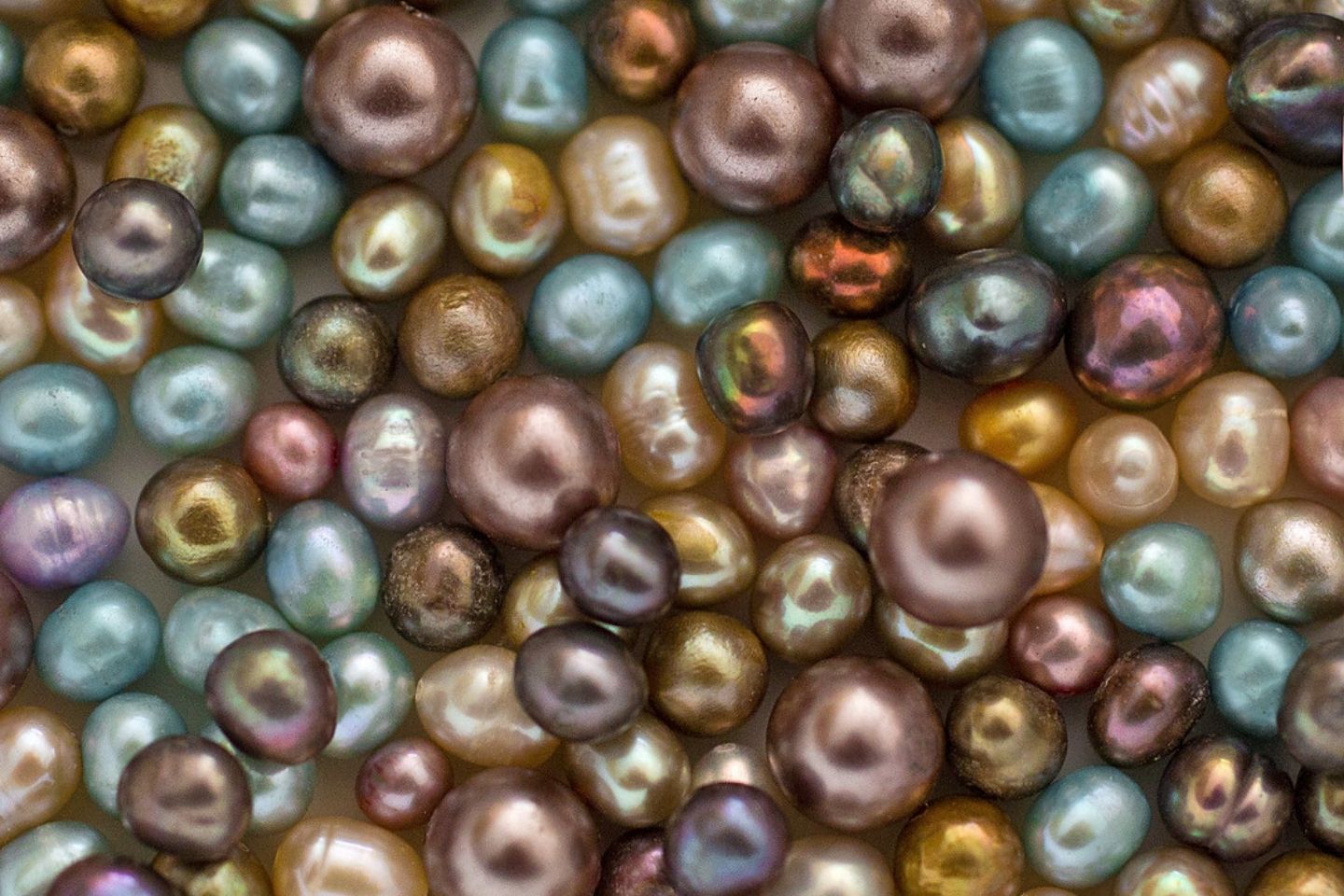 (courtesy: lbkphotographycolorado)
The pearls are mostly of two kinds. These are real or natural pearls and cultured pearls. Apart from the difference in method in which they are created, pearls also vary in colours, sheen and shape.
Although white or cream pearls are most common and one can find most of the pearl jewelleries designed with them, original pearls of pink and black colours are few of the most rare ones. Hence they are highly valued too. Black real pearls with a green sheen are especially considered to be one of its kinds and considered to be exceptionally precious.
Another variety of pearls are the rice pearls with metallic shine. They get their name from their small sizes. Basra is another variety of pearl which is quite popular, especially in southern parts of India. The best news about these are- most of these pearls can be found in Hyderabad pearl markets.
Natural Pearls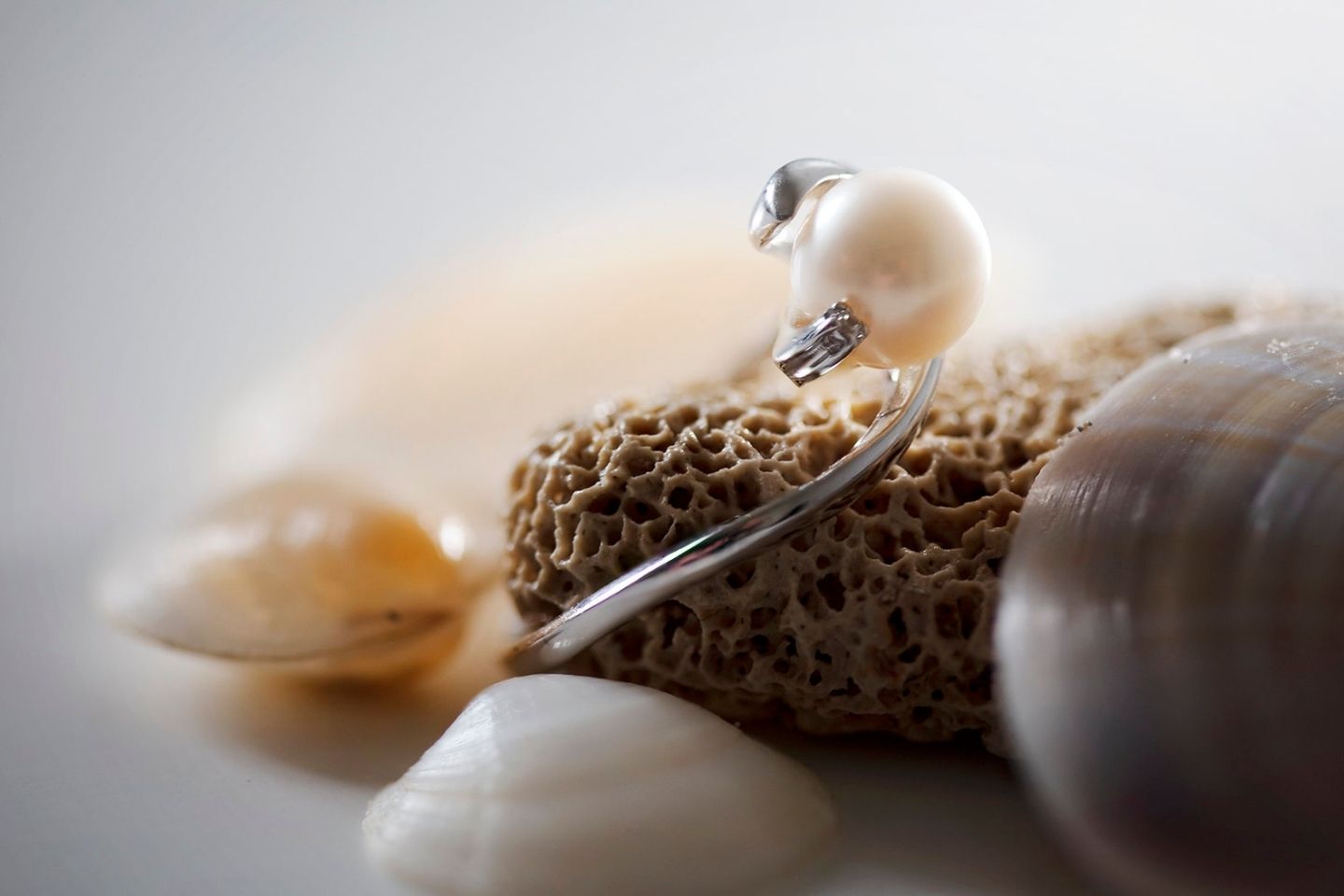 (courtesy: wilcamilleri)
Natural pearls are the most revered variety of pearls. They are extremely rare and valued all over the world. These are saltwater based and are produced in sea when an oyster naturally produces a pearl.
Only 1 in 10,000 oysters produce natural pearls and out of those few only a rare one fits the criteria of a gem. The rarity of natural pearls can also be gazed from the fact that less than even one percent of the pearls are naturally produced in the world.
Natural pearls are formed without any human intervention. These pearls are formed when an irritant like a dust particle or any other foreign object enters, oysters like all mollusks start secreting nacre around it, as a part of their defence systems.
The layers of nacre are also called 'mother of pearl', which is also used in decorative pieces and jewelleries. Slowly the irritant gets covered completely in crystalline coating. The condition of the ocean, nature of plankton, meteorology, latitude, health of the oyster, soil of the sea floor, also affect the quality of natural pearls. Usually natural pearls have a soft lustre and shine different from the cultured pearls.
These pearls were earlier used only by Nizams and the royals. However, nowadays many pearl showrooms also offer a range of natural pearls. Owing to the uniqueness and the rarity of the natural pearls, they are priced expensively.
Cultured Pearls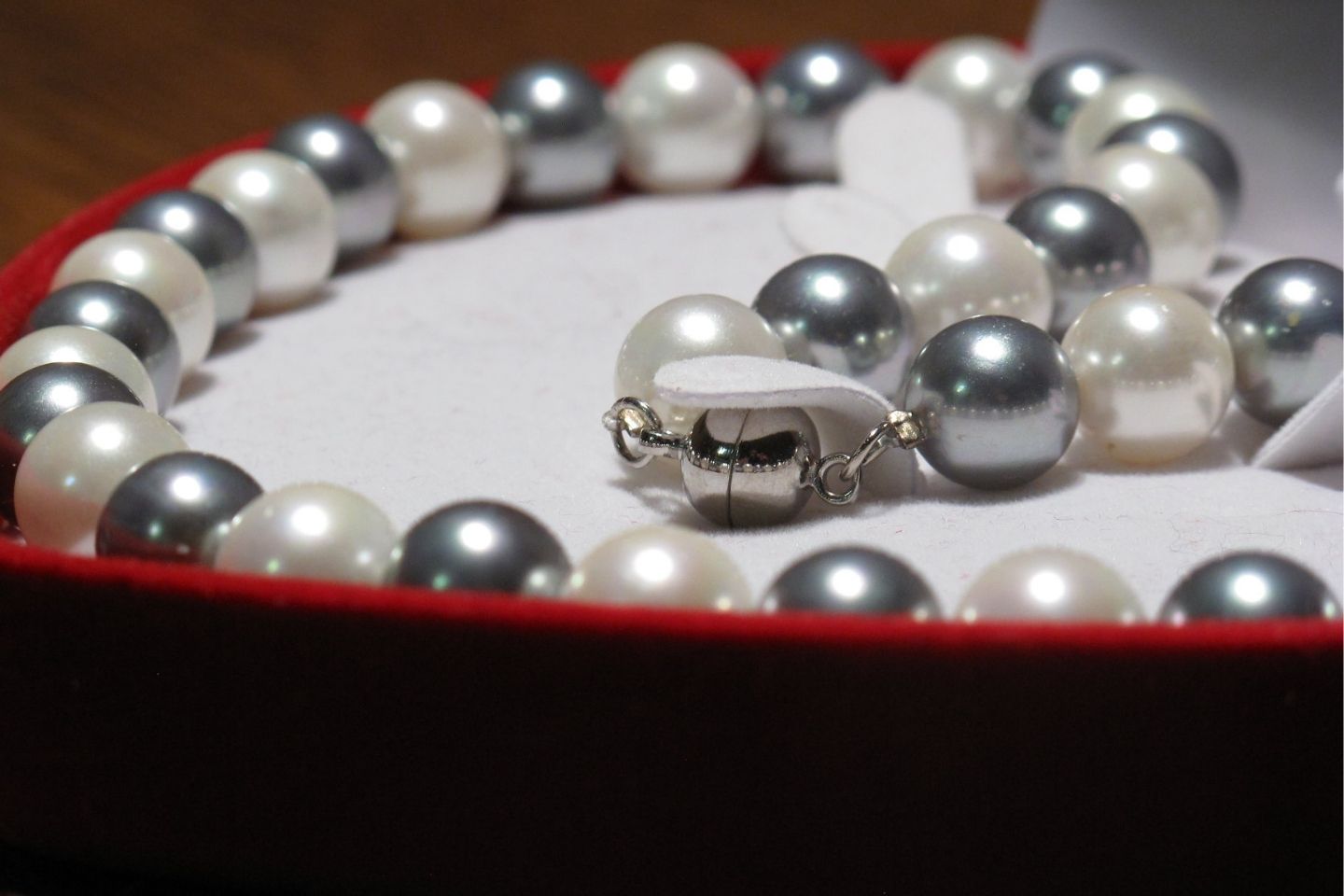 (courtesy: wilcamilleri)
Cultured pearls as the name suggests are developed inside an oyster but under an artificial environment. They are replicas of natural pearls and are created by implanting a mantle tissues or a shell bead with mantle tissues of a sacrificed mollusc into a host oyster.
Once the nacre is formed around the inserted particle and eventually a pearl is created, it is harvested which is followed by the process of drilling and grading. The pearls are eventually categorised as per their lustre, size and shape.
Nowadays, most of the molluscs are raised for the specific purpose of creating cultured pearls. Molluscs are tended until the pearls are collected. Sometimes wild oysters are also used for developing cultured pearls.
Pearl Jewelleries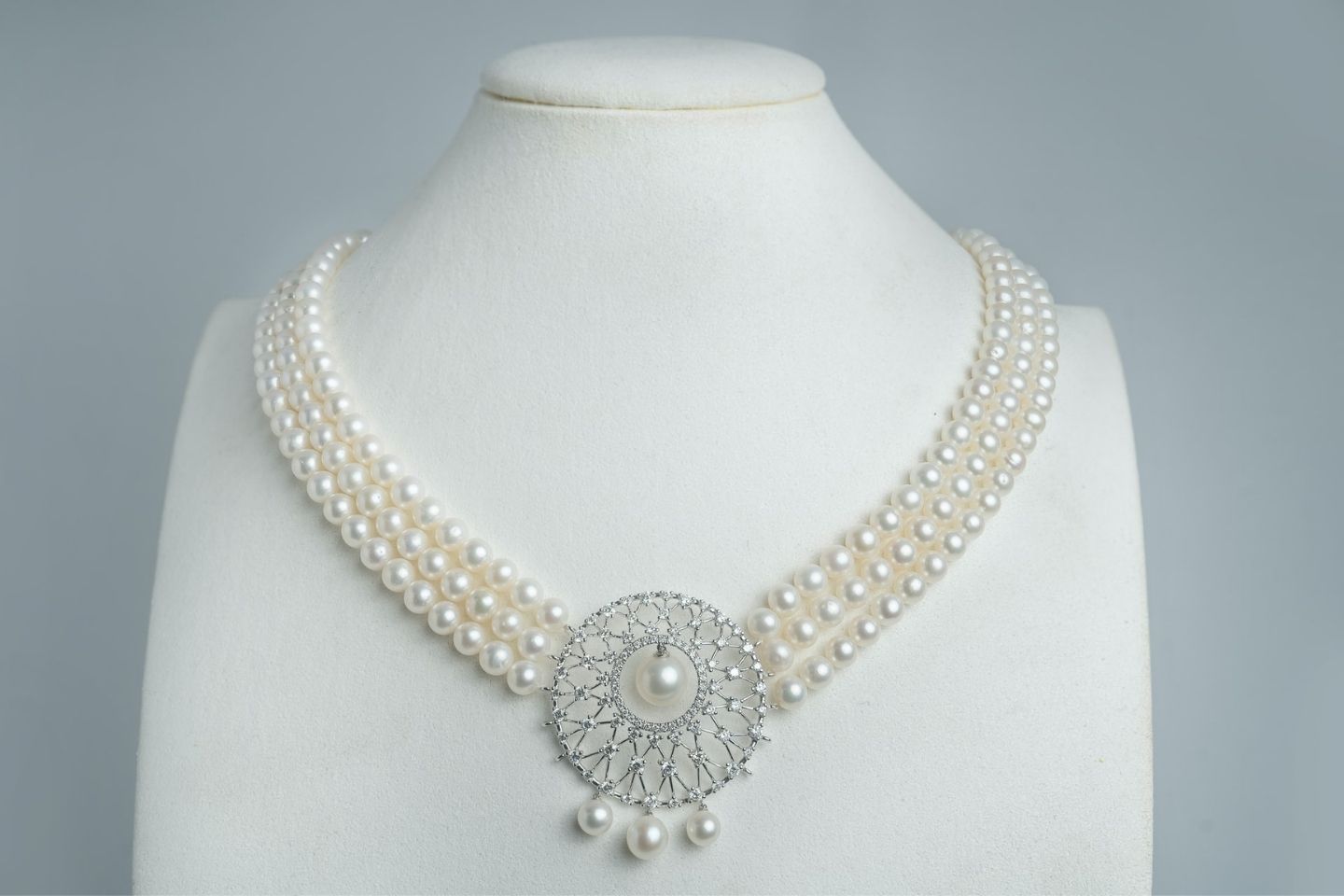 (courtesy: kajalnaina)
For admirers of pearls, there is no dearth of pearl jewelleries. From rings, pendants, earrings to necklaces and bangles, one will find ample varieties to choose from. Pearls shops of Hyderabad presents buyers with an extensive range of designs including traditional designs to minimalistic modern designs.
Some of the popular traditional designs are Satlads, which is neckset with seven strands; Chandbali, a moon shaped earring; Vaddanam, a waist belt made of pearl; Chatai sets are jewellery designed in mat style; Lacchas, Rassi, Chokers, Haath phool, Tanmani, Kundan sets with pearls in them, etc.