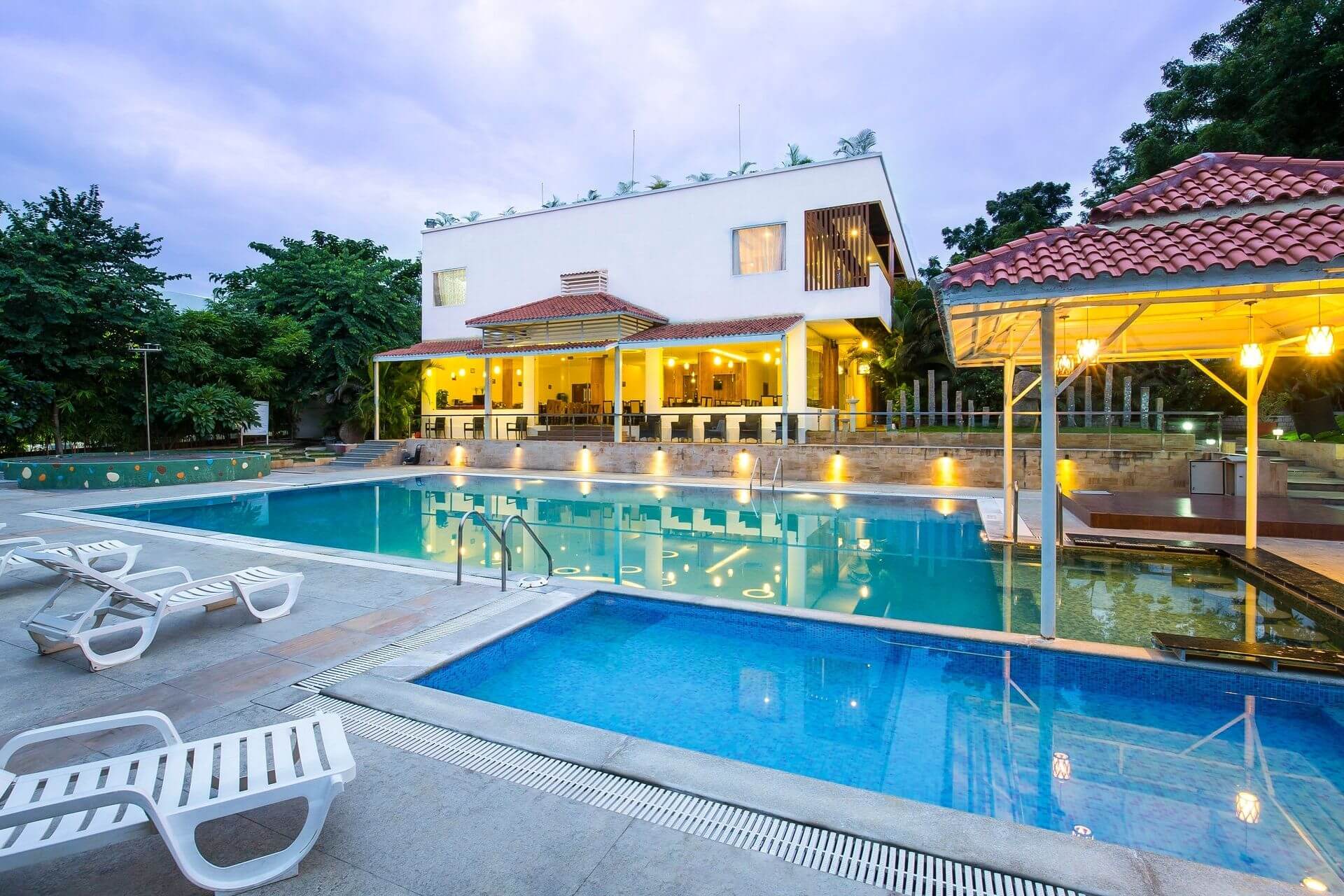 (courtesy: gireeshreddy)
Fondly recognized as the "City of Pearls", Hyderabad, a city filled with endless chaos and noise, encourages us to leave everything behind and seek a break for a day or two.
Popularly famous for its rich history, modern culture and a delectable range of cuisines, this city presents a plethora of resorts that are frequently visited by people who are seeking a relaxing time away from the hustling markets and busy narrow lanes of Hyderabad.
Giving you a chance to admire the magnificent landscapes at the backdrop, the resorts in Hyderabad allow people to enjoy a lavish stay with all the amenities. From calmness and serenity to peace, quietness, luxury, love and romance, here you will find a mix of everything at both high and budget-friendly prices.
Offering an escape from the regular 9-5 life, the top Hyderabad resorts boast of an unusual contrast of comfort and privacy, making the overall experience worth-remembering for you and your family members. Not just this, these resorts have a lot more to unveil that will entice you to the core. So, what are you waiting for? It's time to head to your favourite resort now!

An exciting holiday spot for tourists of all ages, the Leonia Holistic Destination is undoubtedly one of the best themed resorts in Hyderabad that offers a world-class experience in a beautiful setting.
Nestled amidst the lush greenery and natural rock formations, the 5-star luxurious property invites people to dwell in a warm and welcoming ambiance of fully-integrated leisure services and offers a stay like no other Hyderabad resort. It has become a go-to place for revitalization and is indeed a must-visit destination for a fun-filled family getaway.
With an accommodation of 4 hotels and villas that inspires you to relax and rejuvenate in a picture-perfect environment, you can enjoy the ultimate comfort at your convenience. Designed to cater to everyone's needs, these hotels and villas are beautifully decorated with neutral colours and feature premium facilities with indoor/outdoor swimming pools.
Treat your taste buds with authentic flavours at 10 restaurants and bars that make your dining special with a mix of Indian and International cuisines. Enjoy a visit to the spa and wellness centre to pamper your senses with massage, Ayurvedic and other therapies.
For adventure enthusiasts, there is an adventure park with 50 plus recreational activities and for nightlife lovers, the resort organizes live events for your enjoyment. You can also leverage the benefits of party halls, banquet venues and conventions for hosting wedding functions, reception parties and social get-togethers.
Class: 5-Star Resort
Location: Bommaraspet, Shamirpet, Hyderabad
Price: 3100 per night
Distance: 43 km from Hi-Tec City, 74 km from the airport
Activities/Attractions: Fitness centre, children dedicated games, free parking, airport transportation, bar/lounge, special suites for couples and more.
Private Swimming Pool: Yes, in Cascade Suite

Another resort that attracts people from different walks of life is Aalankrita Resort. Widely known for its well-maintained gardens and lawns, the resort offers an array of facilities to please everyone with distinct requirements and necessities. It is an eco-friendly resort in Hyderabad and has also won several awards for its pleasant ambiance.
Combining rich interiors with detailed architecture, the Aalankrita Resort promises you to make your stay memorable with a variety of entertainment opportunities. Several accommodation options with high-standards of living are provided by this resort and depending upon your budget and holiday style, the preference between rooms and suites can be made.
The rooms and suites are categorized as standard rooms, executive rooms, penthouse rooms, studio cottages, elite suites, crystal suites, deluxe villas, executive suites, signature suites and presidential suites.
Step in your favourite restaurant to enjoy a buffet or a-la-carte dining at lunch and dinner. For breakfast, there is a coffee shop where you can choose from more than 20 multi-cuisine dishes. A visit to the in-house wellness centre allows you to relieve your stressed muscles with state-of-the-art massages. You can also experience a beauty treatment at the salon that is open from 8:00 AM to 8:00 PM on all days of the week.
Class: 4-Star Resort
Location: Thumkunta Village, Shamirpet, Secunderabad, Hyderabad
Price: INR 3600 per night
Distance: 43 km from Hi-Tec City, 73 km from the airport
Activities/Attractions: Water park, Swimming Pools, Children Play Area, Indoor and Outdoor games such as Badminton Court, Beach Volleyball, Cricket Ground, X-Box, PS 2, PS 3, Foosball, Carrom, Billiards, tennis court, throwball and many more.
Private Swimming Pool: Yes, in Pool Villa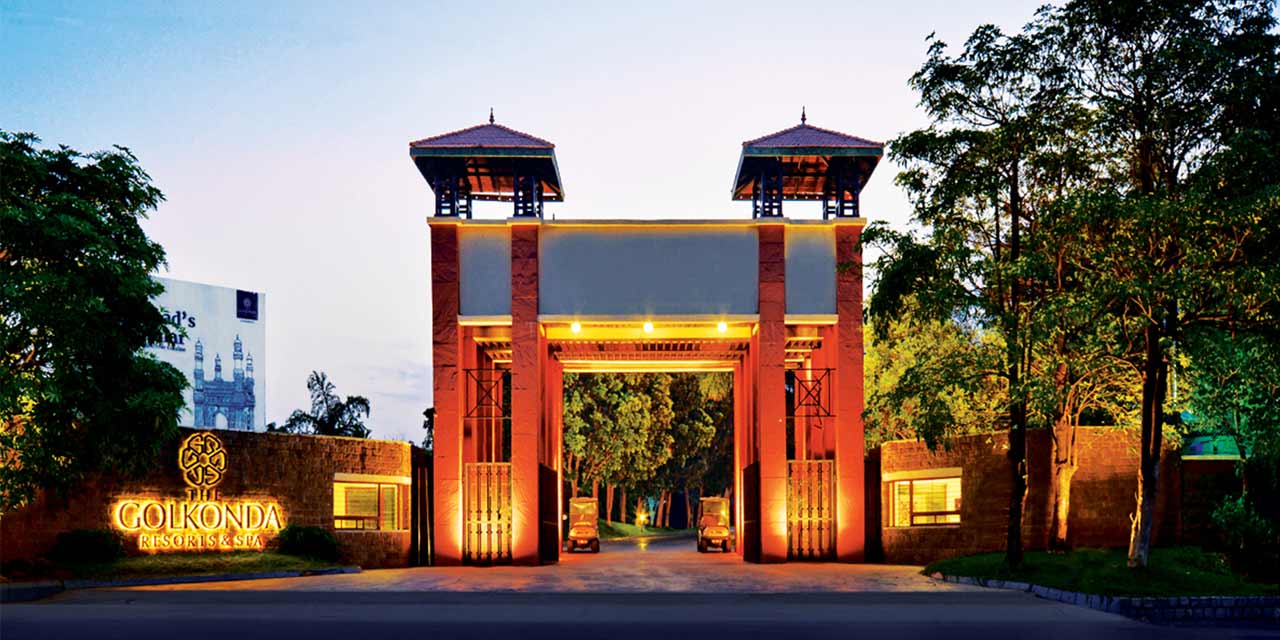 For all those who are looking to spend the perfect weekend in the lap of nature, Golkonda Resorts and Spa can be the right place for you. Ideal for both leisure and corporate outings, the resort blends the modern luxuries with glories of the past and provides a royal experience that is beyond the expectations.
Spread over an area of 13 acres of land, the Golkonda Resorts and Spa is one of the best resorts in Hyderabad, that allows you to witness the breathtaking view of the Osman Sagar Lake while you enjoy your stay in the accommodation of your choice. You are sure to surrender to unrivalled privacy with each room and villa that exudes a vibe of contemporary living. In total, the resort features 40 villas and 4 suites that are perfect to escape from the monotonous life.
Choose your favourite spot from the list of 3 award-winning restaurants and get ready to experience a truly magical dining time. The restaurants offer the best of Hyderabadi, Mediterranean and Oriental cuisines at breakfast, lunch and dinner. You can also visit the poolside bar and lounge bar to unwind with a sip of refreshing drinks.
Class: 4-Star Resort
Location: Sagar Mahal Complex, Near Osman Sagar Lake, Gandipet, Hyderabad
Price: INR 10,300 per night
Distance: 15 km from Hi-Tec City, 28 km from the airport
Activities/Attractions: 2 Swimming Pools for adults, 1 Kids Pool, Spa and Wellness Centre, Salon, Tennis Court, Volleyball Court, Squash, Badminton Court, Table Tennis, Pool Table, Board Games and souvenir store.
Private Swimming Pool: Yes, in Pool Villa
The next one-of-its own kinds of resorts in Hyderabad is Pragati Resorts, which is a premium destination to enjoy a relaxing stay at budget-friendly prices.
Surrounded by dense greenery and sprawling lawns, the Pragati Resorts offers a tranquil setting to serve its patrons with best-in-class hospitality. It is located within easy reach of Chilkur Balaji Temple and can be easily accessed by local modes of transport such as private taxi and Pushpak Bus.
From Lagoon Rooms to executive cottages and signature suites, this resort is bestowed with an accommodation that offers a luxurious stay with an aim of decluttering your minds. Featuring an abundance of nature with ultimate comfort, the rooms are designed keeping the warmth factor in mind.
Here you can enjoy free connectivity to high-speed Wi-Fi along with other in-room facilities such as a flat-screen TV, electric kettle, safety deposits, air-conditioning and intercom. Other than that, 24-hour room service is also available for your convenience.
Spend some ME time at the wellness centre. The full-service spa provides Ayurveda therapeutic massages to relax your nervous system and release toxins from the body. Here you can also calm your mind with meditation and yoga. It is one of the top rated resorts in Hyderabad. Various other therapies such as deep tissue therapy, hot mud application, foot/hand reflexology and aloe hydrating wrap are also offered at the resort.
Class: 3-Star Resort
Location: Proddutur Village, Chilkur Balaji Temple Road, Shankarpally Mandal, Hyderabad
Price: 3700 per night
Distance: 34 km from Hi-Tec City, 40 km from the airport
Activities/Attractions: Swimming pool, Water games, Yoga Classes, Fitness Centre, Jogging Track, Rain Dance Shower, Bungee Trampoline, Air Hockey, Table Tennis, Chess, Badminton, Bicycling, Cricket and many more.
Private Swimming Pool: No, only public pool.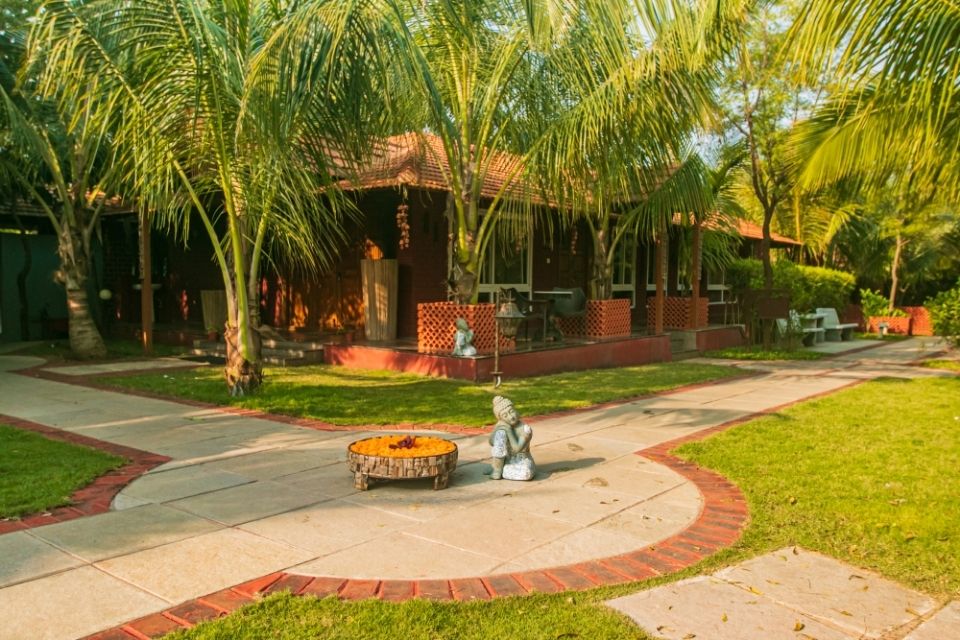 Rejuvenating amidst nature's eloquence, Brown Town Resort has successfully brought people closer to the environment's magnificence. With a mystically extensive space setup, this delightful resort guides you to the inner depths of nature and lets you relax soulfully, away from the city chaos.
Located in the mesmerizing scenic zones of Moinabad, Brown Town Resort serves its diverse guests with luxury and comfort. It is one of the best resorts for couples near Hyderabad. All the resort suites and villas offer fascinating window views, which treat the eyes. With a wide range of accommodation design options, Brown Town Resort has a room for all kinds of needs to choose from, including Vintage Studio, Lemon Suites, Haveli, Swasthanam, and much more.
The Pavilion Fine Dining Restaurant serves mouth-watering cuisines, extremely rich in taste. The menu offers delightful dishes of all kinds; the flavorsome North Indian, heavenly South Indian, zestful Chinese, and exotic continental food. All the dishes are prepared with utmost attention and love, certain to leave you salivating!
Laying supreme emphasis on customer satisfaction and cultural exposure, Brown Town Resort has dedicated game zones and activity spots to help you enjoy the fullest. Guests can leverage the facilities of outdoor sports along with the charming setups of board games.
This resort in Moinabad presents you with an ethereal experience through their sought-after services of the spa. The magical Thai Therapy puts your mind at ease and helps you reconnect with your inner self in the lap of nature. It lets you indulge in the heavenly aromas of purity and calmness, keeping all your stress and worries at bay.
With an intent to bring nature closest to your living, every suite in the resort is attached to a dedicated veranda and a ravishing poolside to let you experience the energy of heaven on earth. Brown Town Resort is a getaway from the constant hustle and bustle of the busy city life and revitalizes your inherent peace.
Class: 3-Star Resort
Location: Survey No 224/u, Moinabad, Kanakamamidi, Telangana 501504
Price: 6000 per night
Distance: 31 km from Hi-Tech City, 27 km from Airport
Activities/Attractions: Dedicated Verandas, Swimming Pool, Spa, Tennis Court, Volleyball Court, Squash, Badminton Court, Table Tennis, Pool Table, Cricket Nets, Board Games, and Cycling Spot
Private Swimming Pool: No, only public pool.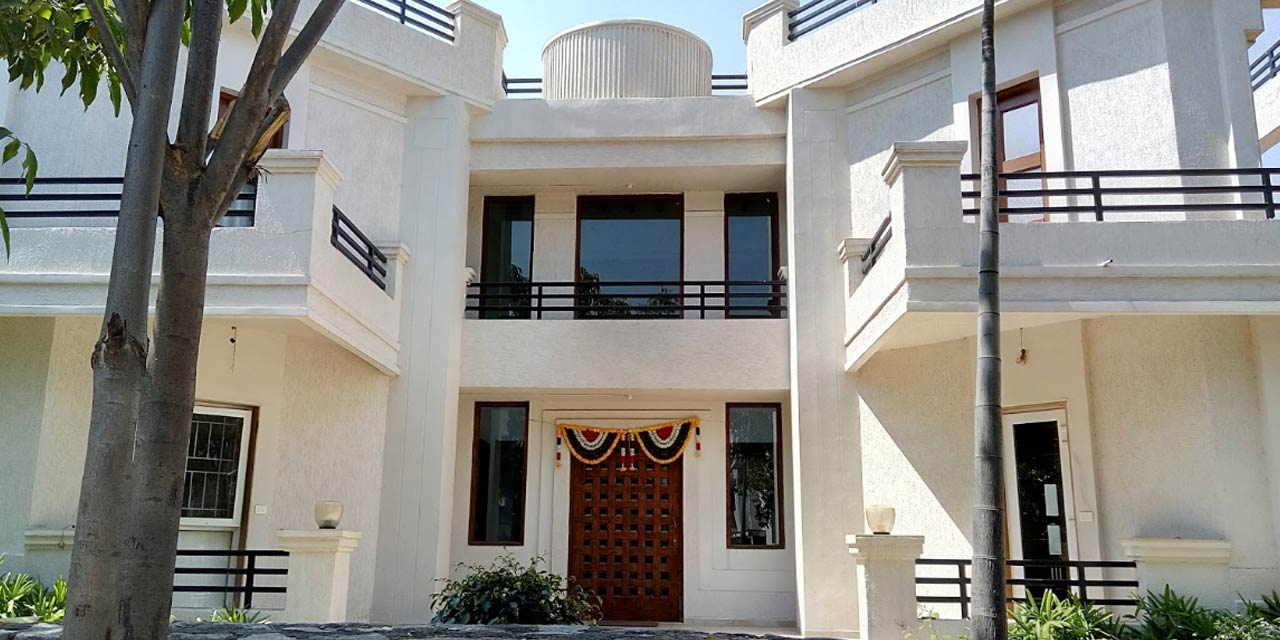 Counted as the topmost destination for holidaymakers and travellers, the Summer Green Resort is all about creating memories for a lifetime. This couple friendly resort in Hyderabad is blessed with sprawling lawns and picturesque greenery all around. This Shamirpet resort has been serving people from all around the world and is definitely a great place for both couples and families alike.
What sets the Summer Green Resort apart from other popular resorts in Hyderabad is its backdrop of the palm trees, mango grooves and the coconut trees that make it an appreciable place for a peaceful stay for honeymoon couples. The growing eco-friendliness of this resort encourages everyone to enjoy a visit to this destination at least once.
Suiting to everyone's requirements, the place categorizes its accommodation as Honeymoon Rooms, Kerala Cottages, Standard Rooms and Deluxe Rooms. All rooms exhibit a blend of harmony and offer various facilities like an LCD TV, Split AC, Tea and Coffee Maker, Mini Bar and more. Apart from that, the resort is also equipped with a fine-dining area for food lovers, a meditation centre for yoga enthusiasts and a gymnasium for fitness fanatics. There are also banquet and conference halls for organizing private and corporate events.
Class: 2-Star Resort
Location: Survey No 90, A,111,112/A,112/B, Thumkunta Village, Shamirpet, Secunderabad, Hyderabad
Price: 2600 per night
Distance: 33 km from Hi-Tec City, 74 km from the airport
Activities/Attractions: Carrom, Chess, Snooker, Billiards, Badminton, Basketball, Archery, Volleyball, Football, Cricket, Wall Climbing, Rappelling, Double Rope Walk, Sky Walk, Shooting, Rain Dance and many more.
Private Swimming Pool: No, only public pool.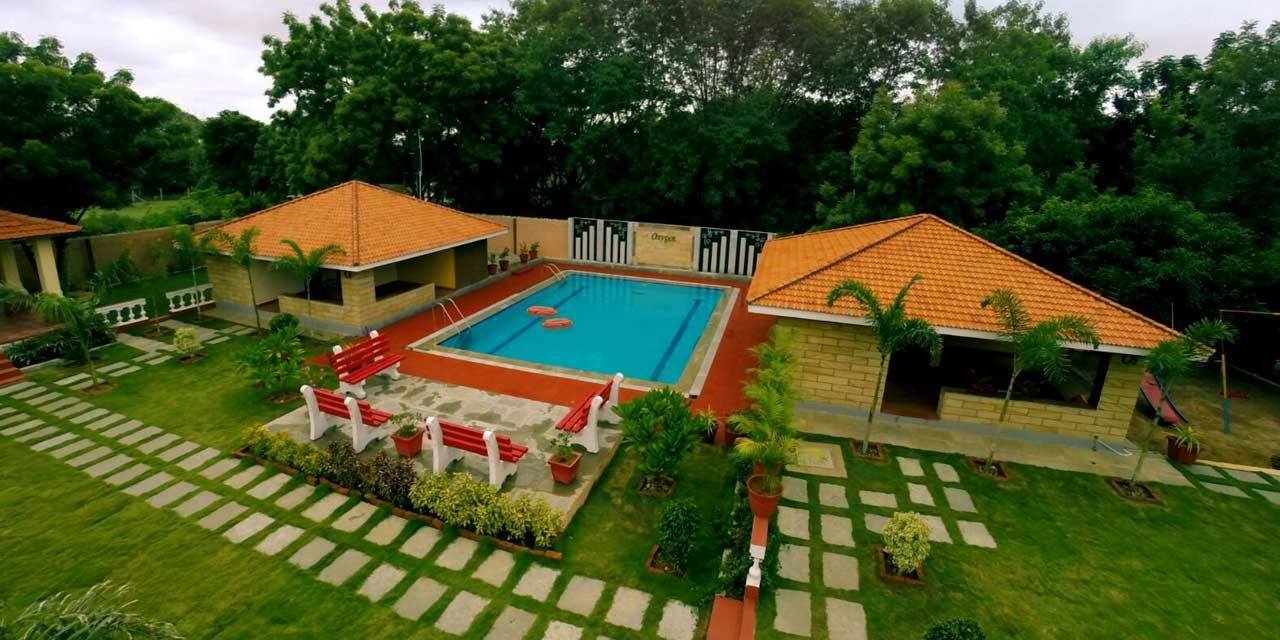 Take a break from the hustle and bustle of everyday life and enjoy your staycation with your loved ones at the Button Eyes Resort. An idyllic getaway to step into your dream world of excitement and action, this resort, situated amidst the scenic beauty and verdant greenery, relaxes and rejuvenates your mind with facilities that are sure to make you feel at home. It is a famous place for bachelor parties and also recognized as the preferred resort for couples in Hyderabad.
The crystal-clear swimming pool, small gardens, well-spread lawns and the eminent surroundings offer a perfect opportunity for vacationers to admire nature at its best and the landscaping of this resort allows you to breathe and chill out in a refreshing atmosphere.
In terms of accommodation, the Button Eyes Resort provides high-standards of accommodation with rooms, suites, villas and cottages equipped with luxurious facilities in order to make your stay an unforgettable one.
Dive into the swimming pool, relax on the sun loungers or soak up the sun in the open area. Visit the Roof Garden to overlook the 360-degree view of the entire resort. The lawns are spacious and well-maintained, which means you can sit back, lie down and watch the sunset at your own comfort. Apart from all these facilities, the resort is also considered as a prominent venue for conducting marriage functions and business meetings.
Class: 3-Star Resort
Location: Moinabad Tehsil, RangaReddy District, Tolkatta, Telangana
Price: 3500 per night
Distance: 34 km from Hi-Tec City, 38 km from the airport
Activities/Attractions: Swimming pool, Bar/Lounge, free parking, Room Service, Coffee Shop and Indoor Games such as Air Hockey, Table Tennis, Snooker and many more.
Private Swimming Pool: Yes, in Oxygen Cottage.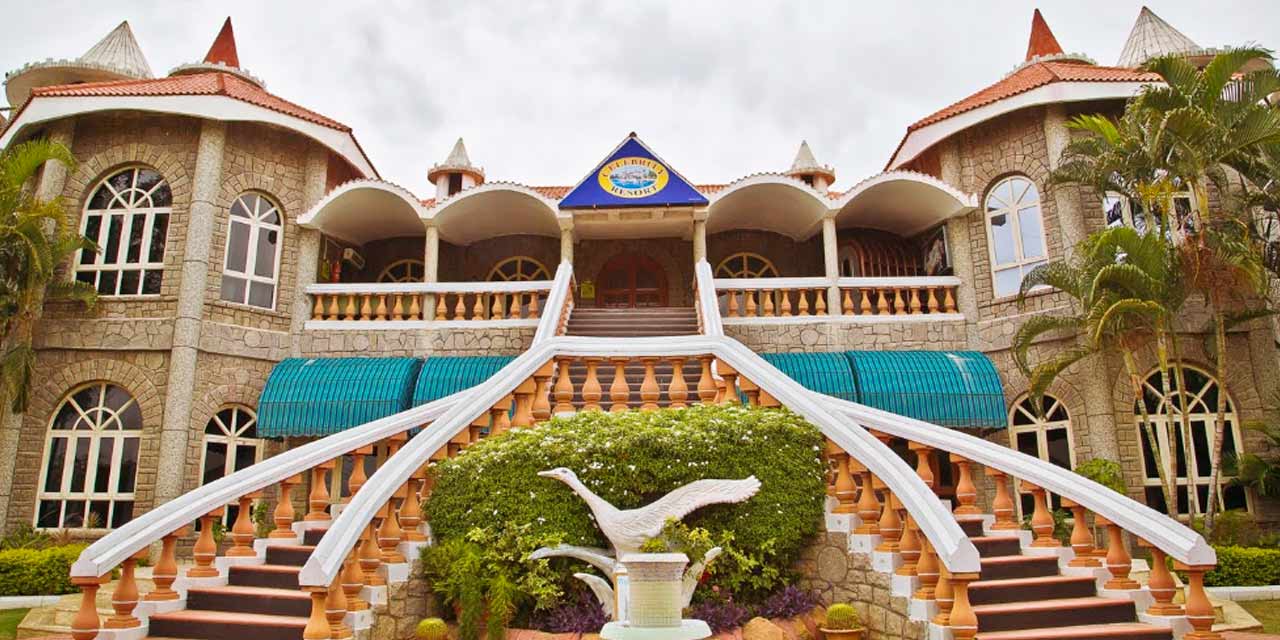 If you want to kick-start your weekend without going too far from the city, then you can plan your stay in the Celebrity Resort, one of the top Hyderabad resorts bestowed with luxury, entertainment and ample greenery under one roof. As the name suggests, this impressive property makes you feel no less than a celebrity whenever you visit this resort to embrace the tranquillity in life. It is an amazing getaway for family and friends and has everything that you need to rejuvenate yourself.
From a wide range of accommodation to a multi-cuisine restaurant, big splash swimming pool and plenty of recreational activities, the Celebrity Resort in Shamirpet offers a delightful experience to serve you with the best hospitality.
Catering to your budget, you can choose from suite rooms, luxury rooms, twin rooms, theme rooms, standard rooms and luxury villas to escape and unwind. When you are in a mood to shake a leg, you just need to visit the disco to rock the dance floor with your moves. There is also a RELAXO, Television Lounge to relax in the dimmed lights with soothing music and a Lounge Bar to raise the spirits with your favourite drink. Several events are also organized on a day-to-day basis for your enjoyment. It is up to you how you want to make the most of it!
Class: 3-Star Resort
Location: Survey No.1222, ORR Circle, Karimnagar Highway Shamirpet, Medchal, Hyderabad
Price: 2800 per night
Distance: 41 km from Hi-Tec City, 72 km from the airport
Activities/Attractions: Snookers, Go-Karting, Basketball Court, Badminton Court, Carrom, Golf, Rain Dance, Children's Playground, Jogging Track and Sports Complex.
Private Swimming Pool: No, only public pool.

Lahari Resort undoubtedly makes it to the list of best resorts in Hyderabad for providing a relaxing stay with plenty of high-end amenities to its travellers. Perched amidst the ethereal beauty of nature, the Lahari Resort offers a great range of leisure and recreational activities for holidaymakers of all ages and is also home to several adventurous sports to keep everyone's interest glued.
Established in the year 2006, the resort has been able to mark its presence in the market within a short span of time and has gained a thumbs up from all those tourists who have stayed here for a short or long duration. Whether you are a newlywed couple, a family vacationer or on a corporate outing, this is the one resort that adapts a tailor-made, comprehensive approach to provide the kind of experience you desire.
The accommodation with Deluxe Suites, Queen Suites and King Suites offers a luxurious stay with a spa experience that is hard to get anywhere else. Visitors here can satisfy their appetite with a wholesome or a quick meal at the in-house restaurant, which specializes in serving multi-cuisine delicacies with a unique twist. You can also walk through wedding and conference venues in case you are in search of a place that can accommodate up to 1500 people at one time.
Class: 3-Star Resort
Location: Bhanoor, Near Patancheru, Hyderabad
Price: 6700 per night
Distance: 17 km from Hi-Tec City, 26 km from the airport
Activities/Attractions: Sand Volleyball, Foosball, Badminton, Skating, Table Tennis, Snooker, Carrom, Rain Dance, Climbing Wall, Burma Bridges, Bicycling, Water Slides, Rain Dance and more.
Private Swimming Pool: No, only public pool.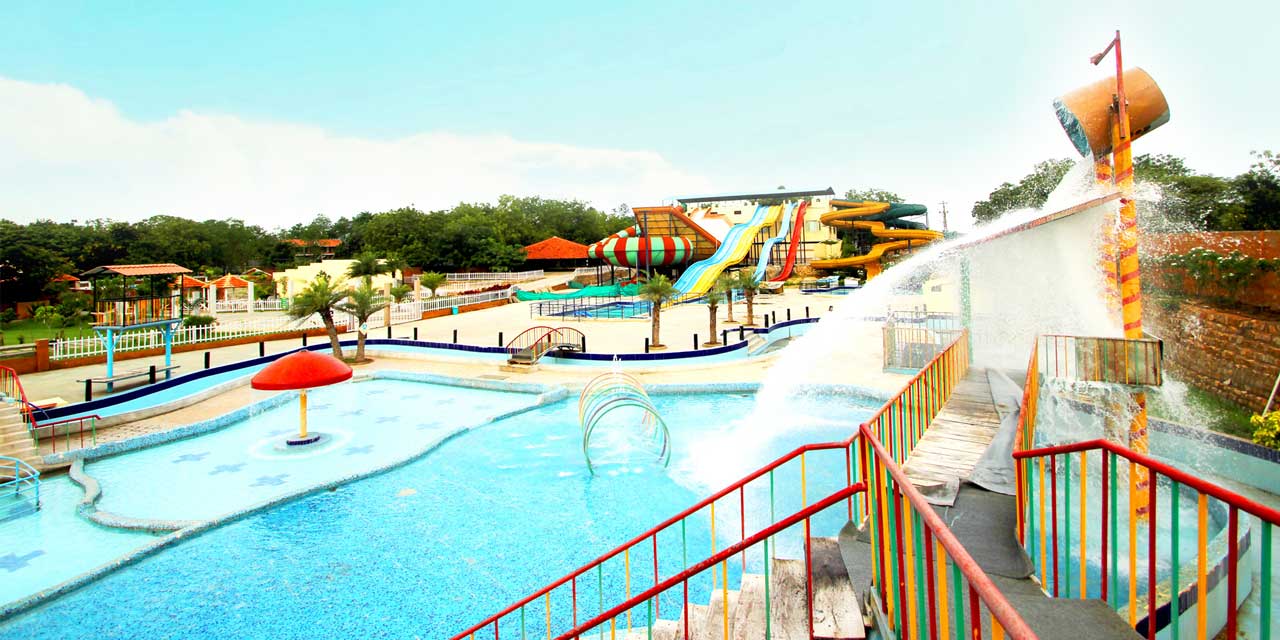 Have the best time of your life at Dream Valley Resorts. An ideal place for water park lovers, adventure enthusiasts and explorers, the Dream Valley Resorts has perhaps the best water park with loads of entertainment to offer.
Whether it is about beating the harsh summer of Hyderabad or spending some time away from home, you can visit the resort for an adrenaline rush. An Olympic size swimming pool, when combined with the best water rides and slides, makes it a fun-zone for families with children to enjoy their style of vacation here.
The refined atmosphere and the well-designed accommodation aesthetically appeal to the tourists for a lifetime and the vivid combination of natural flora provides a treat to your eyes with a promising stay of relaxation. You can take a load off in the room of your choice and enjoy good quality sleep with 24-hour room service.
For some fun time, the resort offers access to the multi-cuisine restaurant that serves South Indian, Chinese and Mughlai dishes with an a-la-carte and buffet service. Major events such as wedding functions, sangeet party, reception, bachelor party, birthday celebration and social get-togethers are hosted at the indoor and outdoor venues that can accommodate up to 2000 people. You can also book board rooms for corporate meetings, presentations, interviews and more.
Class: 2-Star Resort
Location: Vikarabad Road, Bakaram Jagir, Before Chilkur X Roads, Hyderabad
Price: 2,897 per night
Distance: 25 km from Hi-Tec City, 28 km from the airport
Activities/Attractions: Kids play area, Rain Dance, Chess, Carrom, Table Tennis, Cricket Ground, free breakfast, free parking and many more.
Private Swimming Pool: Yes, in Suite-16.
Mrugavani Resorts and Spa, placed in the close vicinity of the Financial District of Hyderabad, is an eco-friendly tourist spot, thoughtfully designed to surprise you with its modern array of facilities whilst keeping the comfort of vacation in mind. This resort, which is an ideal secluded getaway for couples, honeymooners and lovers, offers the ultimate privacy to rekindle the romance and provides them with a relaxing stay so that they can enjoy their time the way they want.
Home to pocket-friendly accommodation categorized as Lagoon Cottages, Garden Cottages, Premium Rooms and Superior Rooms, the Mrugavani Resorts and Spa allows you to return home refreshed with amenities like centralizing air-conditioning, LCD TV with prominent cable channels, dry cleaning/laundry service, in-room dining, telephone, power back and free access to Wi-Fi.
You can also leverage the benefits of complimentary buffet breakfast to make your day memorable. Other facilities such as electrifying DJ night, lucky draws and surprise gifts are also available for your convenience.
Class: 3-Star Resort
Location: National Deer Park, Chilkur Balaji Temple Rd, Opp. Mrugavani, Aziz Nagar, Hyderabad
Price: 2500 per night
Distance: 17 km from Hi-Tec City, 20 km from the airport
Activities/Attractions: Horse riding, Tennis Court, Volleyball, Swimming Pool, Indoor/Outdoor games and many more.
Private Swimming Pool: Yes, Semi-private pool in Lagoon cottage.
---
With warm hospitality, die-to-fall ambiance and great services, all of these resorts are sure to leave you mesmerized every time you are visiting them for a short or a long trip. No matter whichever you select out of the top Hyderabad resorts for stay, be assured to create everlasting memories with your closed ones on your next visit to the City of Nizams.
Other than these resorts, you can also consider visiting Palm Exotica Boutique Resort & Spa, Taj Krishna Resort, Taramati Baradari Resort, Vishal Prakruthi Resort, Mak Club and Resort, Trance Greenfield Resort and Radisson Blu Plaza Hotel if they suit your holiday budget, style and duration.
Book your Hyderabad tour with us to avail the best deals. We at Hyderabad Tourism, a division of Holidays DNA, assist our clients in exploring the popular ou can also consider visiting sightseeing places in Hyderabad through our all-inclusive Hyderabad tour packages. Our travel experts also help you customize the itinerary so that you can cover the best tourist attractions of your choice. Besides this, we have also curated a list of top car rental companies in Hyderabad for your comfort.
What else do you need? Just plan your romantic trip to Hyderabad now! To know more, you can also fill your details in the Contact Us form and one of our representatives will contact you within 24 hours!