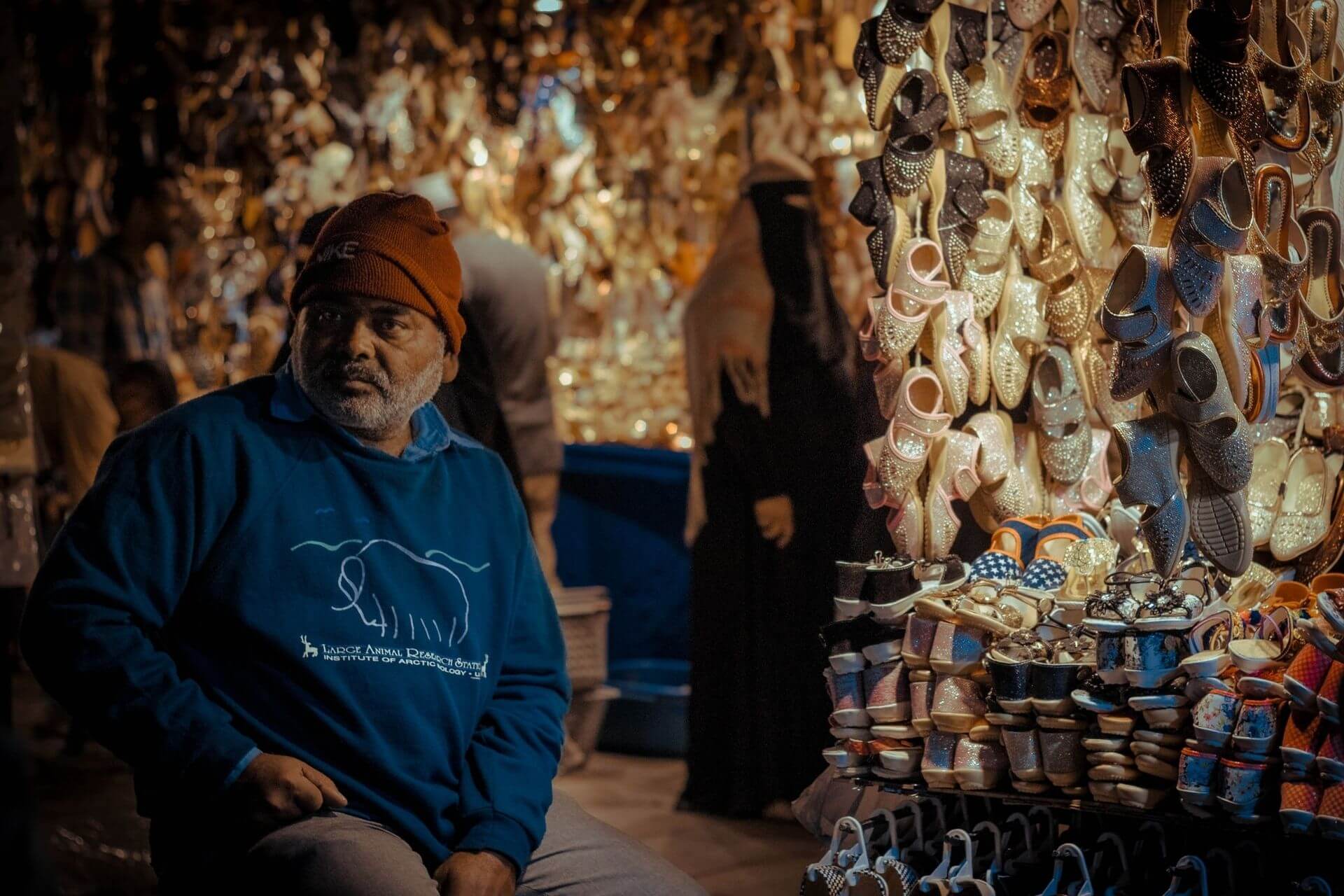 (courtesy: awabhusameldin)
A Hyderabad trip is not only about monuments, lakes and culinary flavours, it is equally about shopping too. A tour into this city of Pearls is enough to turn every visitor into a shopaholic. The innumerable options, ranging from ethnic and traditional items to latest designs from world famous designers, from street shopping to upscale boutiques, add further charm to holidaying in Hyderabad.
Although there are many markets which promises a memorable experience below are the most popular shopping places in Hyderabad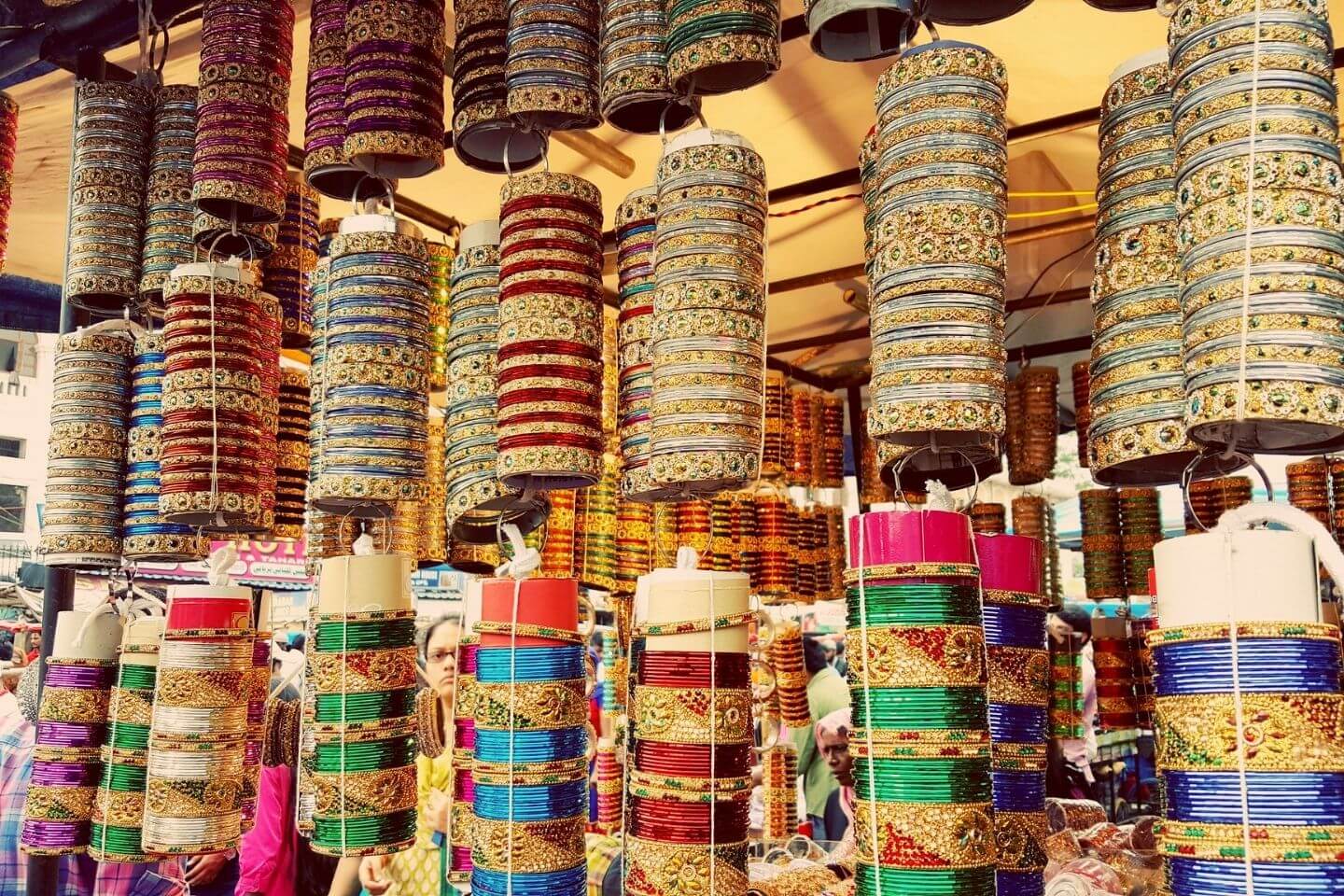 (courtesy: randomzglitz)
Location:
Char Kaman, Ghansi Bazaar
A visit to Hyderabad is incomplete if it doesn't include shopping in Laad Bazaar. This legendary market, also popularly called as Choodi Bazaar is located very close to Charminar. One of the oldest markets in Hyderabad, Laad Bazaar is said to be built for the occasion of Quli Qutub Shah's wedding. The market even now presents the same festive fervour that is impossible to miss.
At Choodi bazaar, you can shop for lacquer bangles of varied kinds, ranging from glass coated in plain lacquer to those with studded stones and gems. Not only bangles, here at the Choodi Bazaar you will also find a range of ethnic silverware and rare antiques. Laces, dupattas, especially the traditional Khara dupattas and sarees can also be found here at this market.
With a legacy of more than 200 years, Laad Bazaar is rightfully popular for sightseeing as well. It is located at Char Kaman, on the west corner of Charminar. The Laad Bazaar timings are from 11 AM to 10.30 PM every day.
Begum Bazaar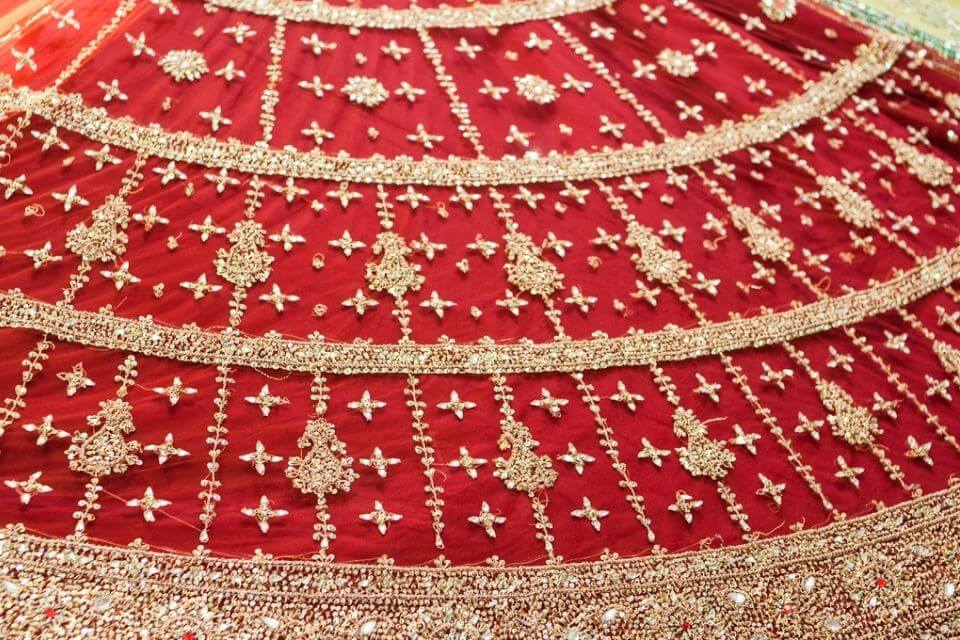 (courtesy: saurabhchatterjee)
Another shopping place that also presents a glimpse into the historical richness of Hyderabad city is the Begum Bazaar. Not only oldest but also among the largest markets in Hyderabad, Begum Bazaar is home to both retail as well as wholesale shops. Not just individual buyers but even dealers of wholesale from all over the country visit this market.
Begum Bazaar has almost everything that a buyer can think of. From household items and kitchenware to perfumes and cosmetics, from dry fruits to gold and silver, there is close to nothing that Begum Bazar doesn't offer. Bidriware is one thing that no visitor should miss to explore and buy at Begum Bazaar. However, do make sure to bargain to your best ability while shopping here.
Located close to the Afzal Gunj, Begum Bazaar timings are from 10 AM to 11 PM. It opens on every day of the week except Sundays.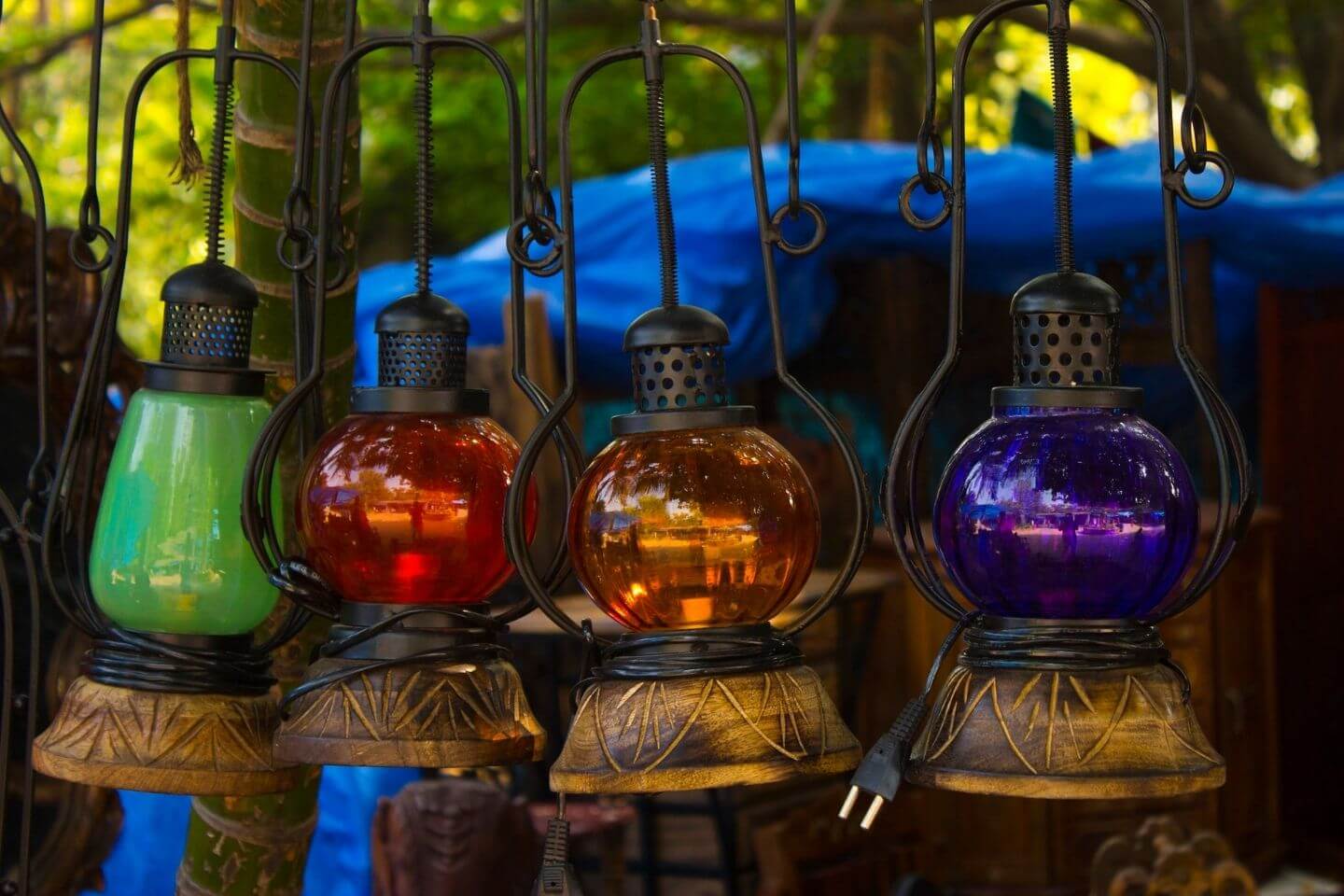 (courtesy: poornachandraupadhya)
Location:
Hi Tech City Main Road, Madhapur Rd, HITEC City
With a captivating architecture, art and crafts village of Shilparamam is also a popular shopping spot in Hyderabad which is also a sought after tourist attraction. It was established in 1992 with the aim to encourage traditional art and crafts from all over the country.
From traditional eco-friendly paintings to hand painted fabrics and décor pieces, earthenware to metal wares to even intricately carved wooden items including furniture, visitors will find an extensive range of shopping choices. Here you will also find a range of toys, leather items, pearls and silver and even fashion jewellery. Not only a shopping opportunity, Shilparamam is also home to multiple venues which regularly hosts a wide variety of events.
Located in Madhapur, opening timings of Shilparamam are 10 AM to 8 PM. It is open on all days of the week, within a minimal entry fee.
Perfume Market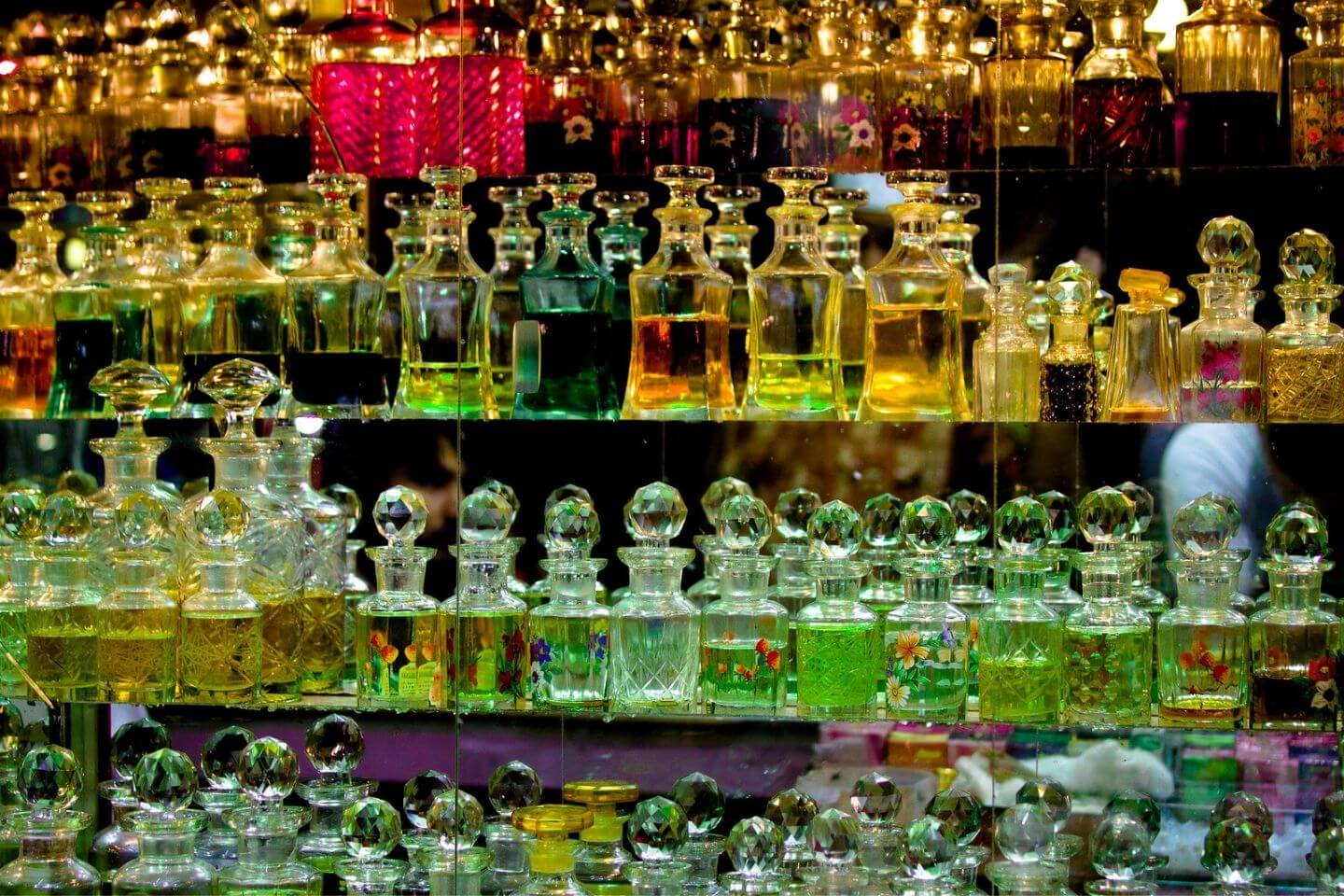 (courtesy: cranti)
Location:
Moti Chawk, Charminar
Located close to Charminar, between the Moti Chawk and Laad Bazar, Perfume Market offers a glimpse of the cultural richness and vibrant heritage of Hyderabad city. At this market, you will find locally produced perfumes, known as ittar/attar of supreme quality.
At the Perfume Market, indulge your senses in natural fragrances ranging from Sandalwood oil, musk, rose, jasmine and many more. Situated in the narrow lanes of Old Hyderabad, many of the shops here are family-run, and have been offering perfumes since many generations. Opening timings of Perfume Market is from 10 AM to 9.30 PM.
Shahran Market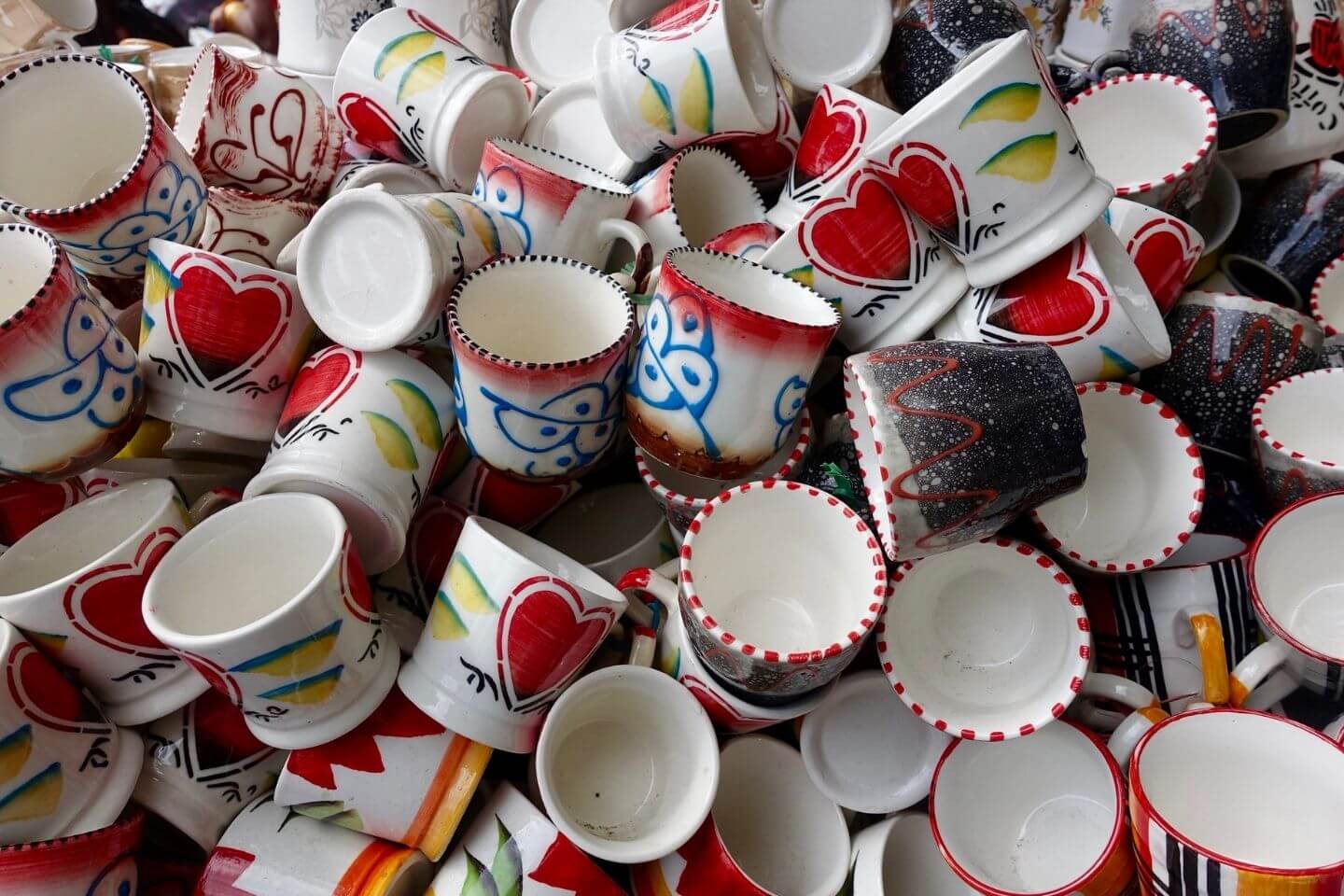 (courtesy: chris9)
Shopping in India is complete without experiencing the street shopping. Hence when in Hyderabad, one cannot miss the Shahran Market of Charminar. For the lovers of street shopping, Shahran Market is nothing less than a blessing. Catering especially to women's clothing, this market presents a wide variety of traditional attires such as salwar suits, sarees and burqas.
Apart from shopping, you can also treat yourself with mouth-watering Haleem here. Situated in Charminar, Shahran market opens on every Thursday of the week. The opening timings are from 5 AM to 12 PM.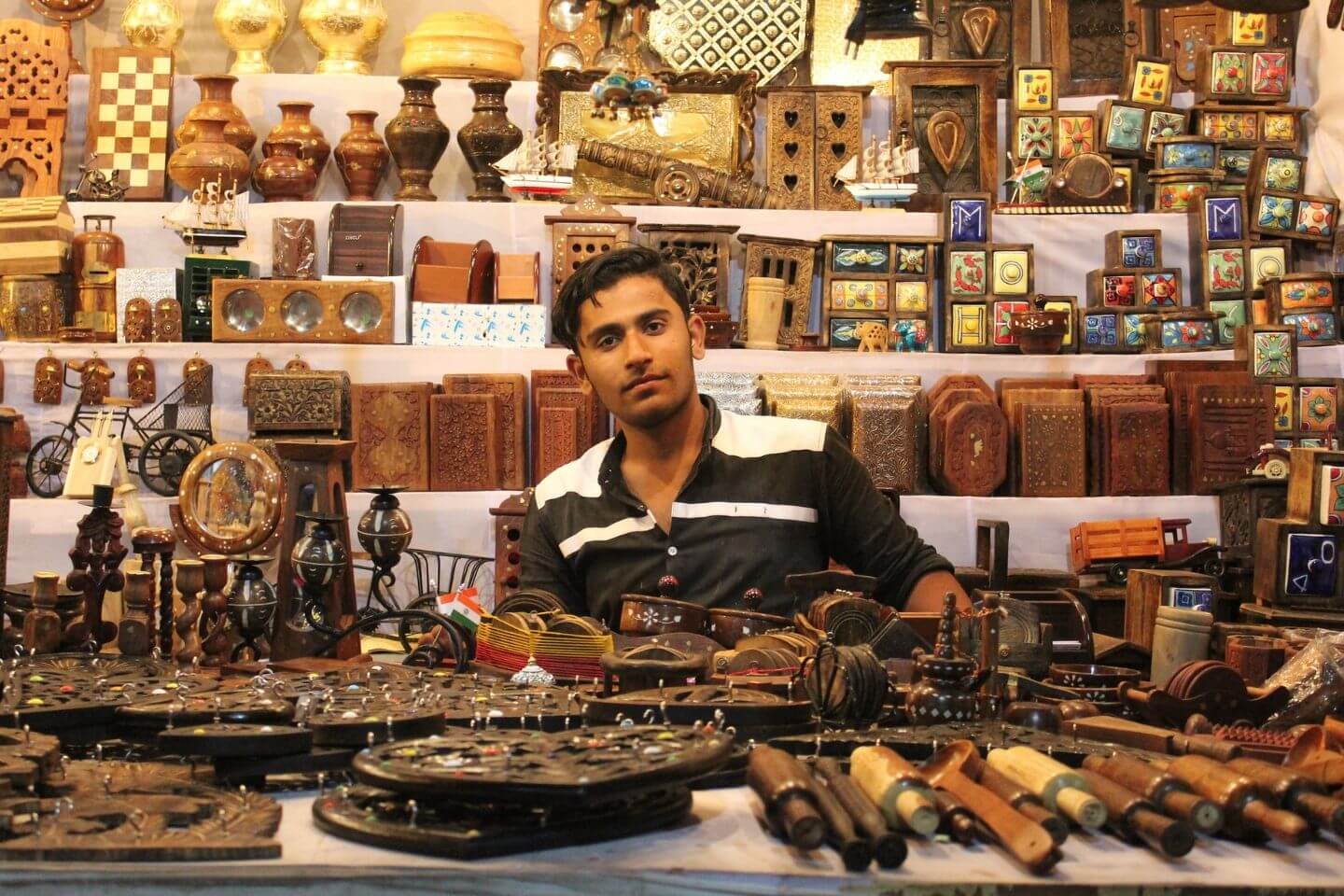 (courtesy: shubhijain)
Location:
Nampally Exhibition Grounds, Mangalhat, Nampally
For ethnic lovers, Nampally market/ Exhibition is the place to explore. This market is a part of the Numaish Exhibition which is organized once in a year, during the months of January and February. Here, visitors will find an extensive range of shopping choices.
From bags and jewellery to clothing and footwear, furniture to homewares, from handicrafts from various parts of the country to items of recent trends, one can find almost everything here at the Numaish Exhibition. In addition to shopping, there are also many eateries offering sumptuous snacks and a variety of choices for rides and fun sports making shopping even more enjoyable.
As the name suggests, this market is located in Nampally and opens from 10 AM to 11 PM.
Sultan Bazar, Koti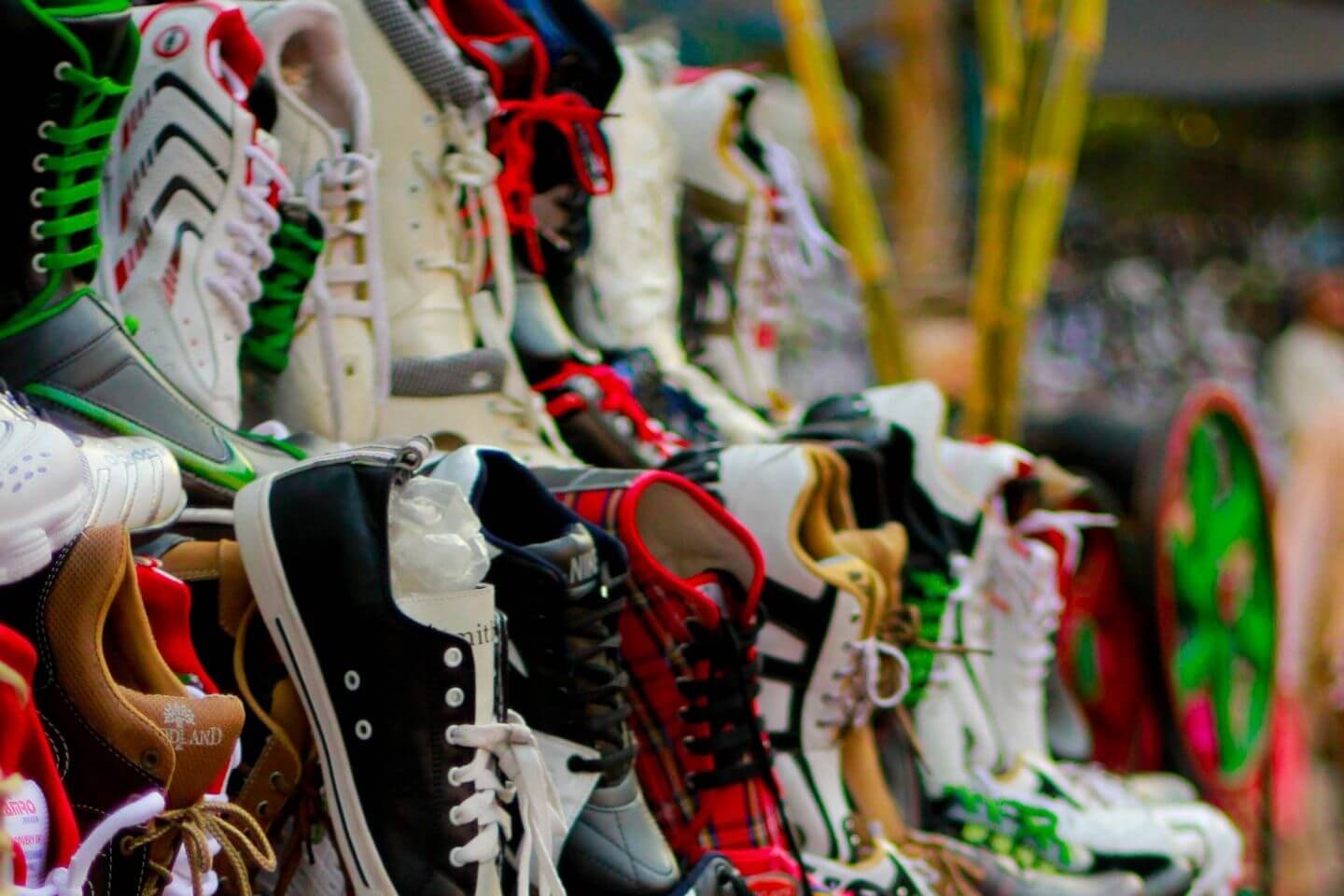 (courtesy: badri)
Location:
Sultan Bazar, Koti
Hyderabad is probably the only city that has not one or two but multiple centuries old markets. Sultan Market is one such. Earlier known as Residency Market, it is now popularly called as Koti Market.
Famous for women's clothing and jewellery shops, especially the silver jewelleries, it offers almost everything, ranging from latest trends in clothing to traditional attires. It also caters to all types of shopping lovers. Whether you want to buy from specific brands or explore the local sellers, you will find ample choices in both.
From street vendors to towering branded showrooms, Sultan Market presents a vibrating vibe for shopping. Located in Koti, the opening timings of Sultan Market is 10 AM to 6 PM.
General Bazaar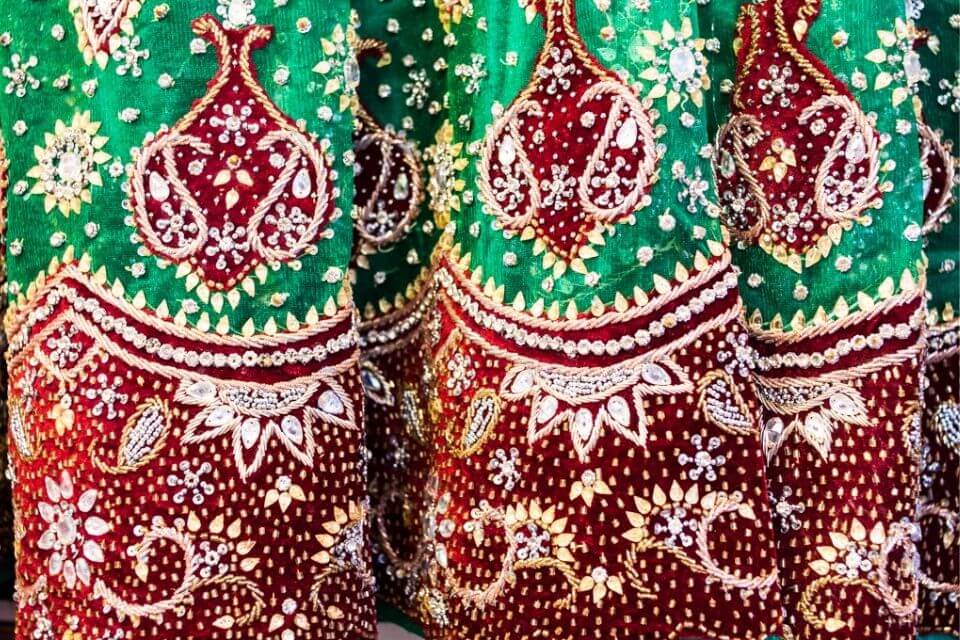 (courtesy: saurabhchatterjee)
Another place that always makes a list of shopping destinations in Hyderabad is the General Bazaar, also known as Tobacco Market. With more than 300 shops selling a wide variety of products, this market offers an expansive range of clothing materials and accessories.
From ready-made clothing to fabrics such as chiffon, Pochampally handloom and brocade, etc., there are ample varieties to choose from. Once here, you will find various kinds of footwear as well as fashion jewellery. It is located in Kalasiguda and opens from 10 in morning to 10 at night.
Abids Market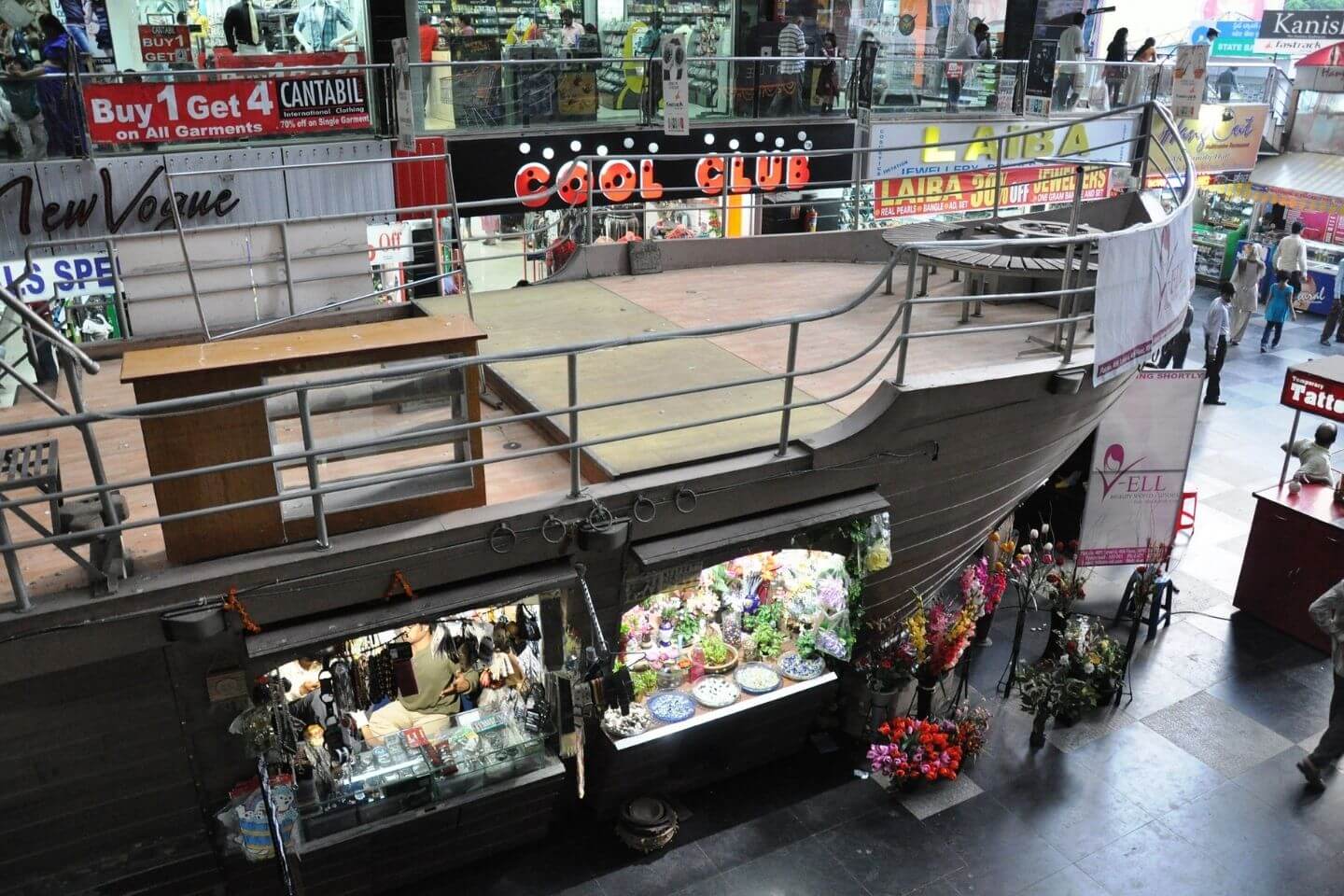 (courtesy: karanewhouse)
No shopping in Hyderabad is finished without a visit to Abids Market. Located in Abids Street, it is one of the most popular places catering to almost everyone. Electronics, clothing, accessories including fashion jewellery, bags, footwear, handicrafts and food items are only a few range of items which you can get here. In clothing, it is especially famous for traditional Indian attires. The market opens at 9 AM.
If you are planning your shopping on Sunday then do not miss the Abids Sunday Book Bazaar which opens from 9 AM to 5 PM. This street side book market stretches from Chermas Showroom in Abids to the GPO and Santosh Sapna Theatre. Considered to be around 30 years old, this market offers books starting from Rs. 20. A wide range of books, from bestsellers to cookbooks and academic books can be bought in dozens. You can also practice your bargaining skills at this market to get the best rate possible.
Moazzam Jahi Market
Location:
Mozamjahi Market
If you are looking for a place for cheap shopping in Hyderabad, then Moazzam Jahi Market is the place to visit. An old market, it was built during the reign of Mir Osman Ali Khan, the seventh Nizam, it showcases the historical heritage of the city.
Primarily a fruit market, this wholesale market also houses shops selling fresh flowers, spices, meats, groceries, and even locally produced perfumes- attar and hookah. It is also known for cloth fabric, especially Ikat and brassware. Moazzam Jahi Market is situated at Old Kattal Mandi and opens from 10 AM to 11.30 PM.
Pot Market
(courtesy: )
Location:
Monda Market, Shivaji Nagar
Located in Shivaji Nagar, Pot Market is one of the popular jewellery markets in Hyderabad. From fashion and imitation jewellery to gold, silver and diamond jewellery you will find an impressive range of designs and collections here.
In addition to jewelleries, this market is also known for the metal and earthen pots. Pot Market is easily accessible as it is situated near the Monda Market which is in turn quite close to the Secunderabad Railway Station. It opens from 10.30 AM to 8 PM.
Jummeraat Bazaar
(courtesy: )
Location:
Gowsala Nagar, Chudi Bazaar
Jummerat Bazar, also known as the Chor Bazaar, is one of the oldest flea markets of Hyderabad. This shopping street is famous for buying and selling stolen items! It is also considered as the prominent hub for finding unique and antique items, provided you search for them thoroughly.
A wide variety of items are sold in Chor Bazaar including old furniture, kitchen wares, items of home décor, tools and equipment, games accessories, fashion jewellery, etc. Although items are priced at a lower rate, you must bargain to get the possible rate.
Situated near the Begum Bazaar, Jummeraat Bazar opens at 5 AM to 9 PM on every Thursday of the week.
Antique Market
(courtesy: )
Location:
Murgi Chowk, Charminar
As the name suggests, this market is the ideal place to shop for antique collectors or anyone who is interested in buying unique and antique items of home décor. Here you can find even items belonging to the era of Nizams. Each item at Antiques Market seems to share a story of its own, adding further to its rustic charm. However, you must be wary of the duplicate items which are also sold here.
Along with items of house décor, you will also find many more items ranging from vintage furniture to utensils and clocks. While buying any item do remember to put forward the best of your bargain skills. Antique Market opening timings are from 5 AM to 12 PM. It is located near Murgi Chowk in Charminar.
Shopping Malls in Hyderabad
Shopping nowadays has become synonymous to shopping in malls. The metropolitan city of Hyderabad boasts of not just one or two but several all-encompassing shopping malls, each promising a wholesome shopping experience. Almost every part of the city has a sprawling shopping mall to pamper visitors with shopping choices, culinary delights and a variety of entertainments. Below are some of the most popular shopping malls in Hyderabad.
GVK One Mall
(courtesy: )
Location:
Rd Number 1, Banjara Hills
Located on Road no 1 of Banjara Hills, GVK One Mall is one of the most popular malls in Hyderabad. If you are looking for a respite from the hustle bustle of street shopping then visit this mall for a stress free shopping experience.
Spread over 350,000 square feet, this mall encompasses a wide variety of brand outlets offering clothes, shoes, bags and other accessories, food court, multiplex and restaurants. It was opened to the public in the year of 2009. The opening timings of GVK One mall is 11 AM to 10 PM.
Manjeera Mall
(courtesy: )
Location:
JNTU Rd, Kukatpally
Spread over an area of 4,50,000 square feet, Manjeera Mall has six floors and four parking levels. It has multiple shops from several national and international brands along with a multiplex, a food court and restaurants. It is located in Kukatpally, on the JNTU Road. Manjeera Mall opening timings are 10.30 AM to 10 PM.
Inorbit Mall
(courtesy: )
Location:
Mindspace, Madhapur
One of the largest malls in Hyderabad, Inorbit Mall is another place to visit if you are planning to shop from the best of international and local brands. Whether you want to explore a luxury brand or want to spend some time at the gaming zone or artificial football turf or just relax watching your favourite movie, you will find at least one thing of your choice at this mall.
The food court and the restaurants at the mall will satiate your hunger as you indulge in shopping. It is located on the Inorbit Mall road, APIIC Software Layout, Mindspace, Madhapur. It opens from 11 AM to 9.30 PM; the food court at the mall opens from 11 AM to 10 PM.
City Center Mall
(courtesy: )
Location:
Rd Number 1, Banjara Hills
Located in the Banjara Hills, this is one of the oldest malls in Hyderabad. Apart from the branded showrooms and cinema halls, this mall attracts visitors for its facility of sports. The SMAAASH on the fourth floor of the mall, along with SVM Bowling and Gaming Arena, makes City Centre Mall quite popular among youngsters. Restaurants such as Aromas of China also add to its charm. It opens from 11 AM to 9.30 PM.
Sarath City Capital Mall
(courtesy: )
Location:
Gachibowli - Miyapur Rd, Kondapur
The biggest mall of Hyderabad with a sprawling area of 1, 931,000 square feet, Sarath City Capital Mall is a new mall, built in the year of 2018. Located on the Gachibowli – Miyapur Road in Gachibowli, this mall boasts of some of the finest brands, cinema halls and entertainment options. It has more than 400 national and international brand outlets which are spread over eight floors.
Some of the entertainment options at the Sartha city Capital Mall are Tridom – Indoor Adventure Park, Sky Zone – Trampoline Park and Ski Capital – Snow theme Park, etc. It also houses not one but two food courts with a capacity to cater to around 1000 people at a time. It opens from 11 AM to 10.30 PM.
Hyderabad Central
(courtesy: )
Located on the Punjagutta Road, Hyderabad Central is one among the first few shopping malls of Hyderabad. It was opened in 2004. There are many renowned brand outlets inside the mall along with a spacious food court with ample culinary choices. It opens every day of the week from 11 AM to 9.30 PM.
Forum Sujana Mall
(courtesy: )
Location:
KPHB Phase 9, Kukatpally
Another magnanimous mall of Hyderabad which promises a complete entertaining experience to the buyers is the Forum Sujana Mall. This mall has some of the best domestic and international brands in clothing and footwear. The restaurants and cafes along with the food court at the mall offer multiple appetising choices. There is also a multiplex along with a gaming area at the Forum Sujana Mall.
However, what makes this mall even more alluring is the availability of free WIFI, baby care room, a prayer room, and disable access. This is in addition to the facility of prepaid auto and taxi services. Located in Kukatpally, this mall opens from 10 AM to 10 PM.
Sanali Mall
(courtesy: )
Location:
Gun Foundry, Basheer Bagh
Sanali Mall is a popular shopping mall to visit if you are looking for national and local brands. From clothes to jewellery, footwear to homewares, you will find multiple choices at this mall. It also houses a McDonald's and subway restaurant. Sanali Mall is situated on the Abids Road, Gun Foundry, Abids. It opens at 11 AM every day of the week except on Sundays, and closes at 9 PM.
Next Galleria Mall
(courtesy: )
Location:
Nagarjuna Hills, Punjagutta
Located in Punjagutta, Next Galleria Mall is another frequently visited shopping centre of the city. It has showrooms of various local and international brands along with an interesting line-up of restaurants. The multiplex at the mall attracts movie lovers while the gaming area is ideal to explore if you are visiting with children and youngsters. It opens from 10 AM to 10 PM on all days of the week.
Babukhan Mall
(courtesy: )
Location:
Begumpet Rd, Somajiguda
Opened in 2005, this mall is spread over an impressive area of 80000 square feet. It hosts some of the most popular brands from both the national and international fashion world. From clothes to accessories, there is an extensive range of choices available here.
Further adding to a luxurious shopping experience are the choices of restaurants, ranging from dine in restaurants, to café and take away outlets. Babukhan Mall is situated in Somajiguda. It is open all days of the week, from 10 AM to 11 PM.