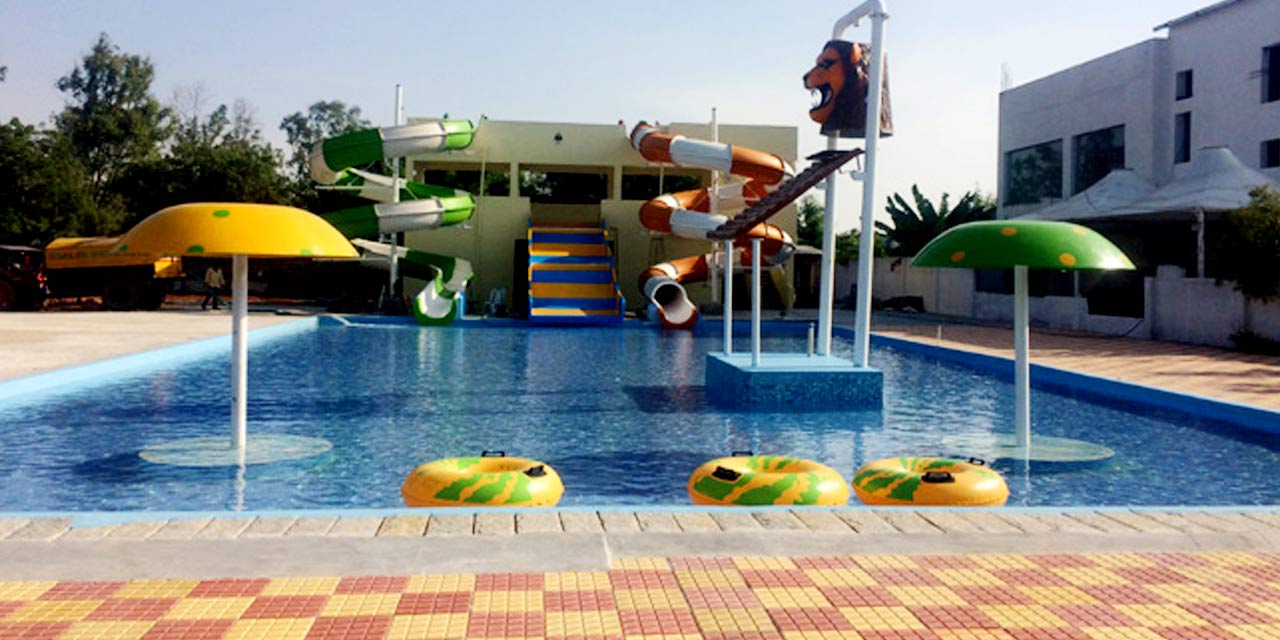 Rainbow Resort Hyderabad Entry Fee
Day Outing Package 750/- per person
24 Hrs Package 2,500/- per person
School Package 300/- per person
Rainbow Resort Hyderabad Phone
---
Rating:

|
4.2
stars, out of
5
stars
Based on total
56

reviews
Rainbow Resort Hyderabad Address: Bits Road, Thumkunta, Shamirpet, Hyderabad, Telangana, 500015, India
---
A bustling 30,000 square feet, 3 Star boutique retreat with outdoor pools, waterslides, a game room, a restaurant and a coffee shop located in Hyderabad is what describes Rainbow Resorts the best. Initially just an entertainment junction, Rainbow Resorts have gained popularity for their architectural design effortlessly blending with rocky surroundings.
The gorgeous glass facades of the buildings make this resort uniquely stunning to live in. The water slides and the magnificent pool just add to the fun factor of the place.
Things to do at Rainbow Resort Hyderabad
There are a ton of activities at the resort that you can participate in to keep yourself engaged which include a waterpark, a swimming pool, sports facilities and a playground.
1. Waterpark: The waterpark is huge and has over four water slides that lead down to the pool. There are mini swimming pools around the area with places where you can sit under an umbrella.
2. Indoor and Outdoor Games: The sports facilities include a tennis court, a basketball court, a cricket ground, which also has football posts and a beach volleyball section. The resort also has indoor sports facilities for table tennis and carroms. All the sports equipment that is necessary will be provided by the resort for the guests.
3. Kids Play Area: The playground is specifically created for children to have the time of their lives. It has tons of rides and attractions spread across the section such as a jungle gym, a huge slide fortress, a snake way and see-saws.
4. Food: Buffet services are available at the in-house multi-cuisine restaurant where you can gorge on lip-smacking Indian and Chinese dishes for breakfast, lunch and dinner! The resort has a cafe that provides snacks and fast food items throughout the day.
5. Banquet Halls: The Rainbow resort has provisions for hosting parties and events. They have two banquet halls with comfortable seating arrangements. You can even choose to host events outdoor at their sport complex. You can host events such as weddings, corporate parties and birthday celebrations. They provide specialised buffet services for such events.
Rainbow Resort Hyderabad Image Gallery
Accommodation at Rainbow Resort Hyderabad
The resort offers cottages which are two-storied buildings with amenities like a television, air conditioning, king-sized beds and a lovely view of the pool. You may book the entire cottage or just a few rooms according to your needs. You also have access to the kitchen if you want to cook something, and the dinner table is a bonus.
The most exciting feature about these cottages is the architecture of these buildings. The glass windows and the colourful glamour of the cottages makes it a wonderful place to spend some time with your family.
The rooms also come with free WiFi, room service, a mini-refrigerator, doctor on call service and even parking space outside your cottage. There are classic and deluxe options for these cottages, where the classic ones have a more corporate ambience, while the deluxe ones are more luxurious.
Location of Rainbow Resort Hyderabad
Rainbow Resorts is located in Thumkunta which is in the Shamirpet district in Hyderabad. The resort is about twenty-six kilometres away from the city centre which is exactly an hour drive from the city center.
How to Reach Rainbow Resort Hyderabad
They have another branch in Bibinagar, on Pochampally Road, which can be reached easily via train from Hyderabad in an hour. You may also choose to take a bus or a cab. There are several modes of transport to get to Rainbow Resort. These include:
Train: The nearest railway station is Secunderabad. You can avail buses from there to Shamirpet.
Cab: You may also take a private cab from top car rental companies in Hyderabad and reach the resort by road comfortably.
The resort has two branches which are approximately an hour away from the city. They are easily accessible by public transport, making it a great destination for picnics and day outings. You can also choose to stay with your friends and family and have a great time relaxing and spending some quality time with them.
---
A trip to the city of Nizams is best enjoyed with Hyderabad tour packages offered by Hyderabad Tourism, a division of Holidays DNA. You are sure to have a great holiday experience with our tour packages that include a visit to all the popular sightseeing places of Hyderabad. Please fill the Contact Us form to know more.
Location Map for Rainbow Resort Hyderabad