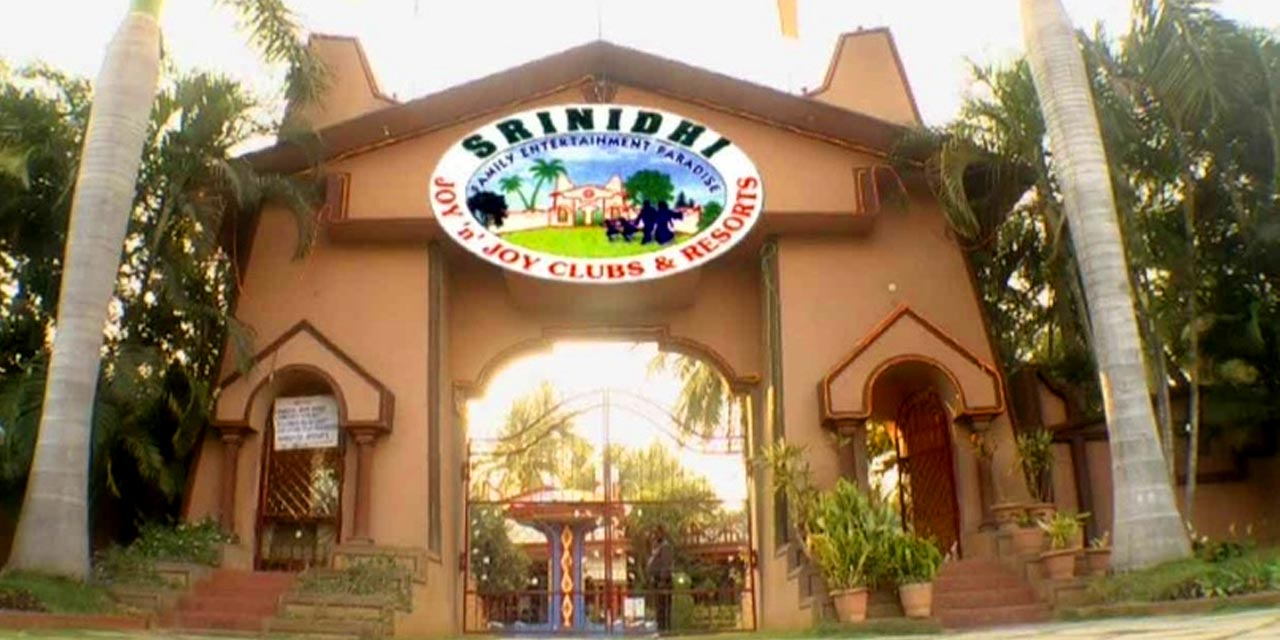 Srinidhi Resorts Hyderabad Entry Fee
Adult : 120/- per person
Kids : 90/- per person
Note: Individual Games Are Charged Appropriately
Srinidhi Resorts Hyderabad Phone
---
Rating:

|
4.1
stars, out of
5
stars
Based on total
69

reviews
Srinidhi Resorts Hyderabad Address: 3rd Floor, SR Complex, Habsiguda Road, opp. CCMB, Habsiguda, Secunderabad, Hyderabad, Telangana, 500007, India
---
A topmost destination to enjoy a relaxing staycation at affordable pricing in Hyderabad, the Srinidhi Resorts, also referred to as Srinidhi Joy 'n' Joy Clubs & Resorts, is one place that rejuvenates your mind, body and soul with supreme hospitality.
Nestled on Warangal highway, the Srinidhi Resorts exhibits a reflection of the sheer balance between your work and family and offers an experience that is unmatched to any. It is a blissful spot to take a break from 9 to 5 life and can be visited by anyone.
Accommodation at Srinidhi Resorts, Hyderabad
Make yourself feel at home in the accommodation of your choice at the Srinidhi Resorts. Catering to everyone's budget and holiday style, Srinidhi Resorts in Hyderabad pampers everyone with an array of services, irrespective of the room you choose.
All 43 rooms are tastefully designed with a focus on local culture and beautifully decorated with modern interior. Here you will get access to free Wi-Fi along with other in-room amenities such as LCD TV, AC, safe deposit locker, telephone, hot and cold water and many more. You can also opt for non-AC rooms in case you want to save a few bucks. The rooms are categorized as:
1. Standard Rooms: Ideal to enjoy a pocket-friendly stay with an enchanting view of the outdoor area, the Standard Rooms are great for solo travellers and couples seeking some ME time away from the busy life.
2. Deluxe Rooms: Offering luxurious accommodation with a wide variety of complimentary facilities, the Deluxe Rooms allow families to overlook nature at its best. They are equipped with a balcony where you can breathe in the fresh air whilst sipping a cup of tea.
3. Executive Suites: Perfect for couples with an extended bedroom for kids, the Executive Suites offer a pleasant surprise to all those who are looking to wake up to the beautiful morning with lush green surroundings all around. They also have an extra living room so that you can laze around on the sofa.
Food and Dining at Srinidhi Resorts, Hyderabad
Unlike other budget-friendly resorts in Hyderabad, Srinidhi Resorts complement your blissful stay with an ultimate dining experience that is hard to get anywhere else. Suiting to your taste, the resort presents an ample of culinary options to treat your taste buds with mouth watering delicacies, ranging from classic to exotic ones, under one roof.
1. Bamboo Themed Hut Restaurant: No food lovers can miss the opportunity of having a meal at the Bamboo Themed Hut Restaurant. Multi Cuisine dishes, world-class service, pleasant atmosphere, professional yet friendly staff and themed huts are sure to make your visit extra special. Here you can enjoy your lunch and dinner along with light bites in between the recreational games.
2. Haritha 'The Garden Eat Out' Restaurant: Discover the flavours of delighted gourmets at Haritha 'The Garden Eat Out' Restaurant that prepares food with a unique twist. It is an open-airy place that can accommodate up to 10 people at the same time and has seating under the green creepers for a peaceful evening.
3. Refresh Point: Visit the Refresh Point to satisfy your little hunger-pangs with a quick snack. The Refresh Point serves all kinds of fast-food with an exotic range of drinks that keep your mind fresh on sunny days.
Srinidhi Resorts Hyderabad Image Gallery
Activities at Srinidhi Resorts, Hyderabad
Srinidhi Resorts has a lot more to offer than just high-standards of accommodation and scrumptious dining. To attract tourists from different walks of life, there are several thrilling sports that keep you engaged all the time, no matter what age group you belong to.
1. Water Games: Have a time of your life at the Waterpark. Take a refreshing splash in the swimming pool and relax your senses in the water. The swimming pool is safe for even toddlers and has a depth of 2 feet to 9 feet.
Another feature of the waterpark is the Wave Pool that allows you to interact with waves without the need of visiting the beach. Meant for kids, the Splash Deck is an upcoming zone that will include a miniature version of slides for children to experience the adventure.
Other than that, you can also scream your heart out and fill your day with endless fun as you try your hand at water slides such as Whirl Wind and Torpedo.
2. Indoor and Outdoor Games: Indoor Gaming Arcade, with games like Foosball, Chess, Carrom, Dart, Table Tennis, Air Hockey, Pool Table and Gun Shooting provides a rejuvenating experience to everyone.
If you are an outdoor person and want to burn some calories with adrenaline-pumping activities, you can enjoy Cricket, Basketball, Volleyball, Badminton, Tennis, Football and Skating as a part of outdoor games.
3. Playpan: Spread over an area of 5 acres of land, the Playpan offers a delightful treat to school groups as it has swings, slides and games for children, youngsters and adults. A few of the slides include Columbus, Glider and Merry-go-round. Do not forget to visit Bird Sanctuary if you are interested in learning more about wildlife conservation.
Facilities at Srinidhi Resorts, Hyderabad
From arranging all the décor for small functions to making your grand celebrations unforgettable with all the fancy props, Srinidhi Resorts is one of the few resorts in Hyderabad that has everything for everyone.
1. Event and Party Lawns: If you are planning to host a corporate party, social event or family function, then the lush green event and party lawns of Srinidhi Resorts will be the right choice for you. Dil Garden, Silver Park Lawn and Before Rooms Lawn are the 3 party lawns the resort boasts of for your convenience.
2. The Fountain Island: Recognized as the centre of attraction, The Fountain Island is another place to host the jam-packed sessions, get together and parties of your choice at Srinidhi Resorts. It can accommodate up to 300 people at max.
3. Meeting & Conference Halls: With a seating capacity of 300 people, the Meeting & Conference Halls of Srinidhi Resorts are equipped with state-of-the-art equipment that you need to organize conference and business meetings.
How to Reach Srinidhi Resorts, Hyderabad?
Getting to Srinidhi Resorts is quite easy. Since it is only 7 km away from Secunderabad Railway Station, you can enjoy hassle-free travelling to and from the resort. Choose to travel via road if coming directly from the airport, which is 33 km away. For locals who are staying in the heart of Hi-Tec city, the resort is at a distance of 25 km that can be easily covered in 1 hour.
---
You can also opt for a private taxi from top car rental companies in Hyderabad and explore the popular tourist places of Hyderabad comfortably. Book an all-inclusive Hyderabad tour package with us at Hyderabad Tourism, a division of Holidays DNA. We offer various travel deals at competitive prices. Fill the Contact Us form to know more.
Location Map for Srinidhi Resorts Hyderabad