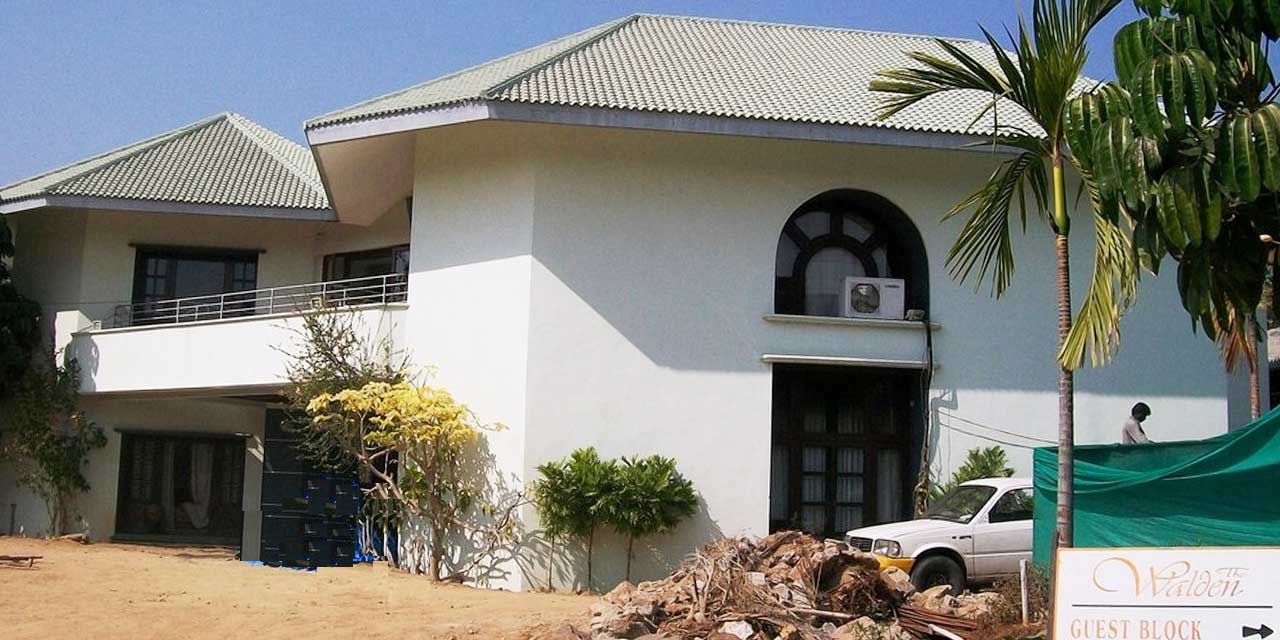 The Walden Resort Hyderabad Entry Fee
Package Starts from 2,000/-
The Walden Resort Hyderabad Phone
N/A
---
Rating:

|
4.2
stars, out of
5
stars
Based on total
87

reviews
The Walden Resort Hyderabad Address: Whisper Valley, Ambedkar Nagar, Film Nagar, Hyderabad, Telangana, 500033, India
---
Wondering where to go for enjoying a quick staycation without going too far from the city? The Walden Resort is one of its own kind of resorts in Hyderabad that offers a peaceful break away from the 9 to 5 work life.
Situated amidst the Whisper Valley of Film Nagar, The Walden Resort combines an excellent location with a fantastic experience and serene ambiance, making it worth-visiting for you and your family members.
Attracting tourists of all age groups, the resort invites people to dwell in a pleasant setting of leisure services and provides a stay that adds value to your money. It is located within easy reach of Golconda Fort and can be approached via local modes of transport.
Accommodation at The Walden Resort, Hyderabad
Promising a relaxing yet an unforgettable holiday to everyone, The Walden Resort boasts of 40 rooms that are ideal to stay for a short or a long trip.
All rooms offer high-standards of accommodation with a wide variety of facilities that make you feel at home away from your home. They are small in size and feature a window from where you can enjoy a beautiful view in the morning.
Some of the other in-room amenities include a TV, hot/cold water and a complimentary breakfast that is given to fulfil your appetite before you kick-start your day.
Food and Dining at The Walden Resort, Hyderabad
No tour is complete without savouring the taste of a delectable range of dishes and your visit to The Walden Resort in Hyderabad is no different.
While you treat your eyes with an elegant décor of the restaurant, you can enjoy your mouth watering food that is served with elegance. Couple a large assortment of delicacies with world-class service and excellent hospitality and you get an evening to remember for a lifetime.
As the fresh aroma of the traditional cuisine takes you to a different world and you indulge yourself into the culinary delights that are prepared with a unique and personal touch, you will be left wowed.
The Walden Resort Hyderabad Image Gallery
Facilities at The Walden Resort, Hyderabad
Adding to your blissful stay is the list of facilities that are offered at the resort for your utmost comfort. You can take a refreshing splash in the swimming pool, dip your feet in the water or simply sunbathe while sipping your favourite drink under the sky. The swimming pool is undoubtedly a great spot to relax and rejuvenate your senses after a long day of sightseeing in Hyderabad.
Another highlight of this resort is its lush-green lawns that are perfect to organize various kinds of events such as birthdays, get-togethers and family parties at affordable prices. The Walden Resort has a professional staff that takes care of all the décor and other things to make your event memorable. You just need to decide on the attire you'd like to wear at the event!
Other facilities such as free parking, front desk, travel assistance, doctor on call and laundry service are also available for your convenience. You can also enjoy high-speed internet connectivity and airport transfers at an additional charge.
How to reach The Walden Resort, Hyderabad?
Getting to The Walden Resort is quite easy. With its easy connectivity to Hyderabad International Airport and the neighbouring areas of the city, it can be accessed by locals and tourists from all around the world. From the airport, the resort is only 35 km and from Hi-Tec City, the resort is at a distance of 8.7 km that can be covered in approximately 30 minutes.
---
To enjoy hassle free commutation within the city, you can also hire a taxi from the list of top car rental companies in Hyderabad and make the most of your Hyderabad tour. We at Hyderabad Tourism, a division of Holidays DNA, offer all-inclusive Hyderabad tour packages that can be customizable according to your holiday budget, style and preference. What other reason do you need to book a travel deal with us? Please fill the Contact Us form!
Location Map for The Walden Resort Hyderabad