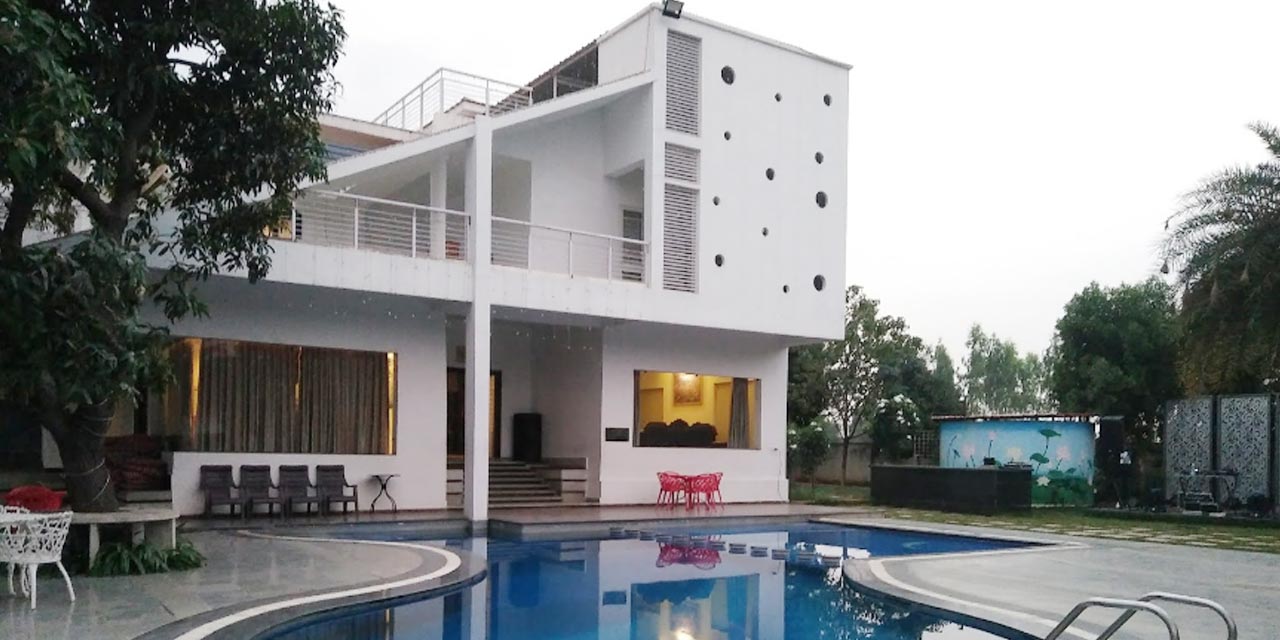 Boddam Resort Hyderabad Entry Fee
Packages starts from 2001 to 3000
Boddam Resort Hyderabad Phone
---
Rating:

|
4.1
stars, out of
5
stars
Based on total
74

reviews
Boddam Resort Hyderabad Address: Amdapur Village, Moinabad, Hyderabad, Telangana, 501504, India
---
Boddam Resort, nestled in the Amdapur Village of Hyderabad is the most ideal place for all kinds of events such as birthday parties, weddings, bachelor parties and corporate events. The place is so scenic and serene that a few movies have been shot here! The resort is spread over a hectare of lush green land making it one of the best laid back getaways near Hyderabad.
The resort mostly has one building which is at the centre of the complex, this building houses the rooms and the restaurant, which is surrounded by a tiny children's park and an outdoor swimming pool.
You can look out from your windows and see absolutely nothing near you, making the place very quiet allowing you to unwind, relax and destress. You even have free WiFi throughout the complex and free parking if you decide to bring a car.
Facilities at Boddam Resort Hyderabad
1. Rooms
There are two rooms at the Boddam Resort and they all come with a hoard of facilities like a television, a minibar to make yourself a drink and a coffee and tea making machine. Some rooms have windows and balconies that provide a view of the pool.
Rooms are for Rs. 30,000 a night and these prices are exclusive of food or in other words are for accommodation only. Both the rooms are air-conditioned and offer a king-sized bed. You need to book an entire villa to be able to enjoy the resort.
2. Event Hosting
If you want to use the complex for an event, you may choose to book the villa. You can also ask for any kind of setup on the lawns and the management will eagerly help you out. They are noted for their perfection and the effort they invest in organising it.
This is also a great option for destination weddings and other corporate events as the management provides such services and the huge garden at the resort provides a great open-air area for merriment.
3. Lawn
The resort boasts of an immense garden where you can take a walk or just sunbathe. The restaurant offers mostly a variety of international delicacies.
4. Outdoor Swimming Pool
The outdoor pool is decently sized and you can take a dip or sit by the water.
Image Gallery of Boddam Resort Hyderabad
Location and How To Reach Boddam Resort Hyderabad
The resort is located only 10 kilometres from SH4 towards the Amdapur village. You can get to the village by rail or road.
Bus: The nearest town is Bodhan which is seven kilometres from Amdapur and from Bodhan you can head out for the nearest highway SH4.
Train: If you want to reach there by train the nearest railway stations are Bodhan Railway Station in the town of Bodhan and Sahakar Nagar Railway Station, from there you have to reach Amdapur by road.
Flight: If you want, you can take a flight to Hyderabad and then drive to the Amdapur Village or the resort itself.
You can also opt to book a private cab from top car rental companies in Hyderabad for your Hyderabad tour and have a hassle free trip.
Places to visit near Boddam Resort Hyderabad
There are a few things you can go and see from the resort which are worth the trip. Hire a car from the resort and head out to these destinations for a day outing:
1. Mrugavani National Park: Located only eleven kilometres away from the resort, which is spread over 1211 acres and also houses over 350 spotted deers.
2. Escape Water Park: Located only fifteen kilometres away and it is known for being one of the best water parks near the city complete with slides, float rides and a play pool for the children among other attractions.
3. Grapes Garden and Breeze Garden: Two great parks to visit in nearby town Shamshabad which are just a few kilometres away from the water park.
---
Overall, the resort is a great stay for people who want to get away from busy life and for people who want to have a crazy adventure at the National Park and Water Park. The restaurant offers decent food and more importantly the rooms are absolutely gorgeous making your stay at the Boddam Resort a fabulous affair.
Since you can book the entire villa, this resort is more ideal for events where you can engage in other forms of activity at the resort. For people who just want to get away from the bustle of life, the garden and pool provide some great places for book reading time and good sleep.
The location of the resort just being far away enough from the humdrum yet not being inaccessible makes it the next best choice for an impromptu weekend getaway!
For a great holiday experience in Hyderabad, Hyderabad Tourism, a division of Holidays DNA offers Hyderabad tour packages at affordable rates. You can choose the package that suits you best and explore all the popular places to visit in Hyderabad in the comfort of a private cab. Please fill the Contact Us form for more details.
Location Map for Boddam Resort Hyderabad