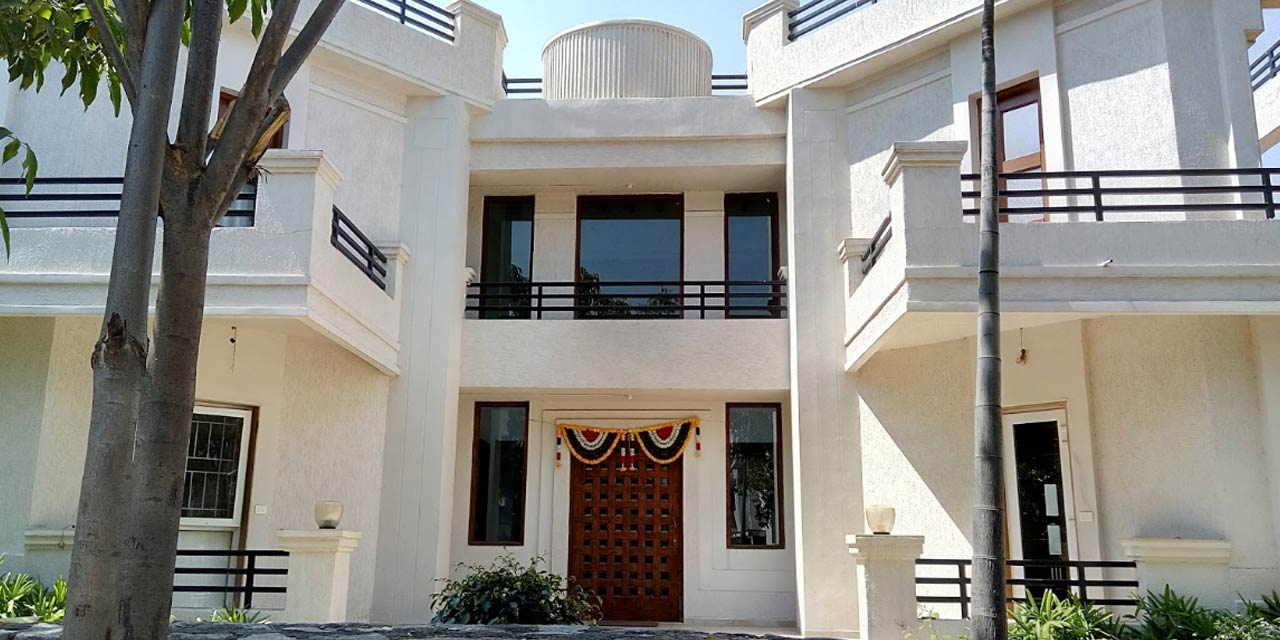 Summer Green Resort Hyderabad Entry Fee
Entry Fee 850/- per person (Includes, Welcome Drink, Lunch (Veg & Non Veg) + Hitea + Basic Games + Pool Access + Rain Dance)
Package Starts from 2,500/-
Summer Green Resort Hyderabad Phone
---
Rating:

|
4.3
stars, out of
5
stars
Based on total
76

reviews
Summer Green Resort Hyderabad Address: Survey No 90, A,111,112/A,112/B, Thumkunta Village, Shamirpet, Secunderabad, Hyderabad, Telangana, 500078, India
---
An exciting holiday destination for solo travellers, couples and families with children, Summer Green Resort is one of its own kind of resorts in Hyderabad that offers a quick staycation in the vicinity of nature. This resort, which is bestowed with the right blend of greenery, sprawling lawns and picturesque setting all around, has been entertaining people with a wide range of services and is indeed a great spot to experience the way of luxury living.
Accommodation at Summer Green Resort, Hyderabad
Promising an endearing stay to everyone, the Summer Green Resort boasts of 120 well-maintained rooms and suites to cater to your holiday style, interest and budget requirements. All rooms are stylishly furnished and equipped with modern facilities to pamper you with up-to-date services.
Some of the in-room amenities are free Wi-Fi access, LCD TV, Split AC, Safe Deposit Locker, Tea & Coffee Maker, Mini Bar, Mineral Water and Hot & Cold Water. Along with that, you will also get a complimentary breakfast in the morning.
1. Standard Rooms: Designed with ultimate comfort and uniqueness, Standard Rooms offer a level of convenience for all those who are looking to enjoy a refreshing break away from the endless chaos of everyday life. These rooms are best suitable for singles and couples.
2. Deluxe Rooms: Spread over an area of 450 sq. feet., Deluxe Rooms, beautifully carved with traditional vibrant colours and tastefully decorated with heart-filled ideas, allow people to enjoy a blissful stay whilst overlooking the lush green views from the private windows. These are best suitable for couples and families.
3. Kerala Cottages: Wake up to the sunshine and cheer up your early mornings in the extended balcony of the Kerala Cottages. The feel and texture of the rooms and suites are a testimony to the delightful accommodation you experience at the Summer Green Resort in Hyderabad.
4. Honeymoon Rooms: Perfect for newly-weds and honeymooners, Honeymoon Rooms gives you much-needed privacy that you need to spend some quality time together after the marriage. Not just that, these rooms combine the romantic ambiance with an array of facilities to make your evening unforgettable.
Food and Dining at Summer Green Resort, Hyderabad
No stay, whether it is just for an hour or for 2 days, is complete without discovering the exotic flavours of mouth watering delicacies.
Having a wholesome meal or light bites in between the games is undeniably the best thing you could ever ask for and Summer Green Resort in Hyderabad doesn't let you down as it has enough options to fill your palate with ample of culinary choices.
1. Amrapali Restaurant: An all-day fine-dining restaurant, Amrapali Restaurant presents Maharaja style setting to sit and enjoy a mix of Indian, Lebanese, Chinese, Mexican, Italian and Moghalia food. Here you can enjoy a buffet and a-la-carte service along with Continental cuisine on all days of the week. It is open from 12:00 PM to 4:00 PM for lunch, 4:00 PM to 7:00 PM for evening meal and 7:00 PM to 11:00 PM for dinner.
2. Fountain View Restaurant: Visit the Fountain View Restaurant to indulge yourself in the aroma of delighted gourmets that are prepared with a twist. Located at the poolside, Fountain View is an open-air waterfront restaurant where you can satisfy your appetite with a rich Indian culture menu and experience the taste of royalty in the skyline of stars.
3. Gossip Restaurant: Have a quick snack at the Gossip Restaurant. Surrounded by lush green lawns, the Gossip Restaurant is a great place to treat your buds with a wide variety of fast-food items. These include Veg Puff, Eff Puff, Veg Burger, Pav Bhaji, Veg Cutlet, French Fries, Sandwich and Paneer 65 Burger. You can also order chilled aerated nourishing drinks to chill out with your friends/families for long hours.
4. Tonic Club: Ideal to relax after an exhilarating time at the indoor/outdoor activities, the Tonic Club, enlightened with disco lights, offers an assorted range of local and international drinks to spoil you with nothing but the best of everything. Feel the music and set the dance stage on fire with your moves. The list of premium drinks include Beer, Vodkas, Cocktails, Mocktails, Whisky, Champagne, Brandies and many more.
Summer Green Resort Hyderabad Image Gallery
Rejuvenation at Summer Green Resort, Hyderabad
Another feature that sets it apart from other popular resorts in Hyderabad is its spa and wellness retreat. A place of rejuvenation, the full-service spa de-stresses your mind, body and soul with its therapeutic massage therapies. If interested, you can also meditate at the Meditation Centre to reduce anxiety and depression from your everyday lifestyle. The Meditation Centre is open from 6:00 AM to 8:00 AM.
For those who are looking to burn some extra calories on their Hyderabad tour, Summer Green Resort offers the facility of a fully-equipped gym where you can work out from 6:00 AM to 9:00 AM on all days of the week. There is also an exclusive Fish Spa Therapy available for your convenience.
Activities at Summer Green Resort, Hyderabad
To attract tourists from different walks of life, the Summer Green Resort accompanies your lavish stay with recreational activities that keep you occupied throughout the day.
Carrom, Chess, Punching Bag, Snooker, Billiards and Table Tennis are a few of the indoor games that are available at the resort from 10:00 AM to 6:00 PM. You can also try your hand at Badminton, Basketball, Volleyball, Golf, Football, Cycling and Cricket for a unique gaming experience. Other adventurous sports include Double Rope Walk, Burma Bridge, Net Climbing, Wall Climbing, Shooting, Rope Way and many more.
Facilities at Summer Green Resort, Hyderabad
In true sense, Summer Green Resort has everything for everyone, be it for leisure or business travellers. Along with all the activities, it has abundant space for official meetings, products launch, fashion shows and other functions.
1. WaterFront Hall: Suitable for birthday parties, reception and social gatherings, the WaterFront Hall is an ideal choice to organize grand celebrations with your family/friends. It is spread over an area of 1500 sq. feet and can accommodate up to 60 to 100 people.
2. Karma Banquet Hall: With a capacity to accommodate up to 40 to 100 people, Karma Banquet Hall is another choice for small gatherings. Equipped with audio and video systems, this hall can also be rented for business meetings, corporate events and conferences.
3. Nirvana I and II: An indoor banqueting space, the Nirvana I and II Halls are perfect for resort parties and family get-togethers. It covers an area of 3000 sq. feet and can seat 120 to 300 people around.
How to Reach Summer Green Resort, Hyderabad?
Since Summer Green Resort is located in Thumkunta Village of Shamirpet Mandal, it can be easily accessed by both locals and tourists via roadways. From Hi-Tec City, the resort is only 33 km drive away and from Hyderabad Airport, it is at a distance of 74 km that can be covered in less than 2 hours of time.
---
You can also hire a private vehicle from the list of top car rental companies in Hyderabad for commuting within the city. We at Hyderabad Tourism, a division of Holidays DNA, present all-inclusive Hyderabad tour packages with various pocket-friendly deals so that you can make the most of your visit. To know more about our offerings, please fill the Contact Us form now!
Location Map for Summer Green Resort Hyderabad