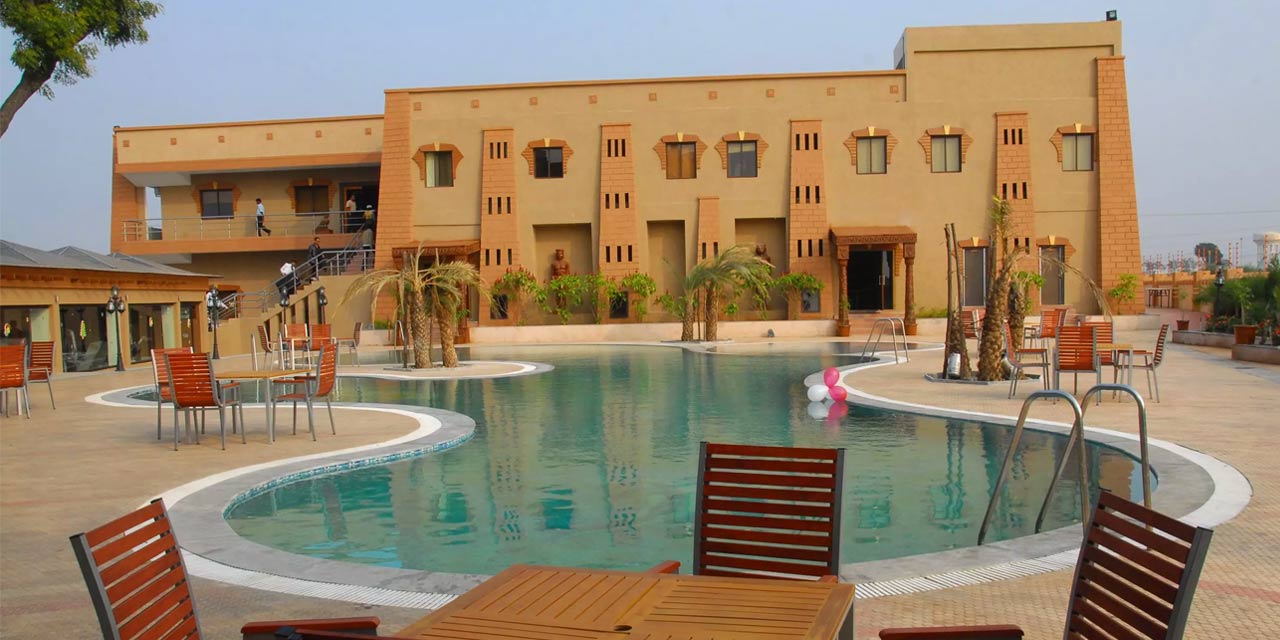 Papyrus Port Resort Hyderabad Entry Fee
Package Starts from 3,500/-
Papyrus Port Resort Hyderabad Phone
---
Rating:

|
4.2
stars, out of
5
stars
Based on total
57

reviews
Papyrus Port Resort Hyderabad Address: Bangalore Highway, Palamooru, near 34th Milestone, Thimmapur, Hyderabad, Telangana, 500014, India
---
Why visit Egypt when you can have the feel of Egyptian cities in Hyderabad itself? Also known as the first Egyptian themed resort in Telangana District, the Papyrus Port Resort is one of those resorts in Hyderabad that is designed keeping the famous architectural wonders of Egypt in mind.
Widely known for its fine blend of Indian hospitality and Egyptian style accommodation, the Papyrus Port Resort presents a secluded getaway for solo travellers, couples and families with children and offers an ultimate opportunity to enjoy a staycation with world-class facilities.
Accommodation at Papyrus Port Resort, Hyderabad
A blissful stay in the warm and cosy environment of Papyrus Port Resort is sure to leave a lasting impression that you could cherish for a lifetime. With a total of 26 well-appointed rooms that exhibit a unique combination of modern design with unique art, the resort allows you to have a gala time away from the monotonous life.
To make yourself comfortable, you can choose to escape and unwind in the room of your choice. Catering to your needs and holiday style, the Papyrus Port Resort in Hyderabad categorizes its exclusive accommodation as Executive Single Room, Executive Double Room, Deluxe Single Room and Deluxe Double Room.
All rooms are stylishly furnished with neutral colours and feature exquisite décor with a laid-back setting to pamper you with up-to-date services. They offer an overall sense of luxury with much-needed privacy that you need to spend some quality time with your loved ones.
Each room is equipped with essential requisites. Here you can experience good sleep on plush bedding, laze around on the sofa or enjoy a sip of cool drink while overlooking the outdoor views. Some of the other in-room amenities include free Wi-Fi access, air-conditioner, television, mini-refrigerator, closet, safety deposit box, telephone, newspaper, room service and an attached bathroom with complimentary bathrobes and toiletries.
In addition to that, facilities like laundry service, dry cleaning service, medical service, doctor on call and 24-hour front desk are also available in the lobby area. You can also ask for airport transfers at an additional charge.
Food and Dining at Papyrus Port Resort, Hyderabad
It's time to hog on your favourite food at Papyrus Port Resort, a place where you can discover the flavours of best cuisines in a unique way and experience most civilized fine-dining with tourists from all around the world.
Savour the taste of lip-smacking American cuisine, satisfy your appetite with a wide range of Italian dishes or treat your buds with mouth-watering Oriental delicacies from the Far East region.
If you are craving something native, the in-house restaurant also serves North Indian food to leave you surprised. You can also order from a large assortment of refreshing drinks to chill-out with your friends/families after a long day of sightseeing in Hyderabad.
Papyrus Port Resort Hyderabad Image Gallery
Rejuvenation at Papyrus Port Resort, Hyderabad
Take a break from the temporal world for sometime and open your eyes to a new world of rejuvenation at the wellness centre of Papyrus Port Resort. The full-service spa is a perfect spot to restore your well-being, elevate your senses and free your spirit in the harmony of nature.
Choose the most suitable treatment from a variety of massages and get ready to indulge yourself in a bit of pampering. The professionals at the spa, also known as Cleopatra Spa, allow you to return home refreshed and revitalized with an experience that is hard to get anywhere else.
If you are looking for an adrenaline rush, you can hit the gym to continue your workout sessions with state-of-the-art equipment such as treadmills, stair mill, upright bike, rowing machine, cardiovascular machines and many more. At Papyrus Port Resort, the gym also has highly-trained instructors that can assist you in burning the extra calories quickly. What else do you need to get started?
Activities at Papyrus Port Resort, Hyderabad
No matter, whether you are visiting the resort just for 2-days or have come here for a long week, you will never run out of things as the resort accompanies your lavish stay by several recreational sports and thrilling activities.
1. Swimming Pool: Who says life is not better when you are at the poolside? We say, spend a few hours at the outdoor swimming pool of Papyrus Port Resort and you will be able to experience a truly rejuvenating time of your life.
An ideal place to relax in the perfect oasis of calm, the swimming pool invites people to dwell in the poolside ambiance and uplift their mood with a refreshing plunge in the water. Here you can sunbathe under the parasols, tan your body on the loungers or simply sit back for the ultimate leisure. The pool isn't too deep, making it absolutely safe for children to splash around as well.
2. Indoor Games: Try your hand at a handful of activities and enjoy an exhilarating gaming experience with a classic game of carrom or a one on one match of table tennis. Get ready to sharpen your mind over a game of chess, go back in your childhood with an impressive collection of video games or set your heart racing high with action games. To make it even more exciting, you can also select from the list of other indoor games such as ping pong, billiards and pool.
For kids, there is a separate play area with several fun games and for outdoor games lovers, the resort boasts of a volleyball ground, football ground and cricket ground to keep you engaged throughout the time.
Facilities at Papyrus Port Resort, Hyderabad
When you are at Papyrus Port Resort, you need not worry about anything. In addition to pleasing tourists with high standards of accommodation, scrumptious dining and an amazing range of activities, the resort also caters to business travellers and wedding organizers with a variety of facilities. These include:
1. Banquet Hall: Suitable for intimate gatherings, corporate affairs and grand celebrations, the Banquet Hall at Papyrus Port Resort creates an atmosphere that turns your casual function into a memorable one. It has enough space for guests to celebrate larger than life events and can accommodate any number of people.
2. Board Rooms: Another equally fascinating attraction to host a small business meeting or a conference at the resort is its boardrooms that are soundproof and fully secured. With a backdrop of the breathtaking landscapes, the boardrooms have all the amenities that serve your purpose and help you get the job done.
How to Reach Papyrus Port Resort, Hyderabad?
Located on Bangalore Highway near 34th milestone in Thimmapur village, Papyrus Port Resort offers easy connectivity via roadways and railways. From Rajiv Gandhi International Airport, it is at a distance of 24 km that can be covered in less than 30 minutes. From Secunderabad Junction, the resort is 47 km drive away. After arriving at Secunderabad Railway Station, you can either opt for public transport or hire a taxi from top car rental companies in Hyderabad for hassle free experience.
---
Book an all-inclusive Hyderabad tour package with us to make it the most rewarding trip of your life. We at Hyderabad Tourism, a division of Holidays DNA, have also curated a list of travel companies that helps you explore the popular tourist places in Hyderabad. To know more about our offerings, please fill the Contact Us form.
Location Map for Papyrus Port Resort Hyderabad