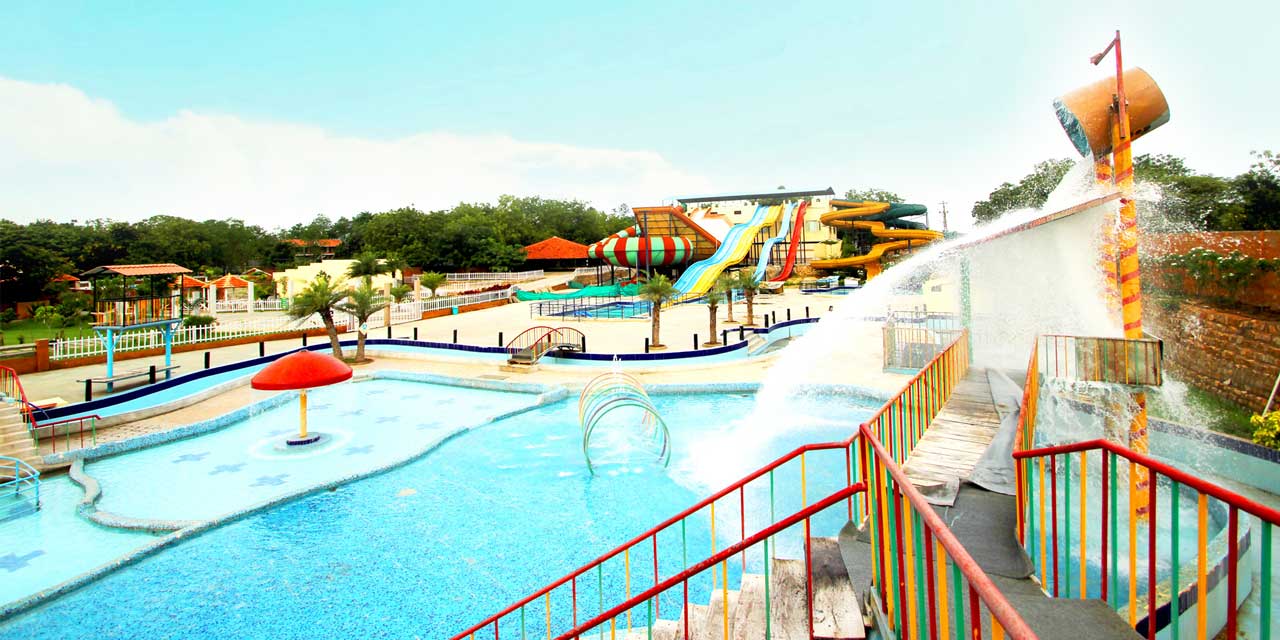 Dream Valley Resorts Hyderabad Entry Fee
Day Outing Packages

1550 + 18% GST per head for adults
1000 + 18% GST per head for children between 5 to 11 years.

Package includes : Welcome Drink, Lunch, Hi-Tea, Access to Water Park, Swimming pool and outdoor games.

Executive Rooms (Check In & Check out timings: 14:00 Hrs to 12:00 Hrs)

5,000 + GST for Double Occupancy

Kids Policy

0 – 5 Years complimentary
5 – 11 Years 1500 + GST per child

Package includes : Accommodation, Welcome Drink, Breakfast, access to Water Park & Games

---

Premium Stay (Check In & Check out timings: 14:00 Hrs to 12:00 Hrs)

6,500 + GST for Double Occupancy

Kids Policy

0 – 5 Years complimentary
5 – 11 Years 2000 + GST per child

Package includes : Accommodation, welcome Drink, Breakfast, access to Water Park & Games

Ethnic Cottages (Check In & Check out timings: 14:00 Hrs to 12:00 Hrs)

5,000 + GST for Double Occupancy

Kids Policy

0 – 5 Years complimentary
5 – 12 Years 1500 + GST per child

Package includes : Accommodation, welcome Drink, Breakfast, access to Water Park & Games

Suite 16 (Check In & Check out timings: 14:00 Hrs to 12:00 Hrs)

6,000 + GST for Double Occupancy

Kids Policy

0 – 5 Years complimentary
5 – 11 Years 1700 + GST per child

Package includes : Accommodation, welcome Drink, Breakfast, access to Water Park & Games
Farm House – (2,3,4 BHK) (Check In & Check out timings: 14:00 Hrs to 12:00 Hrs)
Starts from 17,000 + GST for 4 persons onward
Package includes : Accommodation, welcome Drink, Breakfast, access to Water Park & Games
Dream Valley Resorts Tickets & Tours

Dream Valley Resorts Hyderabad Phone
---
Rating:

|
4.1
stars, out of
5
stars
Based on total
75

reviews
Dream Valley Resorts Hyderabad Address: Vikarabad Road, Bakaram Jagir, Before Chilkur X Roads, Hyderabad, Telangana, 501504, India
Dream Valley Resorts Hyderabad Timings
| Day | Timing |
| --- | --- |
| Monday | 8:00 am – 11:00 pm |
| Tuesday | 8:00 am – 11:00 pm |
| Wedesday | 8:00 am – 11:00 pm |
| Thursday | 8:00 am – 11:00 pm |
| Friday | 8:00 am – 11:00 pm |
| Saturday | 8:00 am – 11:00 pm |
| Sunday | 8:00 am – 11:00 pm |
Links:
Website
|
Map
---
The name Dream valley resorts in Hyderabad resonates with a luxury stay that promises to rekindle Zen in you with its tranquil setting. If you are looking for a place to host a celebration with friends and family or a destination to take your wedding vows then Dream Valley Resorts is a perfect choice. The resort lets you relish a fabulous stay while your eyes feast on its salubrious surroundings of the emerald green landscape.
Facilities at Dream Valley Resorts Hyderabad
1. Multiple Party venues to choose from: As many as 15 party venues give the guests ample choice to organize all kinds of events and celebrations and choose a venue according to their guest list. These venues can accommodate from 200 to 2000 guests and each venue is unique and equally fabulous. You can host all your wedding functions here along with occasions like bachelor parties.
2. Buffet Zone for the food lovers: A buffet zone to exhilarate your taste buds is another feather in the cap for Dream Valley Resorts. From starters to the main course, the lavish spread includes continental as well as Indian delights. The Gulab Jamun here is not to be missed at any cost.
3. Party at the pool: The swimming pool area is a perfect venue for poolside lunch and dinners with the sumptuous buffet layout alongside the shimmering water and music which adds a beautiful touch to the party.
4. Luxury stay at the villas: Dream Valley resorts take luxury stay to a completely different pedestal with their ten luxury villas. These villas let you host your exclusive party of 10-15 guests in a private setting where you can have a bonfire and barbeque while you entertain your guests.
5. Open lawn venues: If you love entertaining your friends and family in open spacious lawns then Dream Valley Resorts is just the place for you. Manicured lawns that can have anywhere from 200 to 2000 guests offer an ideal setting for an outdoor party. An outdoor wedding or a sangeet function with bonfires and barbeque is a proposition that is quite alluring.
6. And it's a six: The love for cricket thrives in every heart and a game of cricket on a sunny day is just what everyone needs. Dream Valley Resorts have a cricket ground where you can enjoy a fabulous match day while you spend the evening relaxing at the resort.
7. Indoor game zone: Not all the guests are the outdoor sporty kinds and Dream Valley Resorts cater to the needs of all kinds of guests. The indoor games are meant for all those guests who would love a game of snooker, carom or chess. There is table tennis too if you want to flex your arms and have a friendly game with your friends.
8. Please your palate at the restaurant: Luxury is synonymous not just with the stay at Dream Valley Resorts but also in the delectable food served at the restaurant. From aromatic Mughlai cuisine to mouth-watering continental dishes, everything is a must-have. The breakfast and lunch buffet spreads include a wide variety of cuisines like South Indian which is everyone's favorite.
9. It's raining fun: Everyone loves letting their hair down and groove away to foot-tapping music. At Dream Valley Resorts this experience is made even better. Guests can dance away while getting soaked in rain at the rain dance party. While the DJ belts out music of your choice, you can enjoy the sprinkling showers at your exclusive rain dance party.
10. Tiny tots zone: When adults are having fun can kids be far behind? At Dream Valley Resorts the kids can have a gala time at the Kids play area that is dedicated to them and has slides and swings to make them go crazy with delight. There is a dry zone with slides, swings and a playing area while the wet zone has the swimming pool and water park with super fun slides.
11. The water park: The Dream Valley Resorts Hyderabad water park is one of the largest in South India and easily one of the best. With several slides, splash pads and spray grounds, the water park is a fun bonanza you must not miss at all.
12. The work zone: For those wishing to combine work with leisure, the three board rooms and meeting rooms at the resort are the perfect picks. Designed with wood flooring and complete with all modern-day communication and presentation facilities, you can organize meetings, conferences, and interviews in these meeting rooms.
Dream Valley Resorts Hyderabad Image Gallery
Rooms at Dream Valley Resorts Hyderabad
Dream Valley Resorts offers its guests six types of accommodation, each of which is different and equally luxurious. The rooms are furnished with plush interiors and are equipped with all modern-day amenities.
1. Ethnic Cottages: Exuding old-world charm, the Ethnic Cottages are set amidst tranquil and green surroundings that add a touch of serenity to the look of the cottage. As you walk towards the cottage, you notice the pavement leading to it is lined with trees and lush green plants, instantly making you fall in love with the place with its rustic charm.
2. Executive rooms: Modern-day amenities that make your stay comfortable and a view outside the room that soothes your senses is what the Executive Rooms offer. The AC rooms give you a pleasant view of the Water Park and lush green lawns. A private dining area adds to its premium quotient.
3. Family rooms: These deluxe rooms are designed to give you a refreshing and relaxed feeling while you have a comfortable stay with your family. The rooms are large enough to accommodate four guests with ease. Twin double beds let the entire family have a great time together.
4. Private farm house: Adding a touch of privacy coupled with grandiose interiors, the villas are a great choice for groups wishing to stay together in style and comfort. These villas come in 2/3/and 4 bedroom size options. Enjoy the sizzling barbeque and use the attached kitchenette to satisfy your midnight cravings for a hot cuppa; the villas let you enjoy your stay in style.
5. Camping: While the indoor stay at the resort is full of comfort and luxury, the outdoor option of camping on the grounds is full of adventure and thrill. You can set up tents in the laps of nature and these tents come with a private bathroom. 5-6 people can easily stay in each of these tents which are quite spacious and very comfortable to stay in. It offers a unique experience where you get a mix of comfort in the folds of nature.
6. Suite 16: This is a set of 16 rooms that have been connected to form a single unit and are perfect for a large family looking for a luxury stay together. Suite 16 spells grandeur not just with its regal interiors but also with its setting amidst a lush green landscape. The eco-friendly accommodation comes with new-age facilities that give you a stress-free stay.
Packages at Dream Valley Resorts Hyderabad
The stay and outing packages at Dream Valley Resorts have been designed at reasonable prices and cover everything from a relaxed stay and sumptuous food to entertainment and adventure.
The Dream Valley Resort day package includes access to Water Park with Rain dance, Swimming pool, and outdoor games along with meal options.
The Executive Room, Deluxe Family Room, Ethnic Cottages, Suite 16 and the Farm House packages offer accommodation along with breakfast, access to Water Park & Games.
Activities at Dream Valley Resorts Hyderabad
From corporate to personal functions and parties, Dream Valley Resorts offer venues for all kinds of events.
Corporate events: You can pick from their 19 venues to host your office parties or get together with employees and clients. The resort is preferred for organizing various kinds of social events as well as charity functions or corporate ones like customer appreciation parties, product launches, award shows, trade shows, seminars and VIP events. If you are looking for a venue for hosting a press conference, seminar or board meetings then the meeting rooms at the resort are the ideal choice.
Wedding Events: You can host all the events of your wedding at the indoor and outdoor venues at Dream Valley Resorts which has multiple options to accommodate as many guests as you want. The outdoor venues can have as many as five thousand guests while the indoor venues are large enough to have at least 600 guests. You can add some fun elements to your wedding festivities by arranging for the guests to spend some time at the water park as well. Dream Valley Resorts will make your wedding look like a dream for sure.
Sangeet Events: Sangeet forms an integral part of all Indian weddings and the board rooms at the resort offer the perfect indoor setting for your sangeet function. You can also go in for the outdoor lawn venues if you have a large guest list.
Location and How to Reach Dream Valley Resorts Hyderabad
The resort is located at Bakaram Jagir, Vikarabad Road, before Chilkur X Roads.
The resort is easily accessible from the city and you can drive down or take a private taxi from top car rental companies in Hyderabad. The distance from Hyderabad to the resort is approximately 29 km and would take an hour to cover.
---
For an unforgettable holiday experience in Hyderabad, we at Hyderabad Tourism, a division of Holidays DNA offer Hyderabad tour packages at pocket friendly prices. You can choose the package that suits you best and explore all the popular places to visit in Hyderabad in the comfort of a private cab. Please fill the Contact Us form for more details.
Location Map for Dream Valley Resorts Hyderabad