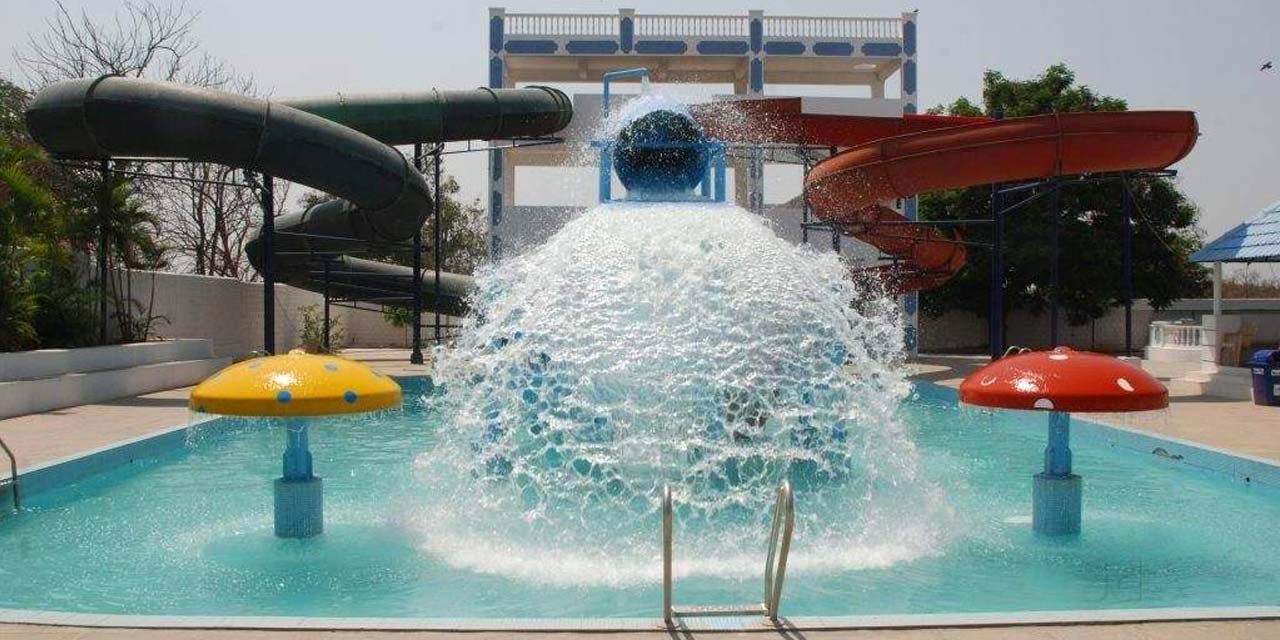 Blue Thunder Resort & Water Park Hyderabad Entry Fee
Blue Thunder Resort & Water Park Hyderabad Phone
---
Rating:

|
4.4
stars, out of
5
stars
Based on total
95

reviews
Blue Thunder Resort & Water Park Hyderabad Address: BluThunder Water Park and Resort Inside Super City Venture Pochampally Road, Bibi Nagar, Nalgonda , Telangana, 508126, India
Blue Thunder Resort & Water Park Tickets & Tours

Blue Thunder Resort & Water Park Hyderabad Timings
| Day | Timing |
| --- | --- |
| Monday | 11:00 am – 6:00 pm |
| Tuesday | 11:00 am – 6:00 pm |
| Wedesday | 11:00 am – 6:00 pm |
| Thursday | 11:00 am – 6:00 pm |
| Friday | 11:00 am – 6:00 pm |
| Saturday | 11:00 am – 6:00 pm |
| Sunday | 11:00 am – 6:00 pm |
Links:
Website
|
Map
---
What would be your answer if you're asked to share the most thrilling experience you've ever experienced in your life till now? You must have given enough thought about it, but didn't get any relevant answer in mind, right? Well, visit the Blue Thunder Resort & Water Park in Hyderabad at least once and then, you'll never fall short of words again! Yes, it's a kind of resort that provides an experience worth remembering for a lifetime!
A perfect getaway to start your weekend, the Blue Thunder Resort & Water Park introduces you to a new set of recreational sports and games with a twist that leaves you enthralled for many days. Nestled in the serene surroundings, the park presents state-of-the-art activities with high-standards of accommodation, dining and other facilities under one roof, to never let you get bored for even a single minute. It is an idyllic destination for a fun-filled time with your family and is indeed a must-visit sightseeing place in Hyderabad.
Whether you're planning to visit this resort as a solo traveller or with your group of friends, you're sure to find something of your interest here.
Rides at Blue Thunder Resort & Water Park
Promising a heavy dose of excitement, the Blue Thunder Resort & Water Park invites people to enjoy their day filled with unlimited fun and boundless entertainment. With a mix of rides that allow you to add some spice to your boring and monotonous life, you can try something new and different every time you get a chance to visit this place.
Surrounded by lush greenery, tranquil setting and a pleasant atmosphere, the waterpark at the Blue Thunder Resort is a great place to beat the heat of sunny days when you are in Hyderabad. It boasts of 10 excellent water rides for water sport lovers and has everything that you need to face the adventurous challenges at every step.
Take a dip in the swimming pool. Perfect for both adults and children, the swimming pool lets you play with water the way you want. For little guests, there is a dedicated play area where your kids can mingle with others of their age while you spend some leisure time at the sand volleyball. Besides these activities, the resort also features a mini adventure zone for all those who are looking for adrenaline-fuelled rides and a rain dance facility to dance to the rhythm of your favourite music.
Food and Beverages at Blue Thunder Resort & Water Park
Indulge yourself into the flavours of rich South Indian cuisine at the in-house restaurant of Blue Thunder Resort & Water Park. Catering to everyone's taste, the restaurant gives a personal touch to a delectable range of vegetarian and non-vegetarian food dishes and serves them in a presentable way.
From snacks to light-bites, heavy meals and plenty of refreshing drinks, here you'll find something to satisfy your appetite after a full-day hangover at thrilling rides and slides.
Kick-start your day with a tea or coffee or experience world-class dining with an a-la-carte service in the afternoon. You can also take a break from the adventure-filled day in between and treat your buds with Chinese food at competitive prices. It costs nearly INR 200 per person.
Note: Outside food is not allowed within the premises.
Image Gallery of Blue Thunder Resort & Water Park Hyderabad
Entry Fee and Timings of Blue Thunder Resort & Water Park
The entry fee to visit Blue Thunder Resort & Water Park in Hyderabad is INR 295 per person for all ages of people. It welcomes its visitors on all days of the week from 11 AM in the morning to 6:00 PM in the evening.
Note: The price is inclusive of all taxes.
Facilities at Blue Thunder Resort & Water Park
Enjoy your stay at Blue Thunder Resort & Water Park with an array of amenities and relish the time forever! There are individual cottages for people to relax and rejuvenate, banquet halls to organize marriage functions, engagement ceremonies and birthday parties and party lawns for kitty parties, get togethers and private events.
You can also take advantage of locker rooms to keep your personal belongings safe. In addition to that, the park also provides the facility of separate changing rooms for males and females.
Offers and Packages at Blue Thunder Resort & Water Park
Leverage the benefits of various offers and packages that are offered at Blue Thunder Resort & Water Park for the convenience of people.
For instance, you can take your school students for an outing to create memories for life. For school groups, the park designs customized school packages to ensure you have a great time with children. Other than that, several corporate packages are also available to develop an unbreakable bond with your colleagues at this unspoiled site. So, what are you waiting for? Just book your package now and get ready to relive the good old days.
You can also Contact Us to avail the pocket-friendly deals. We at Hyderabad Tourism, a division of Holidays DNA, offer all-inclusive Hyderabad tour packages so that you can explore the popular sightseeing places in Hyderabad.
How to Reach Blue Thunder Resort & Water Park?
Since Blue Thunder Resort & Water Park is located in Bibinagar which is a small town in Telangana state, it can be easily accessed by a local mode of transport.
However, the simplest and quickest way to reach Bibinagar is to hire a taxi that takes nearly 1 hour to get to the destination and charges between INR 1500 to INR 1900. You can also go through the list of top car rental companies in Hyderabad to book a private vehicle at a reasonable price.
Hyderabad has a lot more to offer that you cannot miss exploring if you're in the city for 2-3 days. To plan the itinerary of your choice, Holidays DNA customizes the travel packages suiting to your trip duration. What else do you need to book a Hyderabad tour with us? It's time to get set go!
Location Map for Blue Thunder Resort & Water Park Hyderabad