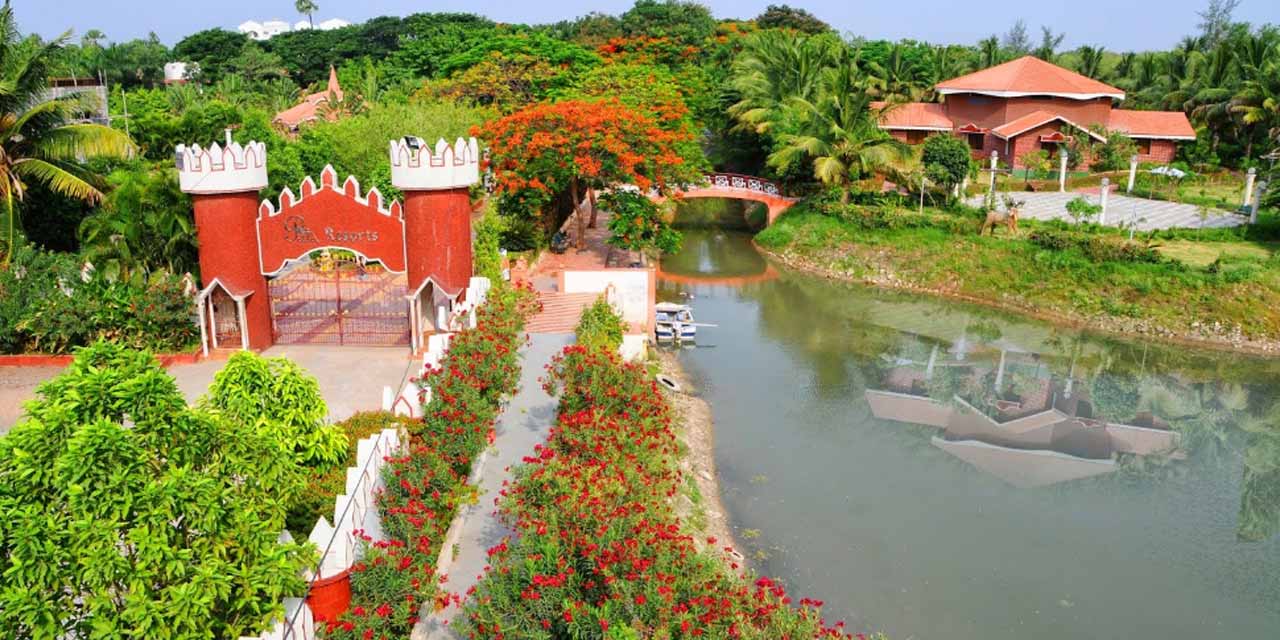 Pride Resort Hyderabad Entry Fee
120 per person for Adults
90 per person Children (5 to 12 Years)
Pride Resort Hyderabad Phone
---
Rating:

|
4.1
stars, out of
5
stars
Based on total
75

reviews
Pride Resort Hyderabad Address: Capol Warangal Highway Kondamadugu Village, Yadagirigutta, Bhongir district, Hyderabad, Telangana, 508001, India
---
Pride Resorts in Hyderabad is a place that comes to your mind when you are looking for a venue to host a celebration with friends and family or organize an official event. It is located behind Capol Bones Hospital, on the Warangal Highway in Kondamadugu Village and is easily accessible from the city.
Accommodation at Pride Resorts in Hyderabad
There are Executive Rooms, Standard Rooms, Suites, Cottages, Villas with Double Bed Rooms and Single Bed Rooms at the resort, making it the perfect choice for your stay. You can have a relaxing stay at the resort in the lap of nature and away from the cacophony of the city. Its lush green lawns are a great choice for any kind of event and celebration.
The resort is a perfect choice when it comes to a venue for a business conference, seminar or meetings. It is also a popular location for organizing relaxation stays and events for employees and corporate picnics. If you are looking for a place to host a party for your friends and family at a place that not just gives you great food but also an amazing ambiance then Pride Resorts should be your pick.
Facilities at Pride Resorts of Hyderabad
Pride Resorts offers a wide range of facilities for its customers to have a gala time at the resort. Facilities offered by Pride Resorts are:
1. Event and Party Lawns: Pride Resorts has several lush green gardens that serve as venues for all outdoor events. The fun activities which the resort offers and each of its outdoor venues are equally breathtaking. With a seating capacity of upto 1500 guests, the spacious party lawns at Pride Resorts are ideal for fun filled gatherings.
2. Conference and Meeting Halls: The resort has well-equipped conference rooms and meeting rooms along with trained management personnel who are ready to assist you with your requirements. It has different Conference Halls that can accomodate 300 to 400 guests in a Theatre style conference room and upto 200 guests in other type of conference rooms.
3. Restaurants: Pride Resorts offers a wide variety of culinary choices that would pamper your palate. It has an array of restaurants catering multi cuisine, South Indian, Mughlai, Chinese food options as well as mouth watering snacks.
Its main restaurant Carnival Restaurant accommodates up to 70 people and is surrounded by greenery making it an ideal choice for families. The Pride-In AC Restaurant, on the other hand is an A/C hall that has a seating capacity of 40 people. Refresh Point Coffee Shop at the resort offers Chilled food, Snacks, Water Bottles and cool drinks.
4. Security: Pride Resorts offers 24 Hours security with all security measures taken to keep its guests safe guarded.
5. Parking: For hassle free parking, Pride Resorts has a large parking lot that can accommodate upto 100 vehicles.
6. Amphitheatre: The Amphitheatre at Pride Resorts is ideal for corporate events and can accommodate hundreds of guests at a time.
Image Gallery of Pride Resort Hyderabad
Activities at Pride Resorts of Hyderabad
The resort doesn't just enchant you with its beautiful landscape but also keeps you entertained with a basket of activities that you can indulge in. It is visited by large groups, families, and corporates who are looking for a self-sufficient place offering everything from good food and ambiance to fun activities that keep every member involved.
Here are some of the activities offered by Pride Resorts:
1. Fun Water activities: You would have a gala time at the Rain Dance organized by the resort. Complete with a rain effect system and loud foot-tapping music, this rain dance lets you have a great time amidst fogs of water.
Another fun water activity at the resort is its fabulous swimming pool with its shimmering water. Dive in and relax while soaking in the beauty of the resort. If you are looking for an adrenaline pulsing water adventure then Pride Resort is just the place with its amazing water slides. Scream to your heart's content with delight as you slide down, soaked with water, only to land in a pool at the base of the slide.
2. Indoor and Outdoor Games: If you are a group of co-workers or family members, adults or children, you will have a ball of a time playing the indoor and outdoor games here. For those looking for relaxed game time, there is a pool table, carom, table tennis, dartboard, and chess to name a few of the fun games you can play indoors. If you love the outdoors and are looking forward to burning some calories, there is the option of Cricket, Beach Volleyball, Football, Basketball, and Badminton.
3. Children's Corner: Pride Resorts have exciting fun activities for every age group and when we are talking about games, there has to be a dedicated corner that lets children have a good time. The children's corner at the resort will keep kids entertained and busy with slides, see-saws, and merry- go round. They can also frolic around in the gardens playing games like hide and seek. This corner is a place that always resounds with the giggling sound of children.
4. Nighttime extravaganza: Shake a leg and let your hair down at the underground dance studio Tarang where the only thing matching the high decibels of music is the high energy levels of the guests. This dance studio can accommodate almost 150 guests at a time and it gives you a beach vibe with its sandy floor, array and laser lighting along with the high voltage non-stop music. It is the perfect way to unwind when you are at Pride Resorts.
Pride Resorts, Hyderabad Ticket Price
The Entry fee for Adults is Rs. 120 per person and for Children aged between 5 to 12 years, the fee is Rs. 90 per person. There is no entry fee for children up to 4 years of age. This entry fee is not inclusive of the charges of adventure activities.
Pride Resorts Packages
All the packages offered by Pride Resorts are reasonably priced and offer a good dose of entertainment. Be it a corporate event or a fun-filled event, there are packages for guests from small numbers like twenty to even bigger gatherings of a thousand guests.
You can also get customized packages according to your event and even get your caterer for your events. The décor options can also be customized by the guests to suit their event and taste.
1. Wedding Packages: Pride Resorts offer wedding packages that include indoor and outdoor venues for pre and post-wedding events.
2. College and School Packages: At Pride Resorts you can organize get-togethers like Annual Days, Fresher's parties, and Farewell parties. The grounds of the resort are ideal for school and college picnics and other small outdoor events.
3. Corporate Packages: A palate-pleasing menu, host of exciting activities and a fabulous venue awaits you at Pride Resorts when you take their corporate package. It is ideal for hosting meetings, conferences, training programs, day outings, annual day events and holiday events like a Christmas or Diwali Party.
4. Residential Packages: The residential packages of Pride Resorts include buffet breakfast, lunch, and dinner along with free access to the amusement park, the water park, and few other amenities.
5. Food Package: The Veg Package at Pride Resorts Hyderabad is priced at INR 400 while the non-veg package is priced at INR 500 per plate.
How to Reach Pride Resorts from Hyderabad
Pride Resort is located on Hyderabad -Warangal Expressway on National Highway 202, just 30 minutes drive from Uppal Ring Road. You can reach the resort easily through your vehicle, cab or asking the resort to arrange travel for you. You can also opt for a private cab from top car rental companies in Hyderabad and visit all the popular sightseeing places of Hyderabad comfortably.
Hyderabad Tourism, a division of Holidays DNA offers all-inclusive Hyderabad tour packages to ensure a fun filled vacation for its customers. Reach out to us by filling the Contact Us form to know further.
Location Map for Pride Resort Hyderabad