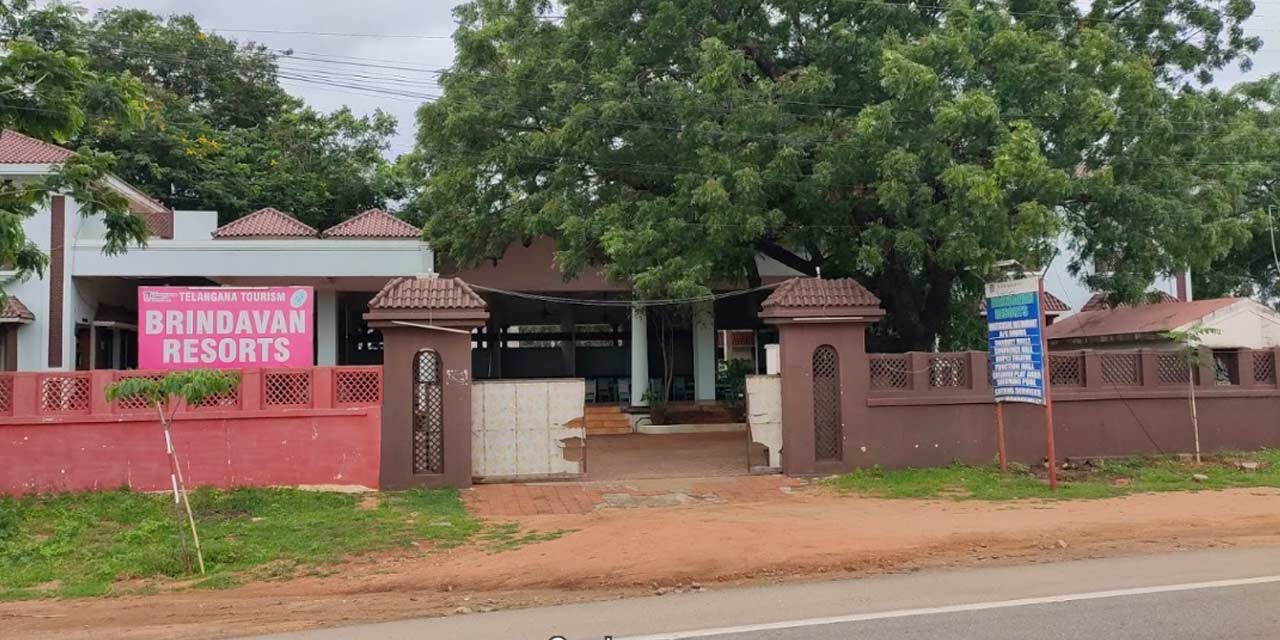 Brindavan Resort Hyderabad Entry Fee
1758 per night for Non-A/c Rooms
1980 per night for A/c Rooms
2410 per night for A/c Suite
Brindavan Resort Hyderabad Phone
N/A
---
Rating:

|
4.2
stars, out of
5
stars
Based on total
75

reviews
Brindavan Resort Hyderabad Address: Shamirpet,, Shameerpet , Telangana, 500078, India
---
Metropolitan cities in India are ever-evolving and in this fast-pacing life of ours, it is a cumbersome task to find secluded spots of nature, amidst growing concrete jungle. In the city of Hyderabad, there is one such place called Brindavan Resort where you can slip in through to the lap of nature.
Brindavan Resort is noted for its iconic humble, sombre atmosphere while dishing out the finest experience you could ask for.
Facilities at Brindavan Resort Hyderabad
A visit to Brindavan Resort could be an ultimate culmination of the 'Hyderabad experience.' This resort is themed in the iconic story of Radha and Krishna. Calm, exotic and historically charming, the resort rests amidst the silent rush of soft winds and the melodious chirping of birds.
They provide their customers with a wide range of facilities to spoil themselves with.
1. Rooms
The best part of this entire experience is that, while you are being transported into a Golden Age, it is barely a pocket pinch. There are three types of rooms that are available at the Resort:
Non-AC Rooms: Rs. 1758, per night.
AC Rooms: Rs. 1980, per night.
AC Suite: Rs. 2410, per night.
These prices are what the resort averagely charges. They may vary according to season. Basic amenities are provided by the resort for all their rooms such as parking, airport transportation, room service, WiFi, extra beds for children, etc.
2. Event Hosting
The most significant aspect of Brindavan Resorts is the romantic atmosphere reminiscing the stormy love story of Radha-Krishna. This tops the list of ideal wedding destinations or it can be for an engagement or anniversary party.
Calm breeze, lush green gardens, starry night makes it perfect for the celebration of love. Brindavan Resort goes out and beyond to organise your best day in the most perfect manner.
3. Lawn
Brindavan Resort is embraced with a meticulously maintained and trimmed garden. This sixty-acre green lawn is ideal for photographers. Flip out that camera and pose for Instagram, already!
You can even lounge in the open, amidst the wonderful sounds of nature, while sipping tea with your beloved or curl up with a book under the open sky.
4. Water Fun
Brindavan Resort brings forth some activities where you can splash around for hours in the water. They have an outdoor swimming pool that is suitable for people of all ages.
If you are in for a party or living the Bollywood dream, don't forget to check out the rain dance. You can dance and sing, and have fun!
5. Playground
Brindavan Resort has, what can easily be called, an ultimate kid's dream. They have a separate play area for children with swings, slides, see-saws and so much more!
6. Restaurant
You are bound to be spoilt for choice! Brindavan Resort has an in-house restaurant that dishes out endless delectable dishes. They serve you three most loved cuisines found in India, such as Indian, Chinese and Continental. If you're in the mood for some fish and chips or dal makhani, you'll have it ready in a jiffy!
Image Gallery of Brindavan Resort Hyderabad
Location and How to Reach Brindavan Resort Hyderabad
Brindavan Resort is located at the address Brindavan Resorts, APSRTC Bus Stop, Main Road, Shamirpet, Rangareddy Telangana – 500078.
There are several ways you can avail to get to Brindavan Resort. These include:
Bus: You can avail bus services from any point in the city going along the route that will take you to Shamirpet. The bus stop you should get off at is APSRTC Bus Stop.
Rail: The nearest railway station from Brindavan Resort is Hyderabad Deccan Railway Station. You can avail cab from there to the resort.
Cab: You can book a cab from top car rental companies in Hyderabad to the resort. If you are coming from the airport, you could avail the resort's airport transportation services.
Places to visit near Brindavan Resort Hyderabad
There are a few places you can choose to visit near Brindavan Resort, such as:
1. Shamirpet Lake: Enjoy scintillating sunsets at this man-made lake at Secunderabad.
2. Salar Jung Museum: Lose yourself in ingenious artworks of a bygone era at one of the three national museums of India.
3. Gomajipet Fort: History resonates through the walls of this recently restored fort in the city.
---
A trip to Brindavan Resort reminisces history in picturesque interiors and artefacts such as jharokas, jhulas, paintings, etc. Lose yourself in this dream-like destination, enveloped by a serene calm.
A trip to Hyderabad is best enjoyed with Hyderabad tour packages offered by Hyderabad Tourism, a division of Holidays DNA. Our packages cover all the must visit tourist attractions of Hyderabad and these packages are easily customisable depending on your preferences. For further details, please fill the Contact Us form and we will get back to you.
Location Map for Brindavan Resort Hyderabad