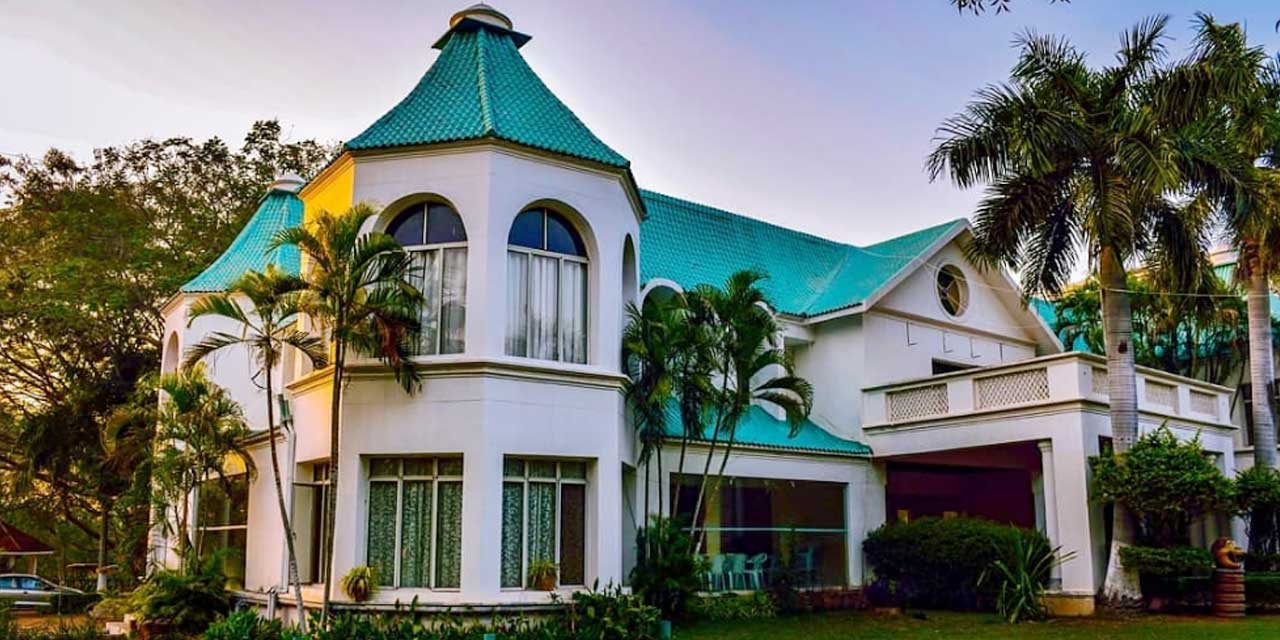 Pavani Resort Hyderabad Entry Fee
Package Starts from 800/-
Pavani Resort Hyderabad Phone
---
Rating:

|
4.2
stars, out of
5
stars
Based on total
68

reviews
Pavani Resort Hyderabad Address: 6-6 Keti Reddy Pally Village, Shivaji Chowk,, Moinabad Mandal, Hyderabad, Telangana, 501504, India
---
A peaceful resort nestled on the outskirts of Hyderabad, Pavani Resort is a topmost destination to enjoy a weekend staycation away from the hustle and bustle of everyday life.
Widely famous for its excellent location and ambiance, this resort has successfully established its footprints in the market in 1999 and since then, it has been attracting tourists from all around the world. It is a 2-star property that boasts of a relaxed environment with sprawling greenery all around the place and has an array of facilities to offer to make you feel at home.
Whether you are travelling as a couple or planning a fun-filled trip with your family, you can visit this resort to create memories for a lifetime.
Accommodation at Pavani Resort, Hyderabad
To turn your dream of enjoying a blissful stay at reasonable prices into reality, Pavani Resort pleases everyone with its up-to-date services, irrespective of the accommodation of your choice.
There are a total of 24 rooms that exhibit simplicity with neutral colours and wooden interior and feature comfortable bedding for tourists to experience a good sleep. All rooms feature a TV with air-conditioning, refrigerator and laundry service. You can leverage the benefits of free Wi-Fi connectivity and browse the internet at your own comfort. Along with that, room service with a complimentary breakfast is also given in the morning.
Food and Dining at Pavani Resort, Hyderabad
There is nothing like experiencing fine-dining at a restaurant that offers a scrumptious range of dishes with utmost perfection and the in-house restaurant at Pavani Resort in Hyderabad fulfils all your wishes with an assortment of delicacies that are prepared by highly-qualified and trained chefs.
You can indulge yourself into the aroma of multi-cuisines, starting from traditional Indian to Hyderabadi, Continental, European, Tandoori and Mughlai and satisfy your hunger-pangs with your favourite food.
The popular dishes that are served at the restaurant include Mutton Biryani, Crab Curry, Chicken Biryani, Chicken Masala, Nellore Prawns Curry, Mutton Korma and Mutton Gongura. Other than that, you can also explore the nearby restaurants to fill your palate with a variety of culinary choices.
Pavani Resort Hyderabad Image Gallery
Facilities at Pavani Resort, Hyderabad
Pavani Resort is one of the few budget-friendly resorts in Hyderabad that delights everyone with a wide range of facilities. Some of the facilities include:
1. Swimming Pool: Take a refreshing plunge in the outdoor swimming pool of this resort and enjoy sunbathing while you read a book or sip a cup of morning tea. Available for all age groups, the swimming pool allows you to escape and unwind after a long and hectic day of sightseeing. There is also a separate pool for children to splash around.
2. Spa and Wellness Centre: While your mind gets rejuvenated with world-class hospitality, you can pamper your senses at the Spa and Wellness Centre in Pavani Resort. A place where you can spend some ME time, the professionals at full-service spa relax your muscles with a wide variety of therapeutic massage treatments. You can also select from a list of services to receive complete detoxification in the harmony of nature.
3. Conference Hall: Equipped with all the modern amenities and state-of-the-art equipment, the conference hall is an ideal choice for corporate travellers to organize the business meetings, products launch and board conferences. It is an indoor space that has a seating capacity of up to 50 people max.
Other facilities such as a 24-hour front desk, travel assistance and enough parking space are also offered at the resort for your convenience.
How to Reach Pavani Resort, Hyderabad?
Located in Kethi Reddy Palli Village of RangaReddy District in Telangana, Pavani Resort can be easily accessed by both locals and tourists via roadways and railways.
Since it is only 34 km away from Hi-Tec City and 38 km from the airport, people can also book a private vehicle from top car rental companies in Hyderabad to get to their destination in less time. It will take nearly 45 min to 1 hour to reach the resort by cab.
---
Book an all-inclusive Hyderabad tour package with us and make the most of your visit. We at Hyderabad Tourism, a division of Holidays DNA, present our clients with various competitive travel deals that are carefully designed keeping your holiday style and duration in mind. Our experts can also customize your itinerary so that you can cover the popular tourist places of Hyderabad. To know more, please fill the Contact Us form.
Location Map for Pavani Resort Hyderabad