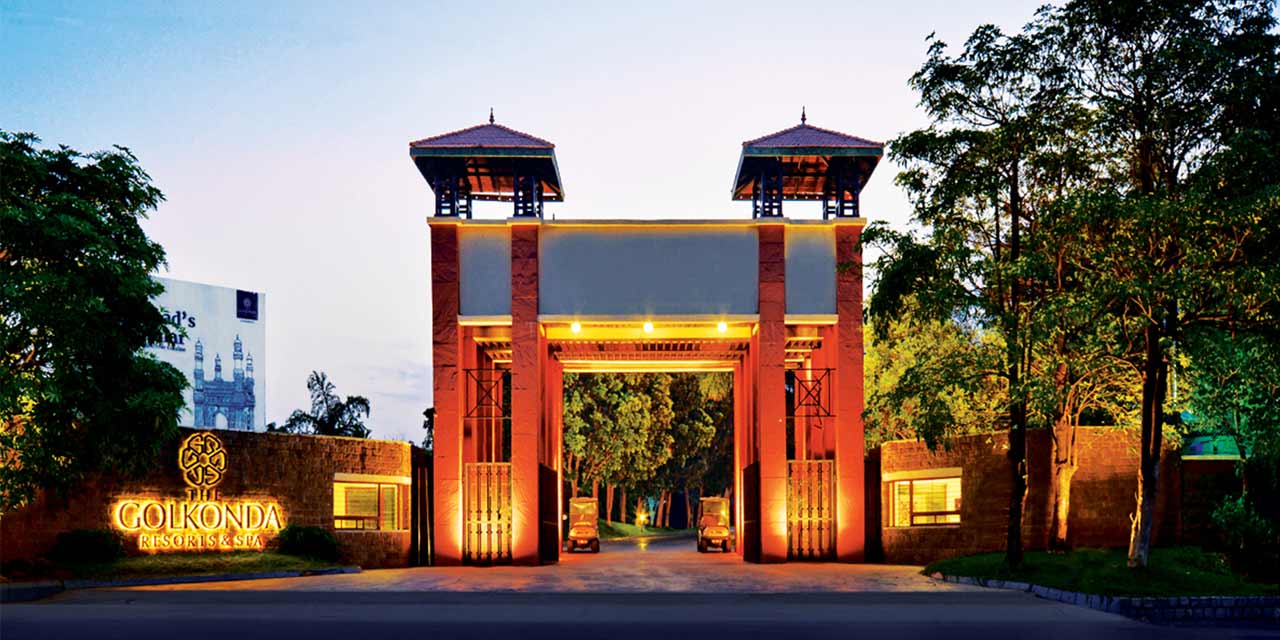 Golkonda Resort & Spa Hyderabad Entry Fee
2000 per person for Adults

1000 per person for Children (5-12 yrs)

Note*: Free entry for Children below 5 yrs of age
Golkonda Resort & Spa Hyderabad Phone
---
Rating:

|
4.2
stars, out of
5
stars
Based on total
88

reviews
Golkonda Resort & Spa, Hyderabad Address: Sagar Mahal Complex, Gandipet, R R District, Near Osman Sagar Lake, Gandipet, Hyderabad, Telangana, 500075, India
Golkonda Resort & Spa, Hyderabad Timings
| Day | Timing |
| --- | --- |
| Monday | 10:30 am – 6:00 pm |
| Tuesday | 10:30 am – 6:00 pm |
| Wedesday | 10:30 am – 6:00 pm |
| Thursday | 10:30 am – 6:00 pm |
| Friday | 10:30 am – 6:00 pm |
| Saturday | 10:30 am – 6:00 pm |
| Sunday | 10:30 am – 6:00 pm |
---
Undeniably one of the best resorts in Hyderabad, Golkonda Resort is an ideal getaway for everyone as it offers a wide variety of entertaining choices, ensuring a memorable stay to both kids and children. Once a home to Nizams, Golkonda Resorts amalgamate glories of past with modern luxuries.
Spread over 13 acres of land, this resort brings best of the nature right in your vicinity. Located at the Sagar Mahal complex which was built by the last Nizam, in 1917, the Golkonda Resort promises a royal experience to its every guest. What adds to the royal experience is the magnificent view of the Osman Sagar Lake, also known as Gandipet, which is one of the popular sightseeing places in Hyderabad.
Accomodation in Golkonda Resort & Spa
Stay at Golkonda Resort comprises of six different kinds of villas. These luxuriously equipped spacious villas are nestled amid the lush green lawns and beautifully maneuvered gardens. Views of the lake, pool or lawns outside as you enjoy a comfortable stay amid an exceptional interiors is sure to rejuvenate you.
Each of the villa is furnished with high end facilities. Some of the amenities and services that are provided in every villa are TV, premium beddings, telephone, mini bar, complimentary toiletries, patio or balcony, dry cleaning and laundry services, daily housekeeping, complimentary wi fi and breakfast. Complimentary newspapers are available in the lobby area.
Green Wood Villa- This villa starts with an imposing entrance which leads you to a spacious sitting area. It comprises of a spacious bedroom, a private make-up and dressing area and a bathroom equipped with bathtub and separate shower area.
Palm Villa- As the name suggests, Palm villa is located quite close to the palm trees. These spacious villas consist of a huge bedroom with twin beds and a spacious bathroom equipped with bathtubs and other modern amenities. The all-wood interiors of Palm villas add to its overall charm.
Garden Villa- Located on the first floor, Garden villas consist of a spacious balcony from where you can have en enchanting view of the property with its lazily swaying palm trees and vast spread of lawns. These villas have all-wood interiors, a spacious sitting area, work area, King size twin beds and a spacious bathroom with bathtubs.
Club Villa- Surrounded by refreshing greenery, Club Villa also promises a comfortable stay. It has a spacious sitting area, bedroom and a bathroom. Bathtub, shower cubicle and other modern facilities are offered in bathrooms.
Duplex Villa- Duplex Villas, as the name indicates, are double storied villas with spacious and captivating interiors. Along with living room, two spacious bedrooms, bathrooms with bathtubs, it also has private lawn.
Pool Villa- What can be better than having a private pool to relax whenever you wish to? Pool Villa presents the ultimate luxury experience. Consisting of two bedrooms, separate living room, private lawn, spacious and modern bathroom and a swimming pool, pool villas are sure to make your stay at Golkonda Resort extraordinary. A private butler at your service make the stay even more special.
Dining at Golkonda Resort & Spa
Unlike other resorts, dining at Golkonda Resort & Spa is not just to compliment your stay but is an experience in itself. Attracting people from every part of the city, resort's fine dining restaurants, heritage lounge bars and cafes presents one of the best dining experience in Hyderabad.
Jewel of Nizam- No food lover can miss a dining opportunity at Jewel of Nizam, which offers an absolute royal dining experience. Royal Hyderabadi cuisine, grand interior, courteous staff, soothing music and a view of Osman Sagar Lake at Jewel of Nizam, is sure to make your special moment all the more exceptional.
It is located on top of a 100 feet minar which is popularly known as Hyderabad's Fifth Minar. Jewel of Nizam timings are 12.30 PM to 3.30 PM for lunch and 7.30 PM to 11 PM for dinner.
Verto- An all day dining coffee shop, Verto presents a relaxed setting to sit and enjoy a flavoursome meal. Be it for breakfast, lunch or dinner, this place with a capacity to seat around 87 guests serve extensive variety of dishes. It is open from 7.30 AM to 10.30 AM for breakfast,12.30P M to 3.30 PM for lunch and 7.00 PM to 10.30 PM for dinner.
Ivy Bar- Located at the poolside, Ivy Bar is a quintessential bar, pampering you with a variety of drinks, specialized barbecued dishes and an overall fun filled environment. It can seat 28 guests at the same time. Ivy Bar timings are 11 AM to 10 PM.
Mist- If you are looking for a romantic night, then book a table at Mist. Candle-lit dinner under the open sky and sparkling stars along with a peaceful secluded setting makes dining at Mist a memorable experience. Its opens at 11 AM and closes by 11 PM.
Recreational activities at Golkonda Resort & Spa
Golkonda Resort is much more than luxurious stay and scrumptious dining. A look at the range of recreational choices, both indoor and outdoor activities, which are offered here tells you why and how.
Indoor facilities, catering to varied interests ensure an exciting stay. Available from 6 AM to 10 PM, Indoor activities include Table Tennis, Pool Table, Board Games, Squash and Tiny Todds- the Toddlers Zone.
Outdoor Games, which are also available from 6 in morning till 10 in night, presents a few more exciting ways to spend your time at the resort. Some of the facilities for outdoor activities are Tennis court, Cricket (Netted cricket pitch), Golf, Badminton and Volleyball.
Rejuvenation at Golkonda Resorts & Spa
Golkonda Resort also offers ample of facilities for rejuvenating its guests, pampering them with its specialized services.
Spa- Irrespective of what is the purpose of your visit, a simple staycation or a fun filled vacation with your friends or family, a relaxing time at the spa is not to be missed. Rejuvenate yourself with the authentic Thai spa treatments at the resort. Choose the most suitable therapy and let yourself indulge in a bit of pampering.
Kokai Salon- It is another place to visit for a relaxing time amid the beautiful surroundings of the resort. For a necessary 'me time', this beauty salon is an ideal choice, where you can treat yourself with various services offered by its qualified staff, ranging from hair to nails services.
Golkonda Resort & Spa Hyderabad Image Galley
Facilities at Golkonda Resort & Spa
Golkonda Resort & Spa provides ample facilities for events like weddings and parties, conferences and seminars. Whether you are planning a family get-together or a birthday party for your special one, a fashion show and product launches or looking for a place for board meetings, you will find suitable facility at this resort.
IRIS Convention Centre- IRIS Convention Centre with a capacity to seat from 10 to 2000 people comprises of conferencing and banqueting facilities. Equipped with modern amenities and spacious interiors, this convention center is undeniably the best place for every kind of events.
IRIS Halls- Spread over 10,500 sq feet, IRIS halls are situated on ground floor of IRIS convention center. It comprises of three halls, which can be used as a single hall or three separate halls, depending on the client' requirement. It can seat around 50-500 guests.
Mayflower Halls and lawns- Mayflower is a conference hall with an attached lawn, giving a refreshingly new feel to the usual conference halls. It covers an area of 2145 sq ft and can seat from 40-200 guests.
Renaissance Conference Room- With an area of 680 sq. feet, Renaissance is the mini conference room which can seat around 25-70 people in a single sitting.
Windsor Board Room- Situated above the lobby area of Heritage Block, Windsor is an ideal board room with all-wood decor which is equipped with modern amenities and latest technology.
Gardenia Lawn- An outdoor banqueting space, Gardenia presents enchantingly beautiful space for family events and functions like product- launches, shows, parties and annual day events. It can accommodate a maximum of 2000 people.
Meadows Lawn- With a capacity to host around 75 people, Meadows lawn is another ideal place for small gatherings. It is located next to the Heritage building.
Amphi Theatre- Located in the middle of the resorts landscape, Amphi theatre is suitable for felicitation programs and family get-togethers. It has curved and spacious seating arrangements.
How to reach Golkonda Resort & Spa
Golkonda Resort & Spa is located in the Sagar Mahal Complex in Gandipet, near the famous Osman Sagar Lake. It is easily accessible via roadways. Enjoying a perfect location it is neither too far, not too close to the city.
The distance between Golkonda resort and Nampally railway station is 20 km, which can be covered in around 40 minutes of time. From Hyderabad international airport, it is at a distance of 33 km, which requires around 35 minutes to travel.
Map for Golkonda Resort & Spa Hyderabad