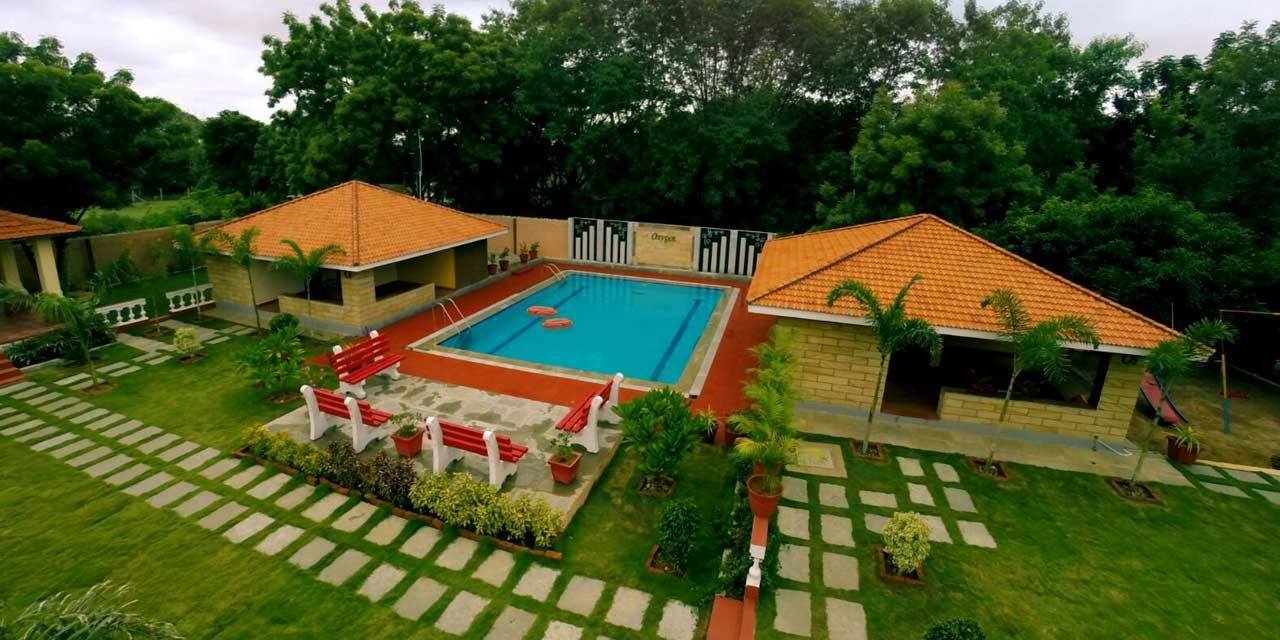 Button Eyes Resort Hyderabad Entry Fee
Packages starts from 3,500/- - 7,800/-
Button Eyes Resort Hyderabad Phone
---
Rating:

|
4.3
stars, out of
5
stars
Based on total
75

reviews
Button Eyes Resort Hyderabad Address: Moinabad Tehsil, Rangareddy district, Hyderabad, Telangana, 501504, India
---
Our lives are always packed with stress and work with little to no space for solitude, time for friends and family or even to let our hair down. Button Eyes Resort in Hyderabad is the escape we dream of, the holiday destination we can slip off shedding our monotonous lives behind. It is luxury made easy with their wide range of extravagant rooms, theatres and games and ideal venues for corporate events.
Architecture at Button Eyes Resort
The best part of getaways such as these, is the ability to enjoy amidst the serenity that nature offers. Button Eyes Resort's unique aspect is the warm, greenery that welcomes you; the archeries of trees that make it ideal for pictures, neatly trimmed lawn with manicured bushes where you can spend hours sipping tea and curling up with your favourite book.
Button Eyes Resort is one of the resorts in Hyderabad that is pet-friendly. Along with this, they also have a swimming pool that is made available all year long. You can opt to stay in one of their well-maintained cottages for the ultimate feeling of living in nature. Benches are arranged around the premises for you to simply let go and relax.
Things to Do at Button Eyes Resort
The perfect vacation is the one where you can relax, spend a few days detoxing from the stress of everyday life only to return, rejuvenated and fresh. Such experiences are mandatory and Button Eyes Resort assures you of it. Things you can do, include:
1. The Lawns: One of the best places for you to kick back and relax. You can curl up with a book, play with your children or pet on the spacious lawn, take a stroll or watch a beautiful sunset.
2. Roof Garden: This is another place for you to let all your inhibitions go and simply, relax. It comes with the added advantage of a panoramic view of the entire resort. This garden is only made accessible to bookings of deluxe rooms and suites.
3. The Gazebo: This place is ideal for groups or work-related tasks. It is ideal to hold corporate meetings, work in peace and even arrange small parties.
4. Open Air Theatre: There is nothing like gathering around, under a starry night and catching an exciting cricket match or watching your favourite movie. You can make it a theatre night with your friends and family or a romantic one with your partner!
5. Indoor Games – War Zone: Vacations are quite incomplete without fighting it out over games like carrom, table tennis, air hockey and billiards. Brace yourself for some intense yet exciting matches.
6. The Pool: Dip your legs in or unwind as you swim across the pool in gentle strokes. Nothing like swimming to really relax.
Button Eyes Resort Hyderabad Image Gallery
Rooms at Button Eyes Resort
Button Eyes Resort makes affordable luxury a reality. They do this by providing you with world-class hospitality, in the following accommodation:
1. "Oxygen" – Cottages with Private Pool: There are two cottages ideal for couples or a family of six or eight with attached private pools. They are called "Oxygen" reminiscent of its abundance in these rooms, within nature.
2. Villa – Cottages: Experience solitude with your family through villas made available to you by Button Eyes that is ideal for families and groups. They have two rooms with beds shaped like cots and attached bathrooms.
3. Pool Side Rooms: The advantage of these rooms is the easy accessibility to the pool where you can jump in whenever you want. Each of the rooms has their own baths. You can even relax while resting on the sun loungers.
4. Pool View Rooms: This is commonly known as the 'family block' because these deluxe rooms are ideal for families. With perfectly done interiors, access to the roof garden and view of the pool it is the best place to unwind.
5. The Suites: Majesty awaits the royalty residing in the suites. Feel larger than life while you choose to stay in the suites with Onkyo home theatre system and 40-inch LCD TV while you get to slip out to the roof garden.
Location and How to Reach Button Eyes Resort
Button Eyes Resort is located at the address Moinabad Tehsil, Rangareddy district, Tolkatta, Telangana 501504. The best modes of transport are:
Cab or Car: The resort is about 18kms away from Rajiv Gandhi International Airport and provides free parking on site.
Bus: The nearest bus stop is Kukatpally HB, from where you need to hail a cab.
Car Hire: The resort provides cars on hire. You can even book your own private cab from top car rental companies in Hyderabad if you wish to visit a couple of other sightseeing places of Hyderabad.
---
Button Eyes, therefore, is the ideal getaway for short trips away from the city. What are you waiting for? Book now!
Hyderabad welcomes its visitors with open hands and we at Hyderabad Tourism, a division of Holidays DNA make your trip to the city a truly memorable one. We offer Hyderabad tour packages at competitive prices that are easily customisable according to your preferences. So, what are you waiting for? Book a package with us and have a dream holiday in the City of Nizams. For further queries, please fill the Contact Us form and we will get back to you.
Location Map for Button Eyes Resort Hyderabad