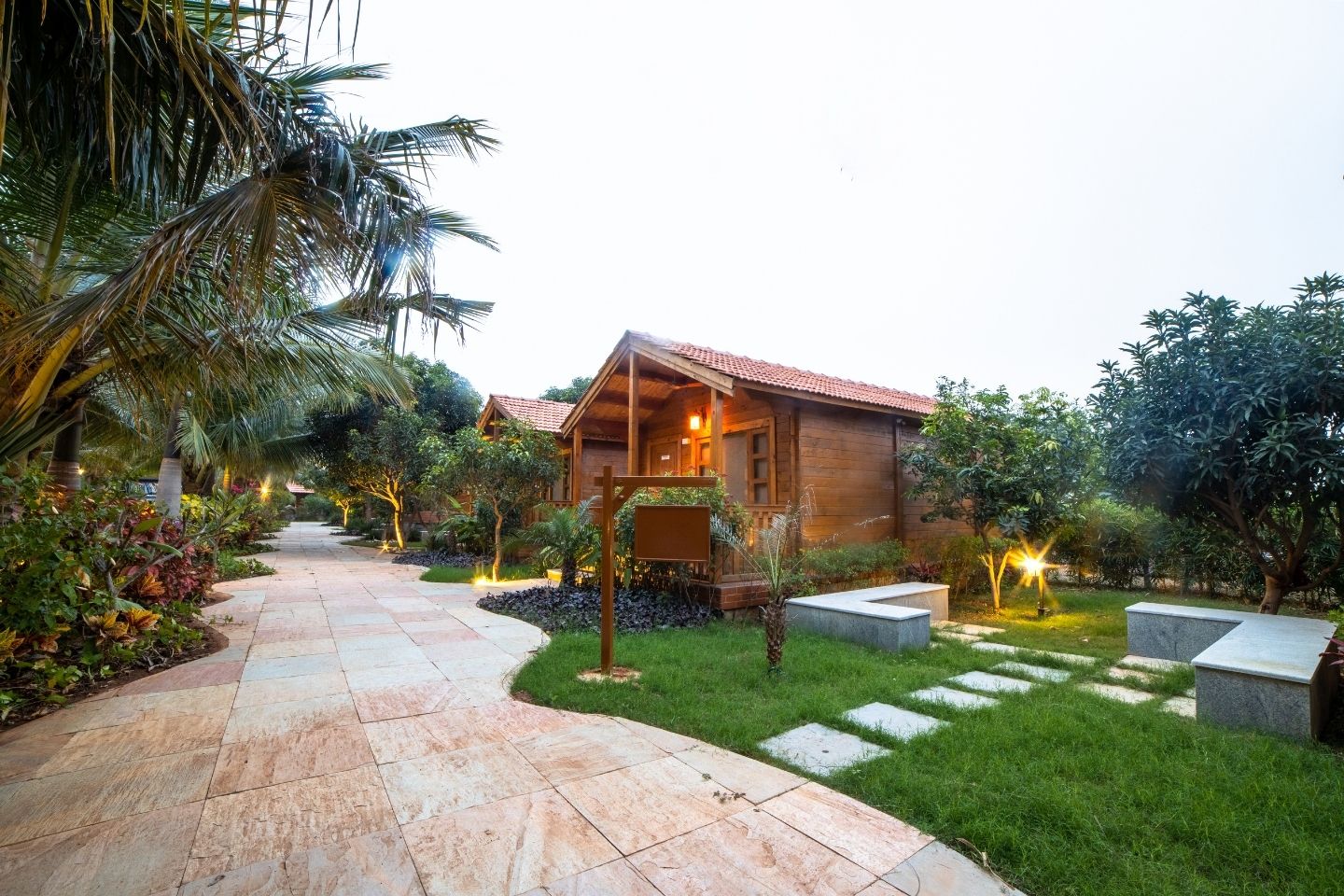 Brown Town Resort Hyderabad Entry Fee
Package Starts from 6,000/-
Brown Town Resort Hyderabad Phone
---
Rating:

|
4.2
stars, out of
5
stars
Based on total
77

reviews
Brown Town Resort Hyderabad Address: Survey no 224/u, Kanakamamidi village Moinabad mandal, Moinabad, Hyderabad, Telangana, 501504, India
---
Brown town is a scenic and peaceful resort located in Moinabad, a village in Ranga Reddy district of Telangana. Take a plunge in the pool, walk around the tree groves, and get absorbed in the calming fragrances of the South. Explore the eastern ghats as Brown Town gives its guests the perfect escape from their rigorous and monotonous city life. The resort is simple, classy, earthy, and perfectly delights your senses.
Accommodation & Room Types at Brown Town Resort, Hyderabad
1. Vintage Studio: Vintage Studio offers the best luxury 2-BHK stay you would have ever been to. Equipped with traditional customs and modern facilities, Vintage Studio resonates with the deep core and pillars at which Brown Town is built, i.e., Luxury and Leisure.
An architecture kept true to the Hyderabadi traditions, the wooden ceilings, massive halls, grand doors, and oversized windows overlooking the gardens is precisely what you need to post that #WOKEUPTOTHIS selfie. Other amenities include inbuilt dining and kitchen provisions, independent porch, and verandah areas. The Vintage Studio can accommodate up to 7 guests.
2. Vintage Suites: Vintage Suites is an ensemble of South Indian culture, flavors, traditions, earthen roots, and much more. With high raised buildings and elevated bungalows, the city people often miss out on the pleasures of nature. The Vintage Suite provides you everything from hot served meals, recreational activities, excellent rooms, and flamboyant outdoors, the ones you'd want to visit and revisit time and again.
Mirroring the subcontinent's yesteryears and its grand home setups, the decor will take you on a ride back when the past generations used to be one with nature. The hand-picked furniture inside adds to the antique and cozy look of the rooms.
3. Vintage Twin Suites: Vintage Twins Suites offer something you would want to carry with you home and then transform your house into the same - The way you enter into space, and instantly your serotonin levels increase because of the positive vibe. This Suite is going to give you nothing short of that. Its rooms are spacious and comfortable, and its hand-picked furniture and cozy interiors will leave you mesmerized.
4. Himalayan Suites: What do the Himalayas personify to you? If thinking of the youngest mountain ranges on the planet, remind you of the grandeur, majestic, serene, and fresh vibe, then this is the Suite that would take you on that journey. The cozy and elegant looking nature of Himalayan retreats makes them the first choice for most guests who visit Brown Town Resorts.
The Himalayan Suite has well-crafted wooden cabins made with natural pine wood from northern India. Every Himalayan Suite has a private garden space with it for a small sit out. If you wished to go to the Himalayan ranges this summer but couldn't go for some reason, Brown Town's Himalayan suites have got you covered. There is nothing more attractive than a fusion of North and South India.
5. Lemon Suites: Lemon Suites is where you build memories while pampering yourself. Ooze your senses as you sink into the aromas of nature. Located amidst the Brown Town Resort's lemon tree plantations, a stay at Lemon Suites is a sensory experience. Lemon Suites is an ode to the Western ghats, where the houses have high raised roofs with kolay flooring and pergola cots. Steal your moments with nature, and have an unforgettable experience.
6. Wayanad Suites: Wayanad's vitality has been reflected in Brown Town's Wayanad Suite. With a private garden and a small gazebo, this Suite is set in the lap of nature. Its big veranda, air-conditioned halls, and Pergola cots will let you get all comfy and read your favorite novel sipping some sparkling cooler. Kerala is probably the most influential state in the South, and hence a portrait of that heritage has been tried to incorporate into the campus of Brown Town. The immaculate woodwork on the pillars and feel of the interiors give you a glimpse of Kerala in the heart of Telangana.
7. Haveli: Havelis are grand and illuminate the feeling of royalty and festivities. Be it a family vacation, team outings, or a college get together, this place in Brown Town is for all your relaxing quality time. Haveli brings you close and becomes a part of your family. The Haveli has 14 unique rooms with all amenities for a comfortable stay.
8. Swasthanam: Swanthanam is the first premium family stay in the entire Brown Town that fills the place with high spirits and a sense of togetherness. Architectural artifacts have been taken into serious consideration, with no compromise on luxury. It is great for travel groups who like exploring cities and enjoy nature and earthly walks. To our surprise, this place is famous for people who like doing College and School reunions. The site has a history of nostalgia.
Brown Town Resort Hyderabad Image Gallery
Food options at Brown Town Resorts, Hyderabad
Brown Town's range of eateries and restaurants are of Michelin star standards and satisfy every hunger pang. Brown Town's fine dining restaurant Pavilion has one of the best and qualified chefs, who are lauded for creating heavenly recipes and crafting masterpieces for the taste buds. The decor is exquisite, and the whole ambiance is such that you won't be able to put your camera down.
Activities at Brown Town Resort, Hyderabad
After a big day of exhausted excursions and travel, have a chilled beer while you live life with your friends at Brown Town's gaming zone. There are various gaming options starting from Pool, Badminton, Table Tennis, Basketball, Cricket, Kabaddi, Beach Volleyball, to Chess and Carrom. If not enough, you can also cycle around the wilds of nature.
Spa at Brown Town Resort, Hyderabad
Relax, Rejuvenate and Refresh at Brown Town's world-class SPA. If you are bored and stressed with those long days at work, then a staycation at Brown Town will give you that perfect soothing experience your body has been longing for.
A holistic destination for healing, Brown Town's SPA offers varied wellness experiences, including Aqua therapies, Ancient Indian Treatments, Cosmetic & Laser procedures, Physio & Rehab therapies, Anti-Aging treatments, Beauty treatments, Dental procedures, Weight Management programs, etc.
Pool at Brown Town Resort, Hyderabad
Have a pool party at the east end. While the summers heat up, enjoy cool splashes at Brown Town's fabulous pool. Being one of the most incredible pools in Hyderabad, guests can arrange a fun-filled pool party with 50, 80, or even 100 guests. Raise the music and let the vibe set in.
Brown Town Wedding Packages
1. Tamara: Tamara is vast and hosts grand events perfectly. The place is big enough to host the largest of crowds. It has exquisite washrooms and outside seating.
2. Mitrika: Mitrika is an open-air banquet hall, sublime and filled with the fresh air of the woods. The high ceiling and grand ambiance are good to grace any celebration.
3. Kalyana Vedika: Celebrate your most special day with Kalyana Vedika. Its open lawn with lush green plantations is spread out in 13000 square ft. The lightning atmosphere grows on you and will elevate the occasion to new heights.
4. Arts & Artists: Celebrate your la-la-land moments at Brown Town Resorts. Sing, dance, and flaunt your grooves with the rocking DJ. This is a place of art, so bring out the artist in you and get the mood right.
5. Courtyard: With contemporary interiors and air-conditioned halls, the Courtyard can host 200 people and more. Surrounded by a mesmerizing garden and exteriors, this hall has a cupola under which you'll honor your marriage and say vows. Make priceless memories with our Courtyard.
6. Kunthala: Kunthala is a great place that can grace your Mehendi, Haldi, Sangeet, and all the pre-wedding celebrations. Dance and play with your relatives and friends, and have the time of your life at the best venue in Brown Town.
How to Reach Brown Town Resort, Hyderabad
Brown Town Resort is located in Moinabad, around 25 km from City Center. It is at a distance of 31 km from Hitech City and 27 km from Airport. One can easily reach the resort by booking a private cab from top car rental companies in Hyderabad or opt for public transport.
---
Book an all-inclusive Hyderabad tour package with Hyderabad Tourism, a division of Holidays DNA that helps you explore all the popular tourist places in Hyderabad at leisure. To know more about our offerings, please fill the Contact Us form.
Location Map for Brown Town Resort Hyderabad