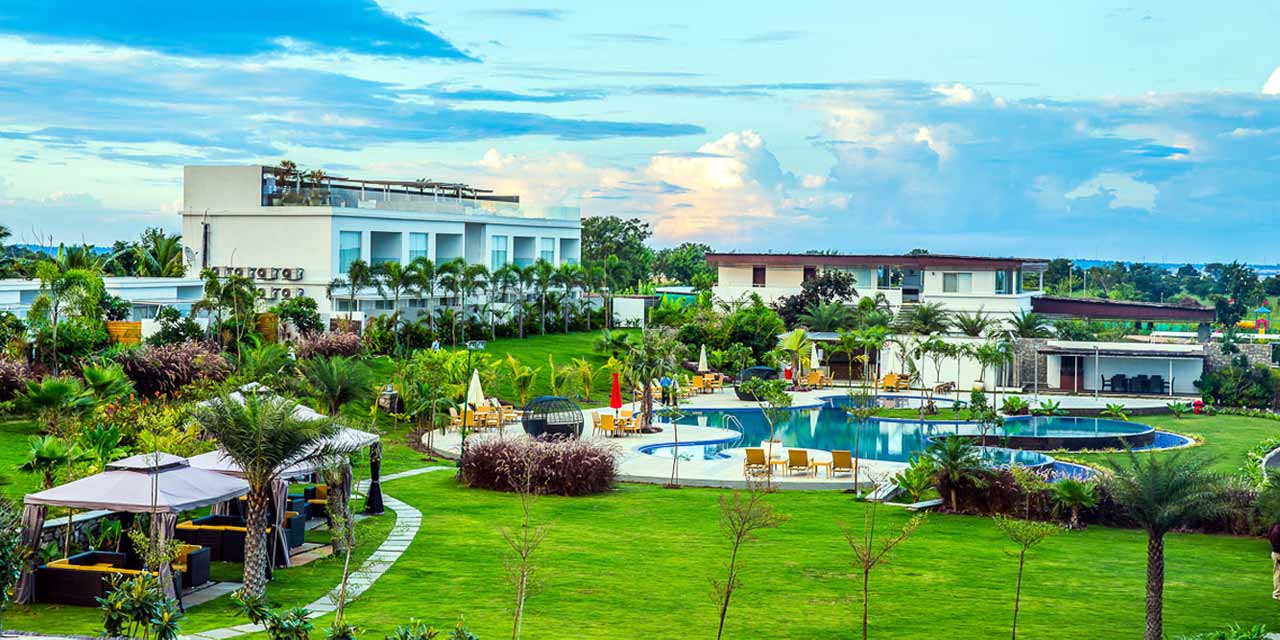 Palm Exotica Resort Hyderabad Entry Fee
Theme Park Entry fee
670 + GST per person for Weekdays Packages
754 + GST per person for Weekend Packages and Public Holidays
Palm Exotica Resort Hyderabad Phone
---
Rating:

|
4.3
stars, out of
5
stars
Based on total
84

reviews
Palm Exotica Resort Hyderabad Address: Sy. No.125, Masaniguda Village, Shankarpalli, Ranga Reddy District, Nalgonda , Telangana, 501203, India
---
Get rejuvenated while you enjoy a luxury stay at the Palm Exotica Resorts in Hyderabad. It is the ideal venue to organize any party or host a celebration with style, offering your guests not just marvelous ambiance but also delectable food. Palm Exotica Resorts is located at Masaniguda Village, Shankarpalli, in the Ranga Reddy District of Hyderabad.
Facilities at Palm Exotica Resorts
The resort not just offers pleasant stay options but also venues for hosting all your small to grand celebrations.
1. The Summit Hall equipped with all modern day presentation facilities on the first floor gives a breathtaking view of the gardens below along with that of the Blue Lagoon pool and is perfect for hosting an event for up to 100 guests.
2. The banquet facility called The Palms can accommodate 300-500 guests depending on the seating arrangement selected and you can also extend your party to the garden and pool deck attached to the hall if needed.
3. Their conference room Imagine is perfect for a small meet of up to 30 guests and gives a good view of the flower garden beyond.
4. If you are planning a large event then the lush green garden of their Horizon Banquet Lawns will be perfect for you. The manicured lawns and magnificent green backdrop provides a perfect setting both during the day and night.
5. You can organize all your wedding festivities at the Palm Exotica Resorts and choose from their ceremony options which include The Poolside Wedding at Octopus, The Big Fat Wedding at Horizon, The intimate Wedding at Palms and Blue lagoon, The Gazebo Wedding or The Pavilion Wedding in the Theme Park.
Image Gallery of Palm Exotica Resort Hyderabad
Accommodation at Palm Exotica Resorts
The luxury resort offers six styles of accommodation to its guests, with each kind of room giving a magnificent view of the city skyline and lush green farmlands surrounding the resort. All rooms are stylishly furnished and equipped with modern amenities to make your stay comfortable and relaxing.
1. Bougainvillea Rooms: The Bougainvillea Rooms are a perfect mélange of contemporary design and comfort. These rooms are on the ground floor and the upper two floors and give you a fabulous view of the lush green resort grounds. Have your morning cuppa while getting a feeling of being in the laps of nature.
2. Daffodil Rooms: Wake up to a good cup of coffee and enjoy it while you sit in the extended balcony of the Daffodil rooms, relishing the view of the shimmering pool flanked by salubrious greenery. The elegant décor of the rooms is a testimony to the luxury stay you enjoy at the Palm Exotica Resorts.
3. Hibiscus Suites: They are opulent, they are grand and they are comfortable like your home. The Hibiscus Suites, with their king size beds and luxe interiors, will make you fall in love with the rooms and the resort. You can enjoy a panoramic view of the resort grounds from the balcony of these suites. The Suite comes with a private living room where you can relax while enjoying your tea.
4. Temple Tree Villa: Indulge in some Zen moments while you soak in the luxury of the Temple tree Villas of the Palm exotic resorts Hyderabad. Placed amidst manicured gardens, these villas come with a private pool, spacious bedroom, private sit-out and amenities that make your stay nothing short of regal. The villa is where you indulge in some soul-relaxation time, away from the drudgery of routine life.
5. Orchid Villa: If Temple Tree Villa was all about grandiose interiors, Orchid Villa matches it equally in style and exclusivity. This villa is perfect for honeymooners and romantic couples who wish to reignite the passion and romance and are looking for a comfortable stay with delightful ambiance. The rooms have been thoughtfully designed with a daybed in the room and a shaded one outside in the garden. Indulge in a luxurious bath in the glass-walled shower or the frolic in the plunge pool with your partner.
6. Royal Palm Villa: The Royal Palm Villa will enchant you with its royal touch, complete with all aspects of a comfortable stay. This two-bedroom villa is accessorized with a living room, a Jacuzzi, a private swimming pool and a gorgeous sundeck on the terrace which presents a breath-taking view of the tropical gardens of the resort. The villa has two wings, each with a dressing area and opening onto the private courtyard and pool, a tranquil space for you to dine or entertain any guests.
Food options at Palm Exotic Resorts
A gourmet experience awaits you at Palm Exotica Resorts at its two restaurants, Fiesta and Panorama. The delectable cuisine tingles your taste buds and excites your palate while the exquisite décor lets you enjoy your meals in style.
At Fiesta you can sample authentic Indian delights from several regions along with contemporary dishes from all parts of the world. Panorama truly lives up to its name as the restaurant lets you feast your eyes on the panoramic view of the gardens as you dive into exquisite food. You can enjoy your meal out on the patio, indoors or under candlelight at the rooftop seating.
Packages in Palm Exotica Resorts
Palm Exotica Resorts offers you one of the best stay as well as day outing packages at reasonable prices.
1. Stay Packages: The stay packages at Palm Exotica Resorts Hyderabad include buffet breakfast and the tariffs vary according to the type of room selected.
2. Special Packages: You can pick a stay in the villas which will let you relax in the folds of nature amidst lush green surroundings. For those who wish to marry their relaxed stay with a dose of adventure can opt for a package that includes a thrilling experience at the wild water adventure park.
3. Weekend packages: Everyone today feels the need to savor a relaxed weekend and that is something you can enjoy with the weekend special packages offered by Palm Exotica Resorts. You can get fantastic deals while you spend some time away from the hustle and bustle of the city and the mundane routine of the week.
Activities at Palm Exotica Resorts
1. The Flora Spa: Rekindle your inner chakra and get relaxed at the Flora Spa with massages done with exotic oils. The treatments at the spa are not only therapeutic but also relaxing and stress relieving.
2. The Gym: The mini yet modern gym at the resort will let you burn your calories while you look forward to the sumptuous food.
3. Theme park: The wild water theme park is where you can head to break the reverie of your relaxed stay at the Palm Exotica Resorts. This aqua park promises unlimited fun with its thrilling rides, water slides, and fun activities.
Spread over a sprawling 30 acres, this Amusement and Adventure Park has more than sixty rides and has something for all age groups. The theme park doesn't just provide an entertainment extravaganza for families but is an ideal choice for organizing corporate retreats.
With a food court that dishes out excellent Indian and international cuisines, this is one fun activity you must not miss when at Palm Exotica Resorts.
How to reach Palm Exotica Resort
Palm Exotica Resort is located at a distance of 6 km from the Shankarpalli Railway Station and can be easily accessed by a private vehicle or cab. For your entire Hyderabad tour, you can also book a cab from top car rental companies in Hyderabad and visit all the popular sightseeing places of Hyderabad quite comfortably.
---
With its umpteen tourist attractions and mouth watering cuisines, Hyderabad is never going to disappoint its visitors. Likewise, Hyderabad Tourism, a division of Holidays DNA with its well organised Hyderabad tour packages makes sure you have a fun filled vacation in the city. The packages offered by Hyderabad Tourism are easily customisable, without burning a hole in your pocket. To know more about our offerings, please fill out the Contact Us form.
Location Map for Palm Exotica Resort Hyderabad