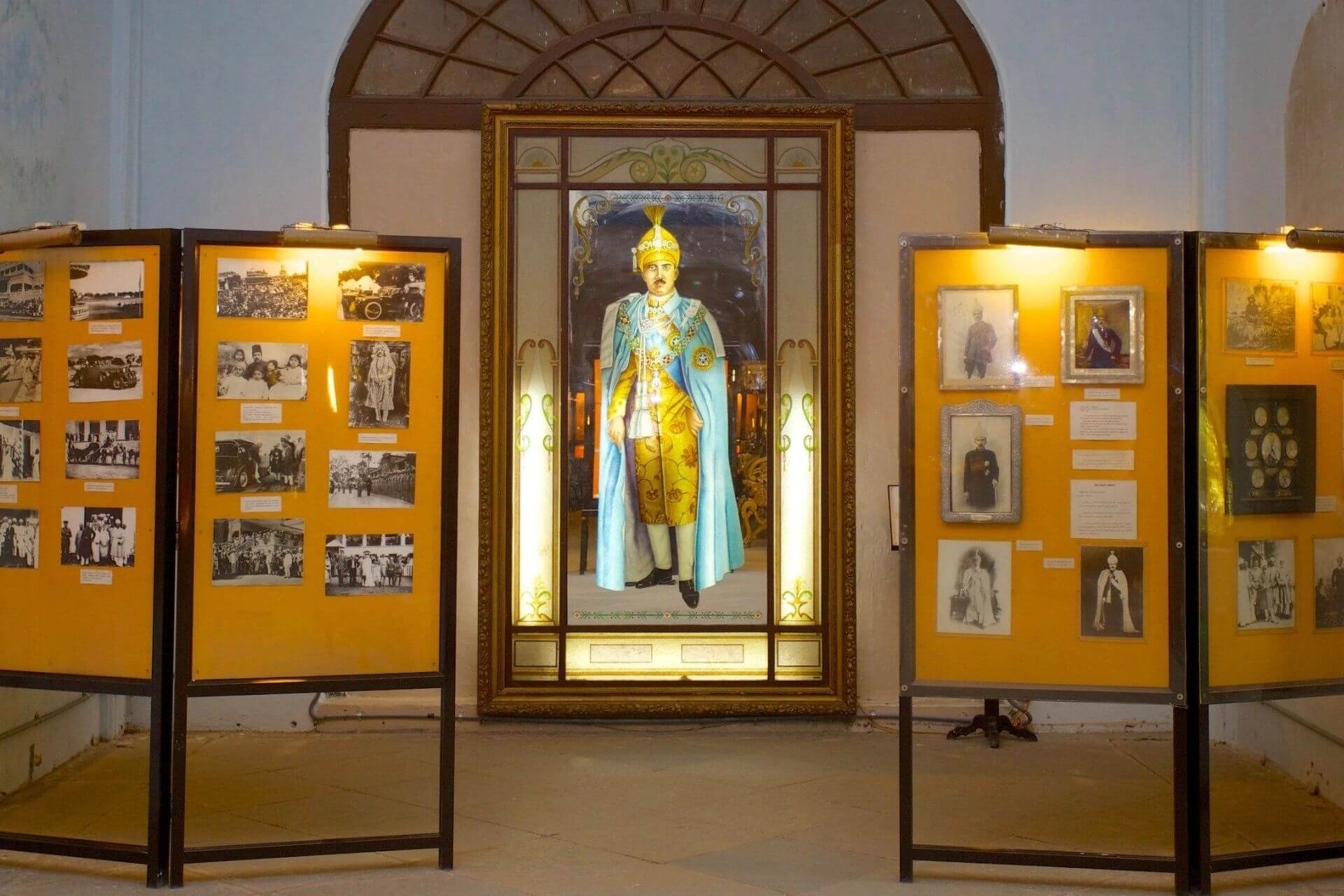 Nizam Museum Hyderabad Entry Fee
100 per Adult
15 per Child
150 for Mobile / Still Camera
500 for Video Camera

Nizam Museum Hyderabad Phone
---
Rating:

|
4.4
stars, out of
5
stars
Based on total
96

reviews
Nizam Museum Hyderabad Address: Purani Haveli Palace, Old City, Purani Haveli Darulshifa, Hyderabad, Telangana, 500002, India
---
Located in the Purani Haveli, Nizam's Museum is a place worth visiting. Boasting of a rich collection of memoirs, gifts, souvenirs from all over the world, it was created on the wish of last and the seventh Nizam, Asaf Jah VII, the museum showcases a glimpse into the lives of Nizams, who have ruled the city from 19th to 20th century, initiating a high rate of development.
In 1936, to mark the completion of 25 years reign of the seventh Nizam, various silver jubilee celebrations were organized. To celebrate this event, a special Jubilee Pavilion Hall was constructed at the Public Gardens (Bagh-e-aam) Hyderabad . During this celebration, Nizam has received gifts comprising of mementos, models and presentations, which constitute a larger portion of the items displayed at the Nizam Museum. Along with these, other gifts, which he had received from his well-wishers over the years, have also been kept for display.
He also made the trust Nizam's Jubilee Pavilion Trust, to take care of the museum and the items, which have been showcased. The museum was open for public in the year of 2000 and since then it has been one of the most popular tourist spots in Hyderabad.
Nizam Museum is consisted of a wide range of rare souvenirs and exquisitely designed mementos. The major attraction here is the golden, wooden throne, which was used during the silver jubilee celebrations of the Last Nizam. There is also a gold model of the pavilion. Diamond inlaid gold Tiffin-box, paintings of Mir Osman Ali Khan, wooden writing box covered with mother-of-pearl, daggers studded with diamond and gold, caskets, etc., are a few popular items on display. An intricately designed silver perfume bottles, a gift from the Raja of Palvancha is also an admirable piece of art. For car lovers, there are vintage cars such as 1930 Rolls Royce, Packard and a Jaguar Mark V on display.
About 200-year-old proclamation drums and a manually operated lift that is more than 150 years old, are a few other features of the Nizam Museum that are sure to attract you.
Image Gallery of Nizam Museum Hyderabad
Another prominent feature is the wardrobe of sixth Nizam of Hyderabad, Mir Mahbub Ali Khan. The wardrobe, an entity in itself, is 176 feet long and has two levels. It is made up of Burma teak, one of the finest. The sixth Nizam, is said to have never repeated his clothes, which were given to other after being worn once by him. Hence, a section has been recreated based on his various photographs and account of his costumes. In another section of the wardrobe, costumes of other men, women and children of Hyderabad have been highlighted.
The best time to plan your visit to the Nizam's Museum is between the months of October and February, as these months are comparatively colder, making it suitable for a relaxed sightseeing. It is open for visitors throughout the week, except on Fridays. Nizam museum timings are from 10 am to 5 pm. A minimal entry fee is charged as well. If you are interesting to clicking some photos of Nizam's museum then you can take prior permission for taking your camera along. The rare collection is worth taking the effort and money as pictures of Nizam museum can be one of the best souvenirs of your Hyderabad tour.
Comments
Reviews & Rating
Reviews of Nizam's Museum
"

Great collection but not maintained

"

-

Surekha Guntur

Rating:

3

stars
Nizam's museum, is inside the Purani haveli. The route to Nizam Museum is not very direct, we asked around many people and reach there. When we went, the place looks not that impressive. The haveli looks so old from outside, wish they could make it better. But inside there is amazing stuff to see. It is a small museum but the collection is rare. Visit at least once.
---
"

Visit at least once

"

-

Srinath Samudrala

Rating:

4

stars
Nizam museum is not very popular, you might not even that important but after visiting I feel it should be made an important part of Hyderabad tourism.a It is not some grand huge museum, it is small and inside the Purani haveli, other parts of the complex are used for other things, there is a school also inside. But the museum is too good, there are personal stuff of nizams, made of gold, pearl and precious stone. Shows how grand their life must be!
---
"

Royal belongings at Nizam's Museum

"

-

Anil Yerramsetty

Rating:

5

stars
I went to Nizam museum when i was in Hyderabad last month. There are amazing collection here. Artefacts made of gold, silver, even personal belongings of nizams which are made with precious stones. There is a huge wardrobe too, and hand operated lift to reach the top of the wardrobe. It seems it is the biggest wardrobe in the world! Impressive to see how Nizam's of Hyderabad used to live.
---
"

Boring place, not worth the money

"

-

Swetha C

Rating:

2

stars
I had really awful experience at Nizam museum. First we couldn't even find where it is, even when we reached the building, we couldn't even see the broad. There is a school inside the complex, not something we expected at a Museum! We took a guide and wasted our money more. He just tried to make us excited with little stuff, nothing great to see except a few personal items and the wardrobe! That's it. Quite boring.
---
"

Nizam's Museum – trick route

"

-

Vijaysri

Rating:

3

stars
I saw some pictures of the collection of Nizam museum so thought will go there and explore. The route is not very easy to find, even after I reached the building I was confused for some time if it is same building or not. As there is no big board outside to mark the museum, just a small signage. So look carefully, you will find the board. Don't get confused with the school, purani haveli has school now and one part is museum.
---
"

Nizam Museum- Hidden Treasure

"

-

Vagdevi

Rating:

4

stars
It was literally difficult for us to locate the Nizam Museum of Hyderabad. Most of our time went in finding it. But it was all worth, the collection is good. Better to take a guide with you, it won't cost much and it was interesting to listen to the stories he will tell you. Museum has awesome collection, mainly of 6 and 7th nizam of Hyderabad
Map for Nizam Museum, Popular Tourist Place in Hyderabad