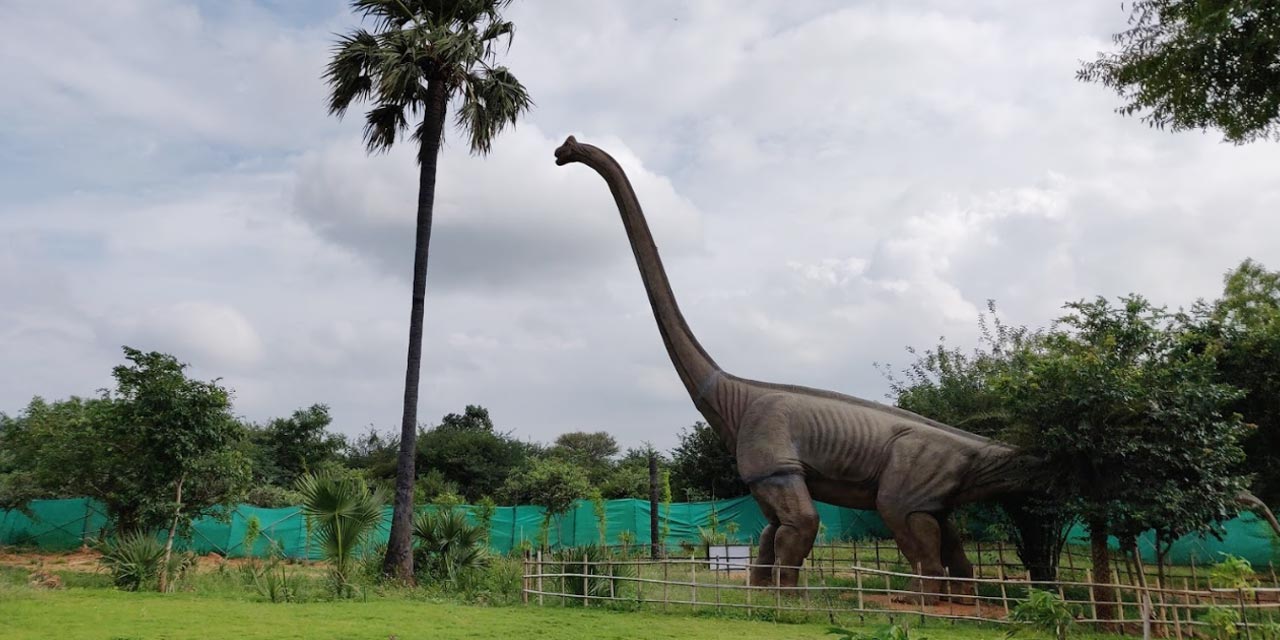 Dino World Theme Park Hyderabad Entry Fee
Adults: 400 + GST per person
(Includes view to Dinosaurs, accompany their kid in pool, ₹100 redeemable cafeteria voucher, other adventure activities)
Kids: 400 + GST per person
(View to Dinosaurs, access to pool, 1 free Dino Ride, other adventure activities. FREE Entry for Kids below the height of 3 Feet.)
Group of 15 and above: 5% Discount
Group of 25 and above: 10% Discount
Group discount not applicable during other promotions. Schools, Collages, Corporates, Birthday Parties and Other parties contact management for pricing.
Dino World Theme Park Hyderabad Phone
---
Rating:

|
4.3
stars, out of
5
stars
Based on total
75

reviews
Dino World Theme Park Hyderabad Address: 293/3 Bandaravirala Village Abdullahpurmet Mandal, Hyderabad, Telangana, 501505, India
---
Have you ever wondered how it would feel to live in the Jurassic Age, well now you can experience it with a visit to the Dino World Theme Park. This famous amusement park is located in Bandaravirala Village, close to Hyderabad. It is the first amusement park that has animatronic dinosaurs. The Dinosaur Park is a great way to learn and explore dinosaurs.
Kids can play outdoors with provisions for Foosball, Volleyball, Football, and Cricket. During summer, you can jump into your swimsuits and take a dive into the pools or glide down a water slide to beat the heat.
There's a food park serving vegetarian and non-vegetarian dishes, milkshakes and juices. The theme park offers an array of rides, the most fun one being the Dino Ride, where you can ride a mechanical dinosaur! The theme park also allows you to host birthday parties and other events on their premises.
Things to do at Dino World Theme Park
There are quite a few things to do at Dino World Theme Park like riding dinosaurs, diving into pools and cherishing some good food. They are all listed below:
1. Dinosaur Park: The park has 22 Dinosaurs including a 40-foot T-Rex and an equally tall Spinosaurus. You can watch them fight. If you are looking for more leisure activities you can dine at the Last Supper Table, where you can eat along with Dinosaurs. Kids get a chance to ride on top of a walking Ankylosaurus. Last but not least, if you've always wondered what came first, the dinosaur or the egg, you can go learn about dinosaur eggs while looking at life-sized dinosaur eggs!
2. Water Park: The water park consists of a total of ten slides that all lead down to one huge pool, where you can spend your summer sipping on your favourite drinks. There are three pipes, one bouncy slide and loads of swirly slides too!
3. Food Court: After you've tired yourself by experiencing all the adventures around the theme park, you can indulge yourself in a sumptuous meal at the multi-cuisine food court, serving vegetarian and non-vegetarian, South Indian, North Indian, Chinese and Continental preparations along with a separate section for milkshakes, juices, coffees and cakes. They have buffets and a la carte options with indoor and outdoor seating facilities, along with the Last Supper Table where you can dine with dinosaurs!
Dino World Theme Park Hyderabad Image Gallery
How to Reach Dino World
The theme park is located in Rangareddy District of Telangana, near a village called Bandaravirala. It is about 36 kilometres away from the city which is about an hour's drive from the city centre. There are four ways you can get there which are:
Metro: Take a Metro and get off at L.B. Nagar metro station, walk to Putli Bowli Bus Stop and take a bus to Crusher Machines Bus Stop. From there you will get autos and rickshaws to the theme park.
Bus: Take a bus anywhere in the city to Koti Bus Terminal. You can avail direct buses heading for Crusher Machines from here every hour. So, make sure not to miss your bus or you might lose out on some fun time at the park.
Cab: You can book a cab from anywhere in the city. They will take you directly to Dino World Theme Park. A word of caution; cabs departing from the park are scarcely available later into the evening, which might pose a problem.
Rental Car: You can rent a car from top car rental companies in Hyderabad to drive to Dino World Theme Park. There is parking available at the park. This is a more hassle-free mode of transport with the convenience of staying later into the evening or night without the stress of finding a mode of transport to return.
---
Overall, it's a great learning experience and also a lot of fun on the side. People from all age groups can come and enjoy the park by themselves. The food here is great and is really hygienic. The park is extremely clean and also showcases unique rides such as riding a dinosaur. The theme park is one of the best choices for a day outing in the summers or winters with family or friends. Dino World Theme Park is probably India's best "Jurassic" Park.
A trip to Hyderabad is best enjoyed with Hyderabad tour packages offered by Hyderabad Tourism, a division of Holidays DNA. Our packages cover all the must visit tourist attractions of Hyderabad and these packages are easily customisable depending on your preferences. For further details, please fill the Contact Us form and we will get back to you.
Location Map for Dino World Theme Park Hyderabad