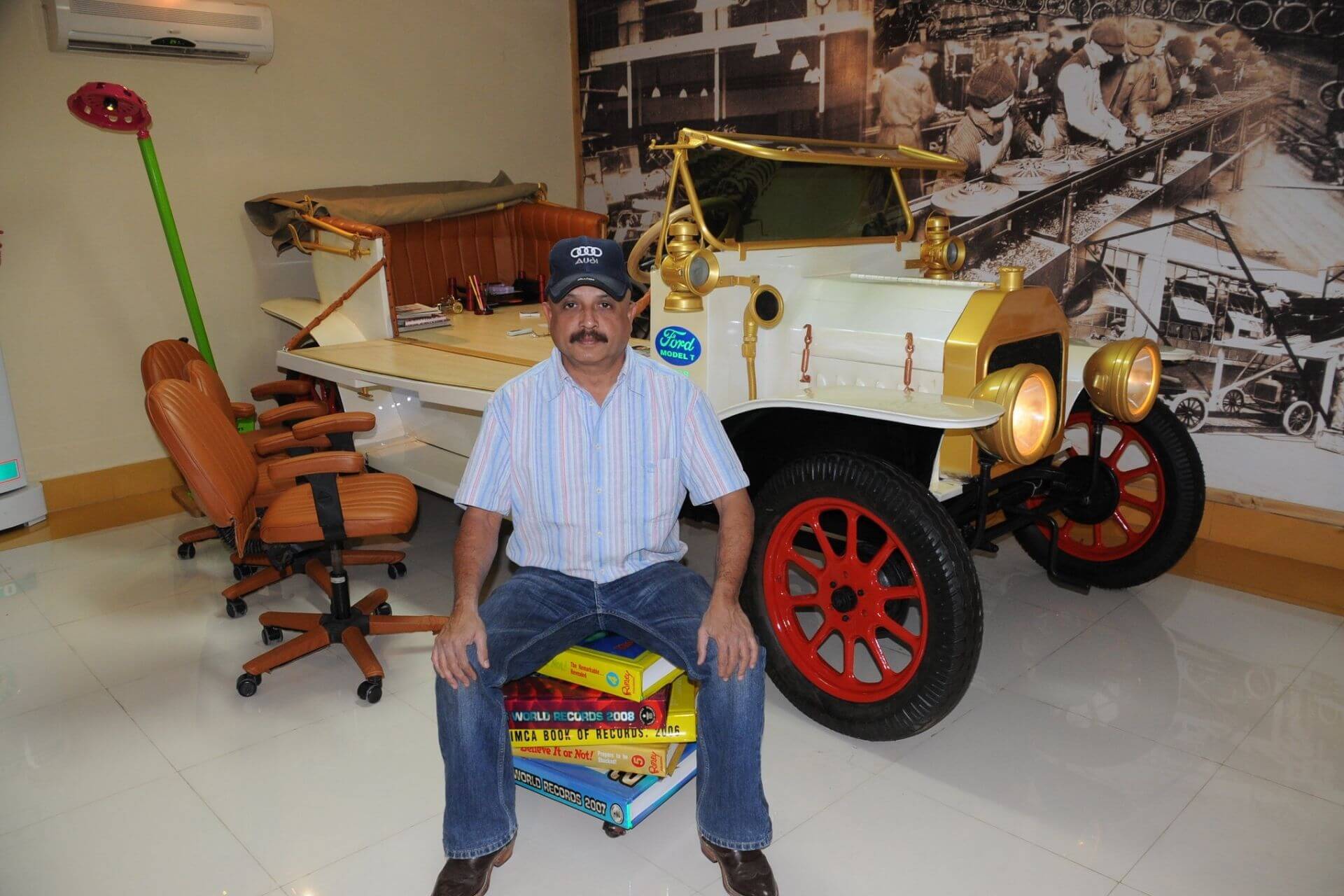 (courtesy: radhakrishna)
Sudha Cars Museum Hyderabad Entry Fee
100 per person for Adults
80 per person for Children
100 for Mobile Phone/ Camera

Sudha Cars Museum Hyderabad Phone
---
Rating:

|
3.6
stars, out of
5
stars
Based on total
82

reviews
Sudha Cars Museum Hyderabad Address: D No 19-5-10/3/A, Beside Zoo Park X Roads, Bahadurpura, Hyderabad, Telangana, 500064, India
---
Sudha Cars Museum is an interesting and unique place to visit; the first of its kind, not only in India but also in the world, it is a handmade car museum. This unique museum in Hyderabad has its theme around vintage cars and creative vehicles.
It is established by K Sudhakar, who has the fame of having a Guinness World Record for creating the largest tricycle in the world, which is about 41 feet and seven inches tall. On the other hand, he also has designed India's smallest train with a seating capacity for 10 people. It is only 19 foot long. This creation was completed in just 20 days.
Sudha Cars Museum adds a touch of uniqueness to Hyderabad – the city that boasts of an extensive range of sightseeing places varying from historical monuments, lakes, gardens, entertainment parks and shopping streets. It offers a completely different experience to its visitors.
Not just for car lovers, this car museum should be visited by anyone who admires art and creativity. It is an exemplary of sheer genius and unmatched innovativeness. There are a wide range of cars and bikes that you can see. Each designed in a unique way, owning a different shape and structure and along with bright colors. Designs of these vehicles are beyond one's imaginations.
There are cars in almost every shape one can think of. An ornament train with its bogies in the shapes of jewelry; cars in the shape of bridal dresses; or the captivating ladies collection which includes cars in the shape of handbags, lipsticks, compact and stilettos and replica of red London Buses are just a few of the cars that you will see.
Sudha Cars Museum also houses vintage cars and displays many kinds of modified cars as well. Here you will find mainly three kinds of vehicles that have been showcased such as creative cars, commercial cars and bikes. This place also displays almost 30 designs of bicycles, each with a unique look and catchy names like Penny Farthings, Made For Each Other, Tandems, etc.
What makes the collection even more attractive is the fact that most of the vehicles customized, have been built by using old and unwanted pieces. Most of the vehicles on display here are in working condition, and are not a showpiece. These unique vehicles shapes take about 20 days to 3 years of time for designing.
Sudhakar is said to have designed a bicycle by the age of 14. By the time he turned 15, he had designed his first Easy Rider Motorbike. He also had designed his first car when he was studying at the intermediate level. It was then when he has created "Dune Buggy", a rugged looking four wheeler.
Sudha Car Museum Timings and Charges
Sudha Car Museum timings are from 9.30 am to 6.30 pm and it is open throughout the week. So you can explore the distinctive displays of this museum on any day.
Photography is allowed with an extra charge of Rs.……….. while the entry charges are Rs. 50 per person.
How to reach Sudha Car Museum
Sudha Car Museum Location is on the Bahadurpura X-Road, opposite to the petrol Pump. It is quite close to the Zoo Park. Another prominent tourist attraction that is located nearby is the Chowmahalla Palace. So tourists can club a visit to all three places together.
The best way to reach Sudha Car Museum is by auto rickshaws or a taxi. It lies close to the crossing of the Zoo Park main road and the Puranpul road.
Image Gallery of Sudha Cars Museum Hyderabad
Editor's Review of Sudha Car Museum
Time to cover- 30 minutes
Sudha Car Museum is an ideal place to visit with children. Various kinds of car in unique shapes and bikes captivate children. Even adults can be seen admiring the different shapes and colors of cars and bikes.
Cars in the shape of book, eraser, camera, etc., have been added recently when compared to other exhibits. These cars are especially in good condition. However, some of the old cars and bikes have not been kept in good condition. One can see dust and rust accumulating on a few of the car and bike models which can be slightly disappointing, this is mainly due to lack of infrastructure and maintenance.
Although the museum displays a range of interesting shapes and designs, the way display has been arranged can be a bit confusing. For entering the museum complex which is scattered with a few old car designs, there is a small gate next to the ticket counter. However, to enter the halls, you are required to walk towards your left where the entrance hasn't been marked clearly. All the creations have been displayed in three different halls. Inside the halls, you will find one or two persons explaining each display to the visitors. A small description about the year of construction, technicalities, and other aspects of the vehicle is also displayed in front of each demonstration.
On your visit to Sudha Car museum, you will find traces of how well this museum was planned with amazing display of unique vehicles, which is now slowly fading away with time.
Comments
Reviews & Rating
Reviews of Sudha Cars Museum
"

Best Car Museum Ever!!

"

-

Seshank Bose

Rating:

4

stars
This museum is not very big or hi-fi, but its collection is outstanding. Sudha car Museum Location is in Bhadrapura, which is little far from our place. But the drive was worth once we reached this place. It is one of the most interesting museums in Hyderabad. It has brilliant range of vehicles. Not only cars in awesome shapes but also bikes and bicycles even a mini train. The shapes are very creative and catchy.
---
"

Needs more maintenance

"

-

Mithran

Rating:

4

stars
I am crazy for cars so had gone there thinking I will be seeing some outstanding car designs but this place Sudha car museum is quite disappointing! Cars are good.. because it has been created by just one person Mr. Sudhakar. For one person to do all this is like a creative genius. But as museum it is not even maintained well. The lack of funds is clearly seen. Hope they get some help soon.
---
"

Take you camera

"

-

Ankur Sethia

Rating:

5

stars
Sudha cars museum has different kinds of cars and other vehicles on display. The shapes of cars, bikes, are extremely beautiful. And you want to take some Sudha car museum's photos then you can buy ticket for your camera too. It is not expensive, the ticket price is also quite cheap, about 50 Rs only per person while the show is awesome.
---
"

Mr Sudhakar is outstandingly creative!

"

-

Amit Nair

Rating:

5

stars
Sudha car Museum is one person efforts and creation. After going there we learned about him. Mr. Sudhakar has created all the cars and vehicles here at the museum. Apparently by using items from garage and old parts. There are amazing kinds of cars at display and in all weird and fun shapes. And the best part is it's not even expensive. Entry fee for sudha car museum is just rs 50.
---
"

Must Visit Place for kids

"

-

Subramanyan Kalluri

Rating:

4

stars
More than adults it is kids who will like this museum more. Cars at Sudha car museums are absolutely amazing, in shape of cigarette, bags, dresses and so colourful. My kids loved them, in fact by the evening my younger son wanted a car in football shape for himself! All the cars are in working condition. We saw some cool bikes too and there was world's largest bicycle too. Opening timings for Sudha cars museums are from 9.30 to 6.30 pm and it is open throughout the week.
---
"

Sudha Cars Museum - Crazy place, crazy designs!

"

-

Vinayak

Rating:

5

stars
Shapes of cars here are just crazy! They have cars in every shape ..even in shoes or dresses. Sudha cars museum has displays some good vintage cars..I loved them the most. There are also bikes and trains too. One in the shape of jewellery! It is open entire week so go any day you want. Timings sudha car museum is from 9.30 am to 6.30 pm.
---
"

Not so great

"

-

Krishnaveni T

Rating:

3

stars
I felt Sudha Car Museums Hyderabad miss something. First of all it is not well mainlined, bathroom are dirty! May be they can increase entry fee and get some money to renovate. There is not much details on vehicles and engines and we can't even touch them. I really wanted to see how these cars will look on road and when actually someone is driving. They can show at least some cars like that. Felt bit disappointed.
---
Map for Sudha Cars Museum, Popular Tourist Place in Hyderabad