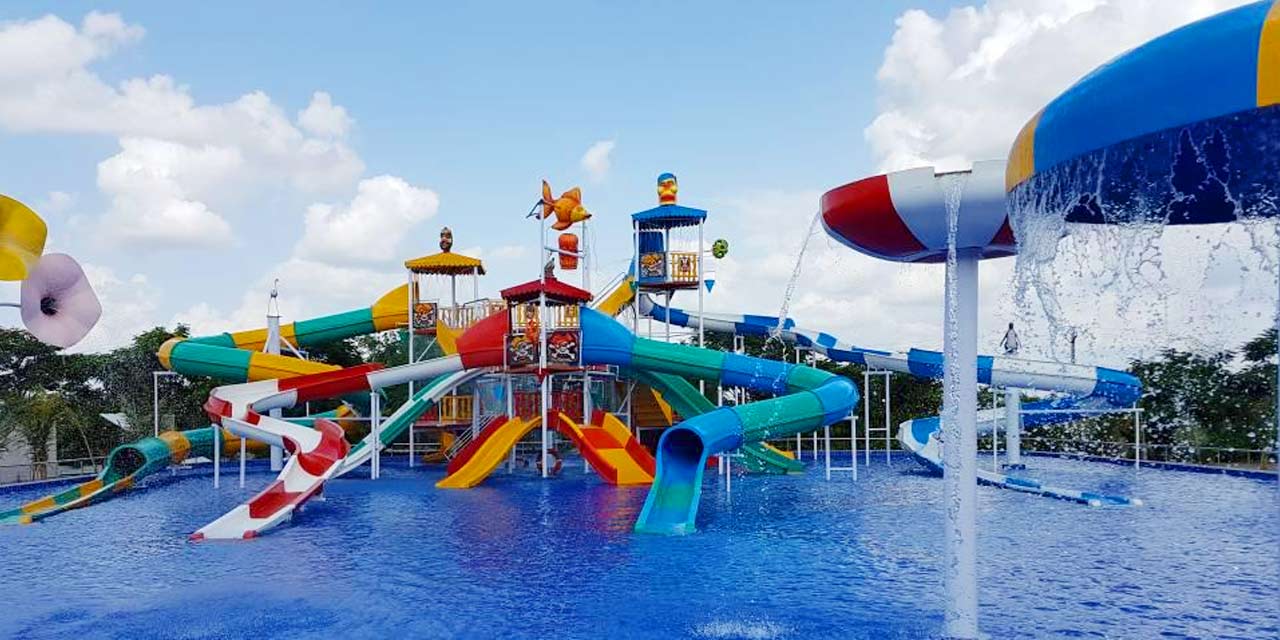 Wild Waters, Shankarpalli, Hyderabad Entry Fee
1199 per person for Adults
999 per person for Senior Citizens / Children
Note:
Child Height between 90 to 140 cm & Senior Citizen aged 60 and above.*
After hours only Sat, Sun & Public Holidays
Free entry for kids below 90 cm height
Wild Waters, Shankarpalli Hyderabad Phone
---
Rating:

|
4.1
stars, out of
5
stars
Based on total
78

reviews
Wild Waters, Shankarpalli, Hyderabad Address: Sy.No.125, Masaniguda Village, Shankarpalli, Ranga Reddy Dist., Palm Exotica, Hyderabad, Telangana, 501203, India
Wild Waters, Shankarpalli, Hyderabad Timings
| Day | Timing |
| --- | --- |
| Monday | 11:00 am – 6:00 pm |
| Tuesday | 11:00 am – 6:00 pm |
| Wedesday | 11:00 am – 6:00 pm |
| Thursday | 11:00 am – 6:00 pm |
| Friday | 11:00 am – 6:00 pm |
| Saturday | 11:00 am – 7:00 pm |
| Sunday | 11:00 am – 7:00 pm |
Note: Water rides close by 6:00 pm on all days
---
Spread over an area of 30 acres, Wild Waters is located in Shankarpalli. This theme park with activities ranging from aqua park, amusement park to adventure park presents an unparalleled concoction of fun, laughter and luxury. Catering to everyone from families, friends, office colleagues to school kids, Wild Waters is an ideal choice for an entertaining weekend.
One of the biggest amusement parks in Hyderabad, it boasts of having more than 60 dry and water rides. What makes your day at Wild Waters, Shankarpalli even more enjoyable is the availability of mouth watering food choices, satisfying every taste bud.
Aqua Park
Aqua Park is the designated area of Wild Waters, presenting a wide variety of water rides and games. There are 21 water rides at Aqua park. While family rides are suitable for everyone who loves water and a bit of excitement, thrill rides are especially for those who wish to have an adventurous tryst with fun.
Family Rides
Paradise Beach- Spend some time relaxing at the wave pool that presents a real beach-like experience with its varying degrees of waves, vast spread of sand and coconut groves. This 16000 sq.feet wave pool lets you have a beach experience in Hyderabad itself.
Rain Disco- What can be better than a disco in rain? Built over an area of 3000 sq. foot, it offers a perfect setting for everyone to enjoy a cool, refreshing rain shower amid thrilling music beats.
Pirates Cove- It is a family water zone consisting of varied rides and games. With 6 adult slides and 6 kids slides with varying lengths and heights ranging from 21 feet to 6 feet, Pirates Cove offers complete entertainment for all. It also constitutes kids-friendly pool and two water buckets which tilts after every 4-5 minutes, spilling huge amount of water on everyone.
Aqua Play- It is designed specially for kids, catering to their preferences and safety. It consists of 5 varying fountains and 3 different water slides.
Crazy River- Crazy River presents a unique ride experience where visitors sit on a tube and float on a 600 feet long river that slowly cajole them at the start but as they go along the landscape, it surprises them with sudden waves.
Wave Rider- If you want to experience a high wave then go for a wave rider. Here you are dropped on a 240 feet long wave rider, from a 40 feet high tower at a speed of 40 km per hour.
Free Fall- Starting from a tower of 40 feet height, Free fall straightly drops you at a speed of 50 km per hour.
Matt Racer- In this, you slide on a matt at a speed of 50 km per hour. You will slide upwards on a 240 feet long matt racers and then downwards from a height of 40 feet.
Tornado- As the name suggests, this ride takes you in a zig-zag manner with ample turns. In this ride you slide from a height of 40 feet and land in a huge water filled tub.
Voyage- In this exciting ride, people in a group of 4 sit on a raft slide and slide downwards through various twists and turns at a high speed.
Rapids- A bit similar to voyage, rapids also take people in groups of 4 on a raft slide. However, as they reach the bottom it takes them floating on the water for as far as they can go.
Thrill Rides
Loop Racer- In this ride, you go on a matt, up to a height of 40 feet on a long loop racer ride that slides you down into a circular tube at a speed of 50 km per hour.
Twister- Twister living up to its name, presents an exciting slide with ample of thrilling twists, where you slide on a 325 ft long closed tunnel, from a height of 40 feet while eventually falling into a huge tub of water.
Hurricane- In this, you sit on a two seater and slide in a closed tunnel, later plunging into a massive cone shaped funnel with many exciting spins.
Cyclone- In this ride, you are thrown in a huge bowl while eventually dropping you into a pool.
Pendulum- In this slide, you sit on a two seater tube and slide through a closed tunnel, eventually dropping into a pendulum slide that moves back and forth many times.
Backlash- Here, you sit on a two seater tube and pass through an open tunnel which ends into a huge slide in the shape of a half pendulum which constantly moves front and back. This slide again drops you into an open tunnel which once again takes you to half pendulum slide.
Loop Coaster-This slide is 400 feet long and consists of 3 huge loops, each 100 feet in size. Here, you float on two seater tubes and move into an open slide which turns and twists in unpredictable ways, creating an exciting ride.
Tunnel- Here, you slide from a height of 40 feet on a two seater tube and move through various closed and open tunnels.
Harakiri- This is again a 2 seater slide, where you float upwards and downwards and then again upwards on a water tub. This gravity defying experience promises thrilling moments to everyone.
Boomerang- In this water slide, you move on a two seater slide from a height of 40 feet. Here you slide through a closed tunnel at a speed of 45 km per hour. The tunnel then drops you into a massive boomerang shaped slide, and eventually into a huge water tub.
Adventure Park
For those who look for maximum adrenaline rush, adventure park at Wild Waters is the ideal place for them. Comprising 17 different rides varying from family rides to thrill rides, it presents ample opportunities to make your weekend wild with fun. There are also specially designed kid's rides, ensuring the safety of children while maintaining the fun quotient.
Family Rides
Surf Rider- If you have been planning to go surfing, you need not travel to some other destination. Wild Water Shankarpalli, offers surf ride experience at its adventure park. Here you can try your hands at surfing through a mechanical surf simulator with inflatable padded flooring.
Rodeo Ride- Promising a unique experience, this ride, powered by an electric motor offers the experience of a bull ride. There have been sufficient safety measures around the ride such as padded flooring if in case the rider falls on the ground.
Archery- At a 30 feet long archery range, you can try your skills at archery in a fun filled way.
Rifle Shooting- A special shooting range has been created where you can fulfil your desires to try shooting. 2 calibre nitro piston sporting air rifles are provided at the range for you to try your hands at shooting.
Rope Course- If you have an unfulfilled wish to join the military and try various physical drills, then rope course is an ideal sport for you, presenting a glimpse of military training. It has been built in the same manner as military obstacle courses and comprises challenging activities such as climbing nets, swinging, jumping and crossing bridges, etc.
Cricket Nets- Cricket lovers will have an amazing time at the cricket nets. It presents a perfect setting for novice as well as seasoned players to try their skills at batting and bowling with their friends and family.
Bungee Trampoline- For an absolute adrenaline rush, bungee trampoline is the best choice. Here you are placed on a bungee trampoline harness which is then attached to various bungee ropes. Here, the ropes are moved upwards and downwards.
Rock Climbing- Rock climbing enthusiasts need not go to a distant place for rock climbing. Here at the Wild Waters, an artificial rock climbing wall with a height of 30 feet has been created, offering a perfect setting for trying your skills at this fitness sport.
Image Gallery of Wild Waters, Shankarpalli Hyderabad
Kids Rides
Bungee Trampoline- Especially designed for kids, bungee trampoline offers a thrilling time to kids in a safe environment. Here, kids can flip, bounce, spin and try varied twists and turns. They are put on a harness which is attached to varied ropes that would pull them upwards and downwards. In this ride, weight restriction is applied.
Soft Archery- Here, kids can try archery and shoot an arrow on a target board which has been kept at a distance of 15-20 feet.
Excavator-An adventure ride, here kids experience the thrill of operating an excavator. It is electric as well as hydraulic and offers all the functions similar to a real excavator.
Rodeo Ride-Here, children can get the excitement of riding a rodeo bull. This runs on an electric motor which operates at varying speeds. Padded flooring has been installed around the ride, making it absolutely safe for kids.
Paddle boats- These paddle boats are an ultimate fun for kids while offering a bit of a natural setting as well. These sturdy boats are kids friendly, promising fun mixed with safety.
Roller Zorb -In this ride, one to three kids enter an inflatable roller in the shape of a drum and walk on the water surface. Being inside the roller they enjoy the game without having to get drenched in water or drowning. Although in this ride, weight restrictions are considered.
Play Zone- Here, children can have the fun of riding a horse without having to risk their safety.
Thrill Rides
Zip Line- In this ride, a cable is attached between two points of varying heights. A rider is then tied to a safety harness which eventually moves from a 50 feet height tower along a line of 700 feet. In this ride too weight restrictions are applied.
Gyro Ride- In this ride, you safely sit in a gyroscope which then moves in such unpredictable manners that you are left flying, rolling and rocking in an adventure filled way.
Amusement Park
Wild Waters amusement park offers a wide array of activities and games that keep everyone pleasantly occupied. Amusement park is one of the most entertaining sections of the Wild Waters. It brings out the adventurous side of every visitor without compromising on security and safety.
Family Rides
Carousel- Popularly known as merry go round, carousel is a perfect ride for an entire family to enjoy together. Here, riders sit on galloping horses and chariots which move in circular motion.
Aero Fighter- Here, riders sit in a cabin which has been built in the shape of a plane. This cabin is further attached to the main rocket. As the ride starts, the plane shaped cabins move up and down, offering an almost real like experience of flying a plane.
Coffee Cups- As the name suggests, this ride consists of huge coffee cups, which are built around an oversized teapot. Riders sit in these teacups/coffee cups which move around the teapot. Along with this, riders can also rotate faster and spin their cups using a wheel in front.
Ocean Train- A relaxed fun ride, here riders take a tour of the park in a small train with five coaches that are adorned with sea animals. This train is electrically operated.
Kangaroo Jump- In this ride, one sits on the seats which are made on the belly of huge carved seats in the shape of Kangaroos. As the ride starts, riders experience jumping and hopping like a Kangaroo.
Worm Coaster-This ride is shaped in the form of a worm which moves on a curved track with exciting loops. Here riders move upwards and downwards, feeling a quick rush of adrenalin as the worm goes down.
Pirate Ship- In this ride, visitors are seated on an open ship which moves like a pendulum, moving as high as 200 degrees and then downwards. It gives an experience of sailing.
Octopus- This ride is in the shape of an octopus where cabins are attached to its arms. Here the cabins are raised upwards and then downwards while at the same time octopus moves in circular motions.
Swinger- A huge mushroom shaped ride to which many chairs are attached. Riders are seated on these chairs and then swirled in circular motions, suspended around 8 mtr above the ground.
Kids Rides
Jumbo Train-This is a miniature train which has been especially designed for children. In this ride, kids can take a tour on an oval shaped track.
Flying Bees- As the name suggests, this ride is in the shape of a bee. It is similar to merry go round, where kids sit in a bee shaped cabin that moves up and down while going in circular motions.
Apache Ride- In this ride too kids are seated and then moved in circular motion while at the same time cabins move upwards and downwards, offering a fun filled experience.
Mini Pirate Ship- This is a mini open ship where kids enjoy an exciting sailing experience. Here the ship shaped ride is suspended to a pendulum that sways front and back.
Mini Disco-Here, kids are seated on a padded saucer shaped ride. The ride then rotates in varying speeds, ranging from high to low.
Ocean Walk- In this ride, kids are seated in bright coloured cabins which are designed in the shape of sea animals, dolphins, mermaids and even conchs. This ride presents a beautiful and mystical sea world for children.
Ferris Wheel- A miniature version of giant wheel ride, here two kids are seated in small, beautifully coloured hanging baskets which vertically rotate 360 degree.
Flying Car- As the name suggests, this ride is in the shape of a car with wheels which runs on a track with many exciting twists and turns.
Frog Hopper- In this ride, kids experience a thrill of hopping and bouncing. Here they go up and down on a small tower in movements similar to that of frogs.
Thrill Rides
Wave Surfer- The mechanical surfer at Wild Waters presents a surfing experience right in the city of Hyderabad. The area around the ride has been padded so that riders are not injured even if they fall.
Spiral Jet- In this unique ride, riders are seated on hanging space seats. These seats are moved inwards and outwards while the rides rotate in 360 degree.
Pendulum- One of the most thrilling rides, here riders are seated facing outwards, on a circular gondola. This gondola is attached to a pendulum which swings at a high speed while at the same time the gondola starts rotating in a clockwise and anticlockwise manner.
Tagada Disco- Here, riders sit on a huge flying padded saucer which rotates at high speed. As the saucer moves, riders are tilted, moved and bumped on each other.
Dining at Wild Waters, Shankarpalli
Wild Waters Shankarpalli not only offers an extensive range of entertaining activities, it presents an equally exciting array of dining choices. Catering to every kind of palate and food habits, it has three different places to eat, each offering mouth watering dishes.
Food Express is a multi cuisine food court with various counters for beverages, snacks and ice-creams. For a quick bite, visit Island Cafe which offers umpteen choices of snacks. It is located near the water park. Located between Adventure park and Amusement Park, Adventure Cafe is another place to visit for a delicious snacking or meal.
Accomodation at Wild Water, Shankarpalli
Matching the excitements of the rides, the accomodation at Wild Waters presents exceptionally interesting choices of stay. At the Palm Exotica Boutique Resort & Spa, you are offered six varying styles of accommodation ranging from pool villas to suites, each equipped with luxurious facilities and a captivating view of the landscape and the park. The relaxing stay is accompanied by varied luxurious facilities at the resort.
Entry Fee at Wild Waters, Shankarpalli
The entry is free for kids below 90 cm. Re-entry is not allowed at the park.
The price of Wild Waters ticket is Rs. 1199 for adults and Rs. 999 for senior citizens and children (90 - 140 cm).
Timings of Wild Waters, Shankarpalli
Wild Waters amusement park timings are from 11 in the morning to 6 in the evening on Monday to friday. On weekends (Saturday and Sunday) and public holidays, the Wild Waters timings are from 11 AM to 7 PM. Water rides at the park are closed by 6 PM every evening.
How to reach Wild Waters, Shankarpalli
Wild Waters Amusement Park is located at Masaniguda Village in Shankarpally. It is around 50 km away from Hyderabad. It is easily accessible by road from Hyderabad city and can be reached in one and half hours of time.
Things to remember at Wild Waters, Shankarpalli
All visitors are expected to follow a certain dress code at the Wild Waters amusement park. For water rides, visitors are required to wear only polyester and nylon costumes. Loose footwear and loose dresses are not allowed for dry rides and sports at Adventure and Amusement park.
People with long hair are requested to wear a swimming cap while going on water rides.
Visitors can not wear footwears in water rides.
One can buy swimming costumes at the park, which are available in all sizes.
Pregnant women, people with heart conditions and high BP are advised not to try high thrill rides.
For many rides, height restrictions are strictly followed. Hence, the park staff are allowed to refrain any visitor if the criterias such as height and dress codes are not fulfilled.
Visitors are not allowed to carry food and drinks from outside.
Map for Wild Waters, Shankarpalli Hyderabad