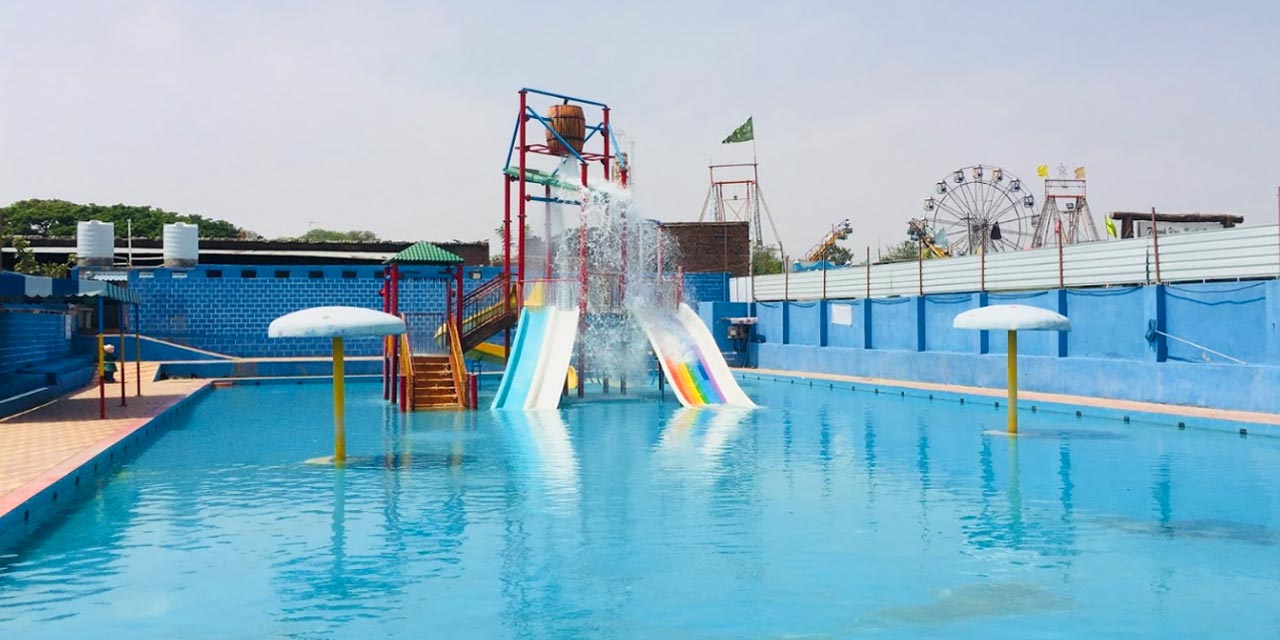 New Maharaja Water Park Hyderabad Entry Fee
150 per person for Adults & Children
250 per Student (with Veg Meal)
300 per Student (with Veg Meal+)
50 for Ladies Costume
30 for Gents Costume
New Maharaja Water Park Hyderabad Phone
---
Rating:

|
4.3
stars, out of
5
stars
Based on total
95

reviews
New Maharaja Water Park Hyderabad Address: Opposite JP Dargah, Shamshabad Road, Shad Nagar, Mahbubnagar, Nalgonda , Telangana, 509416, India
New Maharaja Water Park Tickets & Tours

New Maharaja Water Park Hyderabad Timings
| Day | Timing |
| --- | --- |
| Monday | 11:00 am – 6:00 pm |
| Tuesday | 11:00 am – 6:00 pm |
| Wedesday | 11:00 am – 6:00 pm |
| Thursday | 11:00 am – 6:00 pm |
| Friday | 11:00 am – 6:00 pm |
| Saturday | 11:00 am – 6:30 pm |
| Sunday | 11:00 am – 6:00 pm |
Links:
Website
|
Map
---
What kind of experience do you get when you fill the daily chronicle of your life with a high-level of thrill? You get excited and nervous at the same time, right? And why not, after all, you are trying something new and different than just sitting home with your close pals. The same experience New Maharaja Water Park offers in the district of Telangana.
One of the most popular places to visit in Hyderabad, the New Maharaja Water Park is an idyllic holiday destination for all those who want to enjoy the magic of nature with an array of adventurous rides under one roof. Located on the outskirts of the city, this entertainment park caters to school kids, couples, families and friends and features everything that you need for a fun-filled day.
Whether you're looking for a half-day excursion or want to make the most of your weekend, you'll not feel disappointed after your visit to New Maharaja Water Park. What makes it even more special is the availability of lip-smacking dishes that are prepared and served with a personal touch here. You can also avail an offer at a good discount to create memories for a lifetime!
Rides at New Maharaja Water Park
Heaven for adventure enthusiasts, fun lovers and experience seekers, New Maharaja Water Park presents plenty of thrilling rides to attract people from different aspects of life. Synonym to fun, entertainment and luxury, the park encourages you to get rid of your fear without any hesitation. You can fill your day with laughter and try your hand on something that you always wanted to do. So, what are you waiting for?
The rides are categorized as:
Columbus: Feel the adrenaline rush with Columbus ride that completes a half-circle of 180 degrees back and forth. It takes you up to a height of 35 feet and then comes back to the same position again. This ride can be enjoyed by both adults and children.
Giant Wheel: Suitable for everyone, the Giant Wheel ride allows you to enjoy the best time of your life with eccentric spins that move in both clockwise and anti-clockwise directions. It is not recommended for people who are suffering from heart problems. Also, pregnant ladies should refrain from the Giant Wheel ride.
Break Dance: Inclined at an angle of 7.5 degrees, the Break Dance ride allows cars to spin around a diameter of 20 meters through 360 degrees. It takes nearly 2 minutes to complete its ride cycle and can be enjoyed by all age groups.
Other rides such as Dragon Wheel and Cross Wheel are also available for your enjoyment. Tourists can also take a refreshing plunge in the swimming pool to beat the heat of warmer days. Swimming pools are great to relax, rejuvenate and soak up the sun during the day. The park has separate water pools for males and females.
Food and Beverages at New Maharaja Water Park
Indulge yourself in fine-dining to enjoy some time away from the leisure and recreational activities at New Maharaja Water Park. This unspoiled site presents an exclusive range of dishes that you cannot resist.
Enjoy a warm welcome with a welcome drink. Discover the flavours of South Indian cuisine with buffet service in the afternoon or treat your taste buds with a vegetable or a chicken biryani, which is usually complemented by Mirchi ka Salan and Dahi ki Chatni. You can also enjoy go-to snacks to satisfy your little hunger pangs in between or stop for an evening tea as a refreshment.
Image Gallery of New Maharaja Water Park Hyderabad
Entry Fee of New Maharaja Water Park
The entry fee to visit New Maharaja Water Park in Hyderabad varies for both adults and children. For adults, it charges INR 450 per person and for children between 4 to 8 years of age, it charges INR 350 per person. Please note that the entry is free for kids below 4 years.
Timings of New Maharaja Water Park
New Maharaja Water Park welcomes its visitors from 11:00 AM in the morning to 6:00 PM in the evening. It opens its doors on all days of the week i.e., from Monday to Sunday.
Offers and Packages at New Maharaja Water Park
Take your students for a full-day outing at the New Maharaja Water Park in Hyderabad. The entertainment park offers pocket-friendly packages to entice students of all ages.
For instance, you can pay INR 300 to access 5 types of different amusement rides along with water games, swimming pools and buffet lunch that includes South Indian Thali with 2 curries, dal, curd, rice, papad, murkul, boondi, salad and sweets. Another package, which is available at INR 250, allows you to leverage the benefits of all the above facilities except buffet lunch that include only veg biryani, curd, salad and sweets. Other than that, you will also get an ice-cream on your exit.
How to Reach New Maharaja Water Park?
Since New Maharaja Water Park is just half an hour drive away from Rajiv Gandhi International Airport, it can be easily accessed by locals and tourists.
If you are staying in the heart of the city, you can either take your own vehicle to reach the park or simply opt for a Pushpak bus that takes you directly to the airport. From there, book a private taxi from the list of top car rental companies in Hyderabad to enjoy hassle-free commutation.
However, if you're coming directly from the airport, you can hire a cab from Ola or Uber to get to your destination. In addition, several local and shared taxis are also available at the airport for your convenience.
The 'City of Nizams' has a lot more for its visitors to explore. If interested and you have time, you can plan your itinerary accordingly to cover the best sightseeing places in Hyderabad. Ramoji Film City, Necklace Road, Golconda Fort, Ocean Park, Shilparamam and Hussain Sagar are a few of the places to name. Visit us at Hyderabad Tourism to make the most of your holiday. Holidays DNA offers all-inclusive Hyderabad tour packages at competitive prices. Contact Us to know more.
Location Map for New Maharaja Water Park Hyderabad