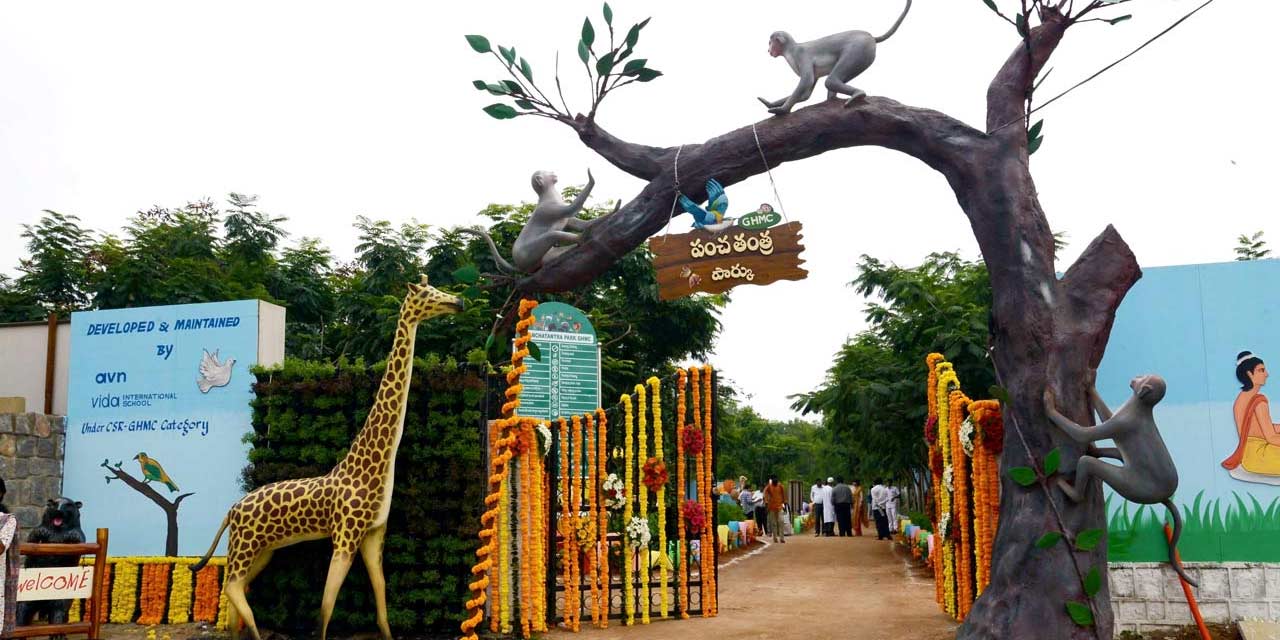 Panchatantra Theme Park Hyderabad Entry Fee
0 (No Entry Fee)
Panchatantra Theme Park Hyderabad Phone
N/A
---
Rating:

|
4.1
stars, out of
5
stars
Based on total
58

reviews
Panchatantra Theme Park Hyderabad Address: Journalists Colony Phase 3, Phase 3, Gachibowli, Hyderabad, Telangana, 500075, India
Panchatantra Theme Park Hyderabad Timings
Day
Timing
Monday
5:00 am – 9:00 am
4:00 pm – 8:00 pm
Tuesday
5:00 am – 9:00 am
4:00 pm – 8:00 pm
Wedesday
5:00 am – 9:00 am
4:00 pm – 8:00 pm
Thursday
5:00 am – 9:00 am
4:00 pm – 8:00 pm
Friday
5:00 am – 9:00 am
4:00 pm – 8:00 pm
Saturday
5:00 am – 9:00 am
4:00 pm – 8:00 pm
Sunday
5:00 am – 9:00 am
4:00 pm – 8:00 pm
Links:
Website
|
Map
---
If you are a 90s kid, you should get ready for a treat. Wondering why? Well, the City of Nizams has recently opened a new theme park in Hyderabad and we are sure that you will not wait even for a single minute after you get to know about the beauty of this park.
Named as Panchatantra Park, the theme park promises a truly unique and refreshing experience amidst the city life and has lined up some fascinating activities for school children.
Nestled in the journalist's colony of Khajaguda, the park was formed with an aim of making Hyderabad a better place to live for tiny tots so that they can have endless fun while learning about ancient Panchatantra tales. It is one of its own kinds of theme parks that contribute to the art of storytelling and is indeed a must-visit tourist place in Hyderabad.
Spread over an area of 1.35 acres of land, the Panchatantra Park exhibits the interactive sculptures of Panchatantra characters such as crocodiles, monkeys, storks and other animals that allow you to go back in your childhood and relive the memories through Panchatantra stories at the press of a button. Other than that, the park also features 10 story boards where you can read the tales in different languages such as Telugu and English.
Another highlight of this park is its Topical Island Zone that houses animal figures made on the grass. For adults, there are vertical gardens with plenty of flowering plants and gravel pathways to enjoy a short stroll during their visit and for children, there is a dedicated play area where kids can mingle with children of their age and have the time of their life with a wide variety of swings and slides.
Panchatantra Theme Park Hyderabad Image Gallery
Entry Fee and Timings of Panchatantra Theme Park, Hyderabad
There is no entry fee to visit Panchatantra Theme Park in Hyderabad. It is open for its visitors from 5:00 AM to 9:00 AM in the morning and 4:00 PM to 8:00 PM in the evening.
Best Time to Visit Panchatantra Theme Park, Hyderabad
Although Hyderabad is widely known for its pleasant weather conditions all around the year, one should avoid visiting it during the peak summer season that usually starts in March and ends in May. At this time, the temperature is as high as 40-degree Celsius, making it difficult for you to roam around the theme park.
How to Reach Panchatantra Theme Park, Hyderabad?
Getting to Panchatantra Theme Park has become quite easy for tourists from all around the world due to its close proximity to Hyderabad International Airport, which is only a 30-minute drive away. For locals, it is at a distance of 10 km from Hi-Tec city that can be covered in 20 minutes via the ISB road route.
---
To enjoy hassle free commutation within the city, you can also hire a private vehicle from top car rental companies in Hyderabad and explore the popular sightseeing places as per your own convenience. We at Hyderabad Tourism, a division of Holidays DNA, cater to your holiday needs and design all-inclusive Hyderabad tour packages that suit best to your requirements. Book with us to avail of the best travel deals now. To know more, please fill the Contact Us form.
Location Map for Panchatantra Theme Park Hyderabad