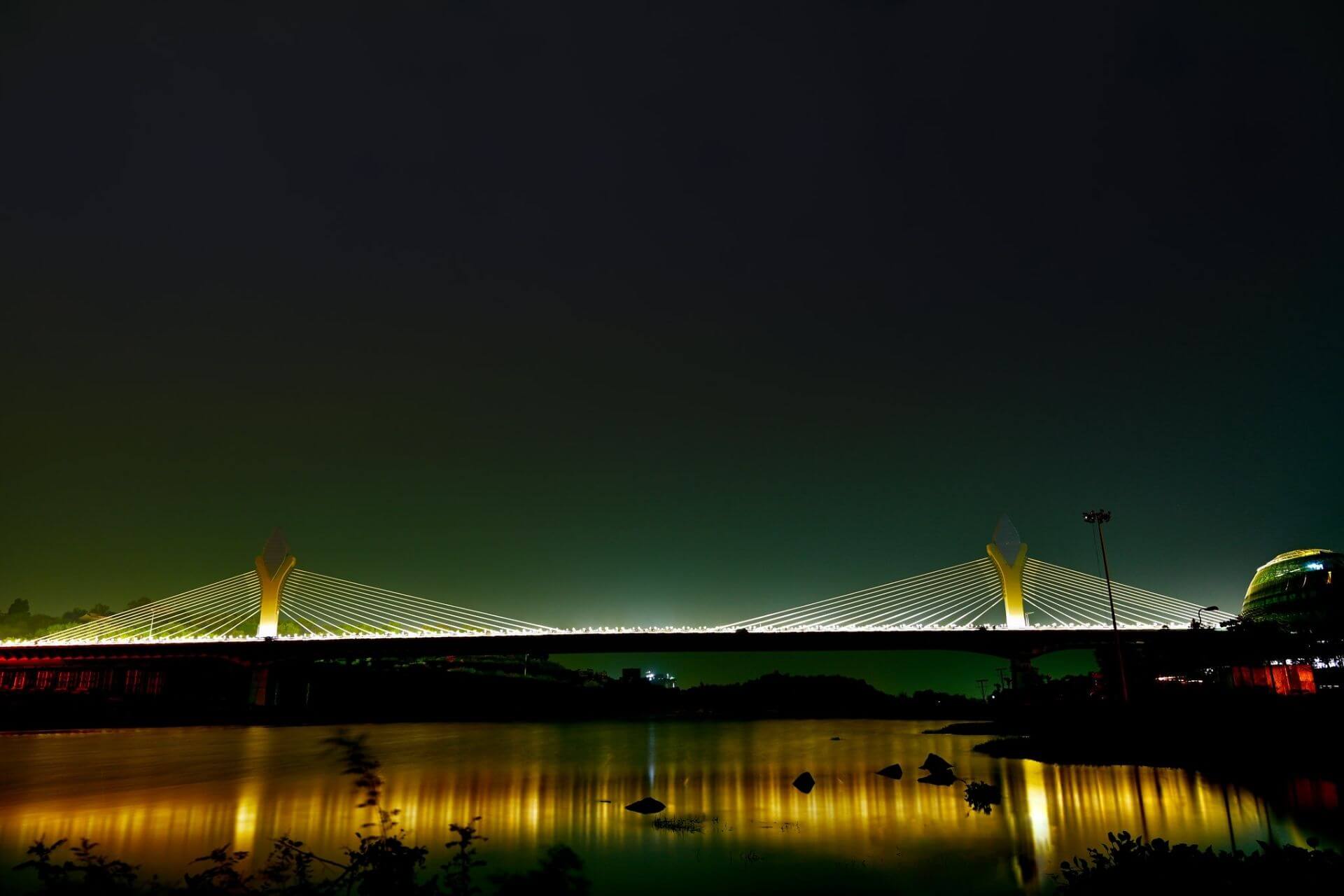 (courtesy: awy288)
Durgam Cheruvu Entry Fee
Entry Fee: Free
0 No Entry Fee

Durgam Cheruvu Bridge Phone
---
Rating:

|
4.1
stars, out of
5
stars
Based on total
65

reviews
Durgam Cheruvu Bridge Address: Probity Fuels Private Limited, iLabs Centre, Level 2, Oval Building, Plot No.: 18, Inorbit Mall Rd, Madhapur, Hyderabad, Telangana, 500081, India
---
One of the recent additions to the tourist places to visit in Hyderabad is the Durgam Cheruvu Bridge. Although recently built, it has gained a huge popularity for its architectural beauty. People can be seen here clicking pictures or just taking a drive on this magnificent bridge. The sight is especially enthralling at night when it is lit-up in multi-colour.
Durgam Cheruvu Cable Bridge is lighted in different colours, and often in varying designs, depending on the event and occasions, such as Independence Day, Republic Day, State formation Day or any cultural festival.
Rightly deemed as another jewel for the city of pearls- Hyderabad, this bridge is worth seeing at least once when on a tour to Hyderabad. This six lane hanging bridge is also considered to be the longest bridge in the city.
As the name suggests it has been built near Durgam Cheruvu lake, which is another popular tourist attraction in Hyderabad. Durgam Cheruvu Cable Bridge offers an interesting sightseeing option, especially in the era of pandemic when we all wish to have a safe and enjoyable activity.
Inaugurated by K.T. Rama Rao, Minister for Municipal Administration and Urban Development and G. Kishan Reddy, Union Minister of State for Home, this bridge is a sight worth remembering.
The cycling and walking path adjacent to the bridge add on to its popularity. The hanging bridge has a 309.8 meter long viaduct and ramps. The width of the footpath on both sides of the bridge is 1.8 meter, where visitors take a walk for a stunning overview of the lake. It is a must-see place to visit in Hyderabad at Night. At night with cables sparkling in varying lights it serves as an ideal destination for photography too.
Built with the purpose of reducing the traffic jams at the prime junction of Jubilee hills and Madhapur, Durgam Cheruvu Hanging Bridge has provided immense relief to daily commuters. It is said that owing to this bridge the commutation time in the nearby areas have reduced to 10 to 15 minutes from 40 minutes or more, which makes it even easier for tourists to explore Hyderabad city even in tight scheduled trips.
Architecture of Durgam Cheruvu Cable Bridge
Durgam Cheruvu Bridge is an extradosed bridge. With the inclusion of this bridge, Hyderabad city now boasts of having the longest precast segmental span in concrete extradosed cable-stayed bridge in the world. This has been confirmed by the Greater Hyderabad Municipal Corporation as well.
Durgam Cheruvu Bridge is 233.85 in length. It has been built at a cost of around 184 crores rupees. A whopping amount of 428 tonnes high-tensile strand, 4,800 metric tonnes steel, 287 tonnes of stay-cables along with 26,600 cubic metres of concrete were used in building this massive bridge.
It has 52 stay cables. It was constructed by Larsen and Turbo (L&T) under the Engineering Procurement and Construction (EPC) mode. Another striking feature of this bridge is that all the materials used in building it have been procured from various parts of India apart from the cables, which were brought from Germany.
Location of Durgam Cheruvu Bridge
It is constructed near the popular shopping place, Inorbit Mall in Madhapur. Connecting Jubilee Hills and Financial District, this bridge has become an integral part of commutation within the Hyderabad city. This hanging bridge especially assists in lessening the overcrowding of vehicles around Durgam Cheruvu Lake, on the way to Madhapur.
Map for Durgam Cheruvu Bridge, Popular Tourist Place in Hyderabad
Reviews of Durgam Cheruvu