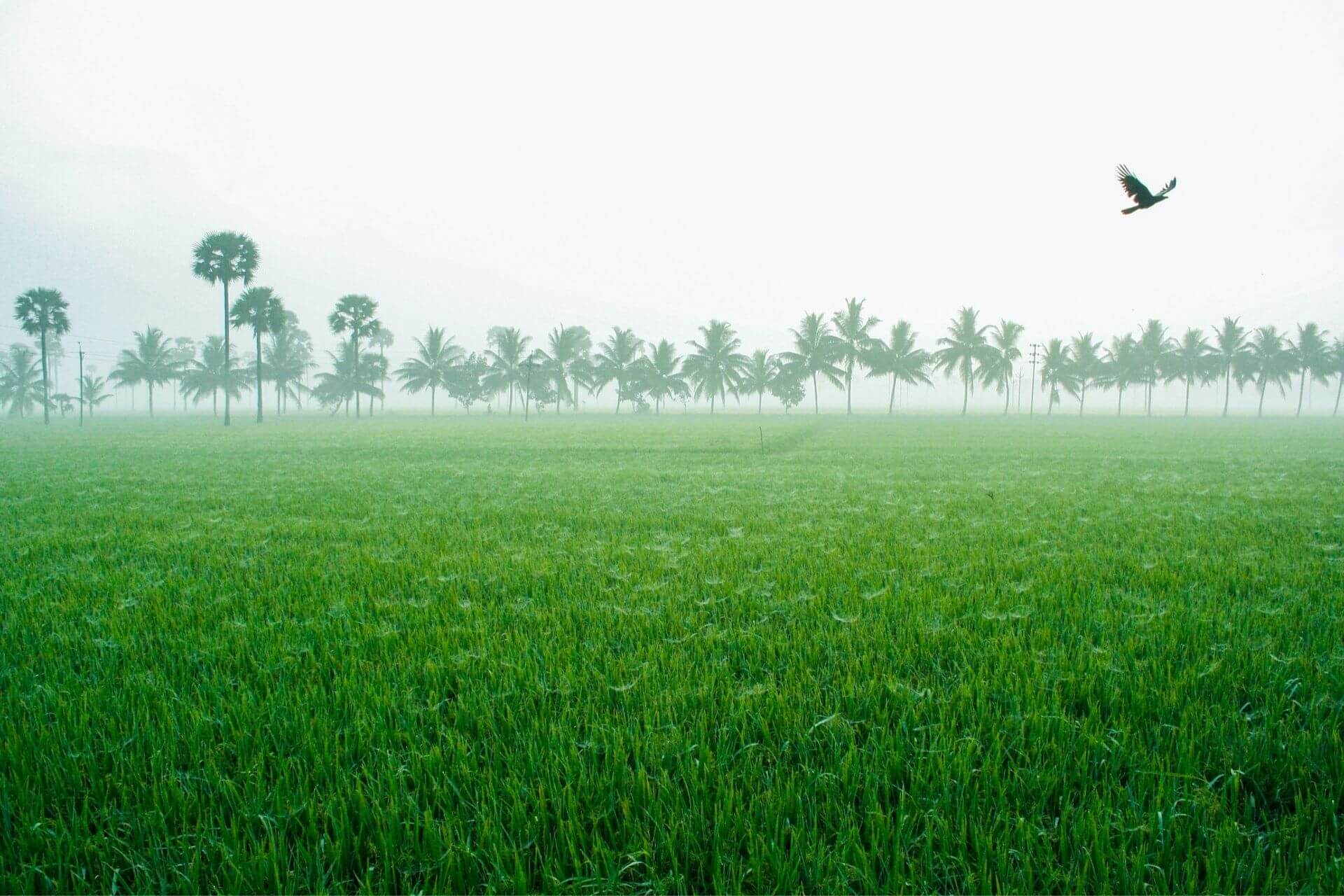 Hyderabad, the historical city that is almost 400 year old, presents a charm that is unparalleled to any other part of the country. From the best of modern world to the breathtaking architectural buildings to the unique natural formations of rocks, this city has more than just one way to keep its tourists and residents in good spirits.
What makes this city all the more interesting is the wide array of weekend getaways that are located quite close, offering a refreshing break from usual.Hyderabad weekend getaways are the perfect options to spend a short weekend or a long holiday amid rejuvenating settings, away from the monotony of everyday life. One can go for a short trip or a long vacation to the places around and come feeling refreshed and ready of the everyday struggle.
The weekend getaways from Hyderabad present travellers with all kinds of places to choose, varying from hill stations to beach destination to historical places to religious towns. However, one can't travel to all these places on his/her own without any information or planning.
For a wonderful holidaying, one must be aware of aspects related to the journey he/she plans to make. A proper planning and selection of appropriate service suiting one's requirements is necessary. One needs access to the facilities offered along with a genuine source offering the same. To assist you in planning a perfect vacation, weekend getaways hyderabad an important division of Holidays DNA offers best of the services and package deals available in the market.
From honeymoon to adventure holidays to family trip to religious tour to a spiritual travel, there are tourplans for each and every kinds. From travelling to the destination to accommodation facilities to places for shopping and eating to popular tourists spots in that particular destination to commuting within the destination to necessary things one needs to carry with oneself while on tour, etc. Weekend Getaways Hyderabad takes care of almost everything leaving you to just relax and enjoy the trip. We equip our clients with all needed information and presents deals catering to their specific purpose and varying budget limits.
Each place is unique in its own ways and has something interesting and worth cherishing to offer its visitors. These places can be divided into various kinds based on their geographical location and proximity to the Hyderabad city. Some of the interesting holiday destinations near Hyderabad are Warangal, Nagarjunakonda, Yadagirigutta, Vijayawada, Suryalanka, Konaseema, Araku Valley, Manginapudi, Visakhapatnam, Srisailam, Kailasanathakona, Horsley Hills, Mallela Theertham and many more.
1. Nagarjuna Sagar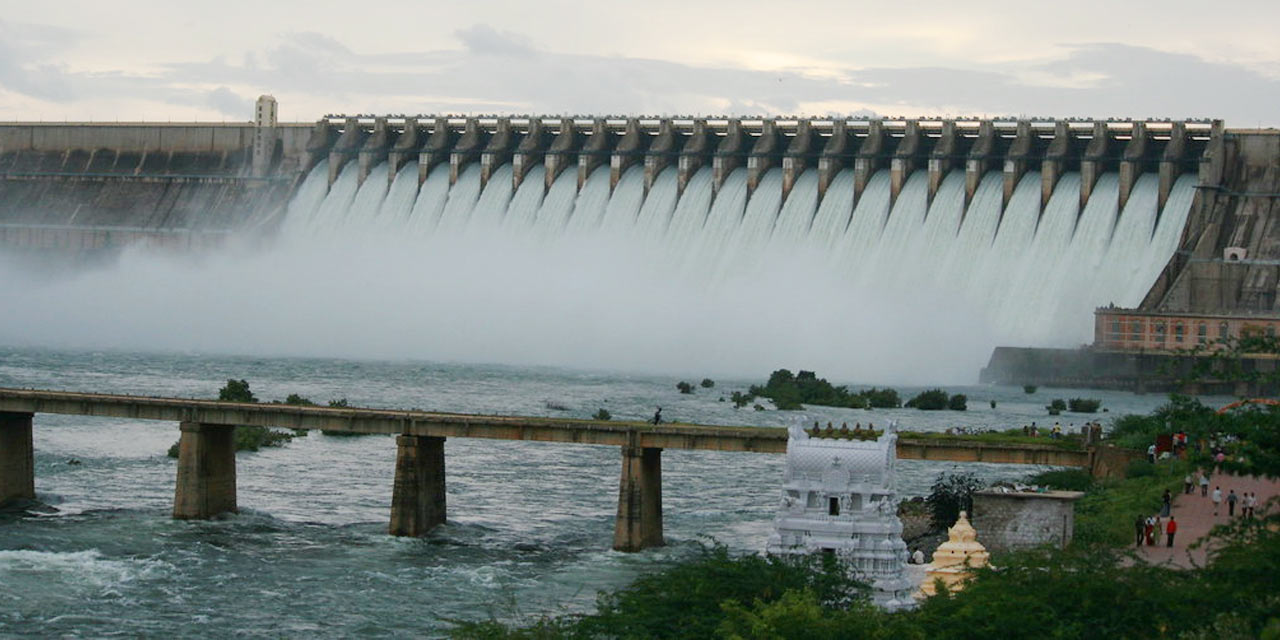 Nagarjuna Sagar dam is built over Krishna River in the Telangana District and is on a site that was once the capital of a south dynasty. The dam holds the position of being the second-largest water reservoir of India and of being the tallest and the largest dam in the world.
It is not just the dam which holds your attention here but also the lush green landscape around it. Tourists flock to this dam for boating, fishing and for photography. The sunset here is sure to give you some Instagram worthy pictures. You can see the old Buddhist excavation sites near the dam although the relics and landmarks have now been moved to the Nagarjuna hill which is an island amid the reservoir.
There are several waterfalls in the area that add to the beauty of the place and one such waterfall that you must visit while at Nagarjuna Sagar is the Ethipothala Waterfalls. This waterfall is at a small distance of 15 km from Nagarjuna Sagar and offers a breathtaking view of clear water cascading down from a height of 70 feet.
If you are a nature lover and a wildlife enthusiast then you must head to Nagarjuna Sagar Wildlife Sanctuary which is a tiger reserve. You would be able to stop several rare species of plants, animals, and birds here while observing their behavior in the natural habitat. There are two ways of reaching this dam from Hyderabad. One route takes you through Nalgonda and the other takes you through Devarakond, the latter being a beautiful pit-stop worth a stopover.
Distance from Hyderabad: 153 km
2. Srisailam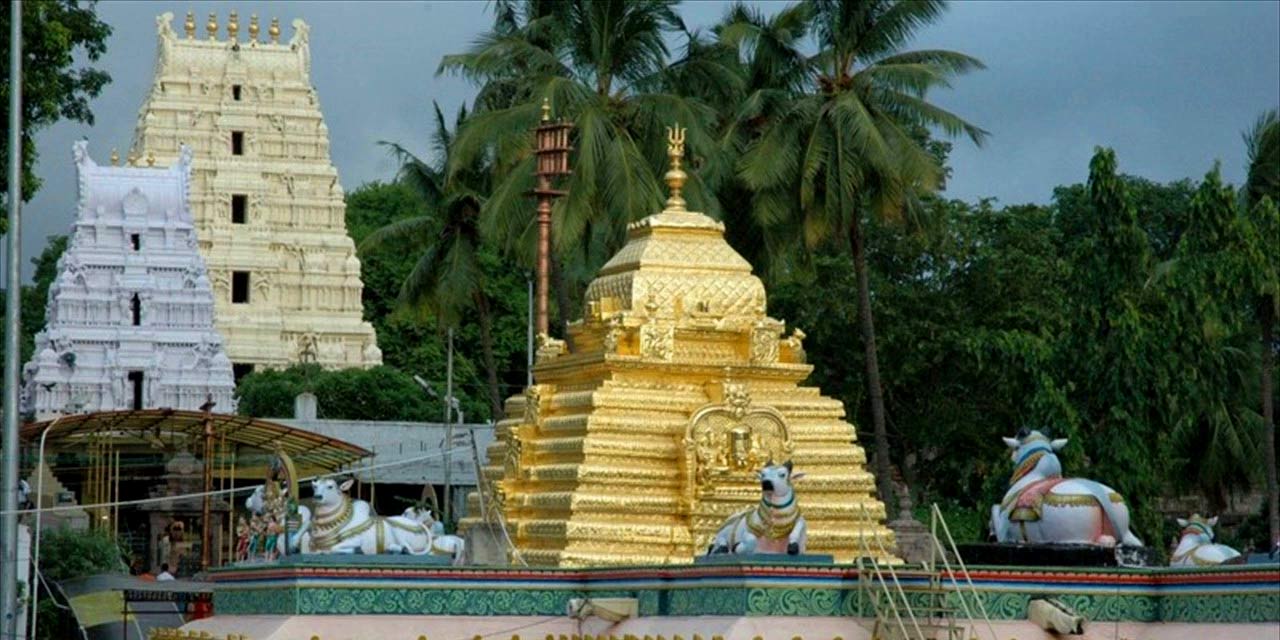 This town holds a significant place in Hindu mythology and is quite a popular weekend getaway from Hyderabad. It is located amidst Nallamala woods in the Kurnool area and is frequented by a lot of devotees as well who wish to visit one of the 12 Jyotirlinga temples dedicated to Lord Shiva. The temple is known as Mallikarjuna Swamy Temple and was built by King Harihar Raya of Vijaynagar.
Another famous temple here is the Bhramaramba Devi Temple which can be added to your itinerary. A lot of tourists also visit the place to take a dip in River Krishna which is believed to have medicinal properties. You can also try the ropeway overlooking the river and the magnificent forest land surrounding it.
Your trip to Srisailam would be incomplete without a trip to the million years old Akkamahadevi caves. These caves have a Shivalinga established deep inside and it draws a lot of pilgrims to it. Srisailam Dam is another popular attraction known for its breeding population of crocodiles who can be seen swimming in the down waters of the dam. This breeding program is sponsored by the local government. You can drive down to Srisailam or even book a private cab from top car rental companies in Hyderabad.
Distance from Hyderabad: 217 km
3. Warangal
The city of Warangal used to be under the aegis of the Kakatiya dynasty and has several monuments and historical edifices that display the craftsmanship of the artisans of that age. There are magnificent fortresses and impressive stone gateways that will transport you back to the days of royalty. Warangal Fort is a perfect example of architectural beauty with its four gates which are a part of the official emblem of Telangana state.
One of the unique attractions of Warangal is the Thousand Pillar Temple and as the name gives it away, there are a thousand pillars in this temple. This temple is in a small town called Hanamkonda, close to Warangal. The pillars at the temple are set so close to each other that they seem to merge, creating the illusion of a wall. This temple is visited by almost a thousand devotees and pays homage to a trio of gods: Lord Shiva, Lord Vishnu, and Lord Surya.
When in Warangal do not miss out on the Swayambhu temple that pays homage to Lord Shiva and the Ramappa Temple on the banks of the Ramappa Lake. If you love nature photography then Pakhal Lake which is 44 km from Warangal will present to you some picturesque locations to take pictures at. Though there is train connectivity between Hyderabad and Warangal, you can easily drive down there as well.
Distance from Hyderabad: 150 km
4. Kurnool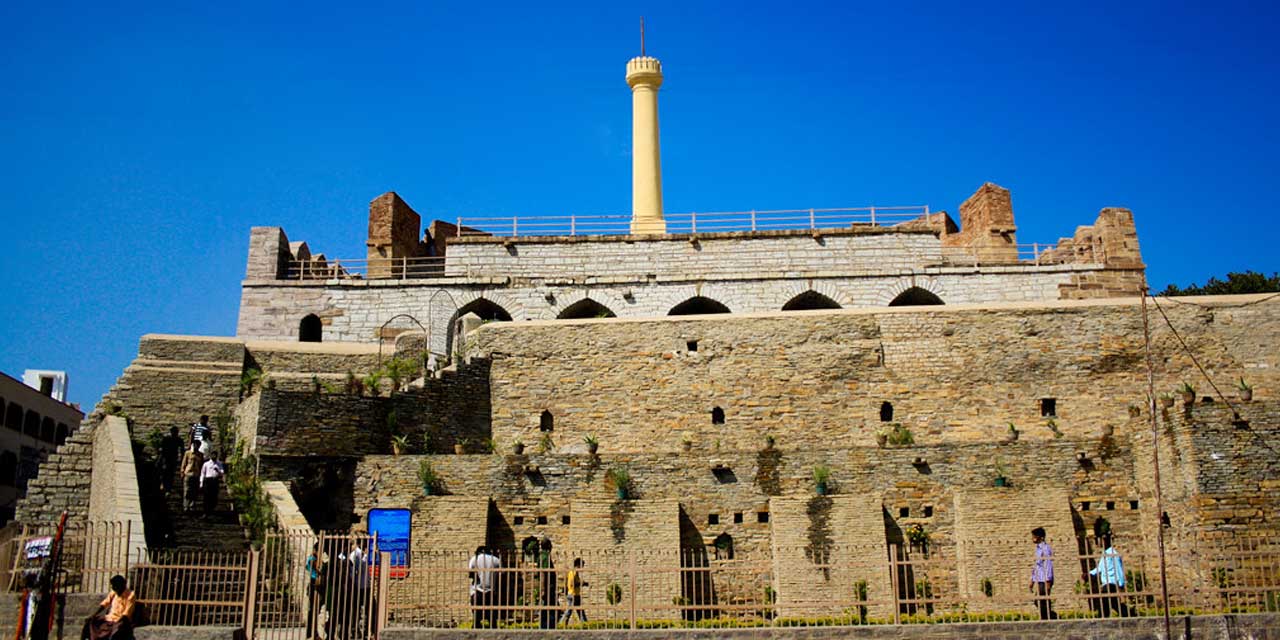 Kurnool used to be the capital of the state at one point of time and is now a popular holiday destination near Hyderabad. The Hundri and Neeva waterways pass through the city and bless it with a tropical climate.
Yaganti in the Kurnool district is a tourist place that is famous for Sri Yagantiswamy Temple or Uma Maheshwara Temple which pays homage to Lord Shiva. The temple was built between the 5th and 6th centuries and fills you with awe due to its magnificence.
One of the unique features of this temple is the idols of Lord Shiva and Goddess Parvati which are fused into one idol and it has been sculpted out of a single piece of rock. This statue is called Ardhanareeswara which means half female. This is the only Lord Shiva temple of India where the god is worshipped in the form of an idol and not in the form of a Shivalinga.
There is a small water reservoir in the temple called Agastya Pushkarni which gets water from the hills and is considered holy. The festival of Maha Shiv Ratri is celebrated with zeal here in October and November and the place is brimming with devotees at that time.
Distance from Hyderabad: 213 km
5. Adilabad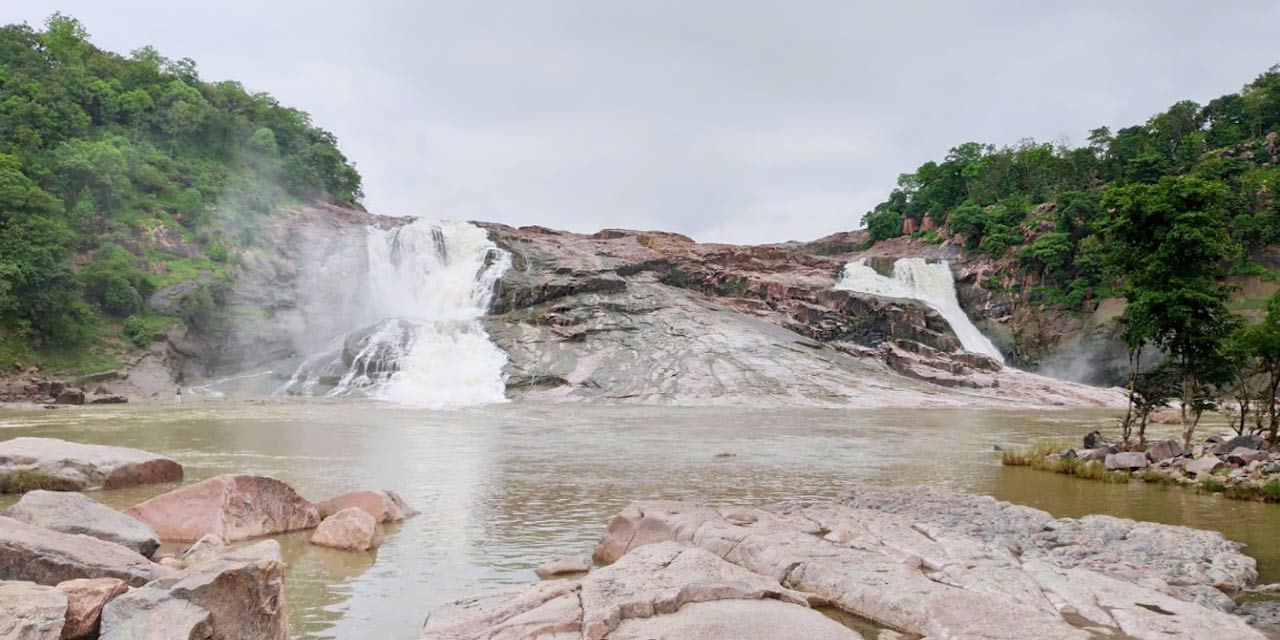 You can spot crocodiles swimming in River Godavari here which adds to the excitement and beauty of the place. Right on the outskirts of Adilabad is Mavala Lake which was made during the rule of the Nizams and a beautiful park nearby is perfect for a picnic.
Located in the Neradigonda Mandal of Adilabad district, is the Kuntala Waterfall which is one of the most beautiful and pristine waterfalls of this region. Kadam River in the laps of dense forests is the birth point of this waterfall which falls from a great height of 150 feet, with utmost grace and beauty.
Kuntala waterfall finds its mention in Indian mythology as legend has it that it was here that King Dushyant had fallen in love with Shakuntala. A temple called Someshwara Swamy temple close to the waterfalls sees a large number of devotees, especially during Maha Shivratri.
Kawal Wildlife sanctuary in the old Adilabad district and Sivaram Wildlife Sanctuary on the banks of river Godavari flowing through Adilabad District must be on your list of to-see things in Adilabad. Almost 130 km from the city center is the confluence of River Godavari and River Mangira in Basar and this is the site of Basar Saraswati temple which is dedicated to the goddess of learning. It is believed that this temple was constructed during the Chalukya dynasty and it was here that Ved Vyas had observed penance.
Distance from Hyderabad: 300 km
6. Belum Caves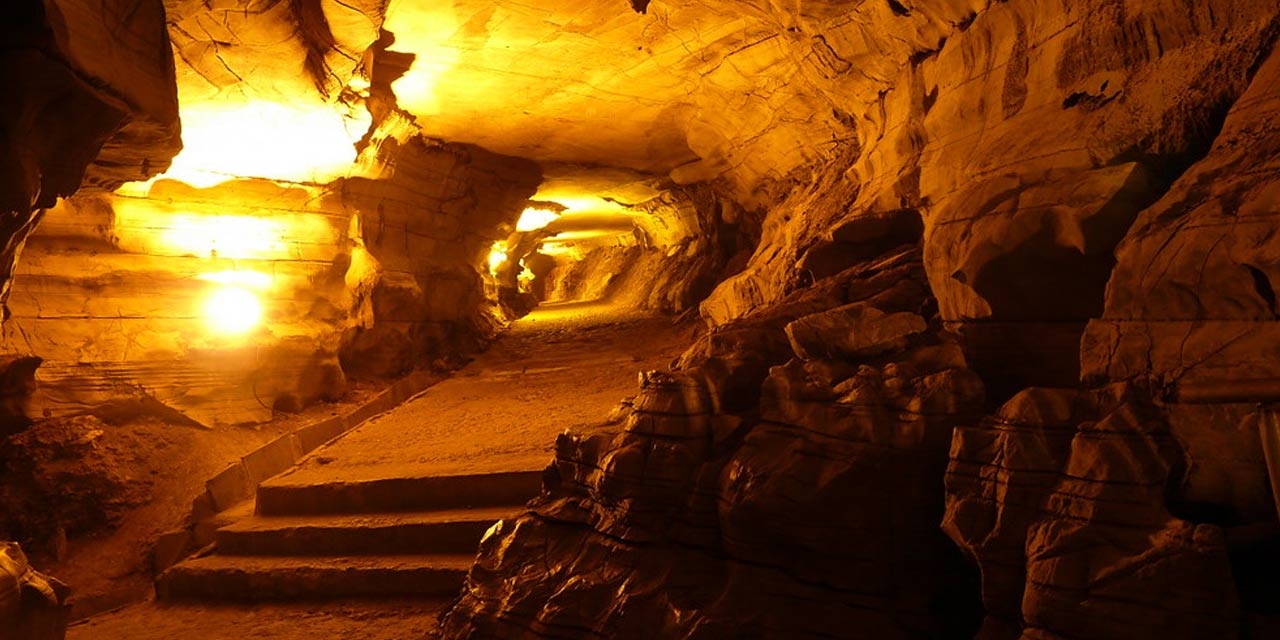 Explore the longest and the second largest caves in India over a weekend if you are in Hyderabad. Belum caves will make you take each step with bated breath as you traverse through the wide chambers that are just dimly lit and create a suspenseful atmosphere.
These caves are filled with stalactite and stalagmite formations that have happened over a million years. Water flowing over the limestone in the caves for a long time has created ridges and patterns that make you wonder at the artistry of nature that is displayed at these caves. Though the explored length of the caves is almost three and a half kilometers, the stretch open for the public is only one and a half kilometers.
There are places in these caves which are as deep as 46 km and known as Pataalganga. People visiting these caves walk along a stream that goes underground at some places, only to resurface again to flow smoothly over rocks. Part of these caves is known as the meditation hall and it was used by Buddhist monks. Close to the caves on a hillock is a large statue of Buddha which is a must-see for its ethereal depiction of Buddha.
Distance from Hyderabad: 320 km
7. Hampi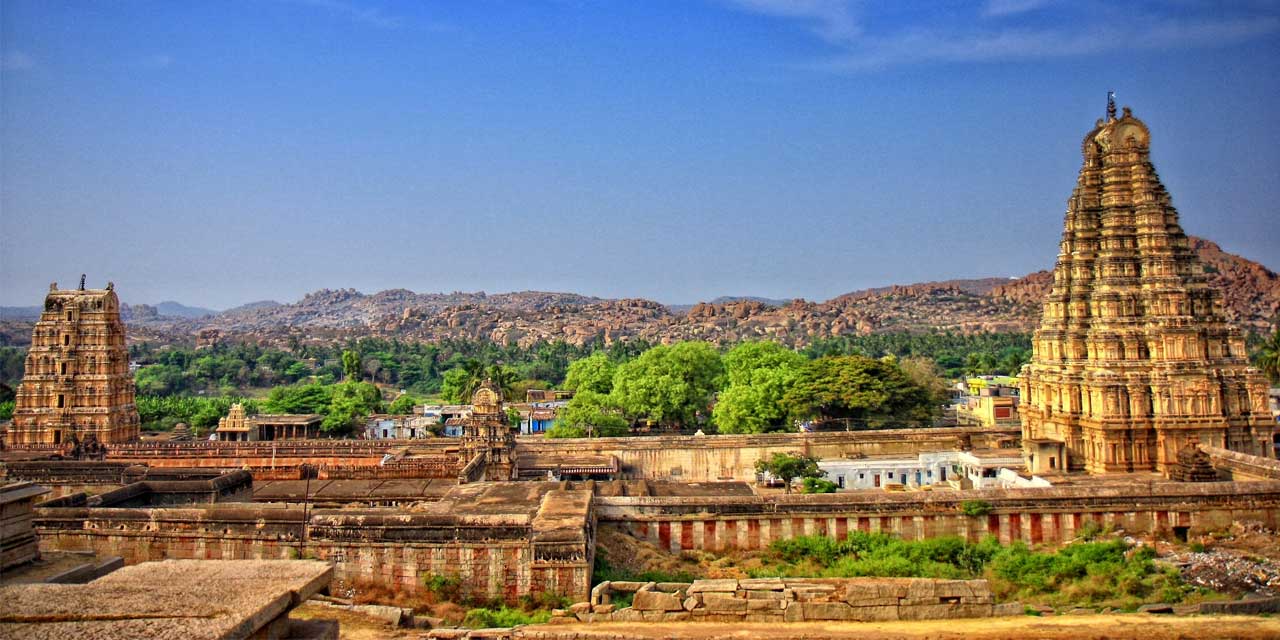 Hampi is a UNESCO Heritage Site and is flocked by tourists not just on the weekend but all through the year. It is located at the remains of Vijaynagara and has several famous temples including the Virupaksha temple. This temple is also known as Pampapathi temple and it pays homage to a form of Lord Shiva which is known as Lord Virupaksha.
Pampapathi temple is a 7th-century temple on the banks of Tungabhadra River. The marvelous architecture of this temple not only draws tourists to its threshold but also history buffs and amateur photographers looking for architectural beauty.
Another interesting architectural delight of Hampi is the 16th-century Vithala Temple. The sculpture of the famous stone chariot that has become almost synonymous to Hampi is located in the premises of this temple. The main temple edifice is right behind this chariot and has several courtyards whose walls are adorned with beautiful and intricate carvings.
The other popular temple is the Monkey temple of Hampi and it is located atop Anjaneya Hill, very close to Virupaksha temple. Writing on the wall of this temple declares it to be the birthplace of Lord Hanuman and it also goes by the name of Yantradharaka Hanuman Temple. A climb of 570 steps will take you to this 500-year-old temple that is sanctum sanctorum to the idols of Lord Hanuman.
Distance from Hyderabad: 370 km
8. Horsley Hills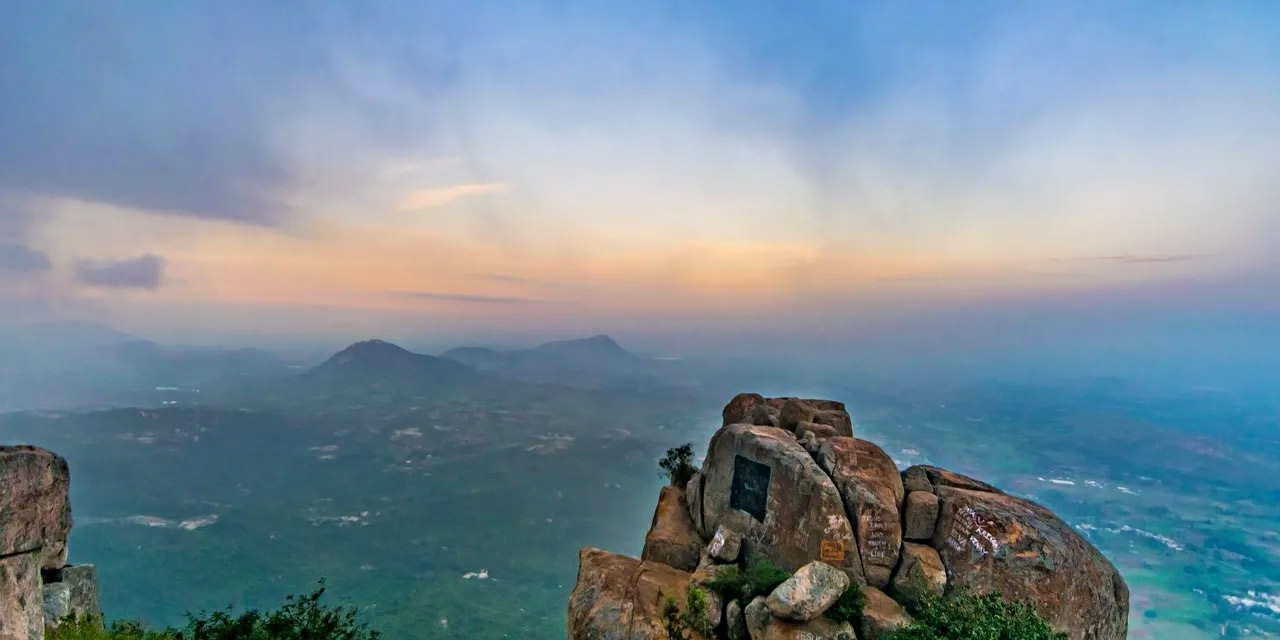 Horsley Hills is the perfect location to chill out (literally) over the weekend. Hillocks, Salubrious dense forest patches, deciduous trees touching the horizon, clean air with a hint of cold in it and an envelope of tranquility that shrouds you, make Horsley Hills a perfect holiday destination near Hyderabad.
Spend some time feasting on the breathtaking landscape around Gangotri and Mansarovar Lakes. There are several places here that will catch your fancy, like Kaigal Falls, Whisper Wind Viewpoint, Mallamma temple, and Chennakesava Temple.
Distance from Hyderabad: 520 km
9. Dandeli
It is a small town close to the Anshi National Park and Bhagwan Mahaveer Sanctuary. Dandeli is known as an eco-tourism place since a wide range of animals and birds are found here. Wildlife safari at Dandeli is what you must book in advance for the weekend if you are planning to visit the town.
The major pull of Dandeli is in the white water rafting over River Kali. There are several rapids over a stretch of 12 kilometers and you can pick one depending on how skilled you are at this sport. If you wish to catch a bird's eye view of the Dandeli Valley then you must visit Sykes point which is a popular viewpoint of the city. Along with the lush green valley, Sykes Point will also give you a good view of the confluence of River Kali and River Nagzari.
Distance from Hyderabad: 600 km
10. Gulbarga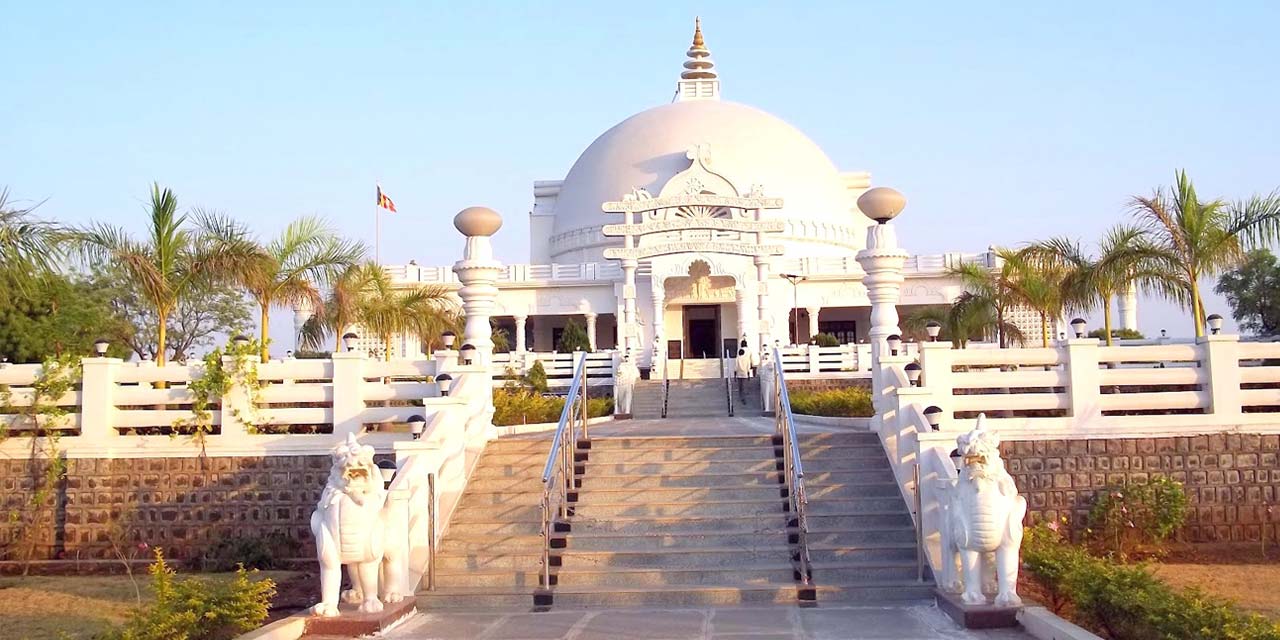 If the name doesn't ring a bell then you probably know it as Kalburgi which is how this city is also known as. It fell under the administration of the Nizam and the Islamic influence can be witnessed in the architecture of several monuments here.
Among the most popular monuments of Gulbarga is the Gulbarga fort built in the 12th century by the Kakatiya ruler Raja Gulchand. Made out of granite, the architecture of this fort is a mélange of Persian and Indian style of architecture. There is a masjid inside the fort premises and its architecture is equally stunning as the rest of the fort.
Apart from monuments, the city also has some religious places to visit like the Sarana Basaveshwara Temple, also known as Sabhamandapa. It is dedicated to a philosopher Saint Basaveshwara who is known for making many contributions to society.
If you are planning a visit to Gulbarga you can plan it around the time the Car festival is organized here. The silver cover of the presiding deity of the temple along with the sandalwood artifacts of the temple is taken out in a procession during this festival.
Another temple that tourists like to visit when in Gulbarga is the Kornati Hanuman Temple which has a gigantic statue of Lord Hanuman in a sitting position. The imposing idol has been crafted out of grey stone and locals believe that visiting this temple and praying to Lord Hanuman will grant all your wishes.
Distance from Hyderabad: 230 km
11. Guntur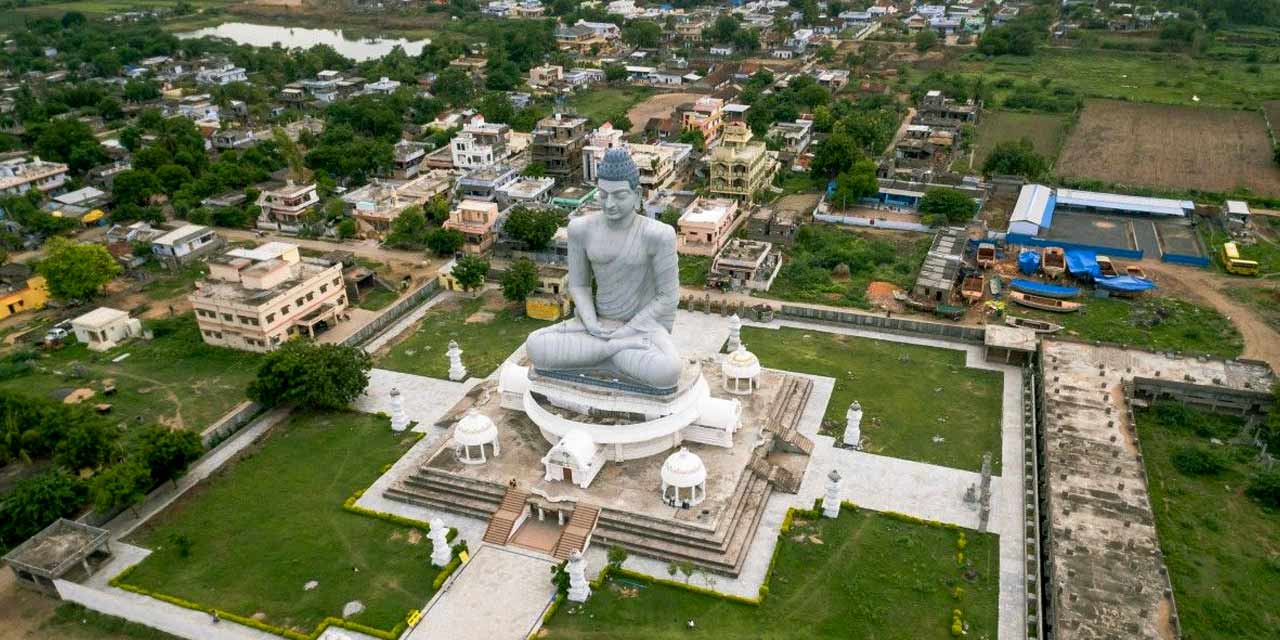 The small city of Guntur has much to offer as a weekend getaway. There are parks, resorts, historical centers, and nature preserves that can be seen over a weekend trip. Located at a distance of 25 miles from the city is Kondakavuru which is also known as Kotappakonda or Trikutaparvattam in the local language.
The place has derived its name from the three hills that are nearby and are known after the three prime Hindu Gods; Brahma, Vishnu, and Mahesh. A large statue of Lord Vishnu resting on top of Sheshnag, looks mesmerizing, more so as it is surrounded by dense green forest land.
If you are a bird watcher then Uppalapadu Nature Conservation Park is the perfect place for you to spend your weekend. The park is home to almost seven thousand birds like the Spot-Billed Pelican and the Painted Stork.
An ancient fort belonging to the 14th century is a popular attraction of Guntur. It is located at a site called Kondaveedu and will enthrall you with its beautiful landscape. Where the ruins of the fort will take you back in time, the beauty of the surroundings will almost enchant you.
Distance from Hyderabad: 260 km
12. Rajahmundry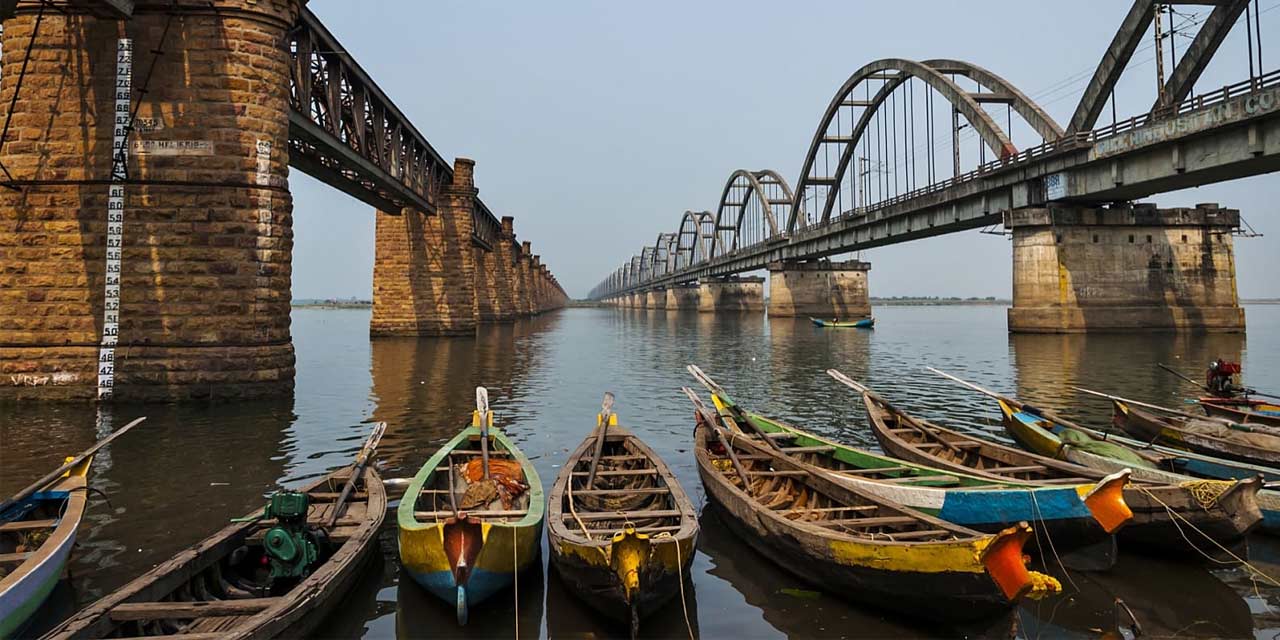 The place is dotted with temples and Godavari River adds to the beauty of this town. Several ghats and parks have been made along the banks of the river which in itself is the prime attraction of the town. Papikondalu mountain range that stands majestically along the banks of the Godavari River makes Rajahmundry a popular weekend spot.
The meandering river that runs along the hills gets narrower at places and it presents quite a scenic sight. These hills are blessed with a beauty that intensifies with the tranquil environment here.
Distance from Hyderabad: 441 km
13. Badami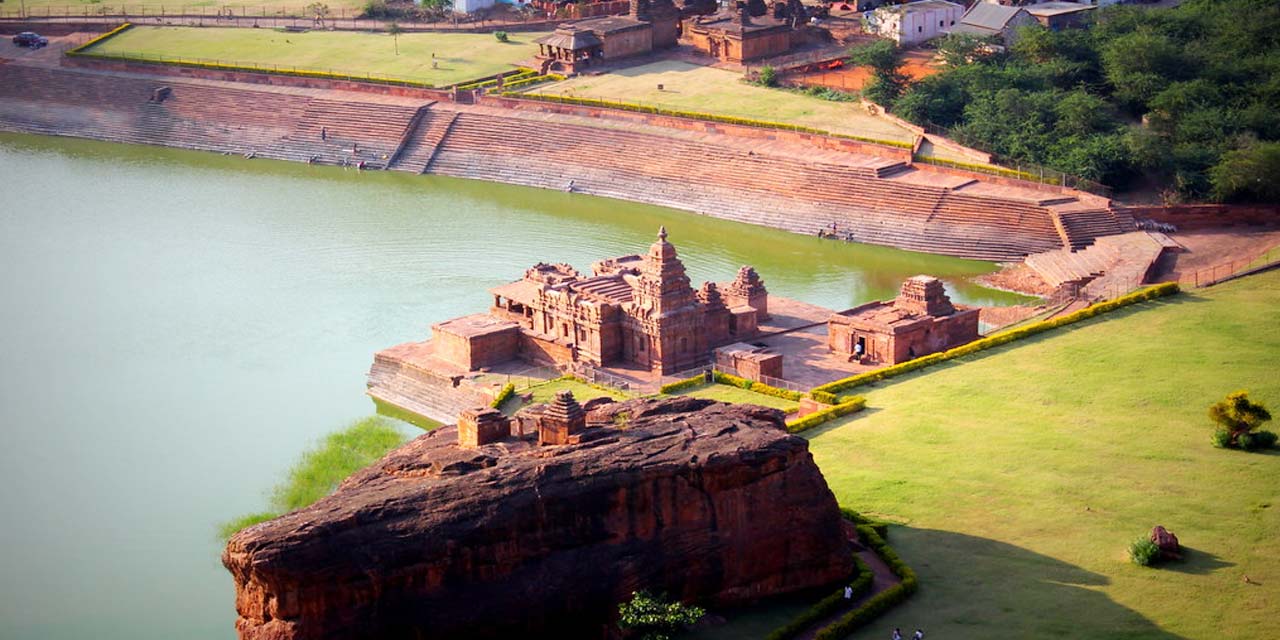 Known for its stone-cut temples, Badami is a perfect weekend getaway from Hyderabad at a drive of 8 hours. There are four sandstone cave temples here, each of which is completely different from each other. The first three temples depict Lord Shiva and Lord Vishnu in their various avatars while the fourth temple is dedicated to Jain Tirthankaras.
There is a small lake called Agastya Lake close to these temples which makes for a relaxing point and is known for its healing properties. Badami is located in a valley that is at the foot of the red sandstone projection overseeing the Agastya Lake.
Badami fort was built in the 18th century by Tipu Sultan and the ruins of this fort are perched atop a cliff. The site is a good place to get a top view of Badami and to click pictures.
Distance from Hyderabad: 410 km
14. Mahabubnagar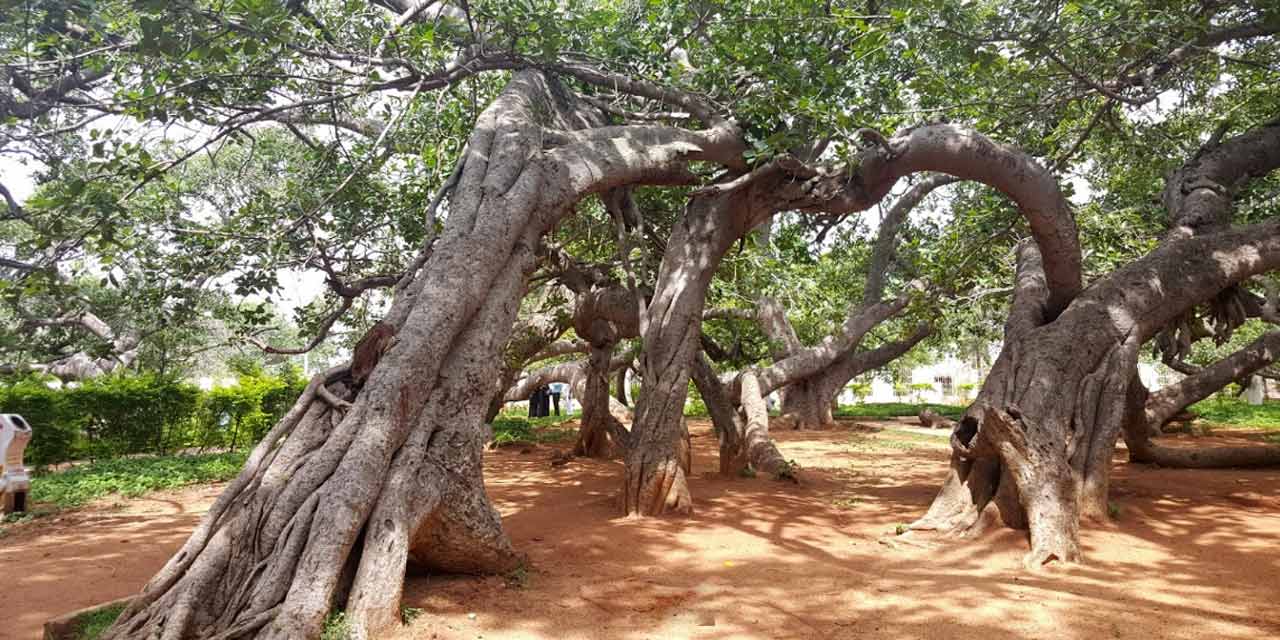 This little town was named after a Nizam of Hyderabad and is dotted with several places of historical and religious importance. One of the key highlights of this town is the Rajolibanda Dam. At a distance of 25 km from Mahabubnagar is the Koilkonda Fort which used to serve as the military outpost during the Qutub Shah dynasty. There is a short hike through a gorge which will take you to a flight of stairs leading to the fort.
Close to Koilkonda Fort is the Koilsagar dam and Sri Ramkonda Hill where there is a Lord Rama temple. 5 km away from Mahabubnagar is a site that must be on your to-see list and it is the 800-year-old Banyan tree called Pillalamarri. This tree is a prime tourist spot of Mahabubnagar district because of a whole host of things to do around here. There is a zoo with bird and animal parks, a science museum, a pond, a historical Shiva temple and a lake with a boating facility, in the vicinity of the tree.
Approximately 78 km from Mahabubnagar is the Gadwal Fort which can be clubbed with the other attractions of Mahabubnagar. Built in the 17th century, the fort used to be impregnable owing to its huge walls and the moat surrounding it. There are three temples in this fort and it is also home to a 32-foot cannon, which is the largest in the world.
Distance from Hyderabad: 134 km
15. Pattadakal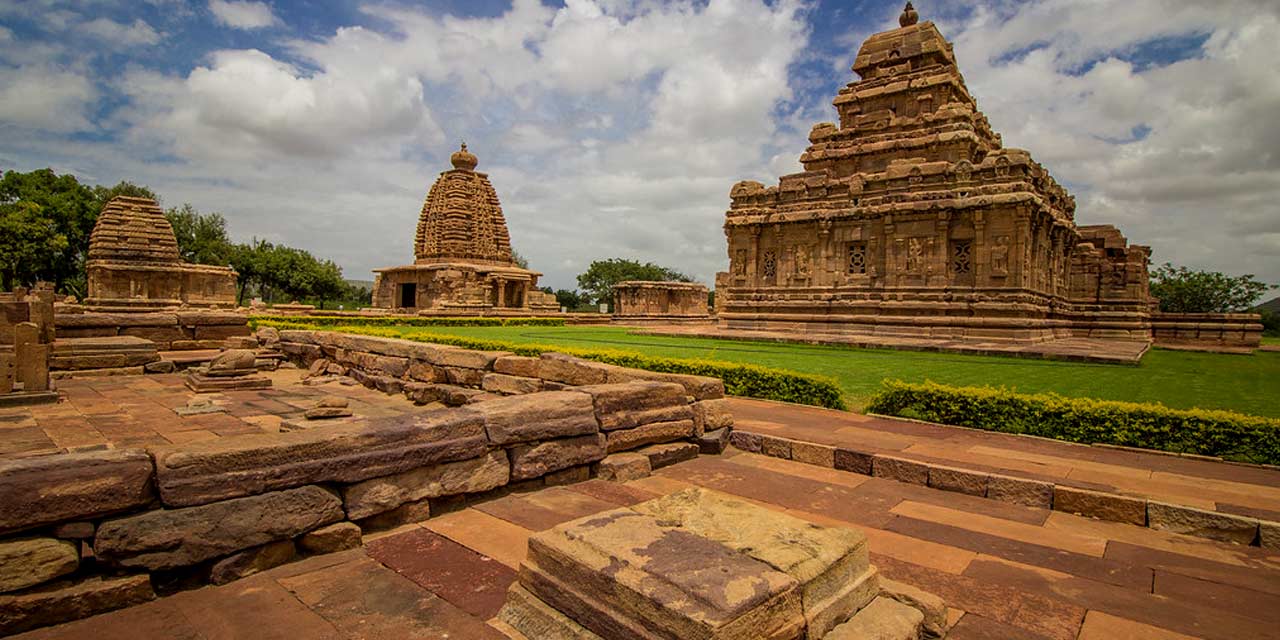 Located on the banks of Malaprabha River, this town falls in the state of Karnataka and is famous for its Chalukya temples and monuments. The architectural beauty of the monuments here is breathtaking and very photogenic.
The Kashi Vishwanath temple which was built during the 8th century by the Rashtrakutas is one that is worth visiting because of its impressive Nagara style of architecture. There are intricate figures carved on the pillars of this temple and you can easily spend some time at the temple premises, absorbing its beauty.
Another delight for your eyes would be the Sangameshwara Temple. It was built between 696 and 733 AD by the Chalukya King Vijayaditya Satyashraya and is considered one of the oldest temples of India. The architectural style of this temple is Dravidian and the backdrop of manicured gardens make the brown facade of the temple even more attractive. There is a large statue of Nandi in the temple premises right in front of the main sanctum.
Distance from Hyderabad: 400 km
---
Start planning your weekends now for all these beautiful locations near Hyderabad that will relax you and make your weekend trips exciting.