If you are looking for a tourist destination to visit near Hyderabad then you need not be disappointed, along with an extensive list of places to see in Hyderabad, there are equally enchanting places to visit around the city as well. Whether you are looking for a one day trip or a long break from work; whether it is a last minute travel plan or a pre-planned romantic getaway or for a family vacation, there are destinations suiting everyone's travel idea. Here is a list of popular places ideal for a short weekend break.
Srisailam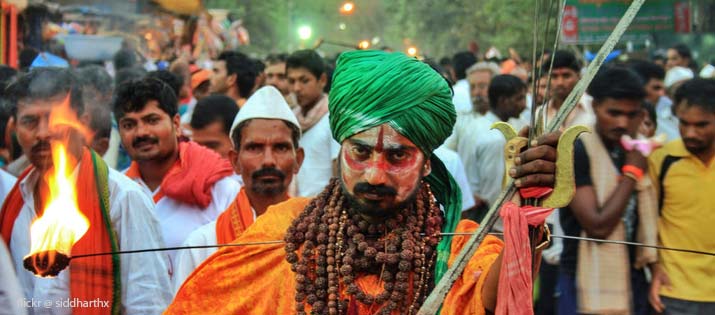 Distance from Hyderabad to Srisailam: 230 Kms | 4 Hrs approx
It is not common to find a tourist destination that is as popular with nature enthusiasts as with devotees. Srisailam, the most popular weekend getaway from hyderabad is located on the banks of Krishna River, is one such hill town. Entrancing natural beauty, rich wildlife and ancient temples, it offers something to every traveller.
Located on Nallamala hills of Kurnool District, Srisailam is one of the 12 Jyotirlingas of Lord Shiva. Mallikarjuna Swami Temple, Sakshi Ganapathi Temple, Bhramaramba Devi Temple, Akka Mahadevi Caves are a few religiously significant places to visit while Srisailam Dam, Srisailam Wildlife Sanctuary, Mallela theertham Waterfalls offer evergreen beauty of nature.
Kuntala waterfalls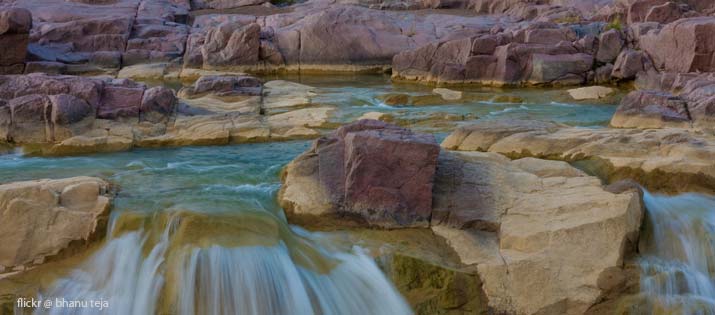 Distance from Hyderabad to Kuntala Water Falls: 270 Kms | 4:30 Hrs approx
Set amid the Sahyadri Mountain range, Kuntala waterfalls, located 40 km away from Adilabad District, are blessed with uncanny beauty and refreshing calmness. One of the highest waterfalls in South India, Kuntala Waterfall stands majestically at a height of about 45 meters. Not only for its captivating beauty and adventurous route, Kuntala waterfall that has been named after King Dushyanta's beloved Shakuntala, is also known for its mythological association. An ideal Hyderabad weekend destination, these waterfalls are a perfect choice for nature lovers.
Yadagirigutta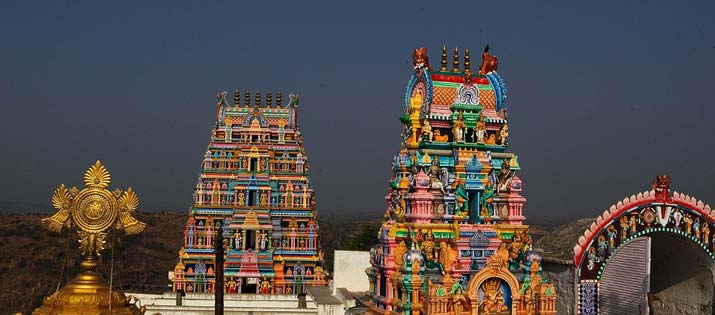 Distance from Hyderabad to Yadagirigutta: 60 Kms | 2 Hrs approx
Situated on a hillock, at a height of 300 feet, Yadagirigutta is popular for its mythological association. Yadagirigutta has been referred in one of the 18 puranas, Skanda Purana as well. This place has many legend, according to one such legend is Lord Narasimha, appeared in 5 different forms to bless sage Yadavarishi in a natural cave where a temple built with five idols of Lord Narasimha, each depicting his unique form has been built. Surendrapuri & Bhongir Fort is also situated close by.
Ananthagiri Hills
Distance from Hyderabad to Ananthagiri Hills: 80 Kms | 2 Hrs approx
Ananthagiri Hills, boasts of vibrant flora supplemented with soothing surroundings. A perfect place for trekking and nature walks, it is only 6 km from Vikarabad, Ranga Reddy District. The precincts of Vikarabad have always been a place of excitement because of the lush, rich surrounding forests. Tourists invariably come to watch these mysterious woods which are supposed to be one of the most beautiful jungles of South India.
Trekking and Walks in the forest area are favorite activities of the tourists at Ananthagiri. There are many things that you can do at Ananthagiri hills, apart from admiring its serene nature. These hills are nothing less than a dream destination for trekkers. On your visit to Ananthagiri Hills, you can also go for sightseeing to places Dolphin's Nose, Nagasamudram Lake, Galikonda Viewpoint, Borra Hills, Borra Caves, Tyda Park, Bhavanasi Lake and Katiki Waterfalls.
Nagarjuna Sagar
Distance from Hyderabad to Nagarjuna Sagar: 155 Kms | 2 Hrs 30 mins approx
Built on the River Krishna, Nagarjuna Sagar is the world's tallest masonry dam. With a height of 124 metres, it creates a majestically alluring sight. Along with its captivating beauty, it is known of historical association. Ruins dating back to ancient Buddhist civilisation were excavated at this site, which have now been preserved at the island museum Nagarjunakonda. The Dam has been named after Buddhist saint, Acharya Nagarjuna.
Located between Hyderabad and Guntur, Nagarjuna Sagar was also known with the name of Vijayapuri is an ideal place for a quick weekend trip from Hyderabad. The scenic beauty of Ethipothala waterfall is just 11 km away from Nagarjuna Sagar Dam. The waterfall is a combination of three streams .There are beautiful valleys and numerous cave temples to add on the beauty of this place.
Horsley Hills
Distance from Hyderabad to Horsley Hills: 535 Kms | 8 Hrs approx
Named after British officer, W.D. Horsley who has fallen in love with these hills, Horsley Hills is an ideal place for those who wish to dwell into a naturally rich setting, away from city. Located at an altitude of 4,100 feet and is quite close to not just Hyderabad but also to Bangalore(140 kms) and Tirupati (144 kms). Horsley Hills greet its visitors with undeniable breathtaking beauty.
Rejuvenating surroundings of Environmental Park, View point, Gaibandha and Lake Gangotri are worth experiencing. These hills are also the home of many religiously important sites like Mallamma Temple and Shiva Temple. One can indulge in various kind of adventurous activities too. Trekking, hiking and rappelling are quite famous amongst tourists here.
Green Acres
Distance from Hyderabad to Green Acres: 65 Kms | 2 Hrs approx
Away from concrete jungle, Green acres Hyderabad, an organic farm and an ecotourism project, promises an enchanting experience beneath clear sky and amid lush greenery. This camping site, developed primarily using the methods of Agroforestry and Permaculture offers its visitors soothing nights of stargazing. Nature walks, rock climbing, bird watching, butterfly watching, farm tour and badminton are a few other activities that you can try here at the farm.
An excellent outdoor camping site, you can even try out farming at Green Acres. But just be aware, this is not so called "fun camping". Here you have tents as they are suppose to be and not with air conditioner fixed! And yes if you are interested in trying your hand in farming, be ready to get to soiled and sweaty! But staying here is not just about farming. The feeling of having a star studded clear sky above you when you fall asleep literally counting the stars is beyond explanation!