Telangana is a state in India that has the largest number of big dams, reservoirs, and lakes. It also has more canals than any other South Indian state. The two major dams Nagarjuna Sagar Dam and Srisailam Dam are situated at the border of the states of Telangana and Andhra Pradesh. Both states have a large number of small to medium-sized water bodies nearby which supply them with enough drinking water. These dams are a major source of water and power in the region. Most of the dams are just a few kilometers from the state's capital city - Hyderabad.
The dams near Hyderabad are great places to visit for nature lovers and adventure enthusiasts. You can enjoy a number of fun activities at these dams or simply spend your day relaxing in the lap of nature. These man-made constructions leave you in awe as you witness the capability of science and the marvels of nature together.
Here's a list of some of the dams that are located near Hyderabad:
Nagarjunasagar Dam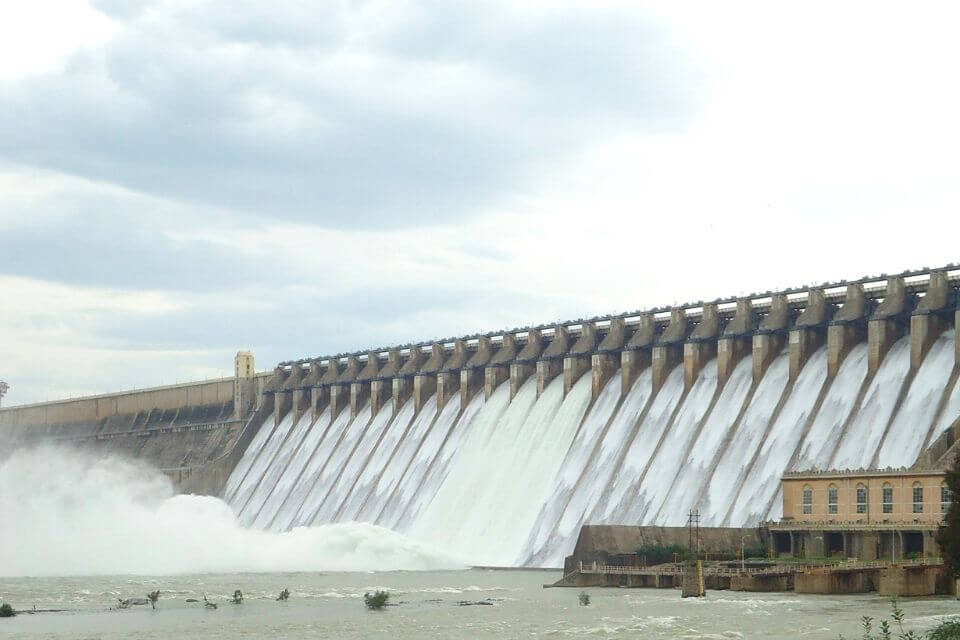 Srisailam Dam (courtesy: subhashbgk)
Distance from Hyderabad: 152 kms
River: Krishna
Dam Type: Earth-fill & Masonry dam
Height & Length: 407 ft & 5,085 ft
No. of Gates: 26
Storage Capacity: 312 tmcft
Completed Year: 1967
Location: Nagarjuna Sagar, Guntur district, Andhra Pradesh
Located on the River Krishna, the Nagarjuna Sagar Dam is the largest stone masonry dam in the world. It is at a distance of around 152 km from Hyderabad, with a catchment of 2,15,000 sq km and 26 crest gates that can store up to 11,472 million cubic meters of water. This one-kilometer-long dam was built in 1967. After independence, it was one of the first hydroelectric projects. A man-made lake has been created behind this massive structure.
The Dam is a popular winter picnic spot for boating and picnicking. A little ahead from this serene location is Nagarjunakonda, which offers visitors Buddhist museum exhibits dating back to the 3rd century. This attraction provides tourists with plenty of picturesque sites such as Ethipothala Waterfalls, just 22 kilometers away or Srisailam Wildlife Reserve, only 19 kilometers away.
Srisailam Dam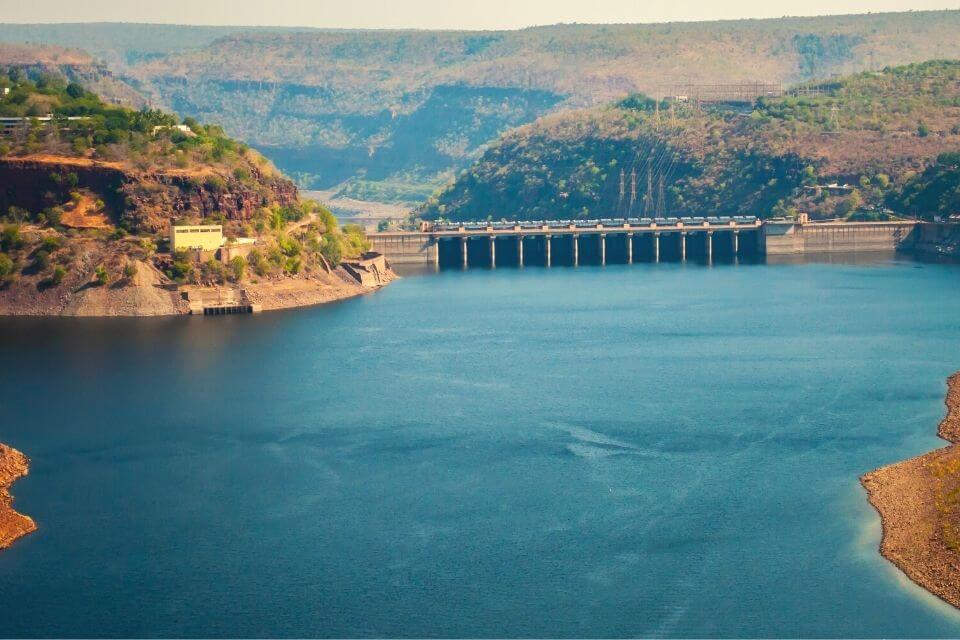 Srisailam Dam (courtesy: subhashbgk)
Distance from Hyderabad: 200 kms
River: Krishna
Dam Type: Gravity & Masonry dam
Height & Length: 476 ft & 1,680 ft
No. of Gates: 13
Storage Capacity: 216 tmcft
Completed Year: 1981
Location: Sri Sailam, Kurnool district, Andhra Pradesh
Located amidst the astounding Nallamala Hills, Srisailam Dam is an ideal place to visit for exploring nature. The Srisailam Dam is a hydroelectric dam on the Krishna River. It stands at 300 meters above sea level and has 13 radial crest gates.
The reservoir can hold 216 Tmcft (gigalitres) or 1,700 billion liters up to water levels 885 feet deep from the ground surface. It is popular as the second-largest hydroelectric project in India. The dam is open for visitors from 6 AM till 9 PM and the best time to visit is from November to March. The grandeur of its surroundings mesmerizes the onlookers.
Sriram Sagar Dam
Pochampadu dam, also known as Sriram Sagar dam, is a massive structure across the Godavari River. It is a lifeline for North Telangana. This project has an impressive capacity of 75 billion cubic feet with 42 floodgates, and it serves irrigation needs in districts such as Warangal, Karimnagar, Adilabad, Nalgonda and Khammam district.
The Pochampadu Dam also offers a pollution-free environment and is an excellent picnic spot. The tourism department maintains an island near the dam to provide a refuge for migratory birds. The beautiful garden nearby gives tourists an opportunity to enjoy boating in the picturesque waters of one of India's largest reservoirs. Sriram Sagar dam is in Nizamabad district and about 3 Kms from NH7.
Nizam Sagar
This Dam is located in Nizamabad district, Telangana State. It was constructed by the erstwhile ruler of Hyderabad state, Mir Osman Ali Khan, as a part of his Nizampur project for Irrigation purposes. This is about 145 km from Hyderabad. Reach Nizamabad town and then hire a cab/taxi to reach the dam.
This Dam is built across the Manjira River, which originates in the Ananthagiri Hills of Parbhani district and finally merges into the Godavari river near Rajahmundry. This Dam is a great picnic spot as well. People from the surrounding towns visit the Nizam Sagar Dam to spend a day amidst nature. It takes about an hour and a half by road from Nizamabad town to reach the Dam. You can also reach Kamareddy from Secunderabad via train.
Manair Dam
Manair Dam is the main water supply project in Karimnagar. It is built across the Manair River, a tributary of the Godavari river. The height of the dam is about 27 meters and the catchment area of the dam is 6464 km². Construction of the dam started in 1974 and was completed in 1985.
The Manair dam has 20 floodgates and has a maximum storage capacity of 1.34 tcm which also acts as a tourist attraction. The best time to visit the dam is during monsoons. You can visit the dam for a picnic with your family and friends. Those seeking fun activities can also enjoy boating at the reservoir. The dam is around 6 Km from Karimnagar town.
Jurala Dam
Jurala Dam is an earth-fill dam constructed in the Krishna River in Telangana. It is around 10 km from Kuravpur village. The project was built in 1995 and inaugurated by D.Esvijay Reddy, who was the then Chief Minister of Andhra Pradesh state. Along with Nizam Sagar Dam, it provides irrigation water to the Mahabubnagar district.
This is the only Hydroelectric Project in Telangana that has water throughout the year. It is a popular picnic spot near Hyderabad which is frequently visited by tourists and locals alike. Apart from Jurala dam, the Deer Park is also a major center of attraction. The park is around 2 km from the reservoir and is a fun place for kids. You can enjoy observing wildlife in their natural habitat.
Sripada Sagar
Sripada Sagar Dam is a part of the Sripada Yellampalli Project (SYP). It is an important structure contributing to the development of backward areas of Telangana State. SYP is an irrigation project estimated to support water supply in the nearby villages of Yellampalli Village, Ramagundam Rural Mandal, and Peddapalli district.
The project was laid by the then Chief Minister of Andhra Pradesh, Y. S. Rajasekhara Reddy on 28 July 2004. It was named after late legislator, D. Sripada Rao. The dam is designed to utilize about 63 tmc water in the first phase at a cost of Rs 900 crores as well as provide irrigation for upland regions of Karimnagar. You can spend some time during the day relaxing and rejuvenating in the lap of nature.
Koil Sagar Dam
Koil Sagar Dam is one of the popular dams near Hyderabad and is a great place for adventurous activities such as boating, fishing, and camping. The best time to visit Koil Sagar Dam is from November to May when the weather is pleasant. For nature lovers, this dam is a pristine and peaceful haven.
The dam is located in the Mahbubnagar district of Telangana. It is 12 km from Devarakadra Mandal headquarters between Raichur and Mahabubnagar. The dam is constructed in a picturesque location in between two mountains on the Peddavagu River, offering stunning views of the surroundings. The Koil Sagar Dam is a great place for spending time with family and friends amidst natural settings.
Pocharam Dam
The Pocharam Dam Reservoir is a great place for picnics and get-togethers. It's just 14.6 km away from Medak, so it can be visited as an easy day trip. The reservoir was constructed in 1922 over the Allair River, a tributary of the Manjeera river. The Pocharam Dam Reservoir is a paradise for nature lovers and people looking to relax. Visitors can take boat rides on the reservoir or explore its lush green environment by foot, all while being surrounded by exotic views of this unique habitat.
Pocharam dam is around 110 km from Hyderabad. The Pocharam Wildlife Sanctuary near the reservoir is a perfect spot for bird-watching enthusiasts. The reservoir provides the ideal habitat to attract all sorts of birds, so you can enjoy your day in nature by watching dozens of species interacting with each other.
Kadam Dam
Rivers have always been an integral part of human civilization and the dams built across them serve many purposes. One such dam in the Adilabad district is Kadam Dam that attracts tourists from all over India for its beauty. This dam is constructed over the Kadam river which is a tributary of the Godavari river. The dam was built in 1965 and is around 40 Km from the heritage town of Nirmal. Kadam Dam is a popular tourist attraction and luring locals and tourists alike.
Medigadda Barrage (Lakshmi Barrage)
The Medigadda Barrage is built across the River Godavari. It plays a significant part of the effort to convert Telangana into a Hub of Seeds. The 1.6 km barrage has been recently inaugurated. The Barrage provides water to irrigate thousands of hectares of land. It has a humongous storage capacity of 16.17 TMC and can provide water to millions including the citizens of Hyderabad.
The barrage is supported by gigantic concrete piers and Hydro Mechanical Radial Gates. The construction of the magnificent dam involved concrete equivalent to building 7 Burj Khalifas. The steel used for construction is equivalent to building 15 Eiffel Towers, and the earth excavated was around 6 pyramids of Giza. Further to these accomplishments, the team set a world record by pouring 25,584 cum concrete in 72 hours. You can witness the grand barrage set against the stunning backdrop and marvel at its grandeur.
Annaram Barrage
Annaram Barrage is among the world's largest irrigation projects. Recently constructed by Afcons Infrastructure, the Annaram barrage combines the flow from the Medigadda and Sundilla barrages. The dam has a capacity of almost 2,000 million cu ft (tmc) of water.
The barrage harnesses water from three rivers at their confluence with the Godavari. The majestic structure is equipped with gravity-defying systems to send water upstream for irrigation purposes. The uniqueness and grand infrastructure make it a must-visit spot near Hyderabad.
Parvati Barrage (Sundilla)
The Parvati Barrage, also known as Sundilla is a massive project under the Kaleshwaram Lift Irrigation Scheme (KLIS). The scheme is among the world's largest irrigation projects, comprising three barrages namely Medigadda, Annaram, and Sundilla. Built on the Godavari River in the Karimnagar district, Sundilla is a majestic piece of modern infrastructure. You can visit the dam to explore the massive structure and the astounding views of the surrounding landscape.
Osman Sagar Dam and Reservoir
Built in the year 1921, Osman Sagar Dam is a great place to spend time relaxing and experiencing the beauty of Hyderabad. The magnificent dam stands across Isa River that feeds into Musi River. This beautiful structure is accompanied by a man-made reservoir that has an abutting bund with lush gardens, providing visitors with plenty of space for picnics.
The lake around the dam is a popular picnic spot located 20 km west of Hyderabad. It also houses Sagar Mahal which was built as a resort by the city's former Nizam. You can enjoy stunning views over the many waterfalls in the area. The regal buildings amidst green surroundings make it a place worth exploring.
---
Hyderabad is one of the most popular destinations for tourists in South India. It has a lot to offer to all types of travelers. Dams near Hyderabad are great sightseeing spots where you can delve deeper into the city's culture and history. Hyderabad is home to many historic sites that date back centuries ago, such as Golconda Fort and Charminar. It also includes plenty of modern attractions like dams, lakes, museums, and amusement parks.