Ramoji New Year Eve 2023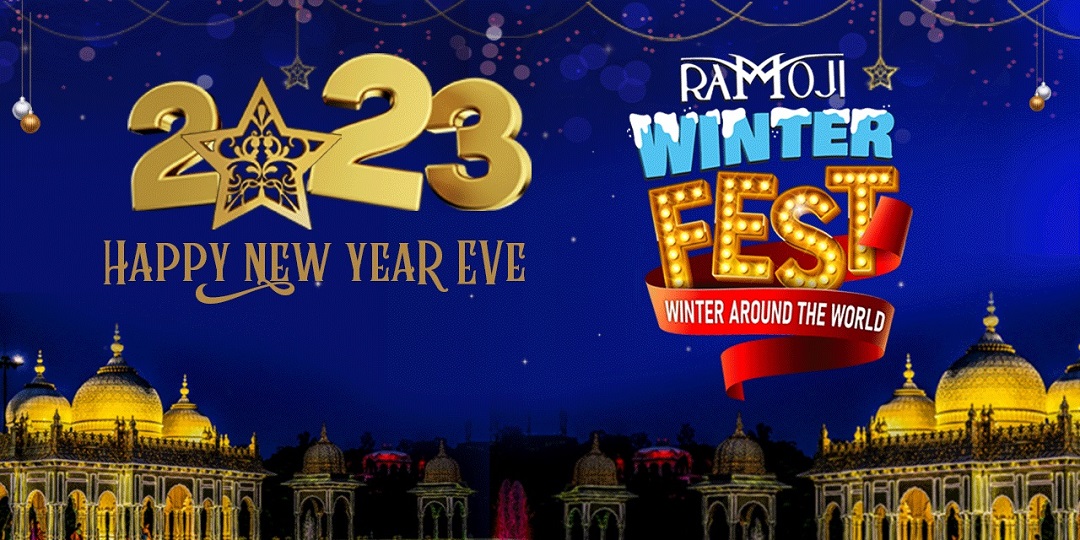 General Guided One Day Tour with Dinner
Tour Start & End Time: 8.00 PM to 1.00 AM
Couple: Rs.5931 + Taxes
Adult: Rs.3813 + Taxes
Child (33" Ht to 54" Ht): Rs.2118 + Taxes
(Valid from 31-12-2022 To 31-12-2022)
Package Highlights
Lavish Buffet Dinner
Unlimited liquor [Selected Brands]
Leslies Lewis live in Concert
India's NO.1 Female DJ " Rink"
Bollywood Dance Sequence
Filler acts around the world
International Fire Acts
Emcee Interaction
Entry 8:00 PM Onwards
Complementary entry for Kids Below 3 Years.
The tickets should be produced at the time of entry for validation. Entry will not be allowed if security features have been tampered.
Rights of admission reserved.
Guests are requested not to lose tickets as duplicate tickets will not be issued for lost or stolen tickets.
The organizer reserves the right of admission (even in relation to valid ticket holders) and frisking for security at any point.
Cameras or any form of recording instruments, arms, and ammunition, cigarettes, matchboxes,
Animals, eatables, bottled water, beverages, and alcohol are not allowed outside the stadium.
Guests are requested to keep their mobile Phones Switched off inside the venue.
No recording of programs with camera phones is permitted.
Management reserves the right to alter the program
This ticket shall not be exchanged/ceded/sold or transferred whether in a commercial or promotional context.
In addition to these terms and conditions, entry to the venue shall be subject to any ground
Regulations specified by the stadium authorities.
We request you arrive 20 minutes prior to the venue to pick up your physical ticket.
Ticket once booked cannot be exchanged or refunded.
---
1800-120-2999
Call Ramoji Film City for New Year Packages 2023
---
New Year celebrations at Ramoji Film city is especially organised at enormously grand scale. The entire 2500 acres spread of the film city procures a new, lionized look during this time. A wide range of programs are conducted, ranging from cultural performances, dance dramas, parties, live shows and adventure activities along with programs especially for children. One of the best ways to experience all this is by opting for Ramoji film city New Year party packages.
Ramoji Film City 2023 New Year Party Packages are especially designed for new year celebrations; consisting of an exciting range of options which ensure a memorable experience to each and every one. Luxurious stay at its Sitara and Tara Hotel, supplemented with world-class treatment at its varied facilities and accompanied by a range of alluring activities. 2023 New Year package at Ramoji Film City Hyderabad is for everyone, who wishes to give a perfect start to their upcoming year.
Experience the splendors of New Year's Eve party with much loaded fun & entertainment. You will be spellbound with the dreams of Bollywood styled musical fiesta. You can rejoice in the breathtaking yet intimate surroundings with gentle vibes and joviality with your loved ones. Guests can have excellent entertainment and hearty fun, as the delightful experience is guaranteed to please families. Guests will be treated to a festive ambience, energizing party atmosphere, and special evening entertainment. Relish delicious buffet dinner, gulp some of the choicest brews and chill to their heart's content.
As part of the New Year bash, Guests can have an inimitable grand style with foot tapping music and ecstatic cheer, as they would have the celebrity singers to set the stage on fire. It's going to be a gala night and a supreme fun and party experience; as guests can relish in gastronomic delights in the food courts.
Ramoji New Year's Eve Party 2023 Packages
Watch live performances by the top singers and dancers of the country; dance on your favourite numbers, enjoy the gripping music played by some of the famous DJs who will fill your nights with exciting beats and top numbers. Have a lavish dinner with your partner, rejuvenate yourself at spas and have a memorable shopping experience at Meena bazaar, Wild West souvenirs, etc. Spend fun-filled day with your family amid the fantasy world of films and exciting sports and activities. Start your New Year in whichever way you want at Ramoji Film city.
The New Year extravaganza of Ramoji Film city is one of the best ways to begin your new year with your loved ones, amid the excitement and celebrations. Ramoji Film city offers special packages during other festivals and summer carnival as well. For rest of the year, there are Ramoji Film City Day Packages, Blockbuster Packages with the inclusion of stay at Sitara or Tara Hotel and Ramoji Honeymoon Packages as well.
---
---
1800-120-2999
Call Ramoji Film City for New Year Packages 2023
Previous New Year Eve Details
Select Your Party Theme!
New Year of 2023 is round the corner, plans of New Year parties and trips are already in everyone's mind. Some likes to start their new year travelling to their favourite destination or exploring a new location and trying their hands at some new activities. Irrespective of what you are planning to do and where you are planning to be, New Year celebrations are incomplete without an exciting party, good food and music. Ramoji Film city, with its incomparable facilities, mind-blowing list of activities and enthralling ambience, fulfils every requisite of a perfect New Year bash.
---
1800-120-2999
Call Ramoji Film City for New Year Packages 2023
---
Ramoji Film city, one of the world's best film studios, adorned with grand and realistic film sets, innumerable fun activities, Adventure Park, splendid venues for cultural and live shows, accommodation facilities starting from 7 star hotels, fine dining restaurants, etc., is an ideal place to visit throughout the year. However, the charm of Ramoji film city increases by many hold during festivals and carnivals, with festivity reflecting from its every part.
---
TOLLYGRAND @ SUN FOUNTAIN - 2020 New Year's Eve Party at Ramoji Film City on 31st Dec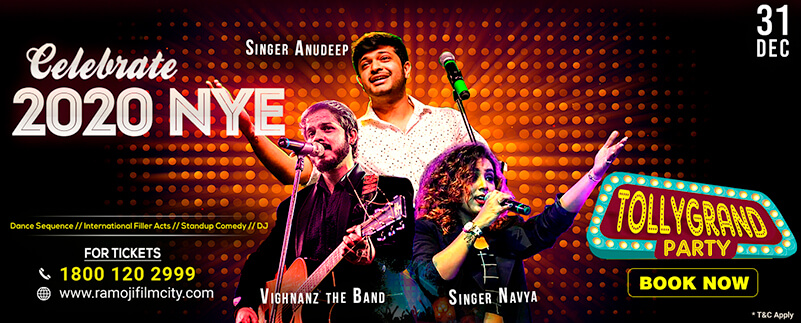 The celebration of New Year is all about the moments of euphoria. The New Year party waiting for you – the epicentre of cine-magic is Tollygrand with charming flavours of Tollywood intact.
With no centre of gravity in sight, the hot singing talents would create blasting fun with their melodious creations. Be enchanted by the magic of the live band, enjoy the hilarious and biting comedy specially brought to you and the fabulous international acts. It's time to countdown to the grand moment, as the livewire DJ sends the dance floor up in flames
Packages for Tollygrand @ Sun Fountain
Couple Entry :
₹4,999/-
Accompanied Adult with couple :
₹2,999/-
Accompanied Child [03-12 Yrs] with couple :
₹1,499/-
Package Highlights
Entry to the Venue
Evening Entertainment Program
Lavish Buffet Dinner
60 ml – 4 PEGS per couple ticket
60 ml – 2 PEGS per accompanying adult ticket
Applicable Taxes
Note: Below 21 years of age liquor will not be served.
---
BOLLYBLAST @ LIMELIGHT - 2020 New Year's Eve Party at Ramoji Film City on 31st Dec (8 pm onwards)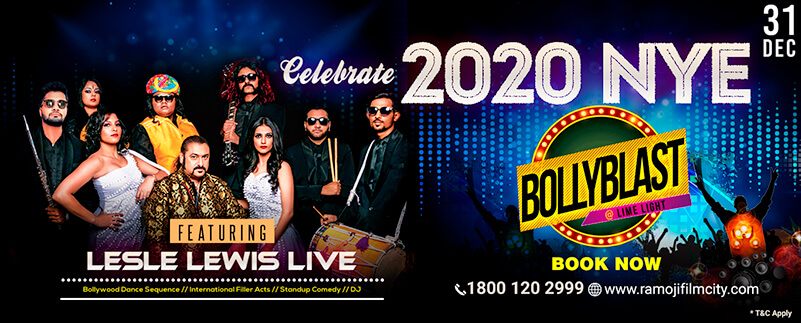 It's time to rid of all the languor and born new again with exhilaration. The celebrity singers belting out peppy Bollywood numbers will give a free pass for sparkling celebratory cheer in the chill of the night.
Before the countdown to the precise moment begins and you shake a leg with the DJ, the live band performers would descend on stage to reel off the mellifluous music. Be treated to the lively energy and get into the rhythmic groove. While the splendid international acts capture the imagination, the hilarious acts by the stand-up comedians would leave you in a riot of mirth.Read less
Packages for Bollyblast @ Limelight
Couple Entry :
₹7,999/-
Accompanied Adult with couple :
₹4,999/-
Accompanied Child [ 03-12 Yrs ] with couple :
₹2,999/-
Package Highlights
Entry to the Venue
Evening Entertainment Program
Lavish Buffet Dinner
Unlimited Liquor* (selected brands)
Applicable Taxes
Note: Below 21 years of age liquor will not be served.
---
Image Gallery of Ramoji Film City (2019) New Year Party Celebrations
Image Gallery of Ramoji Film City (2018) New Year Party Celebrations