Historical and vibrant, Hyderabad houses a warm corner in the hearts of the people in India. It is the capital city of the state of Telangana and is home to breathtakingly beautiful historical architectures such as the Golconda Fort and the iconic mosque; Charminar among several others. It is truly a place where history lovers can completely lose themselves for hours to come. In this old-world charm that is found in the city of Hyderabad, palpating through this reverie is the pulse of the new world.
There are endless activities that you can indulge in upon one visit to Hyderabad. Amongst them include the water parks in Hyderabad and resorts with pools where you can frolic around or simply dip your legs in for a completely relaxing period of time. Hyderabad inhabits a kindred soul and in this, you can be sure to lose yourself in the umpteen activities it serves you with. It is time to explore. Get your water gear on and let's go splashing!
Must Visit Water Parks in Hyderabad
Let go of the legendary biryani and come splash around in some refreshing water and hop around on fun rides. Hyderabad offers you a plethora of options to choose from. Here comes a unique twist to all that Hyderabad can offer you. It houses some of the largest and most prosperous water parks and resorts to let your hair down. The following lists a few popular water themed parks and resorts in Hyderabad that gets you to enjoy the best of all the worlds.
Water Parks:
Wonderla Amusement Park takes pride in being the best, most popular destination in Hyderabad where friends and families can escape to have one of the most memorable days of their lives. The park has India's first reverse rollercoaster ride that adds thrill to the entire experience of being on a rollercoaster. You ride backwards!
There are about forty-three rides in the park such as Land Wheel, Termite Coaster, Pirate Ship, Sea Lagoon, Drop and Wave, Wave Pool among others. There are a varied range of rides available for everyone, accommodating all age groups. If you don't want to get yourself wet, you can even enjoy rides situated on the land, completely dry. They also have equally successful branches in Kochi and Bangalore.
Location and How to Get There
Wonderla Amusement Park is located at Nehru Outer Ring Road, Exit No. 13, Ravirala, Hyderabad. There are several ways to get there.
Wonderla Transport System: The amusement offers their own pick-up and drop option. They have their own buses that run on two prominent routes. You have to call the amusement park, book your ride and be ready to be picked up from your said location. The service begins at 8:00 AM to 11:00AM and they charge Rs. 250 per person.
Bus: State buses provided by Telangana State Road Transport Corporation can easily get you to Wonderla from several bus stops such as Jubilee Bus Station, Uppal, L.B Nagar,& Thurkamzal, Womens College Koti, Adibatla, Nadergul, Badangpet, Womens College Koti, Chandrayan Gutta, Pahadi Sharif & Raviryala, Ibrahimpatnam and Charminar.
Cabs: You can take a cab from any point in Hyderabad to go to Wonderla. It takes about half an hour from the Rajiv Gandhi International Airport and about an hour from Kachiguda Railway Station.

The name of this water park in Hyderabad literally says it all. It is one of the best places to visit when you want to skip out on the boring humdrum of your daily life with some friends and families. They have rides for everyone so that no one feels like they are missing out. These include Aqua Bowl, Kids Pool, Rain Dance, Free Fall among several others. The park is divided into zones; the water park and the adventure arena with rides on land. They also have a fantastic food court to fill your hungry stomach after a fun day.
Location and How to Get There
Escape Water and Amusement Park is located at Siddulagutta, Lane Besides RGIA Police Station, Shamshabad, Hyderabad, Telangana, 501218, India. It is located near the Rajiv Gandhi International Airport Police Station. The best way to get to the water park is by driving or using a cab along the Outer Ring road or the PVNR Express Highway.

There is nothing like a break away from the chaotic city than the relaxation of being able to splash around in the water. Jalavihar is known to be one of the most popular water parks in Hyderabad. It houses the country's largest wave pool that covers an area of about eighteen thousand square feet accommodating about one thousand people at a time.
There are multiple rides you can hop on and about such as Crazy Ride, Double Tube Ride, Float Ride, Mat Ride among others. They also have an open lawn where you can host parties that are big enough to house two thousand people at a time. They also have a separate play area for the children.
Location and How to Get There
Jalavihar Amusement Park is situated at 22/9, Necklace Road, Hussain Sagar, Hyderabad, Telangana, 500063, India. The best part of this water park is the fact that it's readily accessible to people because it is located in the city. This makes it easy to travel to the water park in various autos and buses through the city.

A day of complete fun, frolic, thrill and fantasy awaits you at Ocean Park. This is another very popular weekend destination for those of looking for quick getaways at the end of the week or during a holiday. All the children and ladies excited to make a visit at Ocean Park to splash around in the water now have their own corners where they can do it without being socially conscious or uncomfortable.
This park is one of the best water parks in Hyderabad because it provides a wide range of free rides such as Aqua Trail, Crazy Cruise, Pendulum, Tornado among others. The kids, too, enjoy this privilege in rides like Jumping Frogs, Peacock Train, Pirate Ship among others. School and college students can also enjoy special packages made for them. It is also one of top rated Amusement & Theme Parks in Hyderabad
Location and How to Get There
Ocean Park is located at Hno 8-21, Survey No: 166, 167, 168 & 169, Shankarpalli Rd, near CBIT College, Gandipet, Hyderabad, Telangana 500075. There are three prominent ways in which you can reach Ocean Park. These include:
Bus: There are ample local buses available which you can hop on and get to Ocean Park. You need to get to Mehdipatnam first by a cab or an auto-rickshaw. From here you need to take a public bus along the routes 120, 220S, 220J and 120M among others directly to Ocean Park.
Train: You can also arrive at Ocean park via trains. You can completely subtract the cab and auto-rickshaw ride to Mehdipatnam by hailing a train ride to it. It will be more pocket-friendly for you. Take a bus from there to Ocean Park.

Adventure parks are all over the country, with so many in the city of Hyderabad itself. Not many of them promise you with as exciting and challenging activities as you can find in Flipside Adventure Park.
The park can essentially be divided into three significant zones such as the sports zone, fun zone and adventure zone all equipped with rides, games and activities to suit its theme and your mood. The activities that can be found at the park include archery called Bulls Eye, Smash Hits which is cricket, Futsal, Road Rage which is Go Karting, Zip Line, amongst endless others. Finish your fun day with some lip-smacking dishes from its wide range of food stalls!
Location and How to Get There
Located within the city, Flipside is pretty easy to get to provided that it is located at the Financial district in Gachibowli. There are two main methods which you can avail to reach Flipside. These include:
Car or Cab: You can drive to the adventure park. There is ample parking at Flipside. You can also book a cab to Flipside from anywhere in the city.
Bus: You can also take a bus to Flipside. The nearest bus stop is Kokapet, from where you need to book an auto or cab to Flipside.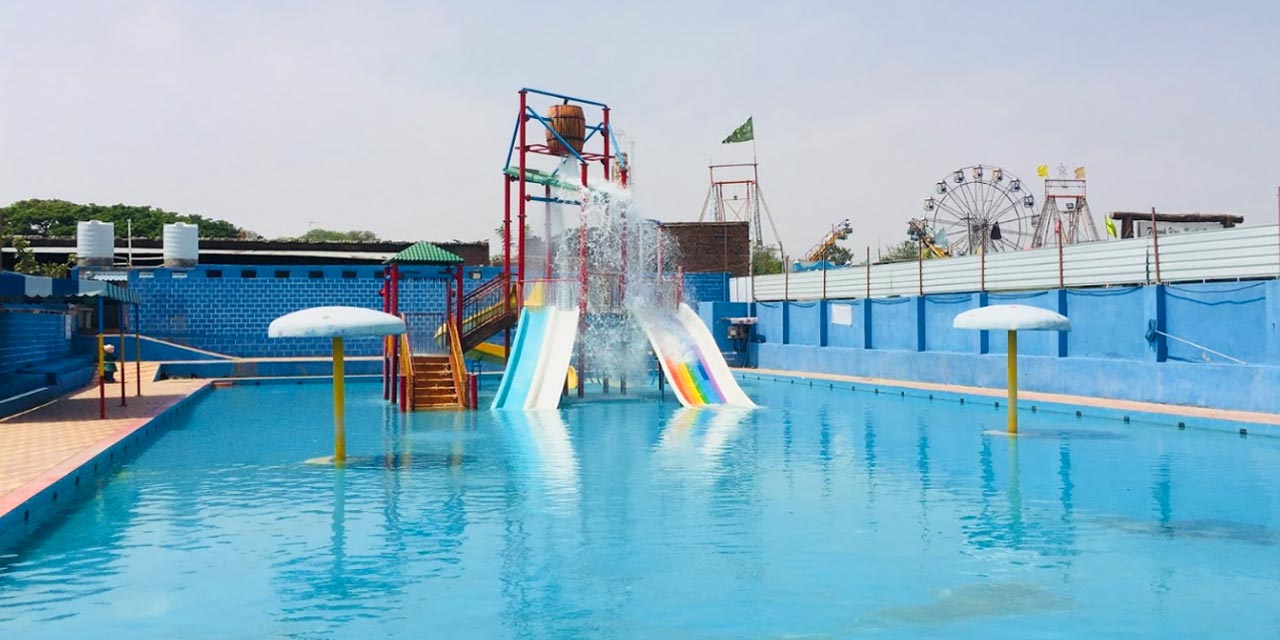 If you devour the taste of adventure, enjoy the rush of adrenaline and love being in flight or fight mode then New Maharaja Water Park is the ideal holiday destination for you. The park promises to provide breath-takingly challenging and fun rides such as Columbus, Giant Wheel, Break Dance among others that will leave you screaming in fear but with the most precious memories of your life. To follow up with this craze are the list of delicious, mouth-watering food and beverages found at the park. It is also quite pocket-friendly, making it one of the best places to escape to on weekends.
Location and How to Get There
The location of the water park is about half an hour away from Rajiv Gandhi International Airport making it accessible to everyone visiting. There are two distinct ways you can use to get to the park. These include:
Bus: Take a Pushpak bus to the airport. Get off and book a local or app cab to take you to the water park.
Cars or Cabs: You can also rent a car from Hyderabad and drive it to the Park or book a cab to take you there.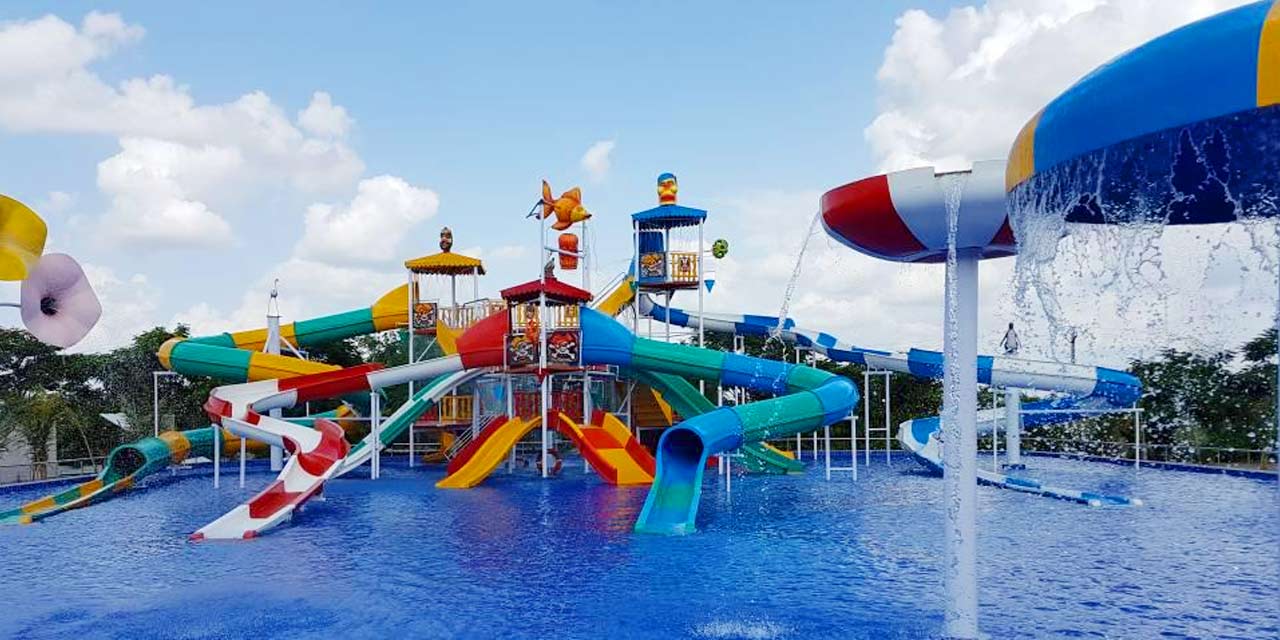 The best part about Wild Waters Park in Hyderabad is the fact that it provides you with an amalgamation of an adventure park, water park and amusement park. It makes it the ideal place to take a break from your mundane life, experience fun at its peak.
The Aqua Park has a lot of fun activities such as Paradise Beach, Rain disco, Crazy River, Matt Racer, Tornado, etc. The Adventure park has rides such as Rope Course, Bungee Trampoline, Rock Climbing, etc. Finally, the amusement park has Carousel, Ocean Train, Kangaroo Jump, etc. There are many more thrill rides in every section of the park such as Cyclone and Hurricane and fun rides for kids also.
Rooms
Wild Water Park provides you with a complete holiday package. Not only are you spoilt for choice in the gargantuan park but you can also choose to spend a night or two at the park. Ranging from pool villas to suites, luxury is one booking away. With top-class facilities in every room, delectable food and a serene landscape, your vacation is ready for you.
Location and How to Get There
Wild Waters is located at the address Sy.No.125, Masaniguda Village, Shankarpalli, Ranga Reddy Dist., Palm Exotica, Hyderabad, Telangana, 501203, India. The ideal mode of transport to this destination is by cab or private or rental cars.
Resorts with Water Rides in Hyderabad: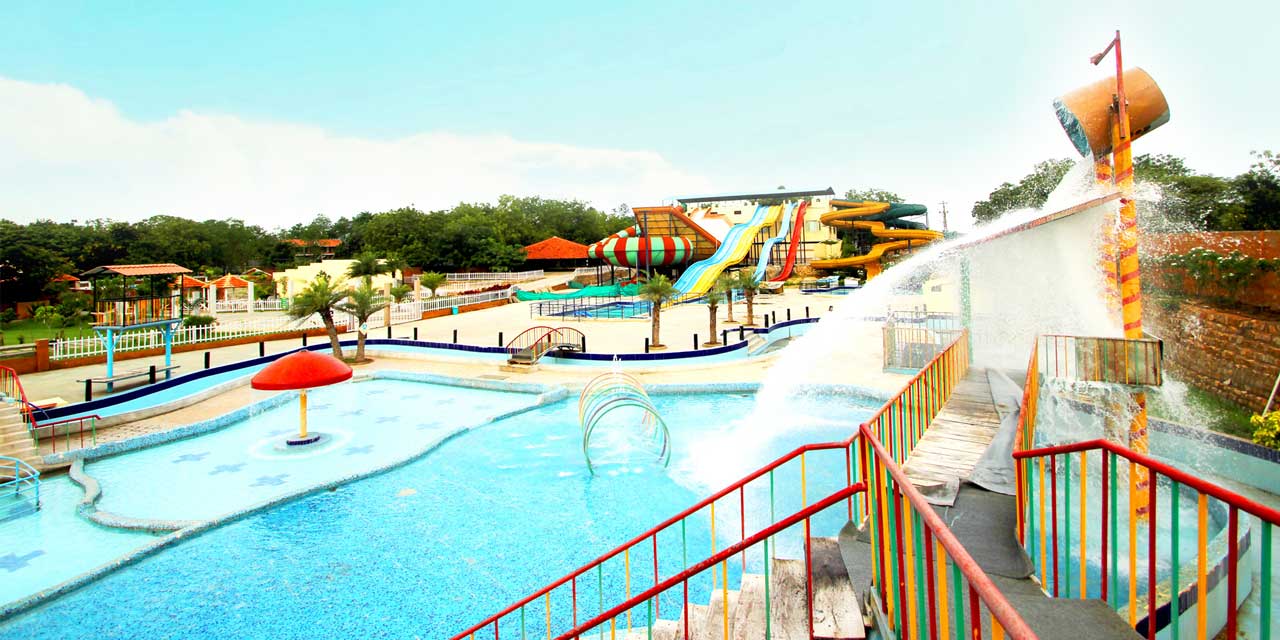 Dream Valley Resort in Hyderabad is a family entertainment center and a great water park located only 15 kilometers away from the city. It is a paradise for an adventure lover and you can celebrate any special occasion of your choice or gather your loved ones for a day of fun.
The resort has a water park in Hyderabad and they provide luxury accommodation while having banquet halls for weddings and other such events. Their water park is complete with a huge water slide, a swimming pool for all ages. A splash ride where you can crash into the water, and loads of other mini attractions such as an umbrella of water or the bucket shower will make you want more. The food served at the resort is lovely and is usually a buffet. You may also choose to order a la carte from the menu of the restaurant.
Rooms
The best part about Dream Valley Resort is the number of options you are given when it comes to choosing rooms, you'd like to spend your vacation in. They are all catered to your preferences and budget. These are executive rooms provided to each customer opting for it. They come with one double bed. Deluxe rooms are comfortable for a family of four, two adults and two children. They provide two double beds.
Get the feel of living amidst nature by spending a night or two at the ethnic cottage. The entire cottage will be given to you accommodating about four people in one cottage. Enjoy ultimate luxury at the Suite 16. And finally, the farm-house.
Location and How to Get There
Dream Valley Resort is located at Bakaram Village,Before Chilkur X Roads, Vikarabad Road, Moinabad Mandal, Gandipet, Hyderabad, India, 501504. There are several methods to get to Dream Valley from the city of Hyderabad. These include:
Cabs: You could either book a cab or drive down to the resort.
Bus: Several local buses plying on the route will take you to the resort.

Aalankrita Resort and Convention Centre is a highly awarded 4-star resort located in Thumkunta Village near Hyderabad. Other than staying there you can eat at any of their five restaurants including a cafe, a barbeque and a multicuisine restaurant. They have three different kinds of spas, the usual body massage center, a fish spa and a foot spa. The resort also has its own salon and gym.
For your entertainment they have a ton of indoor games like XBOX and PlayStation consoles, they also have carrom, foosball, billiards, table tennis, chess and darts. They also have a water park, with a water slide and a kid's pool. Enjoy dipping your water in the indoor swimming pool, once in a while!
Rooms
There are several luxurious rooms that are available for your comfortable stay at Aalankrita: such as the Standard Room. The room overlooks the café lounge and indoor garden of the resort. It has about one double bed and accommodates two adults and one child.
The Executive Room brings you a serene view of the Srirastu mandap surrounded by beautiful gardens and is sufficient for two adults and one child. Experience luxury at its best with the Penthouse Rooms that brings to you a panoramic view of the entire resort. Attached with your room is a balcony.
Get the ultimate feel of the beautiful architecture of Hyderabad with the Studio Cottages. These quaint rooms are constructed keeping in mind Indian artisans. There are a wide range of suites you can choose from, starting from Elite to the Presidential Suite. Aalankrita is here to leave you spoilt for choice!
Location and How to Get There
Aalankrita Resort and Convention Centre is located at Thumkunta Village, Shamirpet, Secunderabad, Telangana 500078. The best way to reach the resort is to go by road. You can take a cab from the airport which is about 73kms from the Rajiv Gandhi International Airport and 24kms from the Nampally Railway Station.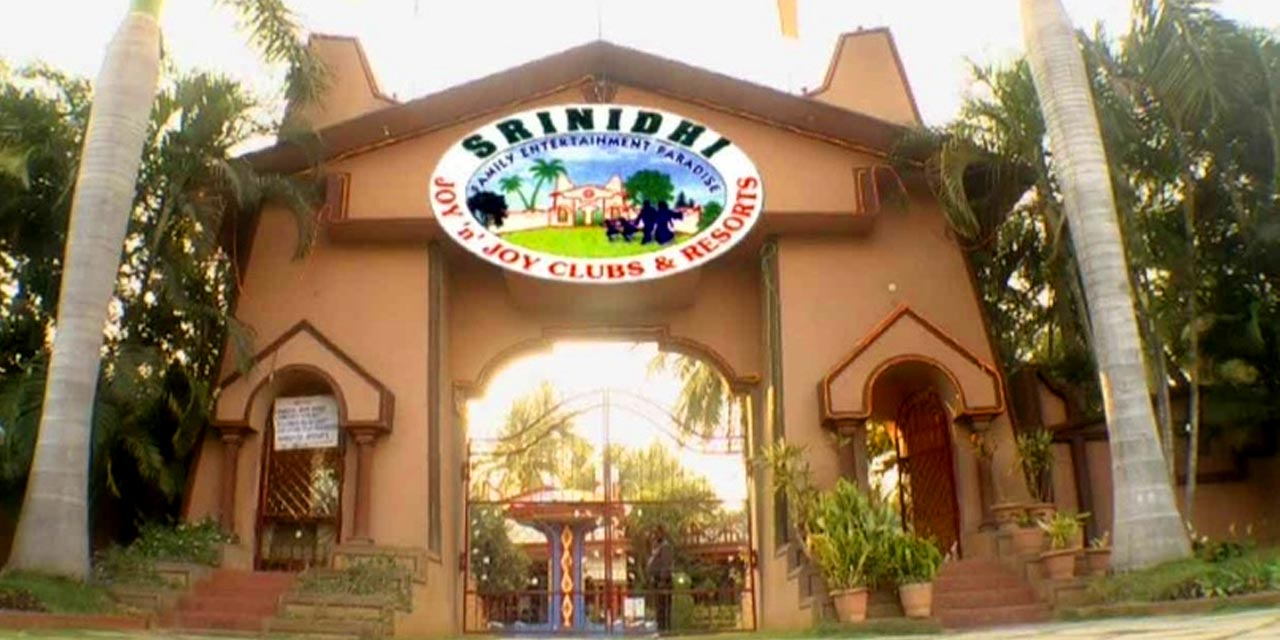 Srinidhi Joy n Joy Clubs and Resorts is located on the Warangal Highway only eighteen kilometres from the city centre. This place is a perfect escape from the busy life and a fun water park in Hyderabad awaits for the entire family. The place has event and party lawns named Dil Garden, Before Rooms Lawn and the Silver Park lawn.
It also has an array of restaurants spread all over the campus. You can have lunch or dinner at the bamboo themed huts or visit the Haritha Garden Eat Out restaurant to eat inside a garden. The campus also has a huge variety of water fountains and even has a whole island full of fountains.
Rooms
The resort also provides accommodation with a total of 43 rooms at their disposal, which include standard rooms, deluxe rooms and suites. Usually group packages are the best way to go here, as they organise the whole package and whatever you need according to your own taste, you may choose to go to this resort with a group of 20 or even 2000 Srinidhi Joy n Joy Clubs and Resorts have you covered.
Location and How to Get There
Srinidhi Joy n Joy Resorts is situated at Beside HPCL Plant, Ghatkesar on Warangal Highway, Medchal District, Telangana, India. There are two main prominent ways to get there:
Road: You can take a car or a cab to the resort from the city.
Train: If you are coming by train from outside of the city, make sure to get off at Secunderabad Junction. From there, you can take an auto-rickshaw or a local bus to the resort.

Leonia Resorts in Hyderabad has been occasionally frequented by families for a while now, this is primarily because of the range of activities you can participate in at Leonia. There's a water park called Splash at the resort which is full of water slides and parks. You can also choose to take part in a rain dance or join a game of paintball or human foosball.
They also have three bars, a cinema hall and a spa for any other needs. They also have a variety of restaurants with an array of cuisines to suit everyone's culinary tastes. The resort also provides wedding and corporate packages if you plan on throwing a party at Leonia. It is also featured in Hyderabad's Top Resorts
Rooms
There are three kinds of rooms at the resort which are namely, Leonia's Lagoon Villas which are one storey villas next to an outdoor pool. You can also opt for the Celestia Suites which have audio visual control and a personal swimming pool for every guests needs, otherwise they also have the Ohbiz Hotel which is a fourteen floor building with rooms overlooking the lawns of the resort. These rooms are simple and have the basic amenities of a hotel room.
Location and How to Get There
To get to Leonia Resorts you have to take a cab to the place from within the city of Hyderabad, to get to Hyderabad you may:
Take a train to Hyderabad Station, or Secunderabad Station
You may also take a flight to Rajiv Gandhi International Airport from where you have to take a cab from there to Leonia.

A resort on a hilltop is what defines Mount Opera, which is very close to Hyderabad. Some of the unique rides here include Go Karting, a Skating Rink, Bumper Cars and Bungee Jumping. They also have a waterpark. If you are more into night life, they have a disco where you can show off your dance moves.
They also have a few indoor games available such as BIlliards, Carrom, Cards, Table Tennis and Chess. They also have an Indian restaurant, which has a view of the mountains and a cafe called Lotus Coffee Shop. They also provide college and school picnic packages or weekend packages allowing you to enjoy the resort on your own time and pace.
Rooms
Mount Opera has quite a few variety of rooms to suit your needs, such as the Executive Rooms which also have an option for single and double occupancy. These rooms are small and are very basic in nature. You may also opt for the Standard rooms, these rooms have a few more amenities such as a television and a view of the resort from your balcony. The most heavily priced rooms are the Deluxe Cottages which also have the option of choosing between double and single occupancy.
Location and How to Get There
It is located approximately 38 kilometres away from the city of Hyderabad, situated on the Vijayawada National Highway. Two ways you can get there from the city are:
Bus: Buses from within the city ply towards Ramoji Film City which also take you to Mount Opera Resort.
Cab: Car rental services are also available to take you to the resort.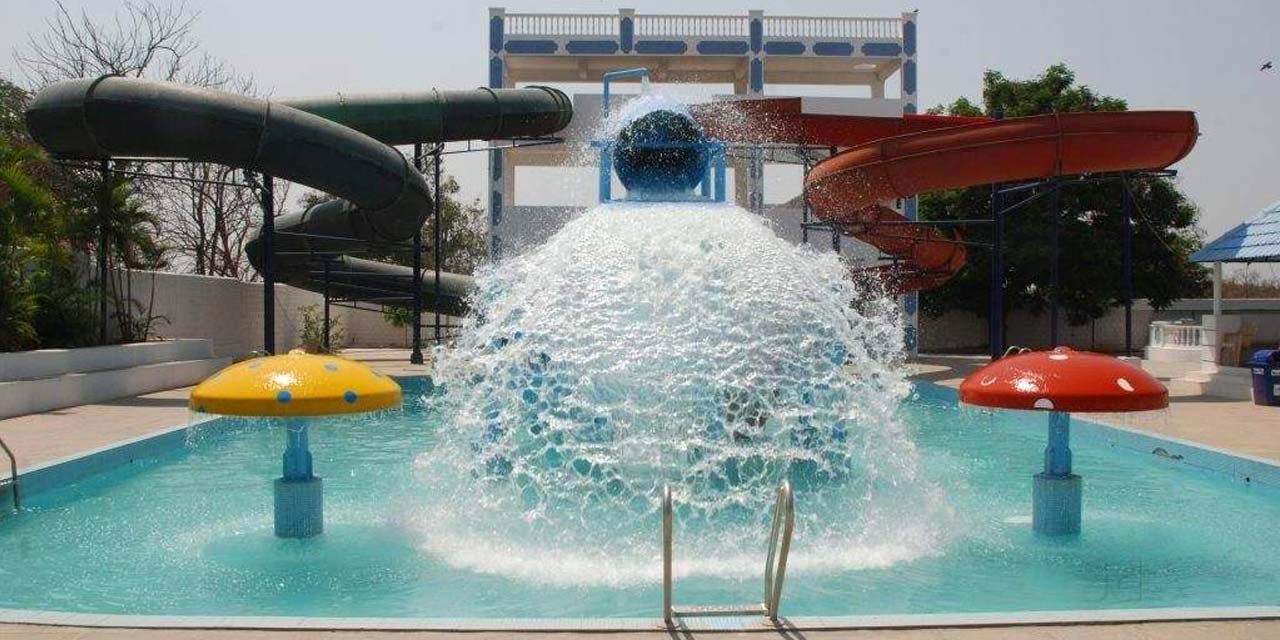 The perfect weekend destination for adventure lovers is definitely Blu Thunder Resort and Water Park. There is a huge list of rides that you can try out at this resort. Some of these include water sports and water slides, a dedicated play zone for children, and a sand volleyball section.
They also have a place where you can groove to your favourite music as you dance in the rain. You can also indulge yourself in some food at the resort with the restaurant serving vegetarian and non-vegetarian, South Indian cuisine, along with snacks and Chinese which are all available at a very affordable rate.
Rooms
There is only one kind of room available here which are individual cottages. They provide the guest with the basic necessities such as free Wi-Fi, television, and parking. The place is also pet friendly and all the rooms are air conditioned. The only difference being some of the cottages have rooms with a bathtub while other rooms have showers. You also have free access to the Gym and the sauna which comes bundled with the room.
Location and How to Get There
The resort is located in Bibinagar which is about 37 kilometres from the city, there are a couple of ways to get there which are:
Bus: Buses from Secunderabad Railway Junction travel to Bibinagar from 5 in the morning to five in the evening.
Train: You can also choose to take a local train from any one of the stations within the city and head for Bibinagar. The resort is only 2.5 kilometres from Bibinagar Railway Station.

The best place to go to if you're looking for a break from your daily life is Lahari Resorts. It's spread over 20 acres of land and is full of lush greenery. They have a little bit of everything for everyone, such water slides, skating, slides, water polo and Human Foosball. They also have a disco, plus a section for coin games.
They have two places where you can grab some food while you're busy experiencing the crazy rides. One of them is a Club House which is a multi-cuisine restaurant and has chinese and continental delicacies. They also have a coffee shop which is open day and night, this is where they serve the breakfast buffet and also provide midnight snacks to the guests living here.
Rooms
Visitors have an option between three suites which are called Deluxe Suite, Queen Suite and King Suite. The deluxe Suite has wi-fi, spacious rooms and also includes complimentary breakfast with the rooms. Queen suites have a luxurious bathroom with providing a spa experience in your rooms and the King Suites have two floors with a very well-equipped bathroom and a personal garden. With the King room you can take packages that include meals and rides as a part of the package.
Location and How to Get There
Lahari Resort is located in Bhanur which is in Shankarpalli. It is around 45 kilometres away from Hyderabad. You can rent a cab and it takes about one and a half hours by car.
---
There is a lot more to Hyderabad than the usual historical visits, top places to visit in Hyderabad and the mouth-watering food. You can take a break from all that heavy work and simply plop down into a cool, refreshing water in the several Water parks in Hyderabad. There is nothing better to take a break away from our hectic lives than to splash around in water. What are you waiting for? Dive, now!